If you think your Samsung Galaxy phone's touchscreen is not responding quickly as it should, adjusting its touchscreen settings might help. This post will walk you through configuring the Galaxy Z Flip 4 settings to make its screen even more responsive to touch inputs. Here's a quick guide to increase touch sensitivity on Samsung Galaxy Z Flip4.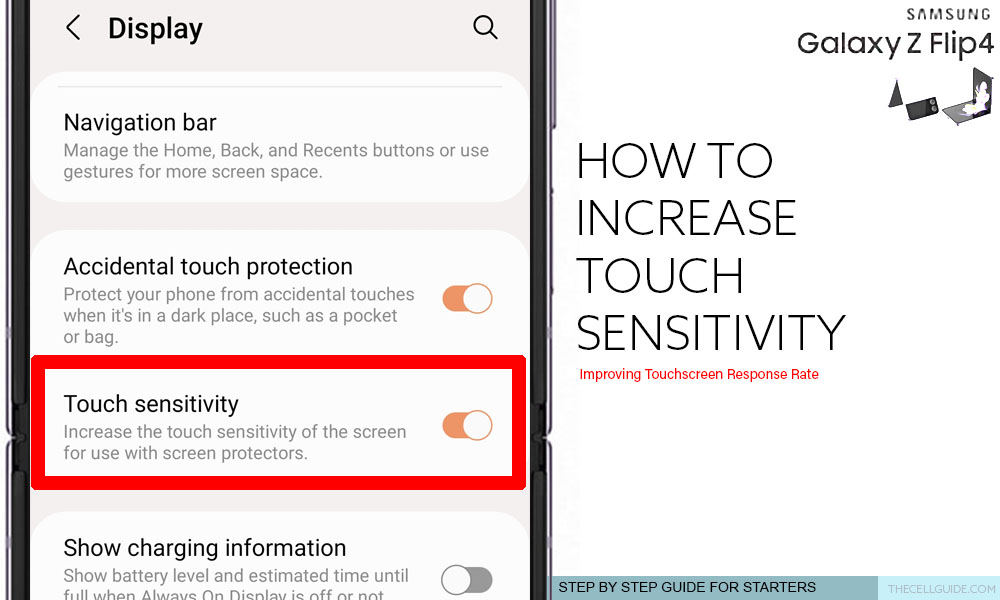 Galaxy Z Flip 4 Touchscreen Response Rate
Samsung's latest addition to its top-of-the line foldable smartphones is the new Galaxy Z Flip 4. It comes with a 1.9-inch cover screen that shows more information and control and features a 6.7-inch AMOLED display with 120Hz refresh rate. This device is deemed toughest with exclusive outer Corning Gorilla Glass Victus+ and super durable Ultra Thin Glass on the inside.
Similar to its predecessor Flip 3, the Flip 4 is also IPX8-rated but its screen is not totally sealed against dust. Its display feels sturdy and responsive but may likewise slow down in certain circumstances, especially with a screen protector installed.
You can tell how responsive this new Samsung Galaxy device is at the very moment you touch its screen. However, there are also certain factors that may affect its touchscreen response, making it somehow sluggish at some point.
Dealing with Slow Touchscreen Responses
There are plenty of reasons as to why a smartphone's touchscreen responds slowly. Tagged among the common culprits include random system bugs, app glitches, settings conflicts, data corruption and memory-related problems among others.
There are also some cases where slow touchscreen response is attributed to the use of some screen protectors that aren't actually designed from the smartphone manufacturer itself.
Other factors that may hinder the phone's touchscreen responses include wearing of gloves as well as when the display is wet, has oil or dirt.
Thankfully, there are also a number of helpful workarounds that users can utilize when dealing with these touchscreen issues. And activating an in-built display feature that augments the phone's touchscreen sensitivity is among them.
Outlined below is a step-by-step walkthrough on how to access and activate this display feature on the Galaxy Z Flip 4, whenever its touchscreen responds late or slowly.
Steps to Increase Touch Sensitivity on Samsung Galaxy Z Flip4
Performing the following steps will take you to the updated One UI display settings where you can find all system display features including the one that makes the phone's screen more sensitive to touches.
Making these changes does not affect any other settings and saved information from the phone's storage and therefore does not require backup creation.
Go ahead and start whenever you're all set to configure your Flip 4's display settings.
Step 1: To get started, launch the Settings app by tapping on the Gear/Settings from the Home screen or Apps screen.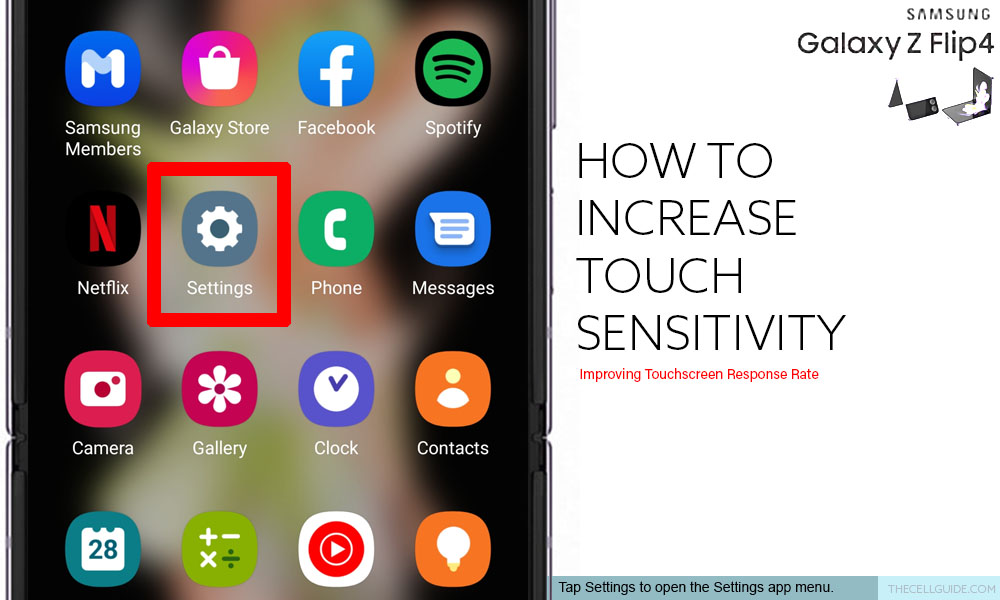 Alternatively, you can access the Settings shortcut control straight from the quick settings panel of your phone.
Step 2: While in the main settings menu, scroll to find then tap Display. Another menu opens with a list of all in-built display options and relevant features.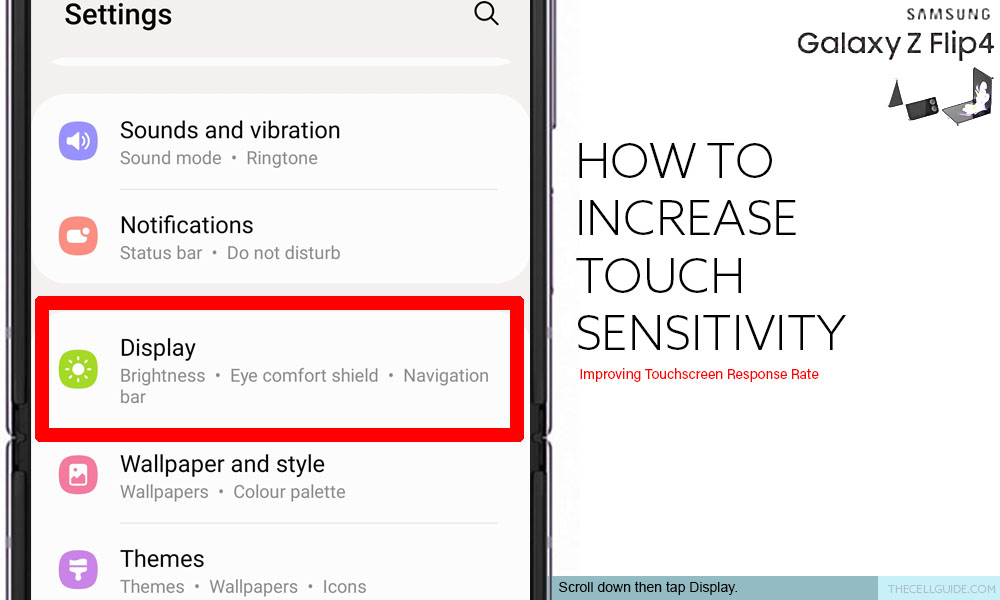 Step 3: Scroll to find Touch sensitivity from the given options. Then, tap to turn on the switch next to it.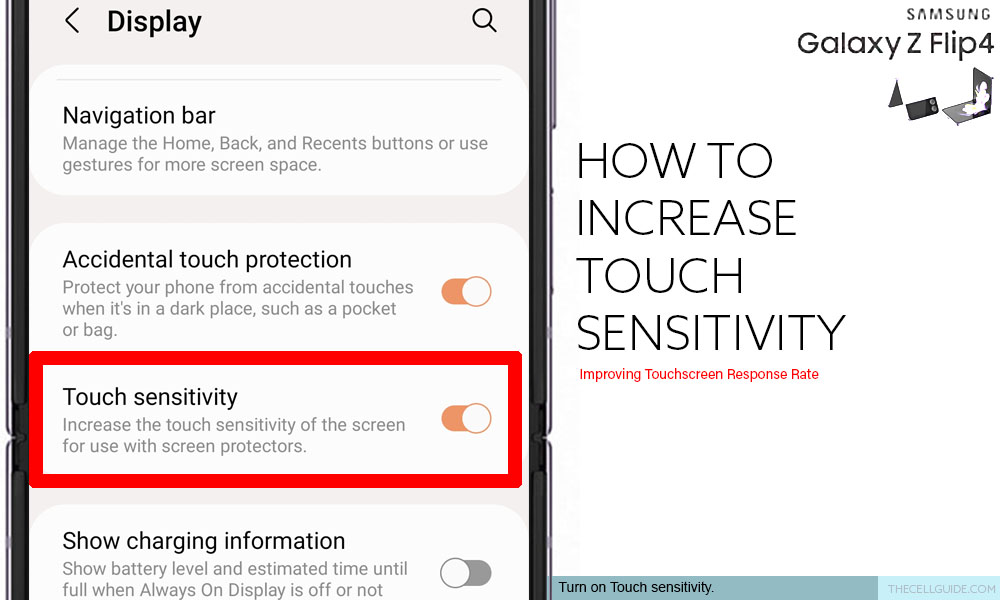 Keeping touch sensitivity enabled increases the screen's touch sensitivity, allowing your device to respond to touches as fast as it should even with screen protectors on.
Keep your phone software up to date
Software updates aren't only designed to bring in new features but also integrate necessary bug fixes to address a known wide issue on certain smartphone models. That said, keeping the device's software updated is highly recommended. And that applies to all Samsung devices including the latest Flip 4 models.
You can manually check for new updates or configure your device to automatically install new updates when available.
Aside from system updates, updating apps is also recommended. Apps also require periodic updates in order to stay optimized and bug-free. When any of your apps is buggy and constantly glitching, there's a higher chance that the entire system gets affected. Eventually, your device may be responding slower than it originally does.
Use OEM Screen Protectors
While there is no restriction on the use of screen protectors for your new Samsung flip phone, using OEM brands is still better and highly recommended. This is because there are many third-party screen protectors that are poorly designed and others were made of poor-quality materials that could adversely affect the phone's normal touchscreen response rate.
Tagged among the best (OEM) screen protectors for Samsung phones, particularly the Galaxy Z Flip 4 include Whitestone Dome Premium Film, ZAGG InvisibleShield Fusion Eco and Supershieldz Screen Protector.
These brands may be more pricey than other brands but they're guaranteed to be high-quality and perfect fit for the Galaxy Z Flip 4 device.
Hope this helps!
Please check out our YouTube channelto view more tutorial and troubleshooting videos for popular iOS and Android devices.
You Might Also Want To Read: