This post will walk you through hiding important content from the Galaxy S21 without using the secure folder. Read on to learn how to hide files on Samsung Galaxy S21 by creating a hidden folder from the phone's internal storage.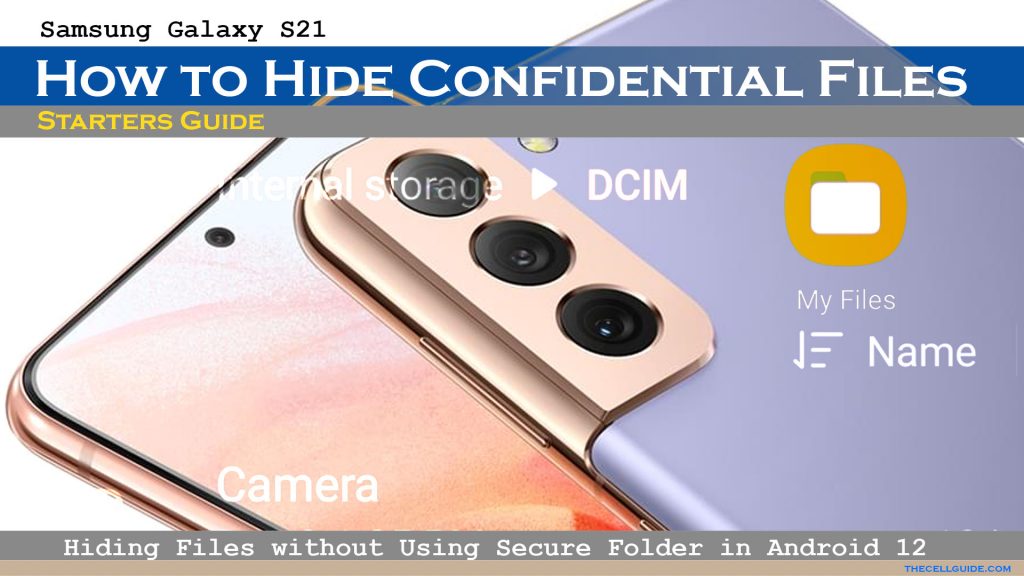 Wondering how to hide confidential files on your Samsung smartphone without using the preinstalled secure folder? If so, then you can just create a custom hidden folder on your phone.
Galaxy S21 Advanced Storage Features
Just like personal computers, modern smartphones also offer various ways to keep confidential files safe and private.
As a matter of fact, in newer Android devices like the Galaxy S21, you can create a custom hidden folder where you can segregate and store sensitive content.
If you're new to the Android or One UI platform and need some input on how to get these things done on your new Samsung Galaxy S21 smartphone, I've mapped out the actual steps below.
Feel free to refer to this simple walkthrough if you need help creating a hidden folder where you can hide sensitive information on the Galaxy S21's internal storage menu.
Easy Steps to Hide Files on Samsung Galaxy S21 without using Secure Folder
The following steps are also applicable when hiding files on other Samsung smartphones that are running on the same Android or One UI version with that of the Galaxy S21 series.
There may be some slight variations with the actual interface given that screens and menu options vary between device models and service providers.
Just refer to these steps whenever you're all set to begin.
Step 1: Open the My Files app. Just find and tap on the My Files icon from the Apps viewer. If it isn't there, then you will need to access the Samsung folder first. There you should see all Samsung-related apps including My files.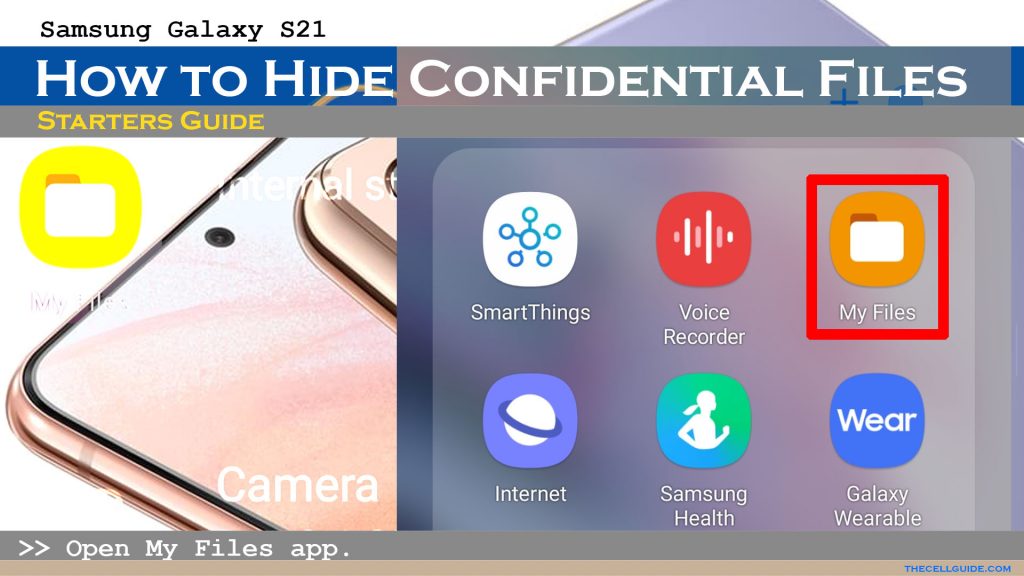 Step 2: From the My Files menu, scroll down and then tap Internal Storage and then tap the Triple-dot icon on the upper-right corner.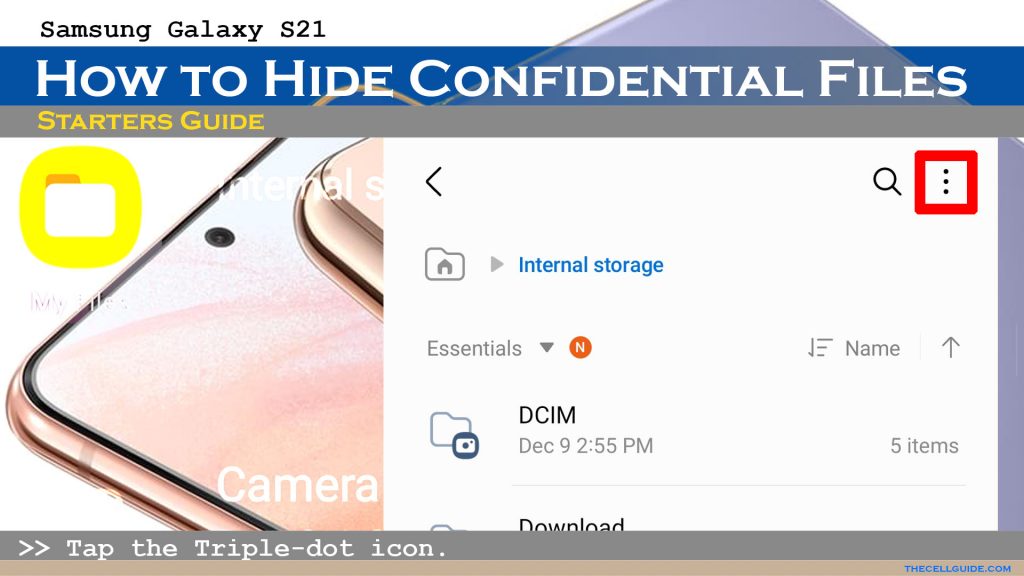 A side menu opens with more relevant options.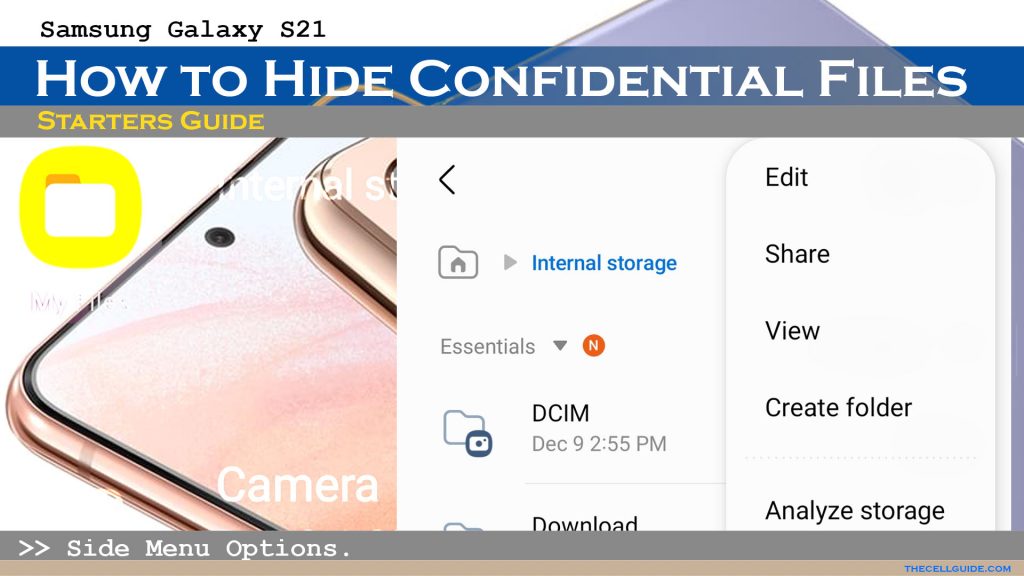 Step 4: Tap Create folder from the menu items to proceed.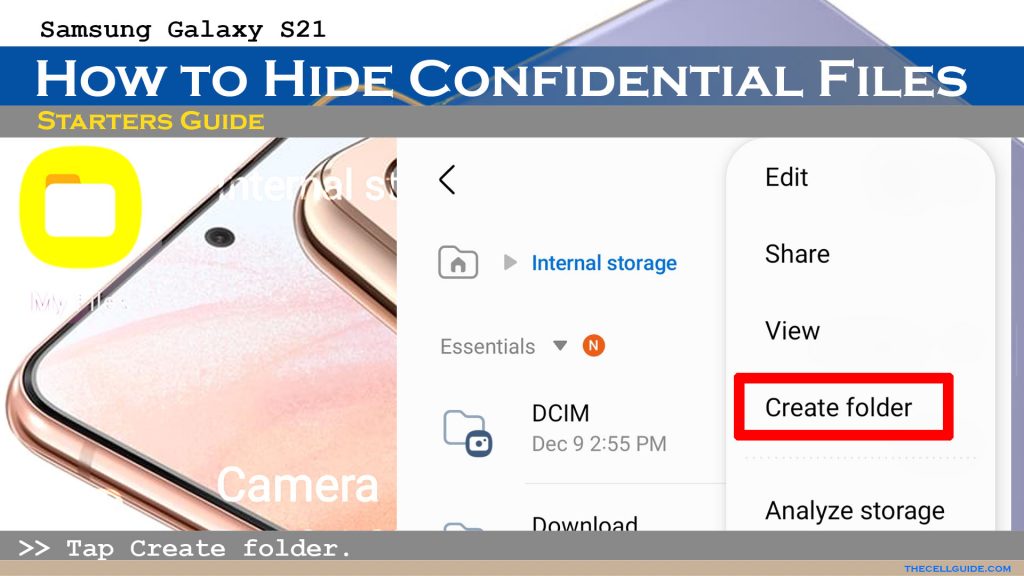 Step 5: On the Create new folder pop-up screen, enter the folder name with a dot(.) before it and then tap Create. For example, (.newfoldername). The dot before the folder name indicates that the newly created folder is a hidden folder.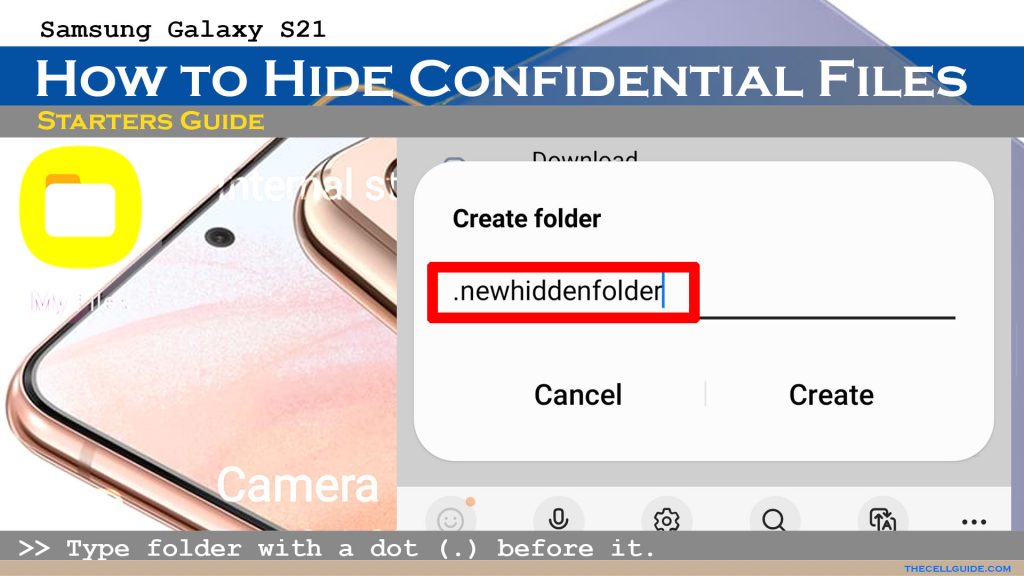 Step 6: After creating a hidden folder, find and select files that you'd like to hide and then highlight or select them.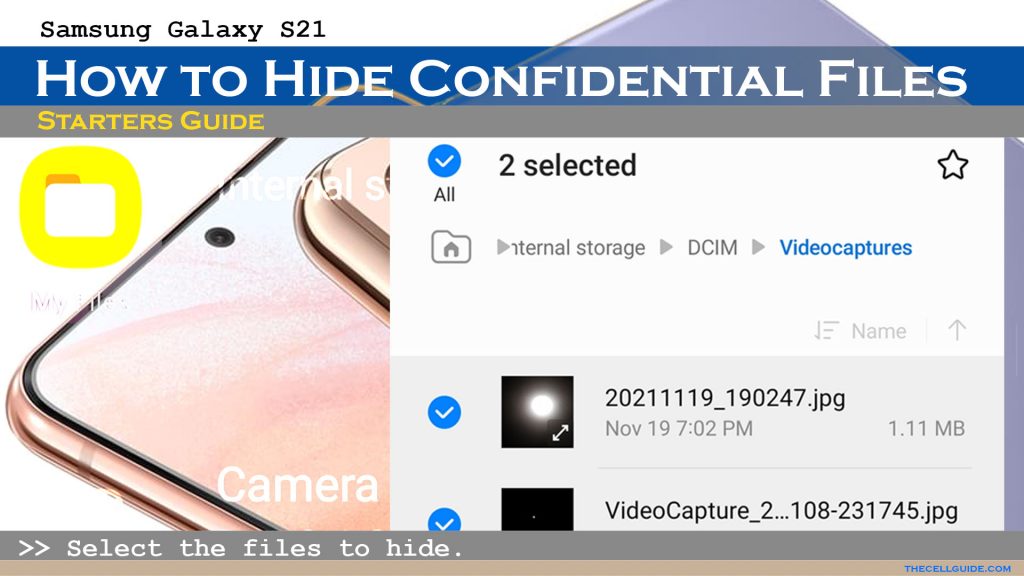 Step 7: After selecting the desired files/content, tap Move or Copy at the bottom to instigate file transfer command.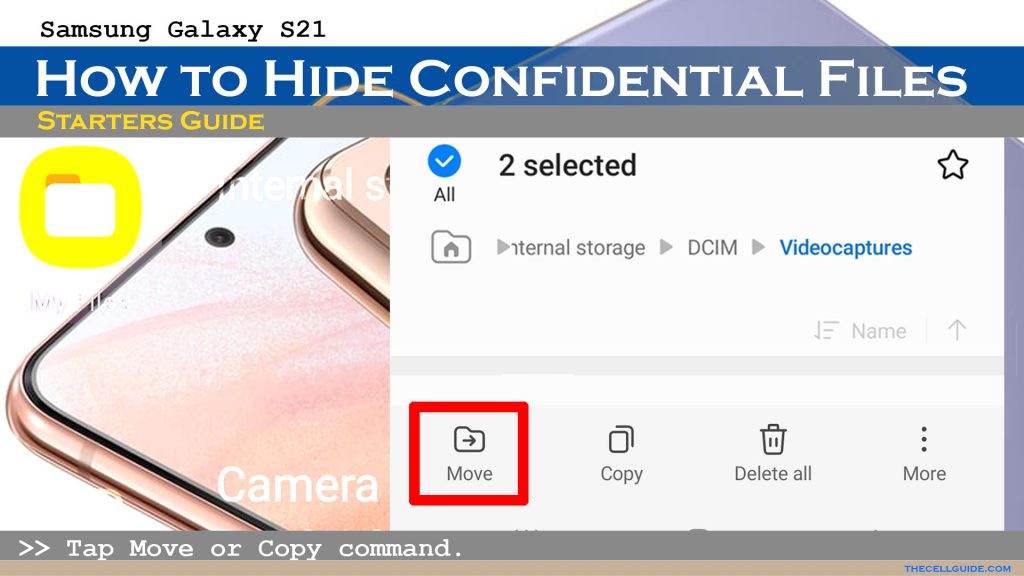 Step 8: To continue, navigate to the target (destination) directory and tap the triple dot icon on the upper-right corner of the screen to view more items.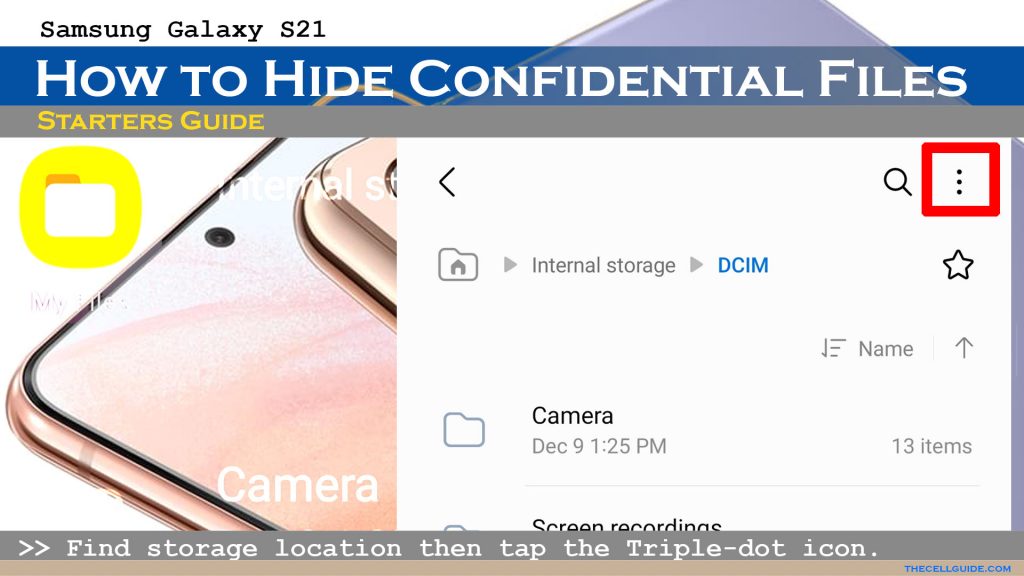 Step 9: Tap Settings from the side menu items to proceed. You'll be routed straight to the My Files settings menu.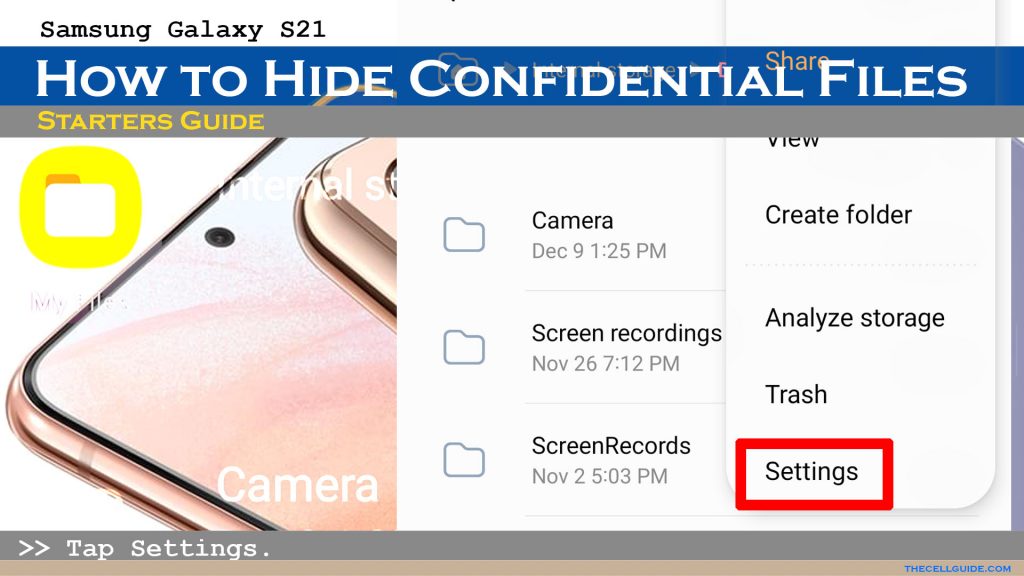 Step 10: Scroll down and then tap to turn on the Show hidden system files switch. Doing so will prompt the device to show all hidden folders from the system storage.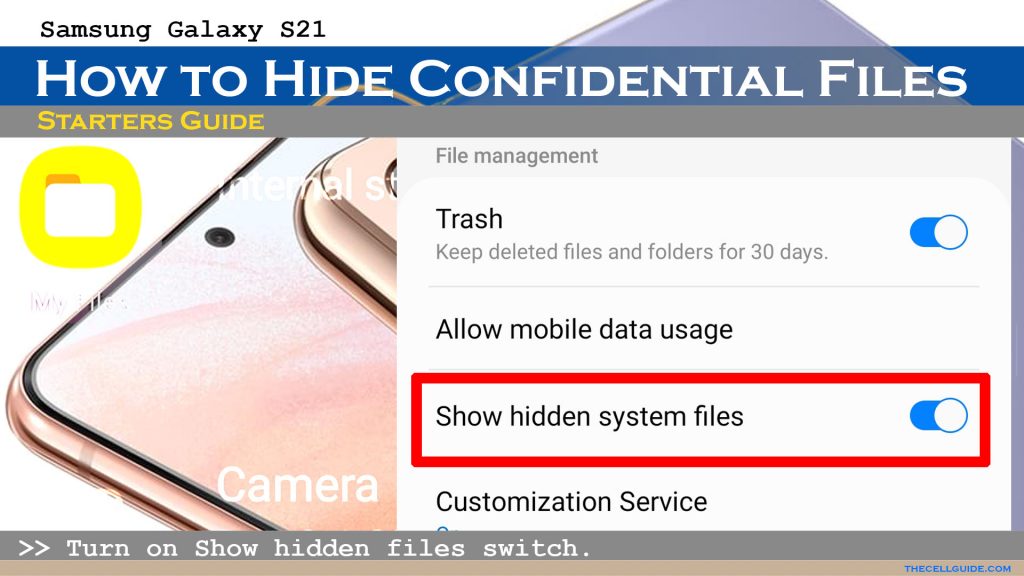 The hidden folders will appear in a seemingly faded color than the normal folders.
Step 11: Find and tap to open the hidden folder that you recently created.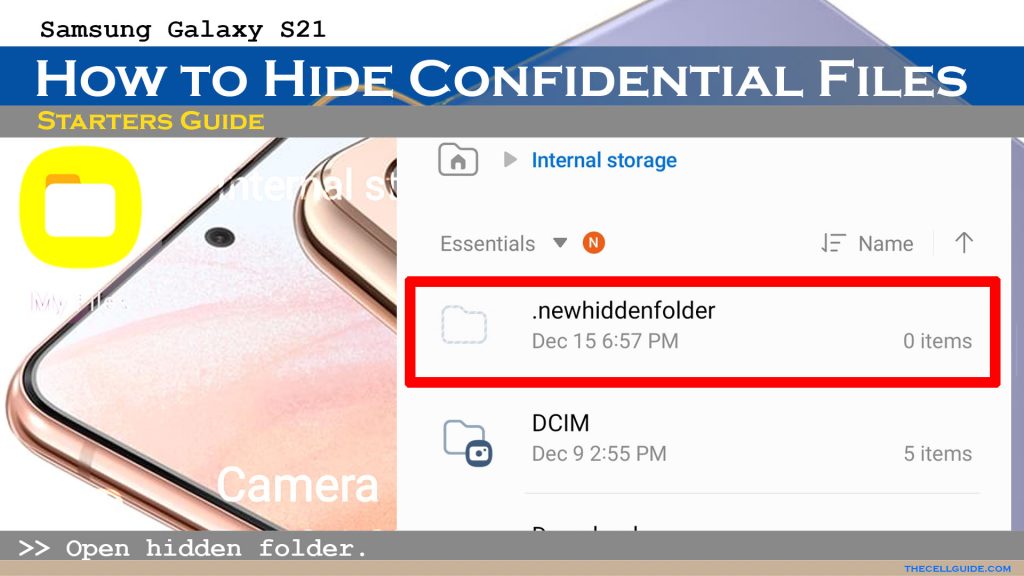 Step 12: While inside the desired folder, tap Move here/Copy here. Doing so will paste the copied file(s) from the previous folder/source directory to the currently selected/opened hidden folder.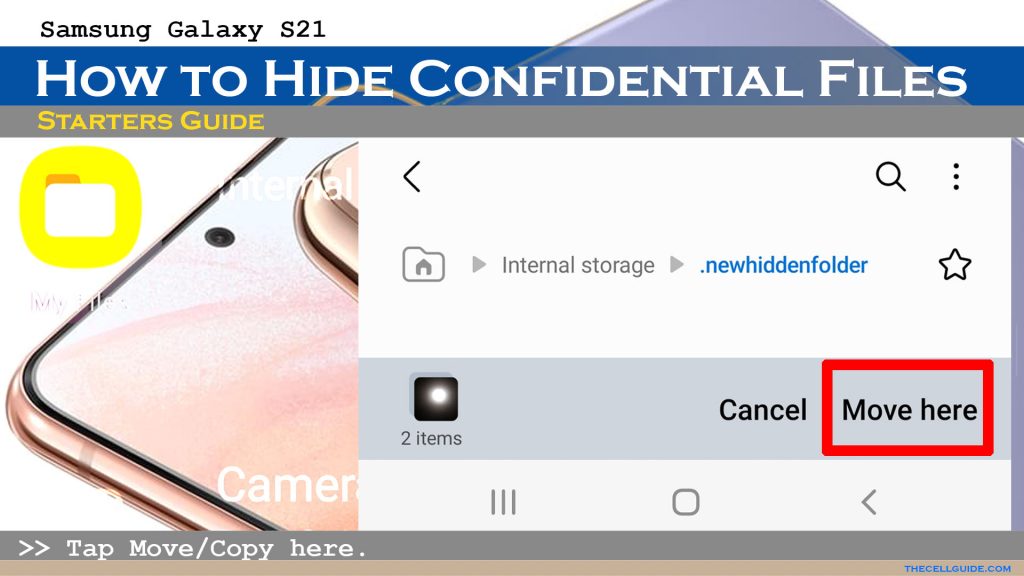 Step 13: After pasting the selected files, go back to the main storage menu and then tap the triple dot icon on the top-rightmost corner.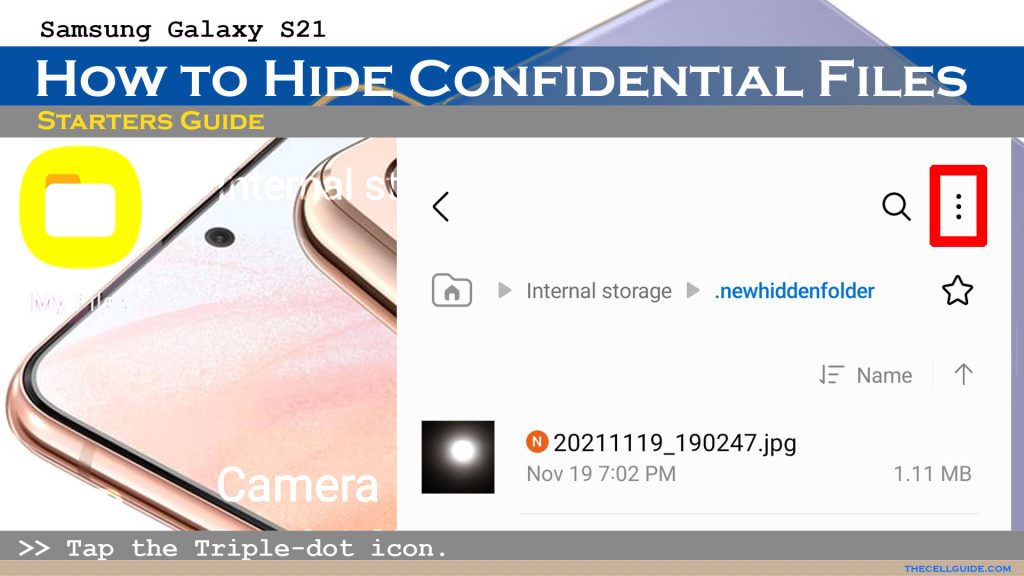 Step 14: Tap Settings to access more advanced settings options.
Step 15: Scroll down and then tap to turn off show hidden system files switch. Doing so will hide all hidden folders including the recently created hidden folder that contains your recently copied content.
The hidden folder that contains your files will then disappear from the current directory and hidden back into the system.
To access and manage your hidden contents, just repeat the same steps to show hidden system files and then find the hidden folder that contains your files.
Other Ways To Hide Files on Galaxy S21
Modern Samsung Galaxy phones also offer other options for you to hide sensitive information. One of these is a Biometrics and security feature called Secure Folder.
With Secure Folder, you can keep personal files and apps safe and secure. All you have to do is set up the folder using the built-in Wizard from the Biometrics and Security menu.
This folder is protected by Samsung Knox, a defense-grade security platform that's mainly designed to keep your information safe from any malicious attacks.
There is also an option for you to add a passcode or biometric lock to augment data security.
In order to make use of this feature, you will need to have a registered Samsung account to sign into and set up your Secure Folder.
After setting it up, you can start moving apps, photos, videos and documents and hide them inside the Secure Folder. For extra security, you can also hide your Secure Folder from the Home or Apps screen.
To view hidden files from your Secure Folder, just access the main settings menu.
And that's all about hiding files in a hidden folder on the Samsung Galaxy S21's internal storage menu.
Hope this helps!
Please check out our YouTube channel to view more tutorial and troubleshooting videos for popular iOS and Android devices.
You Might Also Want To Read: