Various types of problems can occur on a device after installing new iOS updates. Although software updates are originally intended to serve good purpose, many factors can make the outcome the opposite. Thus, many people would end up dealing with different types of post-update problems. Tackled in this post is one of the most common wifi problems encountered by many iPhone owners following an iOS update installation. If you own an iPhone 7 and ended up facing wireless connectivity issues after installing the recent iOS update, then this post may be able to help you out. Read on to what caused Wi-Fi to stop working on your iOS device after the update and try some means to solve the problem on your end.
Possible causes of wifi problems
Although the onset of the problem was after installing the new software update, the blame isn't always due to a faulty update. In fact, many post-update Wi-Fi issues have been figured to be attributed to some other factors including the following:
Temporary network outages.

This is when unexpected network problems occur in your place and Wi-Fi services are affected. Scheduled maintenance is also a possible cause. Unfortunately, these types of problems are not rectifiable by end-users. Hence, there's not much can be done on your end but to wait until the outage is over and the services are restored.

Random firmware issues on the network device.

Like any other electronic devices, wireless routers and modems also given into some random firmware crashes. When this happens, various types of internet problems could arise. Usually, minor firmware issues can be resolved by rebooting the network device. The tweak is also referred to as power cycle.

Network settings errors.

Some updates override your phone settings, which may either result in bad or good outputs. If automatic overrides are the underlying cause in your case, then apparently, the output is bad. Hence, those incorrect settings need to be corrected.

Hardware damage.

This would be the worst among the possible causes. While the symptoms might have appeared to be inflicted by an iOS update, it's not impossible that some damaged network components on either the iPhone or network device are at fault. In that case, taking the device to a service center would be necessary.
In some cases, account-related problems can also be the underlying cause of Wi-Fi problems on an iOS device. For example, having a very slow Wi-Fi internet connection because your internet service provider or carrier throttled your data due to unsettled bills or other relevant problems with your account. To ensure that this isn't the main reason why your iPhone 7 is enduring some Wi-Fi connectivity issues, talk to your carrier about your account and services status.
Troubleshooting Wi-Fi issues after an iOS update
Random Wi-Fi issues  on an iPhone 7 are usually transpiring among other minor symptoms, and thus they can be resolved by performing some basic solutions. Unless your iPhone or network doesn't obtained any sort of physical damage, the internet connection should be back up and running. To eliminate common software-related factors that trigger wifi internet problems to occur from the recent update, you can try the following solutions.
First solution: Restart your modem/router.
The very first recommended solution your internet service provider's tech support likely gives when dealing with internet problems is to power cycle the network equipment. The process is likely similar to that of a soft reset on the iPhone. It often helps eliminate minor wi-fi issues from random firmware crashes on the network device. And you can try this method if you can reach your modem or wireless router right now. Here's how it's done:
Locate then press the power button on your modem/router until it powers off.

While the network device is turned off, unplug its AC adapter from the power source.

After 1 minute, plug it back in then turn the device on.
Wait for the light indicators to become stable and allow your iPhone to re-establish Wi-Fi signal. If necessary, turn the Wi-Fi switch on your iPhone back on then enter your network password to reconnect.
Second solution: Soft reset or reboot.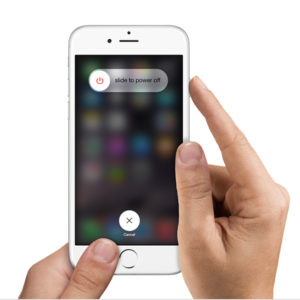 What you're dealing could also be just a minor glitch on the network system that's triggered by the recent update and that it's adversely affecting wireless features of your phone. Should this be the case, performing a soft reset will likely suffice. A soft reset can fix various types of software issues including post-update errors. If you haven't already, just do these:
Press and hold the Top/Power button for a few seconds and then release when the Slide to Power Off appears.
Drag the slider to the right to power off the device.
After 30 seconds, press and hold the Top/Power button again until the phone reboots.
Another way to reboot your iPhone is through Settings-> General-> Shut Down menu and then tap the Power off slider to the right.
Allow your device to finish rebooting and then reconnects to your Wi-Fi network. To test your internet connection, launch your preferred browser app then try browsing different websites and pages. If you don't have any trouble browsing sites, the internet is working fine. If wifi is still not working, rule out other factors using other methods.
Third solution: Turn Wi-Fi off and on.
Minor wifi issues can also be remedied by restarting the wireless feature of your device. That said, turning Wi-Fi off and on will be the next option to try. Just follow these steps:
From the Home screen, tap Settings.
Scroll to and select Wi-Fi.
Toggle the Wi-Fi switch to turn the feature off.
After a few seconds, toggle the switch to turn Wi-Fi back on again.
Another simple old trick that's been proven to work wonders when dealing with random wifi problems on an iPhone is the Airplane Mode trick. It works by simultaneously restarting wireless radios of your device and thereby eliminates any minor flaws. And here's how to trick is done: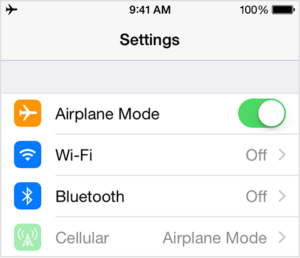 From the Home screen, tap Settings.
Scroll down and tap on Airplane Mode.
Toggle the Airplane Mode switch to turn the feature ON. Doing so disables your iPhone's wireless radios and associated features like Wi-Fi and Bluetooth.
While Airplane Mode is turned on, reboot or soft reset your iPhone to clear out network cache.
After it reboots, go back to Settings-> Airplane Mode menu.
Then toggle the Airplane Mode switch to turn it OFF again.
At this point, your device will re-establish wireless signals. Just wait for the signal to become stable and then reconnect to your Wi-Fi network. 
Fourth solution: Forget network then re-add to connect as new.
The wi-fi network that your iPhone is connected to might have gone corrupted after the update and therefore, no longer works. If this is the case, deleting the problematic network would be necessary. Doing so will let you set up the network as new. Just follow these steps to do so:
Go to your iPhone Settings-> Wi-Fi menu then make sure that the Wi-Fi switch is turned on.
Scroll down to the list of available Wi-Fi networks and then select the network that your iPhone is connected to.
Tap the information "i" icon next to the name of the selected Wi-Fi network.
Then tap the option to Forget this Network.
If prompted, tap Forget Network to confirm network deletion. The network will then be removed from the list.
Repeat the same steps to forget other unused networks to prevent any of them from causing conflicts with the network in use.
After forgetting the Wi-Fi network, turn OFF the Wi-Fi switch then restart your iPhone to clear its network cache.
As soon as it reboots, go back to Settings-> Wi-Fi menu then re-enable the Wi-Fi switch to view the list of available Wi-Fi networks.
Select your preferred Wi-Fi network then tap Join or Connect.
If prompted, enter the correct network password to proceed.
When your iPhone is connected, open a browser and try navigating through different sites. You can also launch online apps to see if they're already working fine or not.
Fifth solution: Install carrier settings update, if available.
Network-related issues including those inflicted by an iOS update can also be resolved by updating carrier settings on your iPhone. These updates are created and rolled out by your network service provider/carrier as their way of enhancing network features for optimum, stable network performance. Since your iPhone7 is enduring some wifi issues, you will need to use iTunes to manually check and install new carrier updates available. Just follow these steps to continue:
Connect your iPhone to the computer and then open iTunes. Be sure to use the latest version of iTunes app to avoid bumping into some system conflicts.
Wait for your device to sync and back up with iTunes.
Click to select your iPhone when it appears in iTunes.
Navigate to the Summary section and then hold down the Shift key on the keyboard and click Check for Update. Doing so will prompt iTunes to install an iOS image (*.ipsw).
Change the file type to iPhone/iPad Carrier Configuration File (*.ipcc).
Select the desired file and then follow the rest of the onscreen instructions to complete the process.
After installing new carrier updates, restart your iPhone to save the recent changes. Then test to see if that solves the problem on your wifi connection or not.
Sixth solution: Reset network settings.
To eliminate network settings conflicts including those brought by the recent update, try to reset the network settings on your iPhone 7. Doing so will restore the default network values and configuration on phone. Any existing network errors will also be cleared out. Just follow these steps to proceed with a network reset:
From the Home screen, tap on Settings.
Select General.
Scroll down and tap on Reset.
Tap to select Reset network settings from the given options.
Enter your passcode if prompted to continue.
Tap on Reset network settings again to confirm action.
Wait for your iPhone to finish resetting the network settings. Once it's done, it will restart on its own and then loads up the default network configurations. This means the need for you to reconnect to the Wi-Fi network in order to get back online.
Last resort: Restore your device in iTunes.
If none of the previous methods is able to solve the problem and you're still having trouble with your iPhone's Wi-Fi internet connection, the next thing you can try would be a system restore. Perhaps the recent update really has ruined your iPhone 7's network functions due to some stubborn bugs. If you wish to troubleshoot further, you can try carrying out a factory reset. Doing so will erase everything from your device and then restores its factory defaults. This therefore allows you to set up Wi-Fi on your iPhone 7 as new. Just don't forget to back up all important files stored on your iPhone's internal memory beforehand so you will still be able to recover them afterwards. Once you have secured the backup, you can proceed with these steps to erase and restore your iPhone 7 to its factory defaults:
From the Home screen, tap Settings.
 Select General.
Scroll down and tap on Reset.
Select the option to Erase all content and settings. This will erase everything from your iPhone system including personal information saved on your device.
Enter your device passcode if prompted to continue.
Then tap the option to confirm that you want to erase your iPhone and restore its factory default settings.
When the reset is finished, you can set up your device as new. For faster setup, you can use the start-up wizard. Just follow the onscreen prompts to complete the setup process. When setting up your Wi-Fi network, be sure to input the correct network password, too.
Still dealing with post-update Wi-Fi problems?
You've done the basics and even restored the factory default settings on your phone but still ended up having the same wifi problem. In that case, there's a good chance that the problem is not on your end and so there's no way for you to fix it. At this point, you can either troubleshoot further or seek more help from your internet service provider. It's possible that your network device needs to be reprovisioned or reset. Also consider checking on your current account status and make sure that there aren't any issues left unsettled.