Bluetooth is a wireless communication platform incorporated into your iPhone 11 device to be able to connect to other devices, gadgets, or accessories. Your iOS device can be paired with any devices without limits for as long as the paired devices are compatible. But your device can only connect or pair with other Bluetooth-enabled accessories one at a time. On the previous iOS generation, you still need to head to your phone's menu settings in order to manage your phone's key controls and functions. But with today's latest iOS version, you already have 2 options to manage or enable these features including Bluetooth; that is via the Control Center and through your phone's menu settings. In this article, we will walk you through on how to enable the Bluetooth feature on iPhone 11 device. Read on so you will learn the ways on how to manage this feature.
With Bluetooth, you are now able to share files, videos, audio data, and other important information from your iPhone 11 to the paired devices. And it has been always time-consuming to enable and pair your iOS device to a Bluetooth-enabled accessory. But with the latest iOS platform, we can conveniently manage the Bluetooth feature on our device from the main screen itself. Read further and see how it's done.
How to enable Bluetooth on iPhone 11 via Control Center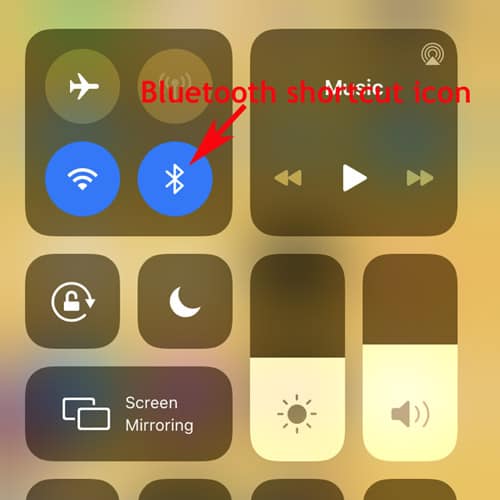 To make it easier for you to manage the Bluetooth feature on your device, simply launch or open the Control Center from the Home screen of your iPhone 11. Here is how:
Swipe your finger upward from the bottom of your screen.
Long press any section on the Control Center to view the available wireless controls.
Then long press the Bluetooth icon to search or scan for available Bluetooth devices.
Tap to select the device that you want to connect to.
Your phone will then show that you are now currently paired or connected to the name of the paired Bluetooth device. Then you can start doing the stuff you wanted to do like transfer files and/or etc.
How to enable Bluetooth on iPhone 11 via menu settings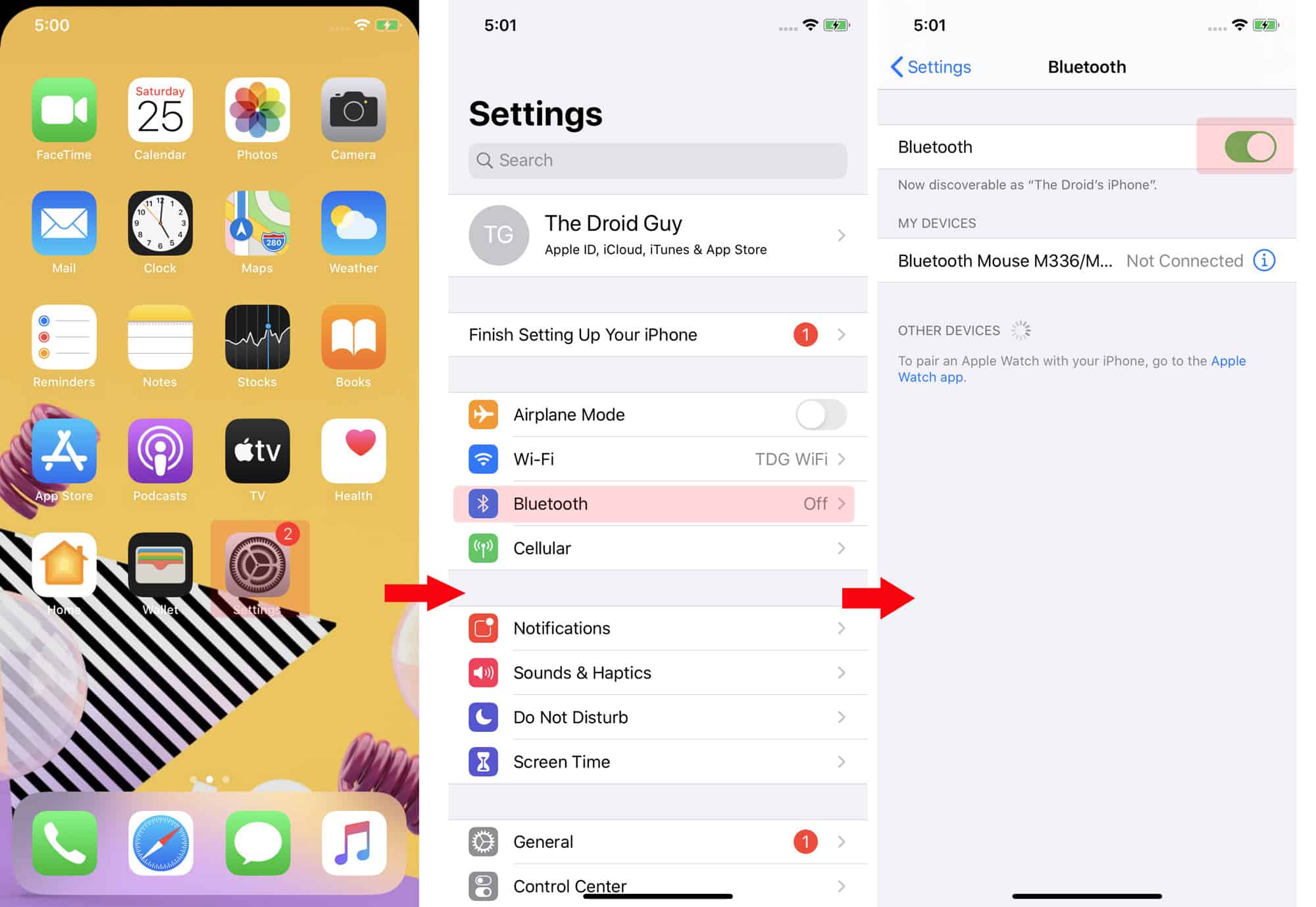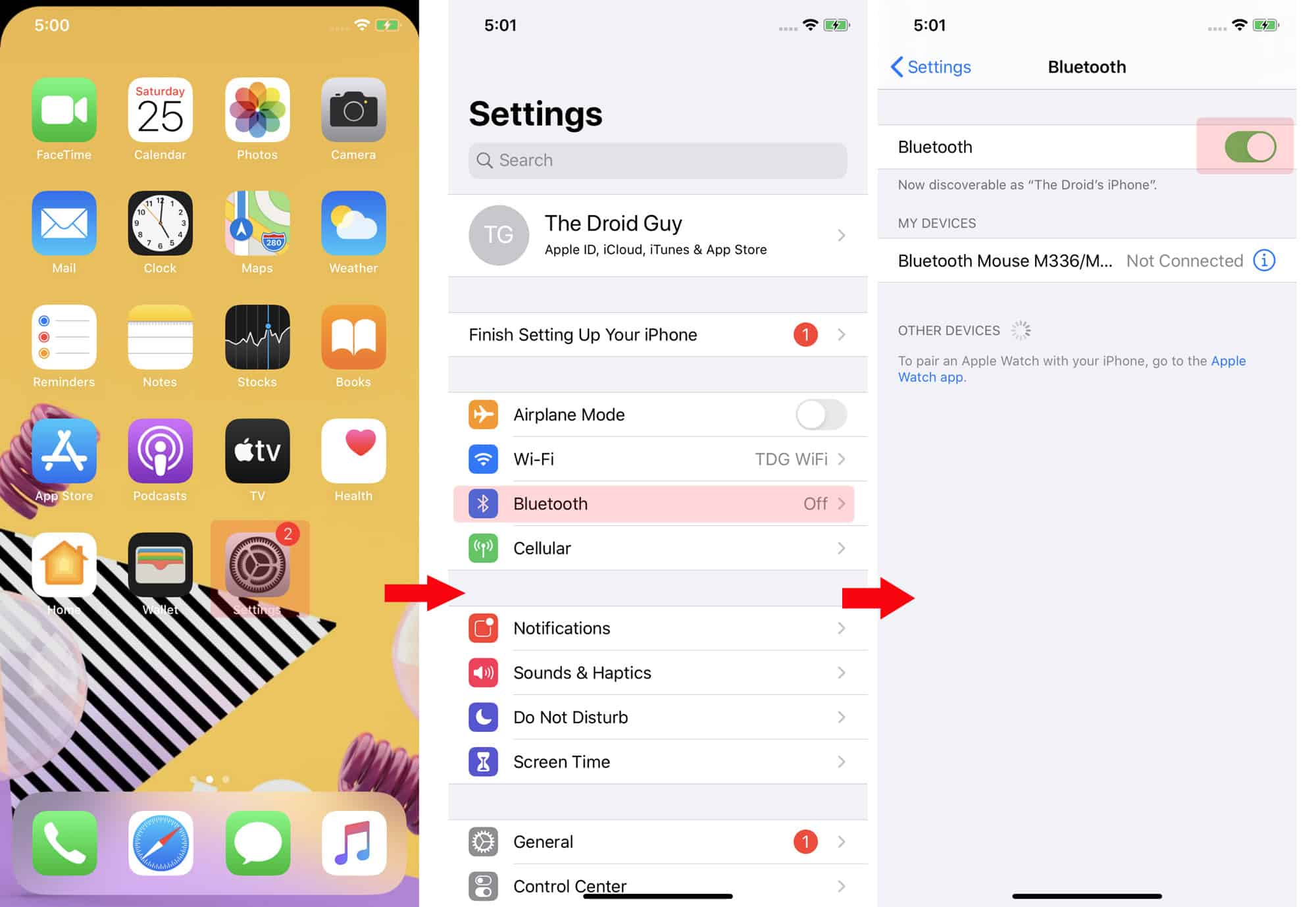 Meanwhile, if you are comfortable configuring the Bluetooth feature through you phone's menu settings, that would still do. Managing the Bluetooth feature on your iPhone 11 doesn't differ on how it is done on your previous iOS devices through the menu settings. But in case it's been a while since you did that and somehow you forgot where to head to, just see the steps listed below:
From the Home screen, go to Settings.
Select Bluetooth menu.
Toggle the switch to turn the feature on.
Once the Bluetooth is enabled, your phone will scan for available Bluetooth devices within range. Then a list of devices will be populated under the available connections.
Tap the name of the Bluetooth device you wish to get paired or connected to.
Then follow the onscreen prompts to complete the pairing process.
If you have already enabled Bluetooth on iPhone 11 and the pairing wasn't successfully for whatever reasons. All you need to do is to remove all the connections saved on your Bluetooth directory to eliminate minor glitches. To do so, check out the information below.
How to forget/delete Bluetooth device and add it back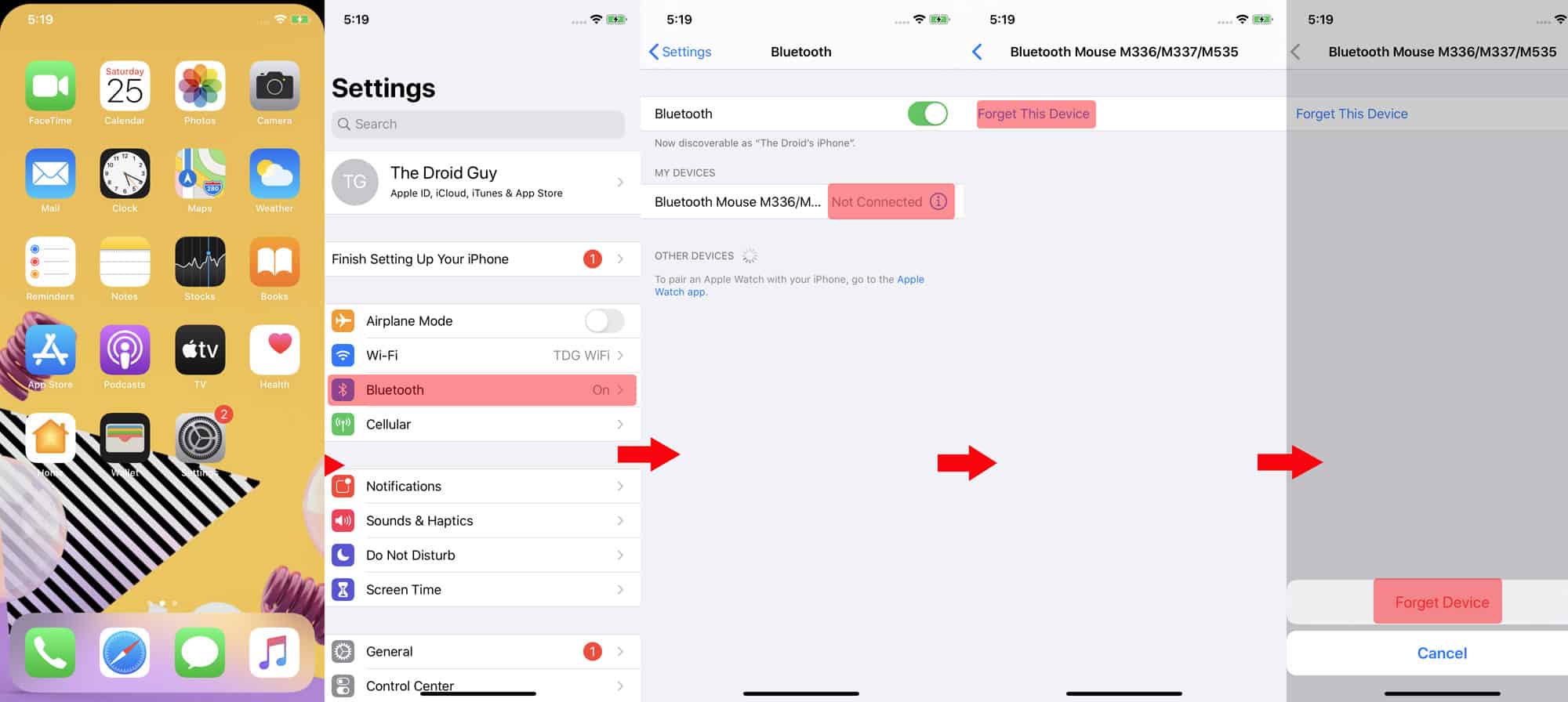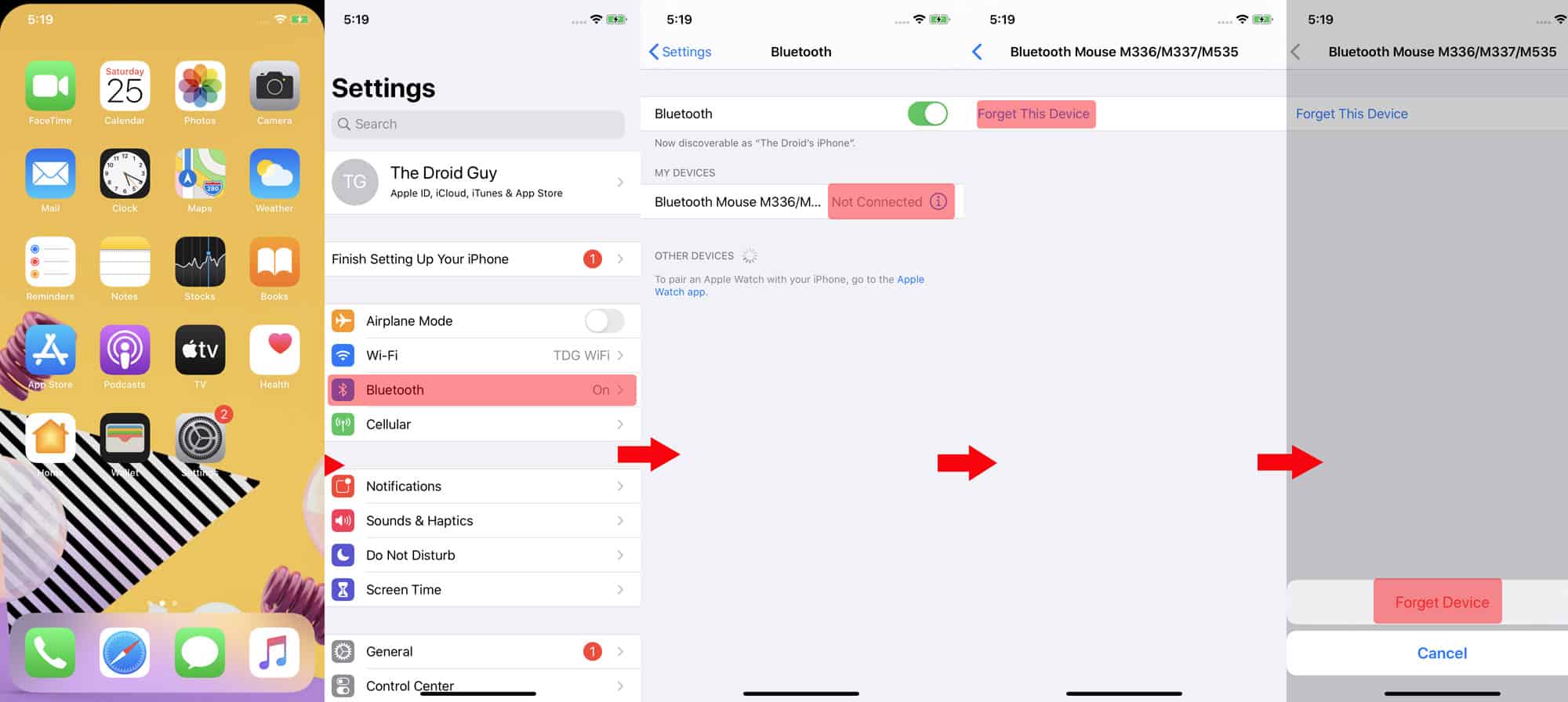 This procedure is also helpful in case you are having Bluetooth pairing problems on your iPhone 11. Here is how:
Launch the Settings app from the Home screen.
Select the Bluetooth menu and make sure that it is enabled. Otherwise, toggle the switch to turn the feature on.
Then scroll down to the list of Bluetooth devices and select the device that you are having problem pairing to.
Tap the information "i" icon next to the Bluetooth device name.
Tap Forget This Device option.
Then follow the onscreen prompts to confirm the deletion of the Bluetooth device or accessory.
Do the same to the rest of the saved Bluetooth connections on your device to avoid any of them from conflicting with the current Bluetooth device that you are trying to pair with your iPhone 11.
Once you have successfully deleted all the Bluetooth devices, reboot (soft reset) your iPhone 11 to dump out saved cache files from corrupted Bluetooth connections. Then head back to Settings->Bluetooth. If needed, toggle the switch to turn the feature on. Then wait for your phone to search for available devices within range. Once prompted with the available devices, select your device and then tap Pair or Connect option. Make sure as well to confirm the pairing request on the other device for a successful pairing process.
How to allow or deny Bluetooth for apps on iPhone 11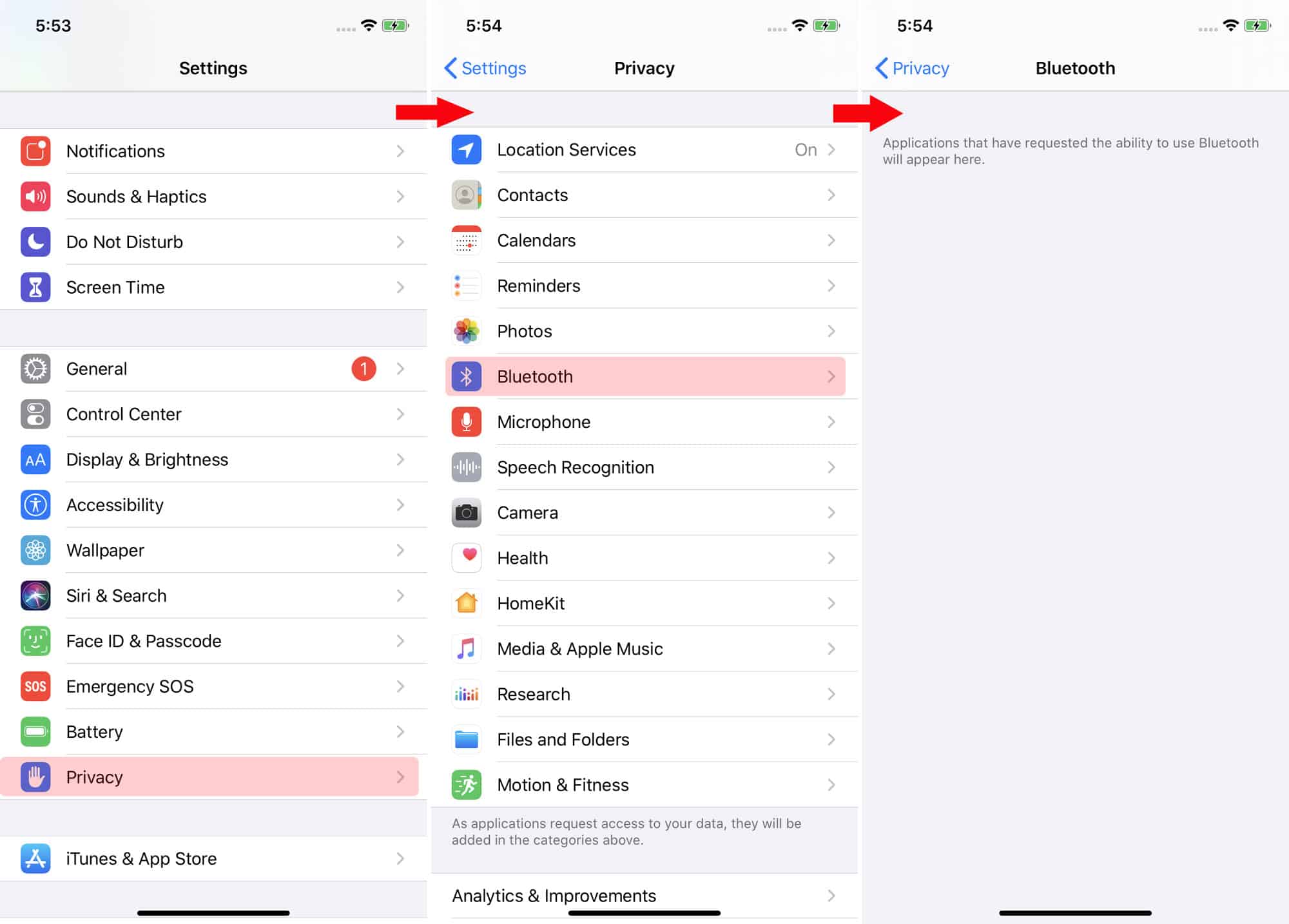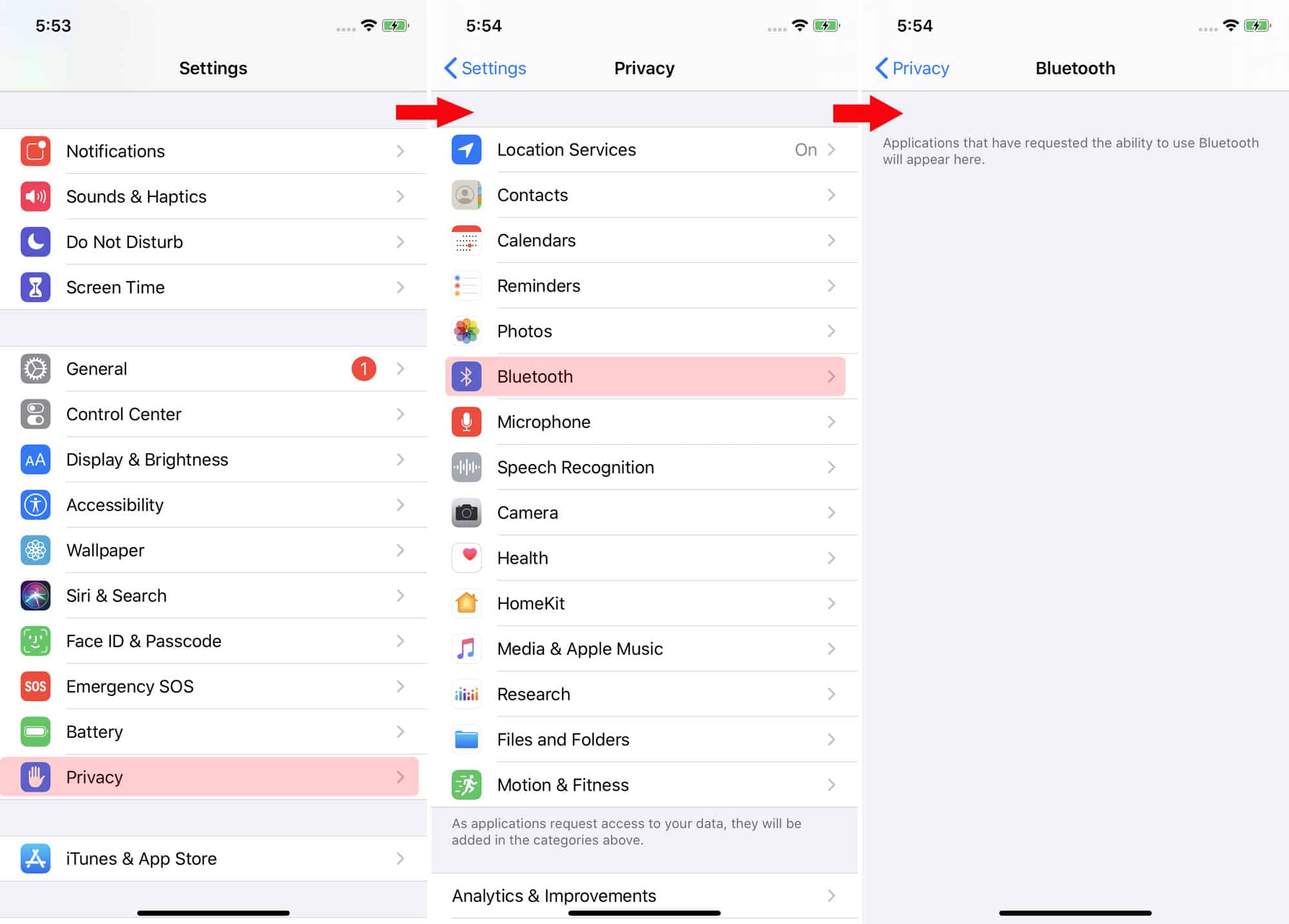 Many of us are not aware that the in-apps we have in our phone are actually using Bluetooth for location access. On the previous iOS platform, those apps that need to access our location information were given access automatically through the use of Bluetooth control on your device. But things had changed when Apple rolled out iOS 13 wherein users are prompted with notifications from the apps asking permission to have Bluetooth access like Facebook, Maps, and other in-apps. In line with these, you can now manage which apps you would allow or deny Bluetooth access on your iPhone 11 device. Here's what needs to be done:
From the Home screen, go to Settings.
Select Privacy.
Then select Bluetooth.
You will then see the list of apps that requested to have the ability to share data using Bluetooth access.
If you would like to continue these apps to get access on your Bluetooth, toggle the switch on to allow the app. Otherwise, just leave the switch off.
So that covers everything about Bluetooth feature on your iPhone 11 device. If you have questions or other issues on your phone, feel free to navigate the Help and Guide pages on our website. Don't forget to share this post with your friends you may be in need of assistance in managing the Bluetooth feature on their new iPhone 11 devices. Thank you for reading!
ALSO READ: iPhone 11's Basic Features and Functions and how to use them