This post will walk you through stopping unwanted pop-up screens from showing up when browsing the internet with the preloaded Safari app browser on the iPhone 13. Read on to learn how to block pop-ups on iPhone 13 and stop annoying pop-up ads from interrupting your online activities.
If your iPhone's Personalized Ads feature is turned, then expect that you will get to see different ads popping up on your display while browsing the internet. This is because you've allowed relevant websites or platforms to deliver relevant ads to you.
Although this may sound informative, constant pop-ups would eventually impede your overall browsing experience. This is when pop-up blockers come in handy.
What are Pop-Ups?
The small windows that are suddenly appearing on your computer or phone screen while browsing the internet are called pop-ups. These graphical user interfaces are specifically designed to suddenly appear in the foreground of the main interface to cater instant information, typically ads to targeted users.
While pop-ups are aimed to serve a good purpose, these foreground windows can likewise be deemed a nuisance by many people.
Having said that, most if not all browser apps are programmed to allow users make necessary adjustments to prevent pop-up windows from appearing. And such a feature is also supported in the preloaded iOS browser, Safari.
If you're new to the iOS platform and need some input on how to access and manage this browser settings on the iPhone 13 Safari app, I've mapped out a simple walkthrough as follows.
Easy Steps to Block Pop-ups on iPhone 13 Safari
The following steps are also applicable to other iPhone models with the same iOS version with that of the iPhone 13 series.
Actual screens and menu items may vary between device models so expect some slight differences on the user interface.
Start whenever you're all set to configure your iOS device.
Step 1: Step 1: From your Home screen, tap the Settings icon to access the Settings app main menu.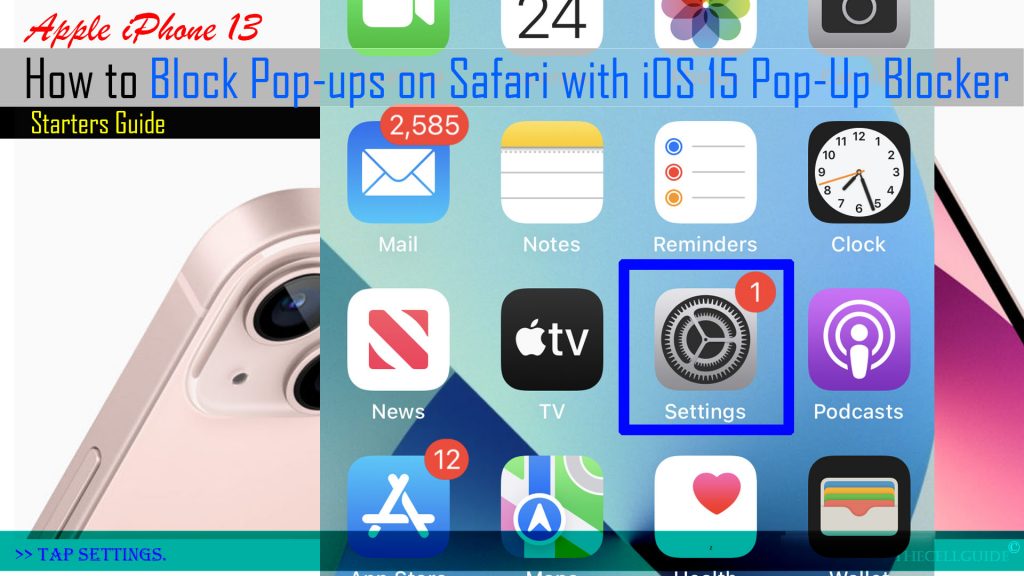 Step 2: While on the main settings menu, find and tap Safari. Doing so will route you straight to the Safari app settings menu. In this menu, you can see relevant features and options to manage.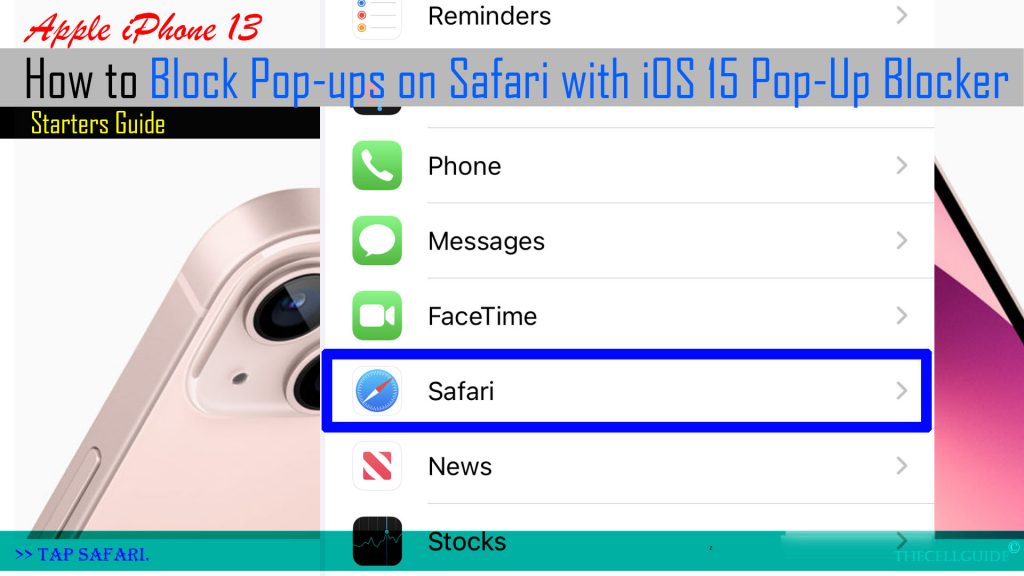 Step 3: Scroll down to the General section and then tap the Block Pop-ups switch to turn the feature ON.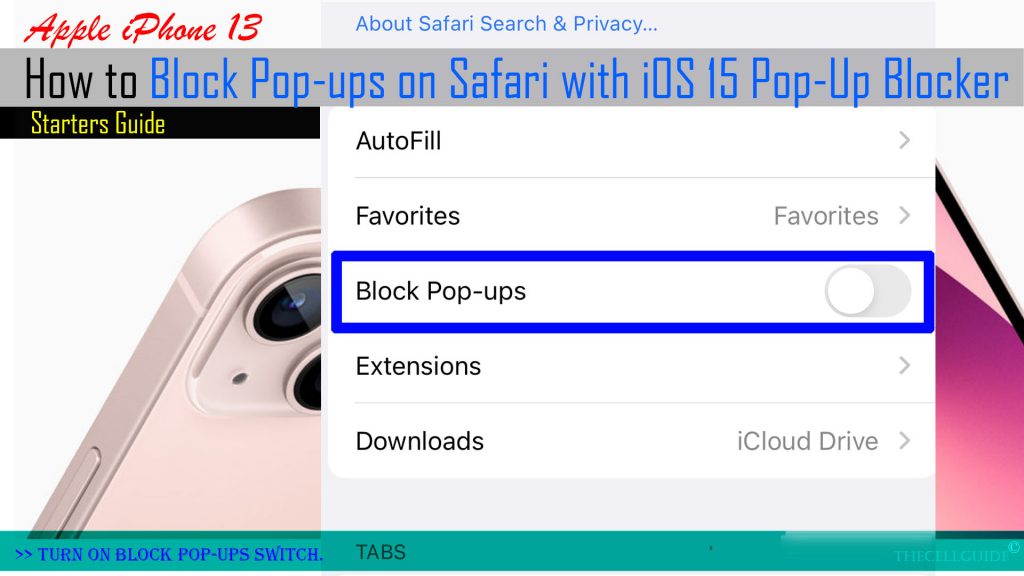 When the switch turns green it means that pop-up blocker is already activated on the Safari browser.
By then, pop-up windows or messages will be barred from showing up on your phone's screen while browsing the web through Safari.
Nonetheless, there are also some instances wherein you would need to allow pop-ups to show up on your screen like when downloading specific online content is only possible through a pop-up window. In this case, just turn the Safari pop-up blocker off through the browser app settings.
Pop-ups Still Appearing on Your iPhone Screen?
Please note though that turning off the pop-up blocker in Safari is not a guarantee that you won't totally be getting any more pop-up windows.
There are some websites that can bypass your browser settings and still manage to cater pop-up ads even with the pop-up blocker enabled on Safari. This is usually the case among websites with subscription offers.
Another possible reason as to why pop-up windows still appear on Safari is that you might have clicked on something like conditions for specific pop-up ads to show up even with the browser's pop-up blocker turned on. The same thing could happen if you clicked on certain URLs that automatically redirect you to advertisement pages via URL redirection.
Pop-ups can also be triggered when you've trusted or allowed certain types of downloaded content like images, free music, and images. Accidentally clicking on one pop-up may also result in opening other pop-up ads.
Even so, enabling the pop-up blocker should drastically reduce the amount of pop-ups you would encounter while browsing the internet on your iPhone through Safari.
And that's all about stopping annoying pop-up screens from showing up on your iPhone 13 with the integrated pop-up blocker on the iOS 15 Safari browser app.
Hope this helps!
Please check out our YouTube channel to view more tutorial and troubleshooting videos for popular iOS and Android devices.
You Might Also Want To Read: