This post will walk you through making your IP address hidden while using the iPhone Safari app in iOS 15.4. Here's a quick guide on how to hide IP address on iPhone 13 Safari app settings.

The new iOS settings allows you to adjust the Safari browser to hide your IP address for more secure and private browsing. Activating this feature is highly recommended when you see some malicious websites or trackers from your iPhone's Privacy Report. Doing so will help keep your browsing activities private from malicious online entities.
Keep reading to view more detailed instructions on how to configure your new iPhone to conceal your IP address while browsing the internet.
Hiding IP address with iOS 15 Intelligent Tracking Prevention
The updated Intelligent Tracking Prevention feature in Apple services like Safari is already capable of barring trackers from accessing the device's IP address and thereby stops any unauthorized entities from building a user profile.
First implemented in 2017, Apple's very own privacy-focused feature works by hindering sites from tracking users across the web.
Newer Apple devices including the latest iPhone 13 series also have an intelligent tracking prevention feature embedded in the built-in Safari browser application.
Keeping the device software updated is therefore highly recommended to ensure optimum browsing privacy and security.
Aside from preventing cross-site tracking, Apple ITP also allows users to hide their IP address when browsing the web for a more private browsing experience.
If you own any of the latest iPhone 13 series and need help activating this feature in Safari, you can refer to the outlined steps below.
Steps to Hide IP Address on iPhone 13 Safari in iOS 15.4
Below is the updated procedure about hiding the iPhone's IP address while browsing the web through the iOS 15.4 Safari browser. These steps may also be applied when configuring other iOS devices to hide the IP address while using Safari for the internet.
Just make sure that your Apple device has the latest iOS version. If you haven't already, download and install the latest iOS version available for your phone.
Once you've got everything set, you may proceed with these steps:
Step 1: To get started, open the Settings app by tapping on the Settings icon from the Home screen.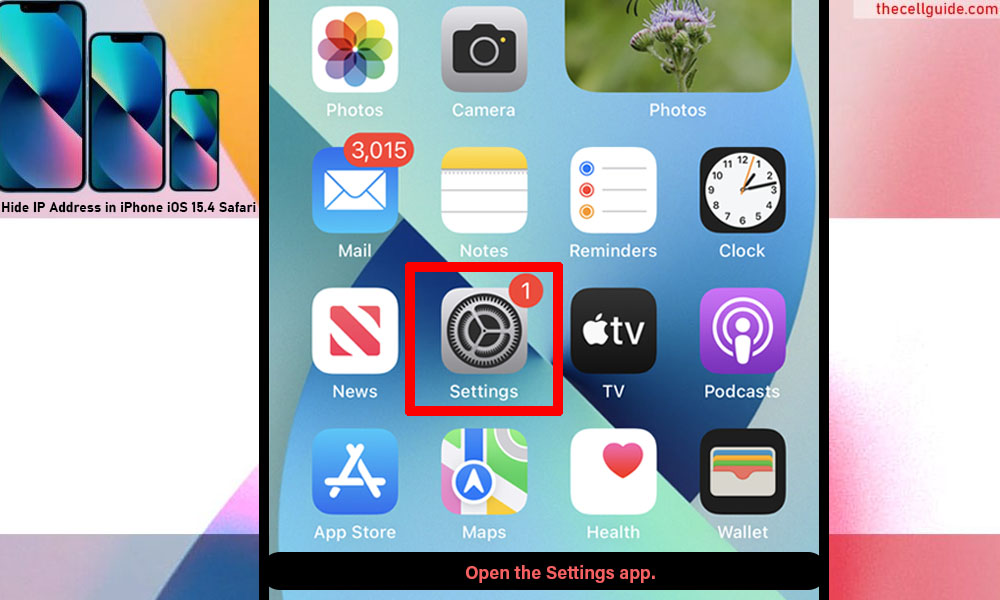 Step 2: While on the Settings menu, scroll down and tap Safari. The Safari settings menu opens next.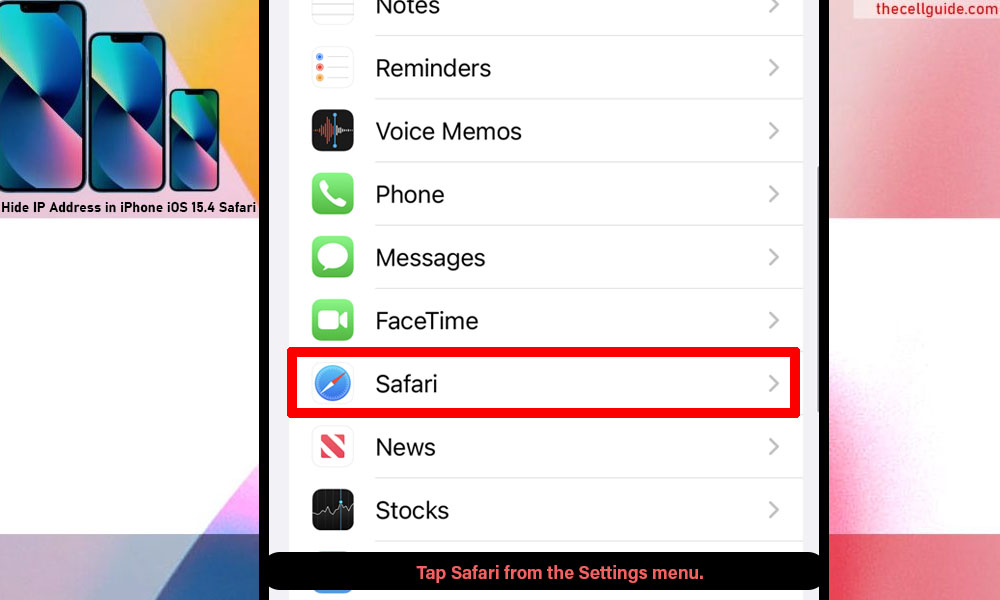 Step 3: Scroll down to the Privacy & Security feature and then tap Hide IP Address. Doing so opens another menu with relevant options for you to select.
Step 4: Tap to select From Trackers to prevent trackers and malicious websites from seeing your IP address.
At this point, you're already all set to browse privately in Safari on your iPhone 13.
The iOS 15.4 Safari browser will also automatically block websites and trackers from learning your IP address if you have the new iCloud Private Relay feature enabled on your device.
To make your IP address become visible again, just go back to Settings-> Safari-> Privacy & Security feature-> Hide IP address menu and then select OFF from the given options.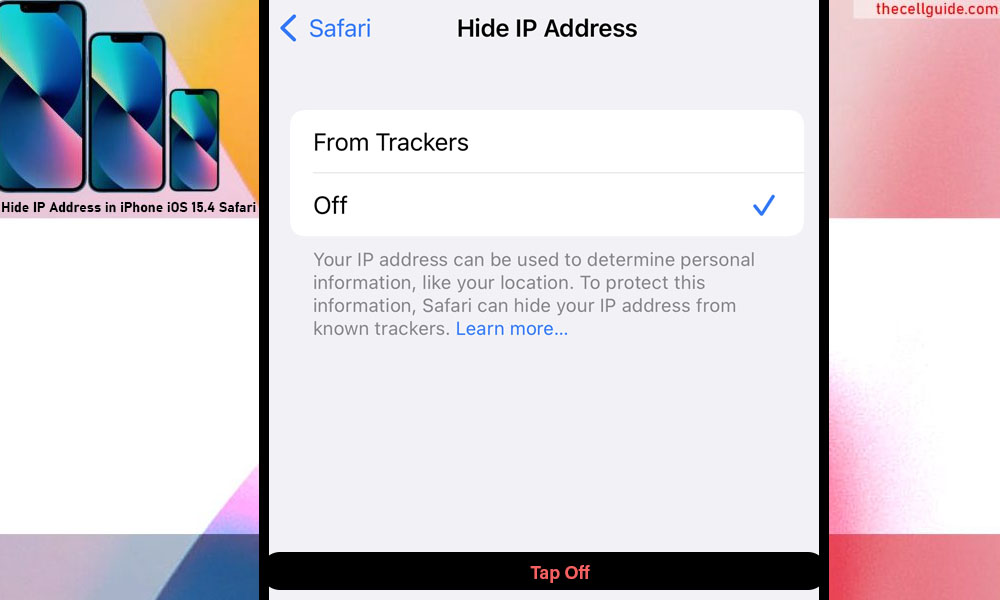 That should make your iPhone IP address visible to websites and trackers again.
Alternative Private Browsing Methods
Aside from hiding IP addresses, you can also make use of other relevant iOS features to browse websites without leaving a history. This is made possible with the iOS 15.4 Private Browsing Mode.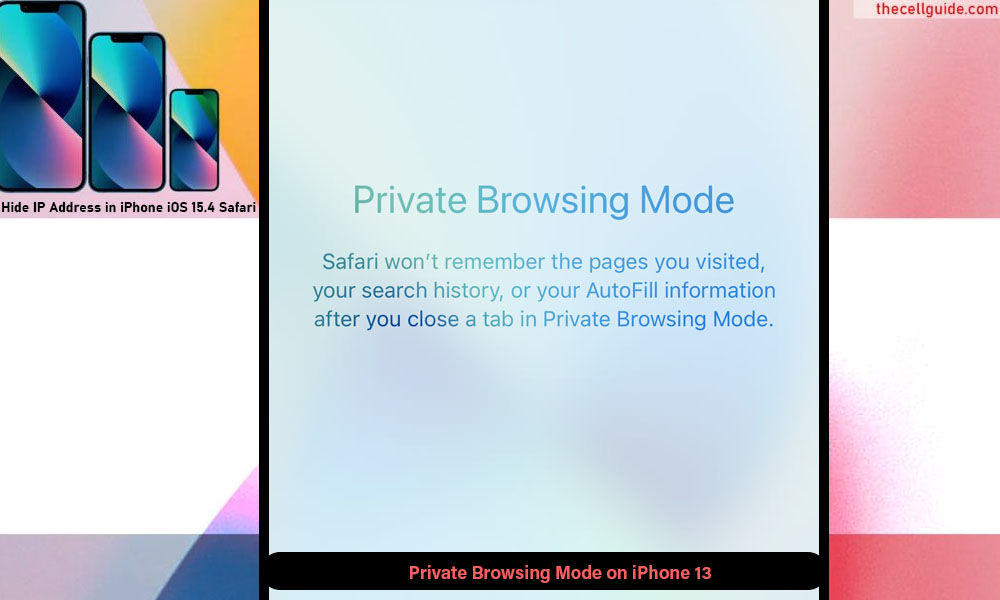 When enabled, Private Browsing mode opens private tabs that don't show in the iPhone's browsing history or in the list of tabs on your other Apple devices.
To use this feature, simply open the Safari app and then tap the icon to open a New tab. Tap the dropdown arrow in the bottom center of the Tab bar and then tap Private.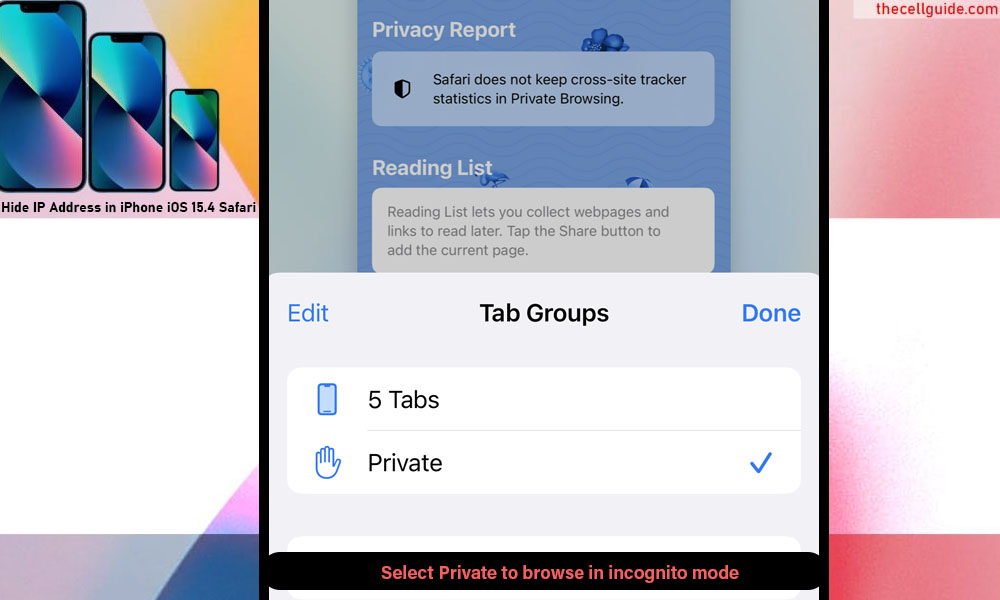 That will make the new tab added to a Tab Group called Private. Opening multiple private tabs in the group is allowed.
To confirm if you're in Private Browsing Mode, simply look at the color of the search field bar. You're browsing in private mode if it's color gray or shows a 'private' label.
To exit Private Browsing mode, simply tap on the New tab group icon and then swipe left each of the tabs to close them individually.
More Security & Privacy Features in Safari
Aside from hiding your IP address, the updated iOS Safari browser app also allows you to prevent cross-site tracking, block all cookies and show fraudulent website warning.
A privacy preserving ad measurement feature is also available for you to activate in order to prevent websites from viewing your personal information and serve targeted ads.
To keep your Apple Pay data secure, you can make use of the Safari feature called Check for Apple Pay to prevent websites from checking you've got your Apple Pay enabled and set up on your iPhone.
Private Browsing with Virtual Private Network (VPN)
Apart from the built-in iOS features, you can also set up and use a Virtual Private Network (VPN) to browse the internet privately on your iPhone 13.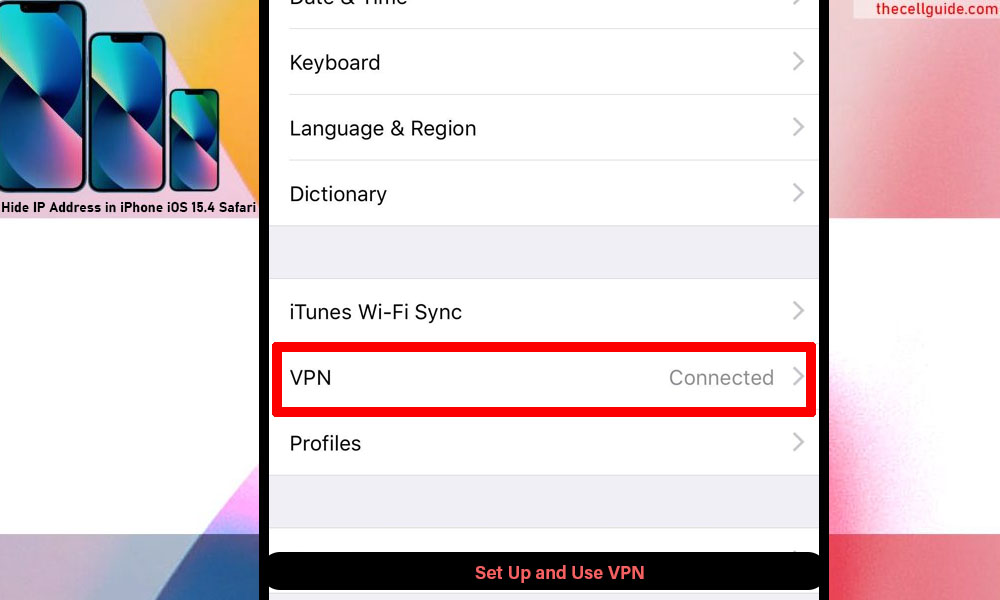 When using a VPN, the connection between your iPhone and the internet will become encrypted. As a result, your Internet service provider and anyone else won't be able to see which websites you visit. It also makes you become anonymous to websites so none of them will be able to track you unless you've already signed in to the site.
Setting up a VPN on an iPhone can be done manually and automatically.
For automatic VPN configuration, you will need to use a VPN app. These apps are downloaded through the App Store and easy to set up.
For manual VPN configuration, a technical knowledge is required as you need to gather and input necessary information including network type, server, remote ID and then like.
And that's all about hiding IP addresses and using the iPhone 13's Private Browsing mode in the iOS 15.4 Safari app.
Hope this helps!
Please check out our YouTube channel to view more tutorial and troubleshooting videos for popular iOS and Android devices.
You Might Also Want To Read: