This post highlights potential solutions to a common issue with the Samsung Messages app that suddenly stops working and crashes. Read on to learn what to do if your Samsung Galaxy S22 Messages keeps stopping unexpectedly.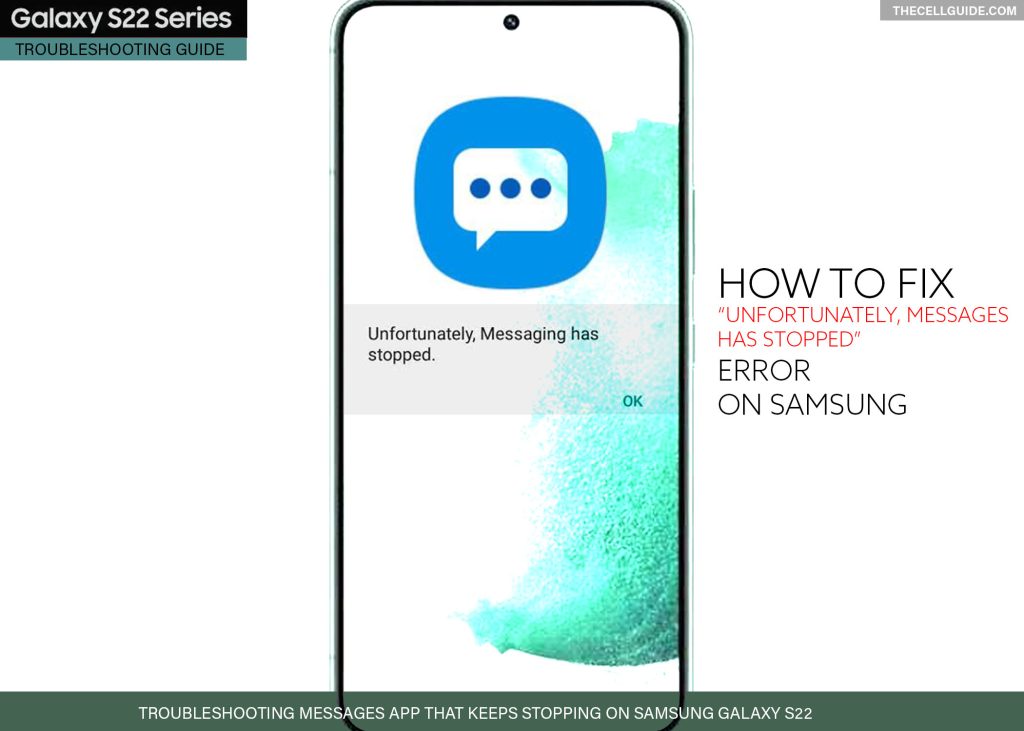 Possible causes of Messages app stopping issue
The "Unfortunately, Messages has stopped" is a common error that occurs when using the messaging app in Android devices both mid-range and high-end models.
The occurrence of this error is random and the underlying cause is not easy to identify.
Many Samsung phone owners have encountered the same error when attempting to send and/or view an SMS/MMS message. In some instances, the Messages app doesn't prompt an error but rather just crash.
Tagged among the common triggers of this Messages error include but not limited to the following:
Software bugs – Random firmware bugs and malware affecting the phone's system features services may likewise cause the in-built messaging app to glitch and stop working.
Errant cache in Messages – Just like any other apps, Messages also stores temporary files and residual data in its dedicated cache directory. If any of these temporary data gets corrupted, there's a good chance that the entire app gets affected.
Software conflicts – If the problem started after installing a third-party messaging application, then it's possible that some unexpected system conflicts were triggered and eventually resulted in the stock messaging app becoming unstable.
Corrupted messages – Saved messages in your inbox or Messages app thread can also halt the app's entire operations. The same thing when any of the messages you received and opened embed some unknown bugs and malware that were designed to ruin the phone's messaging functions.
Buggy updates – While keeping apps and system software up-to-date is recommended, receiving buggy updates at some point is inevitable. Some updates could still end up being buggy during the actual system implementation and thus, unforeseen post-update bugs emerged.
Memory-related issues – Random app crashes can also be a direct indication of a performance issue attributed to insufficient storage. This is usually the case if the phone is already running low on storage as it's no longer able to carry out new processes.
Now that you've already got a hint of the possible causes, the next thing you need to do is to eliminate them one by one. Unless you've already figured out the main culprit, resolving the issue is going to be a trial-and-error approach.
To assist you further, I've mapped out this simple troubleshooting guide for your reference.
Troubleshooting Galaxy S22 Messages that keeps stopping
The following workarounds will help you eliminate individual factors that are usually associated with the "Messages has stopped" error in various Samsung Galaxy phones.
Don't forget to test-run the Messages app after performing each of the given solutions to determine whether or not the problem is fixed.
While these are just generic solutions, they have been proven effective in dealing with common problems encountered when using the Samsung Messages app.
Solution #1: Force Stop Messages
Force stop is an Android command that abruptly terminates a running app. It works similar to the End Task command in computers.
This command is usually triggered when dealing with in-app problems such as random lags, freezes, and crashes. The same thing when faced with errors that make the app stop.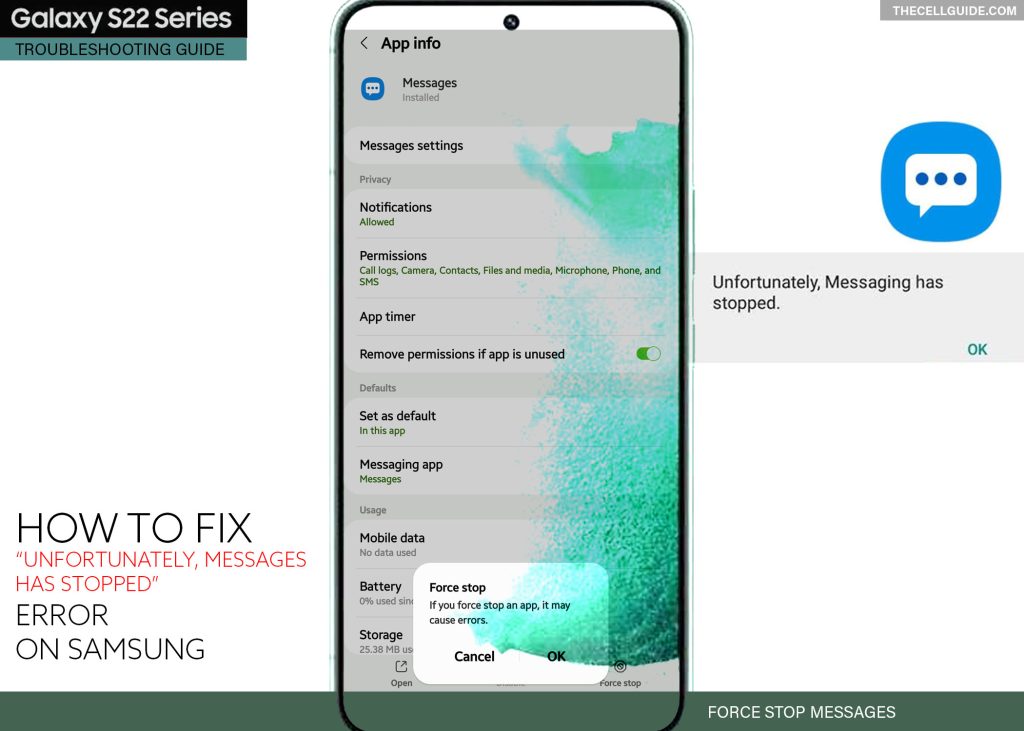 If the Messages app was previously running and then suddenly it stopped, there's a good chance that the app is left open in the background. So when you attempt to relaunch it, it remains erratic. To make the Messages app start fresh, you'll need to force stop the app first.
To force restart the Messages app, just follow these steps:
Open the Settings app
Tap Apps
Select Messages from the list of apps.
Tap Force Stop at the bottom of the screen.
Read the warning prompt then tap OK to confirm.
Alternatively, you can tap the Recents app key on the Home screen and then swipe up on the Messages app preview to close it. If multiple apps are left running in the background, then you better close them all to prevent any of them from causing conflicts or interfering with Messages app the next time you run it.
Solution #2: Clear Messages app cache and data
Errant cached files and residual data that are stored in the Messages app's cache directory are also the possible triggers. Thus, clearing the app's cache and data is likewise deemed a potential solution to the problem.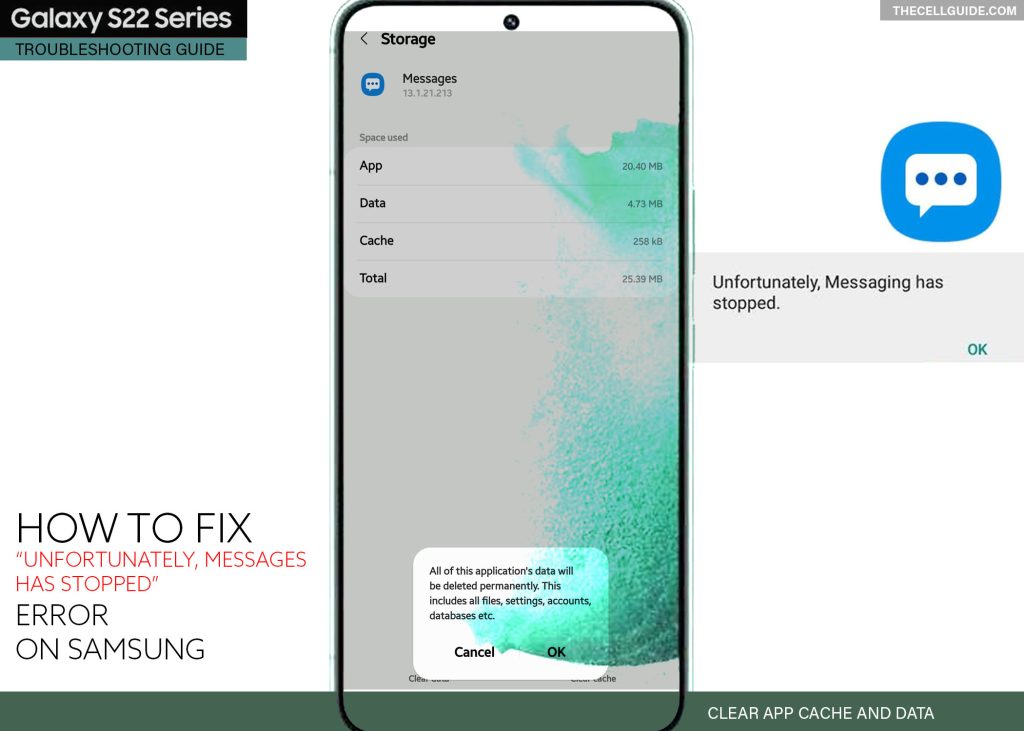 Clearing the app's cache deletes all accumulated caches from the application including those that contact corrupted data fragments that destabilize the application.
To learn more about how clearing app cache and data is carried out on the Galaxy S22 and how exactly this command works, feel free to refer to this separate walkthrough.
Solution #3: Optimize storage
Random app stopping or crashing can also be a direct indication of performance issues tied to a low memory. So if you think that your phone's internal storage has already been utilized, optimizing the phone's storage will likely solve the problem.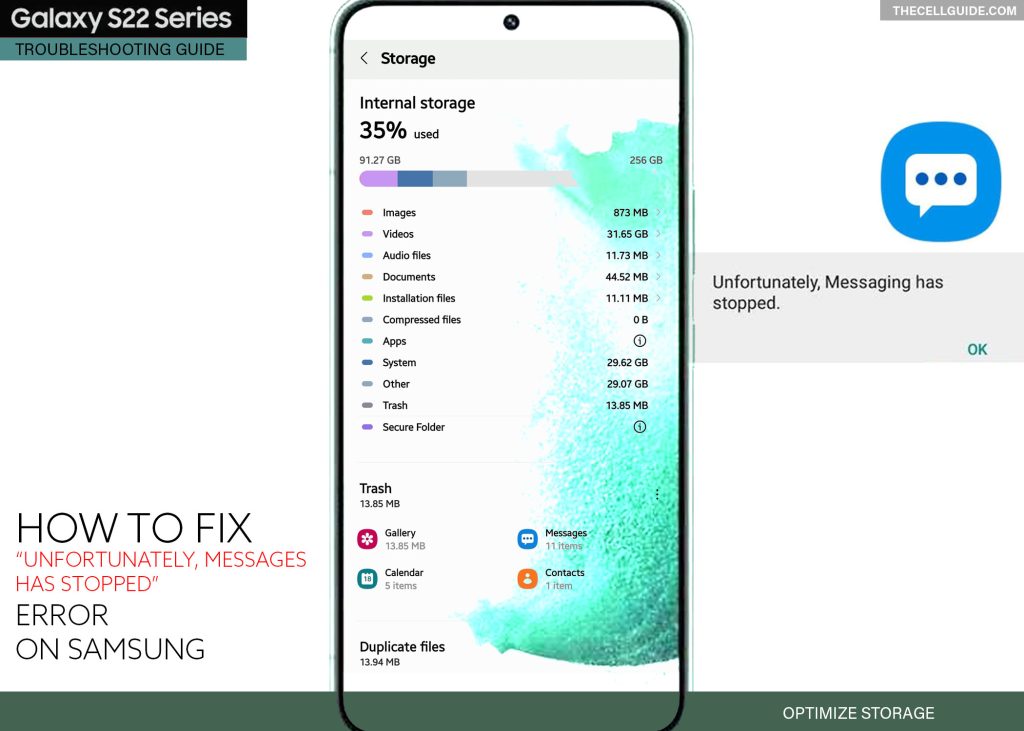 Just follow these steps to check and manage the Galaxy S22's internal storage:
Launch the Settings app.
Tap Battery and device care.
Tap Storage.
View the Available storage space.
If you've installed an SD card, you will also see the remaining storage space on the SD card. This information is typically shown at the bottom of the storage menu.
If necessary, delete old and unwanted apps, photos, videos, documents and other unnecessary contents from your device. Deleting old message threads, MMS, and SMS is also recommended.
Alternatively, you can install a new clean SD card where you can move some of your important files to.
Solution #4: Reinstall the SIM card
Messaging issues in smartphones can also be directly attributed to a faulty SIM card in use. This is often the case if the SIM card gets corrupted or dislodged from the tray.
The easy workaround to deal with common SIM card issues is to reinstall the SIM card. By reinstalling means you'll have to remove the SIM card from the tray and then insert it back.
Before removing the SIM card, be sure to power off your phone completely. This is highly recommended to prevent damaging the SIM card components or the device itself.
Also be sure to use the Samsung supplied SIM ejector tool when popping the SIM card tray out from the phone. If you don't have it, then you can use a bent small-medium paperclip as an alternative. Just be sure to insert it gently into the SIM card hole to avoid damaging the device.
If you suspect that the SIM card is damaged, contact your network service provider/carrier to further assess it and get a new SIM card replacement, if needed.
Solution #5: Reset all settings
To rule out settings conflicts from the underlying causes, restoring the default settings and options can help. To do this, you can use the in-built system command called reset all settings.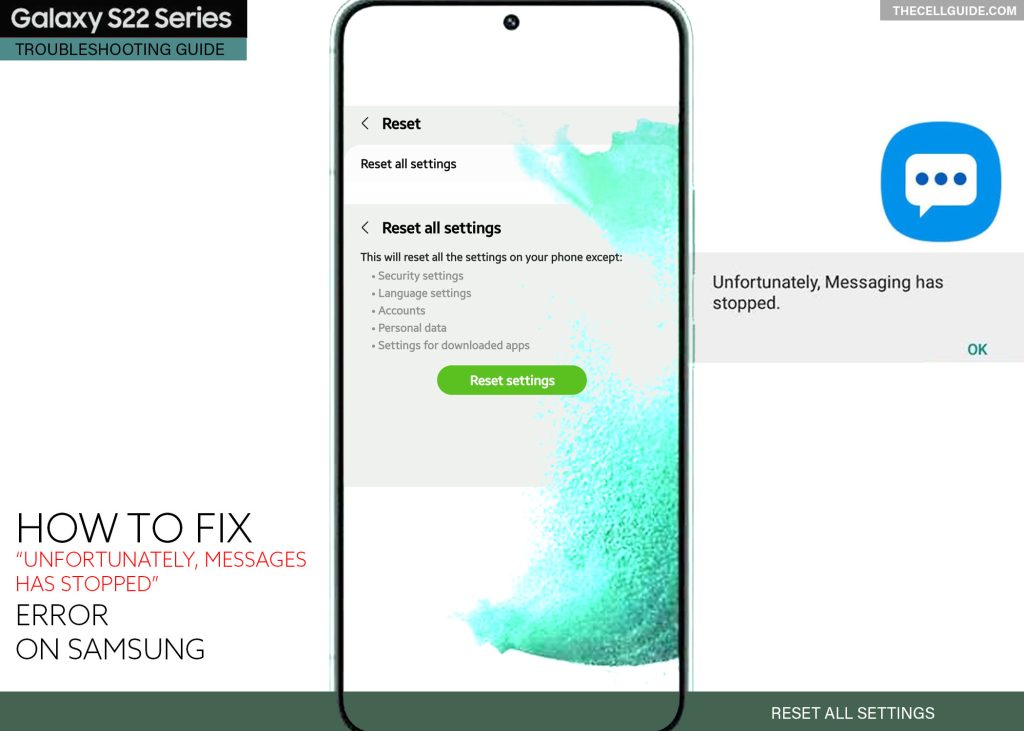 As the name implies, this reset deletes all settings and restores the original options on the phone.
But unlike a factory reset, resetting all settings does not affect any user information so you won't delete any of your downloaded apps and saved files from the system storage.
Should you wish to give this reset a shot, just follow these steps:
Open the Settings app.
Tap General management.
Scroll down and tap Reset.
Tap Reset all settings from the given options.
Read the reset details then tap Reset settings to proceed.
If prompted, enter your device PIN, pattern or password.
Finally, tap Reset on the final warning prompt to confirm reset.
After the reset, your phone reboots automatically and then loads up the default options and configuration. This denotes the need for you to re-enable necessary features that are disabled by default in order to use them again on your phone. This would include Bluetooth and Wi-Fi connections.
Default apps are also restored so setting your preferred app to process certain file types or data protocol is also needed.
Other Helpful Workarounds
If none of the given solutions worked, performing these additional workarounds might help.
1. Install new software update(s) available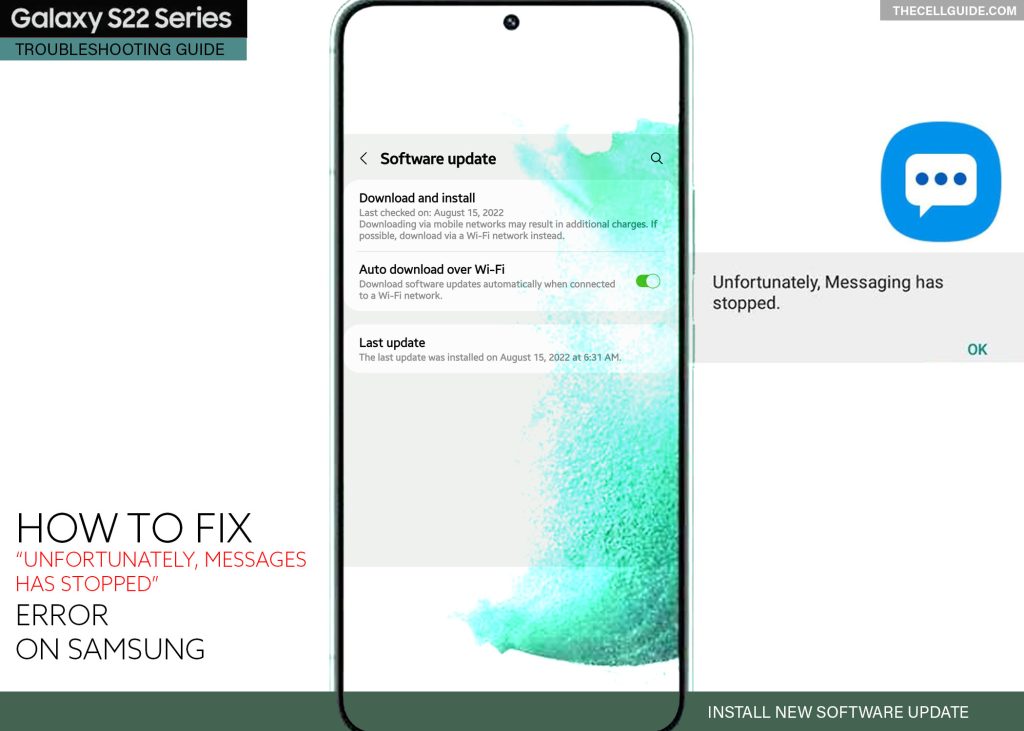 Software updates also contain essential patches to get rid and/or fix bug-inflicted errors. If you did not enable automatic system updates on your phone, then you will need to manually download and install new updates for your devices.
To check for new updates on the Galaxy S22, navigate to Settings-> Software Update menu and then tap Download and install. Wait for your phone to scan/search for new updates.
If an update is available, tap Download now then follow the rest of the onscreen instructions to finish updating.
Make sure that your phone has sufficient storage space and ample battery to complete the updating process.
A stable internet connection, preferably via Wi-Fi network is also necessary for system updates to be installed successfully.
2. Check your network signal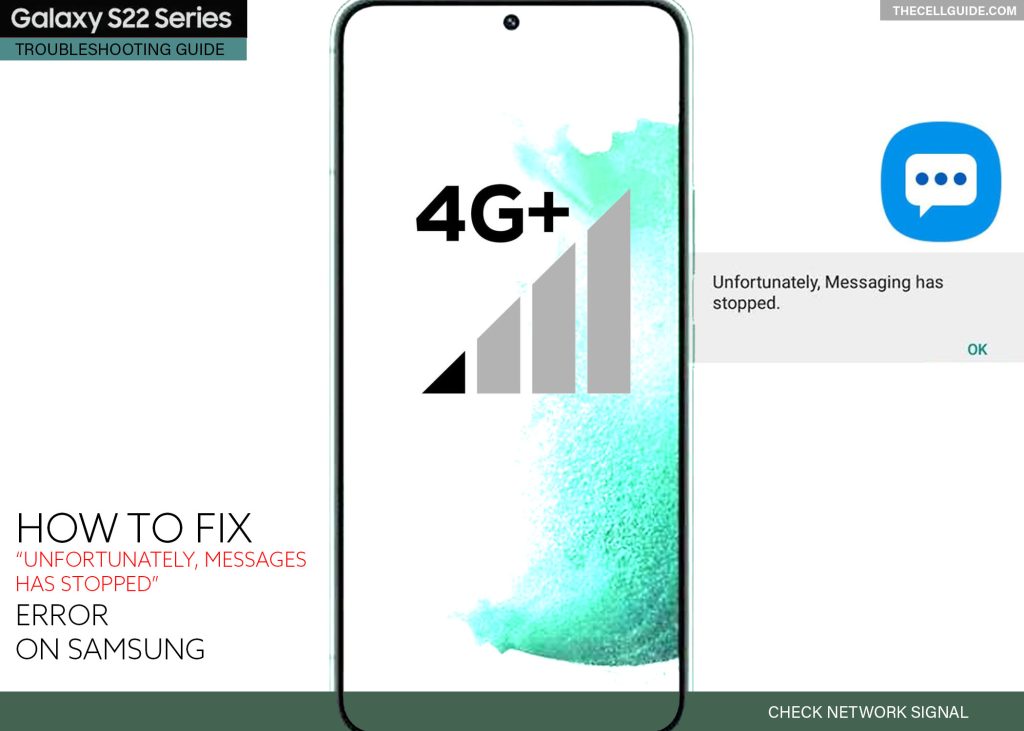 Messages app operations greatly rely on cellular network reception. That said, verify and ensure that your phone has a stable signal. If the network reception is not stable, then that's likely the main reason as to why the Messages app keeps stopping. Should this be the case, fixing network-related issues is necessary.
Performing the Airplane mode tweak like enabling Airplane mode for a few seconds and then disabling Airplane mode again might be able to help resolve the transpiring network issue on your device.
Another potential solution to network-related issues on an Android phone is to reset network settings on the phone.
3. Restart the phone (soft reset)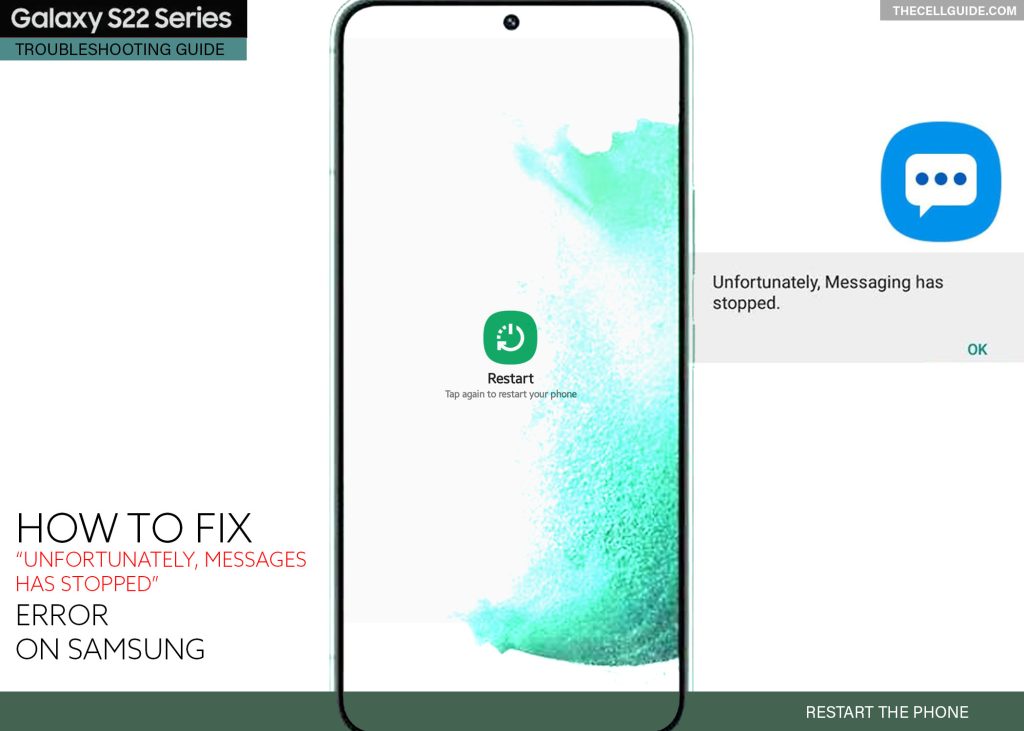 A simple system reboot can help fix various types of errors including the ones that are interfering with the Messages app. Random network issues attributed to minor firmware glitches can likewise be addressed by performing a soft reset.
So if you haven't already, reboot your phone like you usually do. Depending on your device's status, you can do the normal reboot (soft reset) or force restart.
Soft reset is applicable if your device is responsive. If the phone gets stuck as Messages crashes, performing a forced restart would be necessary.
Both a soft reset and force restart do not affect any saved information from the internal storage so you won't lose any important data from your device.
4. Boot into safe mode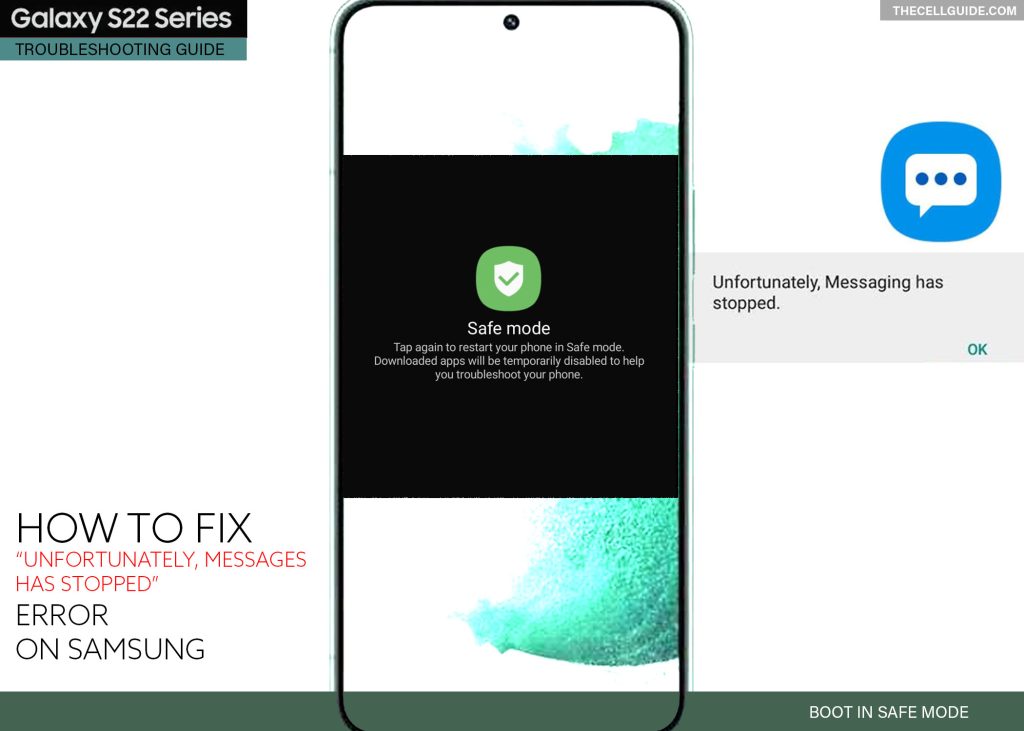 Booting the phone in safe mode can likewise help you determine if the problem is attributed to a third-party application. Do this if the Messages app starts to act up following a new app installation on your device.
All third-party apps are temporarily disabled in safe mode, leaving all pre-installed applications and services running.
If the Messages app does not stop and works properly while in safe mode, then that's an indication that a third-party app is the culprit. In this case, you will need to identify which from your recently downloaded application is the main trigger.
Recently Made a Switch from an iPhone?
If you're recently switched from an iPhone, there's a good chance that your previous iMessage subscription is causing conflict. To clear this out, deregistering your phone number from iMessage is recommended.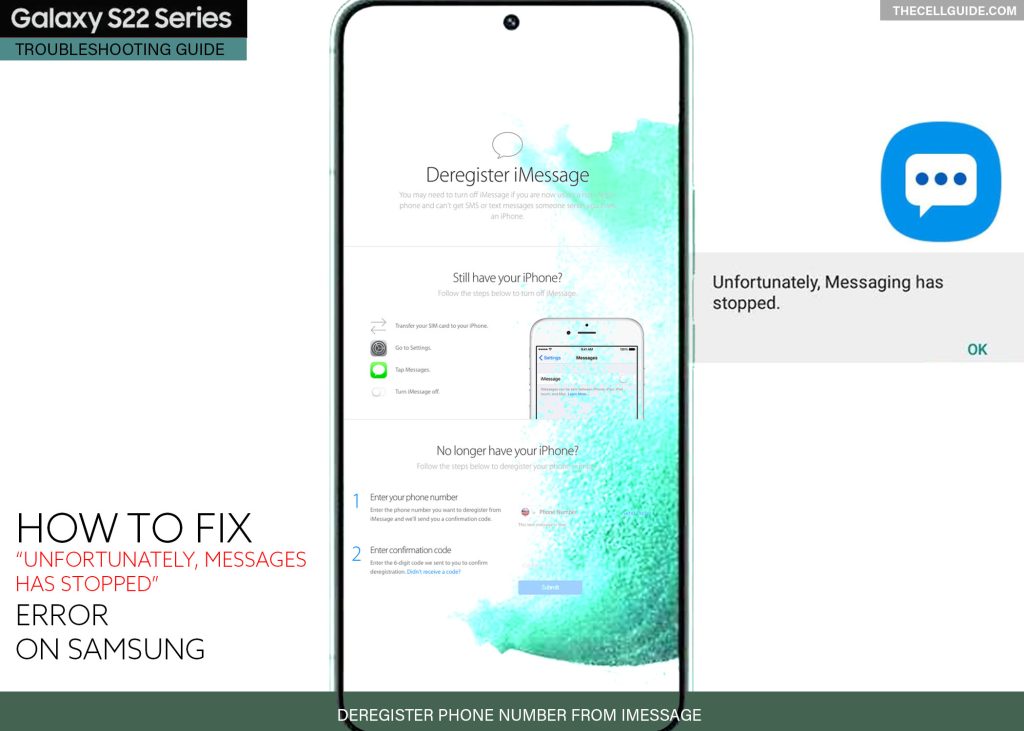 To deregister your phone number from iMessage, you will need to navigate to the official Apple page. There, you will be asked to enter the phone number that's associated with your iMessage account. After you enter the number, a six-digit confirmation code will be sent to you. You need to enter that confirmation code to confirm registration.
If nothing else works, contact your network service provider for further assistance. There might be some problem on the carrier's end that affects the messaging functions and thereby results in the Messages app unable to work properly on your Samsung Galaxy phone.
Hope this helps!
Please check out our YouTube channelto view more tutorial and troubleshooting videos for popular iOS and Android devices.
You Might Also Want To Read: