This post will help you deal with a problem with the built-in messaging app on the Samsung Galaxy S21 that suddenly stops working. Here's what to do if the Galaxy S21 Messages keeps stopping and stops responding.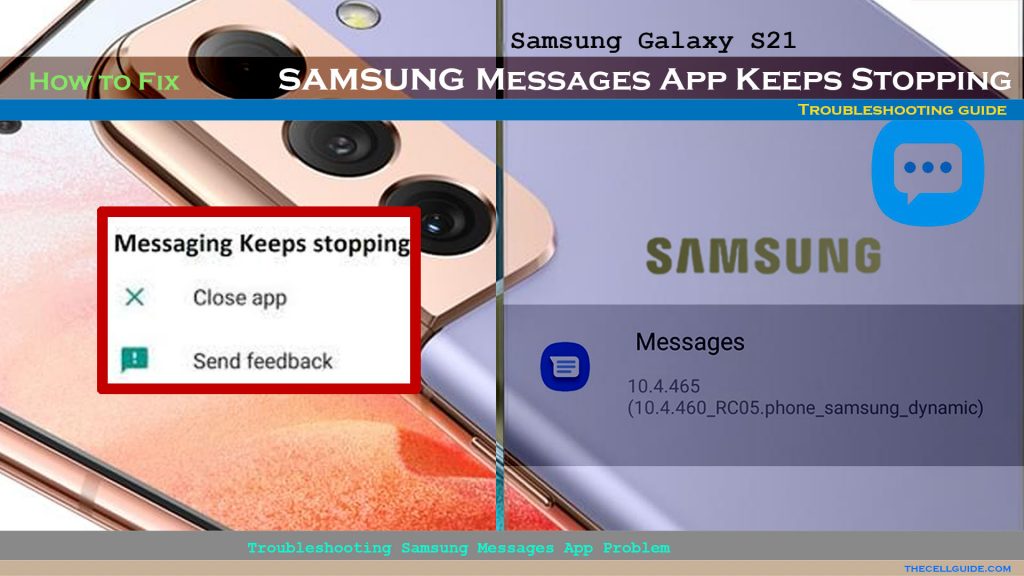 What makes the Galaxy S21 Messages app stop working?
In-app problems in mobile devices are usually attributed to a system flaw. They could be due to an error from within the application or the operating system where the app is running.
There are also some cases where certain apps are not working due to ongoing network problems. Post-update bugs, settings errors and data corruption are also among the possible triggers.
The main issue that's tackled in this content is a relevant issue affecting the preloaded messaging application on the Galaxy S21.
Feel free to try these subsequent solutions if the Messages app on your Galaxy S21 smartphone keeps stopping for some reason.
Troubleshooting Galaxy S21 Messages Keeps Stopping
Before you begin, verify and ensure that your phone has a stable signal reception. If your phone is experiencing intermittent signal or has poor to no network reception, network-related services including SMS via Messages won't work as intended.
If the network cellular signal is all good, then you may go ahead and try any of these outlined solutions.
Don't forget to test run the default messaging app (Samsung Messages app) after performing each solution to determine whether or not the issue is resolved.
Solution #1: Restart the phone (soft reset).
A simple yet very effective solution to random software glitches including those affecting built-in apps and services like the Messages is a soft reset.
Restarting the phone also clears out random system errors triggered by errant cache and corrupted residual app data.
So if you haven't already, restart or soft reset your Galaxy S21 with these steps:
Simultaneously press and hold the Volume Down and Side/Power keys for a few seconds.
Release both keys when the power options appear.
To instigate a system reboot, tap on the Restart icon.
Allow the device to finish rebooting and re-establish network connections.
In the case where your phone freezes or gets stuck when the Messages app stops working, performing a forced restart would be necessary. This works similar with a soft reset but carried out with these steps:
Press and hold the Volume Down button and the Power key for 8 seconds. This will shut your device down and turn it back on.
When you see the Samsung logo, release both keys and wait for your phone to finish booting up to the Home/Lock screen.
After rebooting, relaunch the Messages app and see if it's already working stable.
Solution #2: Clear cache and data for Messages app.
Every time you open an app, it caches temporary data to be used the next time it runs. When any of the cache files gets corrupted, chances are that the entire app functions will become affected.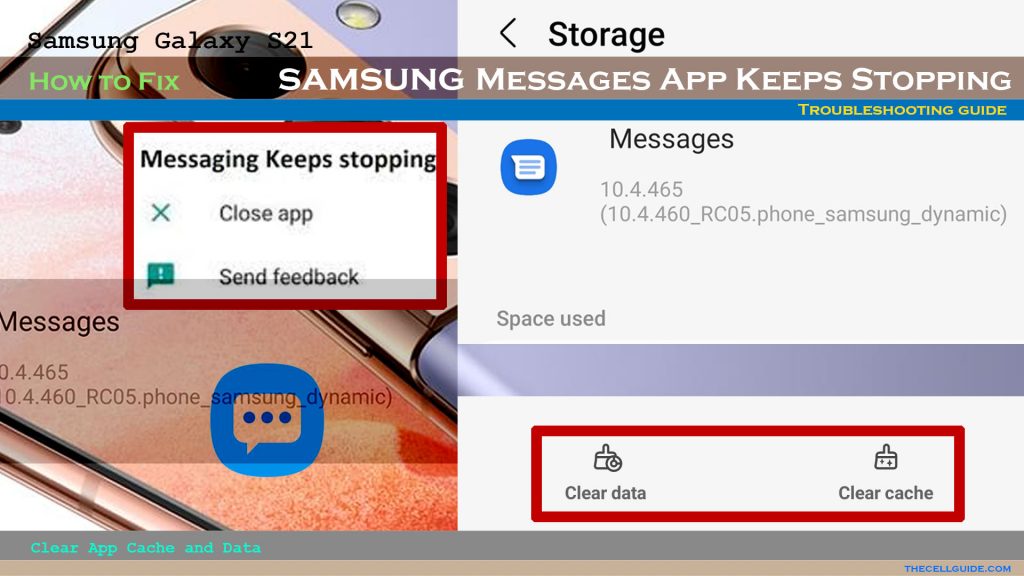 As a result, minor in-app glitches including unexpected errors, random lags, freezes, and crashes. This is when clearing the app's cache and data comes in handy.
And here's how it's done on the Galaxy S21 Messages:
Tap Settings.
Scroll down and tap Apps.
Tap to select Messages from the list of apps. If you're using a third party messaging app, just locate the name of the app on the list and then tap on it.
While on the Messages app info screen, tap Storage.
Then, tap Clear Cache on the succeeding screen to clear cache from the messaging app.
To clear residual data, tap the option to Clear data.
Please note that the Clear data command will erase all saved data for the messaging app and then put the app back to its factory state. This therefore could result in the deletion of custom settings made to the Messages application. All saved messages won't be affected.
Solution #3: Force stop Messages app.
If you've left the Messages app open or running in the background for long and then relaunched it, there's a chance that it would stop working. Such things could happen to any apps that are left idle for too long.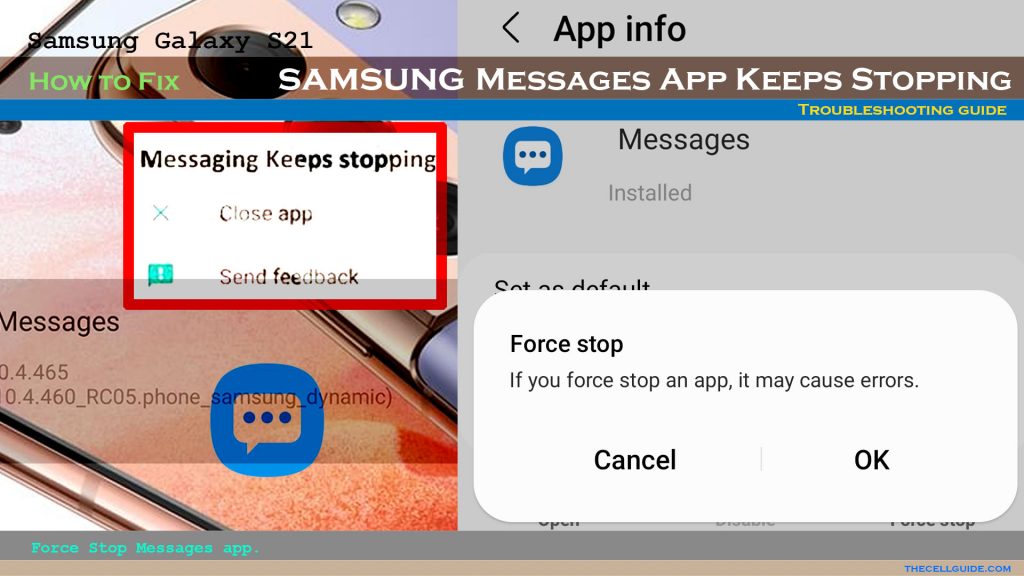 Should this be the case, forcing the app to stop is needed. Doing so forcibly ends the app and allows it to have a clean fresh start.
To force stop Messages on the Galaxy S21, just follow these steps:
Open the Settings app.
Scroll to find and then tap Apps.
Find Messages from the list of apps and then tap on it.
While on the Messages app info, tap Force Stop at the bottom.
Read the warning prompt and then tap OK to confirm.
Alternatively, you can end background apps from the Recents tab. Just tap the Recent (three short lines) at the bottom of the Home screen to view recently used apps including Messages and then tap the Close all button.
Solution #4: Install new updates (if available).
Installing new firmware updates can likewise be a potential solution especially if the stopping on the Messages app is inflicted by some bugs and malware.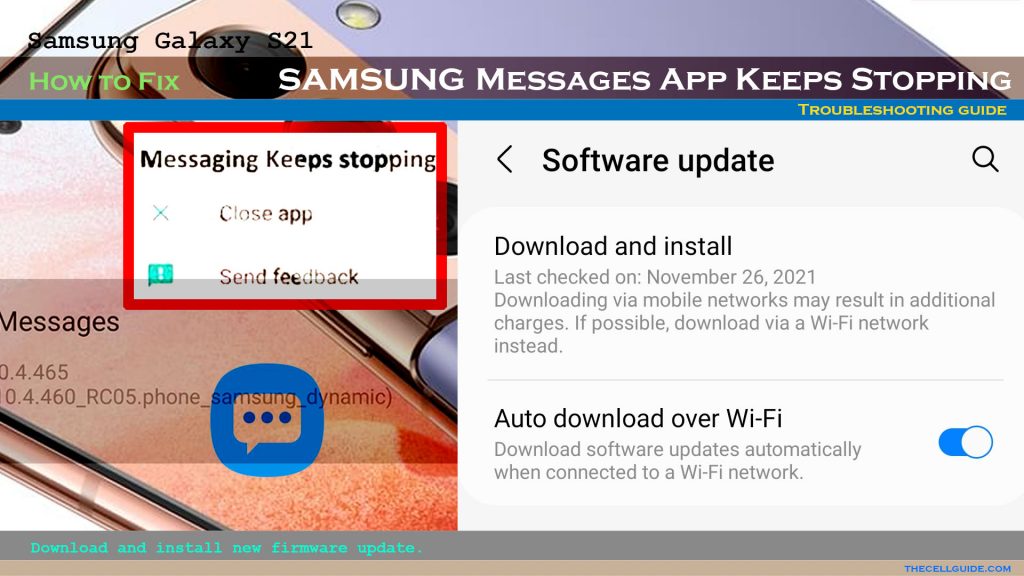 Software updates usually contain essential bug fixes and system enhancements.
If you haven't set your device to auto-update, then you can manually check for, download and install available updates with these steps:
Go to Settings.
Tap Software Update.
On the succeeding menu, tap Download and install.
Wait for the phone to check for updates.
If a new update is available, follow the onscreen instructions to download and install the update manually.
Make sure your phone is sufficiently charged, has ample storage and stable internet connection preferably via Wi-Fi to make sure that the update is successful.
Don't forget to reboot your phone after updating to ensure that all recent system changes are properly applied.
Solution #5: Reset network settings.
As mentioned earlier, network problems can also be the main reason as to why network-related apps like Messages aren't working properly.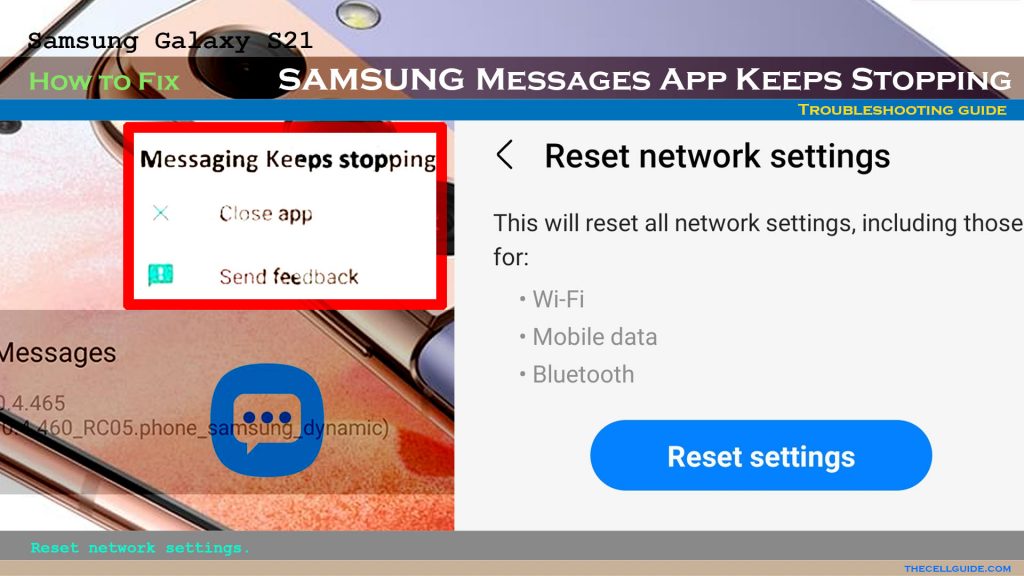 An effective solution to network-related errors in Android devices is a network reset. Thus, you can reset network settings on the Galaxy S21 to restore the default network values and eliminate any erratic network configurations on the phone. This reset doesn't delete any saved information from the internal storage so you won't lose any important content.
Just follow these steps:
Tap Settings from the Home/Apps screen to open the Settings app on your phone.
Scroll down and tap General management.
On the succeeding menu, tap Reset.
Then, tap Reset network settings from the given options.
If prompted, tap the Reset settings button to confirm.
The phone will then start erasing all current network settings including saved Wi-Fi networks, Bluetooth devices, APNs and other relevant information.
After the reset the phone restarts automatically. Just wait for it to finish rebooting.
Once it's up, give it enough time to re-establish cellular signal. When the reception becomes stable, create a sample text message to send and receive.
Solution #6: Reset all settings.
Resetting all settings will delete all custom settings and restore defaults without deleting user data. This reset is often carried out when dealing with recurring system issues that instigated from a series of system alterations or app settings customizations.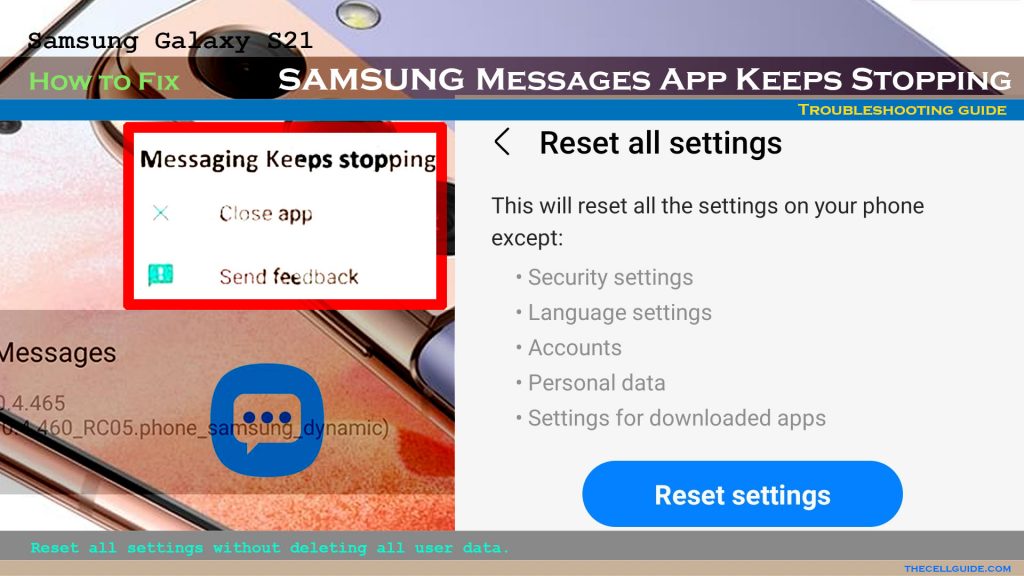 This reset is usually recommended before performing a factory reset.
If you wish to give it a shot when fixing the Messages app on your Galaxy S21, then just refer to these steps:
Tap Settings from the Home/Apps screen to open the Settings app on your phone.
Scroll down and tap General management.
On the succeeding menu, tap Reset.
Then, tap Reset all settings from the given options.
If prompted, enter your device PIN, pattern or password and then tap Reset settings on the following menu to confirm.
After the reset, your phone reboots by itself and then loads up the default settings. By then you can start enabling necessary features particularly those that are disabled by default.
Assigning default apps for a certain data file type or protocol is also needed just like the first time you open a file on your device.
Is your Galaxy S21 Messages still stopping?
If none of the above solutions worked for you and the Messages app is still stopping randomly on your phone, your next option is either to use a third-party messaging application to process SMS and MMS messages on your phone or perform a factory reset to wipe everything from your device including stubborn bugs that might have caused conflicts to the default messaging app and made it unstable.
Hope this helps!
Please check out our YouTube channel to view more tutorial and troubleshooting videos for popular iOS and Android devices.
You Might Also Want To Read: