A no service error denotes that your phone is not getting cellular network signal and therefore cellular services aren't available. When this happens, you wouldn't be able to make or receive phone calls and text (SMS) messages. There are many reasons as to why your phone would encounter a no service error. And software bugs are among them. Apple has just rolled out the latest firmware update for iOS 13 iPhones and iPads and that's the iOS 13.3 update. If ever you would end up getting no service error after installing the latest iOS update on your iPhone, I have laid out a few applicable workarounds for you to try. Read on for more information.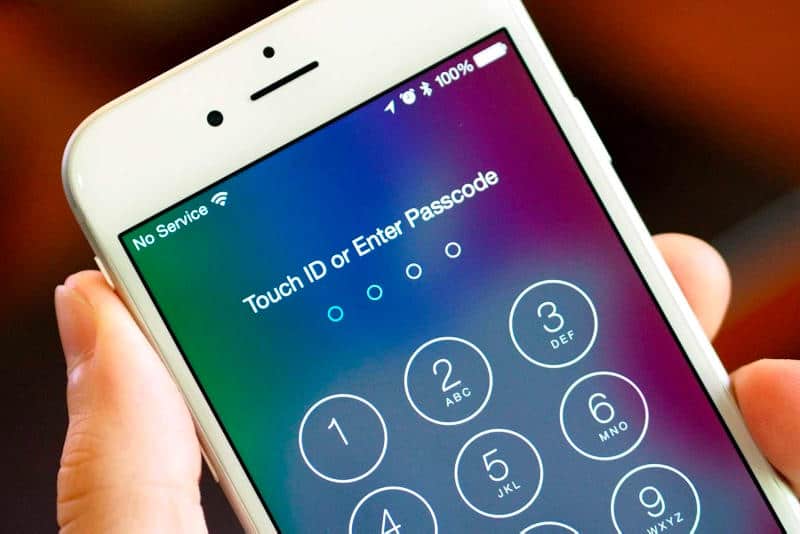 Possible causes of signal issues, no service error on an iPhone
Identifying the underlying cause is imperative when troubleshooting device issues. Although the symptom has started after installing a new update, you still have to consider looking into some other factors that can potentially trigger a no service error or no signal error on your iPhone. Among the common factors that are usually tied to these errors are as follows:
Signal barriers or obstructions.

You might be using your iPhone in an area that's way too far or out of your cellular network's coverage. As a result, your iphone is not getting any signal and thus it prompts a no service error on its status bar instead of the signal bars or cellular network signal indicator. Aside from tower proximity, the use of non-Apple accessories like protective casing can also affect the network signal quality your iPhone gets or worse, block the signal at all.

Corrupt SIM card data.

Relevant symptoms can also be triggered when the SIM card system on your iPhone gets corrupted. It's possible that the recent update might have ruined it and so the signal becomes unstable or your iphone has no signal at all. 

Incorrect network configuration.

There are some settings on your iPhone that turns off cellular features when enabled. An example of this is the Airplane mode. If these features have been enabled automatically after the recent iOS update, you will need to disable them again so as to activate wireless features and cellular functions of your iPhone. 

Account-related issues.

Your iPhone may also not be getting cellular network signal and only shows no service or no signal due to some account problems. In this regard, contacting your network service provider/carrier would be necessary for you to settle whatever issues on your account that needs to be taken care of. Only then can your network services be restored.
In worst case scenarios, no signal and no service errors can be directly attributed to a damaged network component on your iPhone. This is usually what happens if you accidentally dropped your iPhone or got it wet. To deal with no service error tied to hardware damage, service or iPhone repair would be necessary. 
Troubleshooting no service error on iPhone 8 after installing iOS 13.3 update
Before you begin troubleshooting, verify and ensure that you are within your network's coverage area. As mentioned earlier, your iPhone won't be able to establish network signal and thus eventually prompts a no service error, if it's way too far from the network tower. If you're certain that you are within your network coverage and yet your iPhone has no signal, try these subsequent solutions. For as long as no hardware damage is present on your iPhone, the no service error is most likely attributed to some random system issues. Carrying out the following solutions will help you eliminate the common triggers. If none of these works, then that's when you need to consider opting for iPhone repair.
First solution: Restart your iPhone 8 or performing a soft reset.
A soft reset can fix various types of iPhone problems including symptoms transpiring from an update. It also dumps any corrupted temporary system data that are stored among other cached files on your iPhone. Furthermore, performing a soft reset also refreshes apps and built-in system functions of your phone. Here's how it's done:
Press and hold both the Side button and Volume Up button for a few seconds.

Release both buttons when the Slide to Power off bar appears.

Swipe or drag the bar to turn your device off.

After about 30 seconds, press and hold the Side button and then release when the Apple logo appears.
Wait for your iPhone to finish its boot sequence and re-establish network signal.
Second solution: Remove and reinsert the SIM card on your iPhone.
Reinstalling the SIM card on your iPhone can also help if the problem is attributed to a corrupted SIM card system. This is likely what's needed if the recent update unexpectedly ruined the SIM card functions of your iPhone. Just refer to these steps to reinstall the SIM card on your iPhone 8:
Turn off your iPhone completely. This is recommended to prevent corrupting the SIM card or your iPhone system itself.

While your iPhone is turned off, insert the SIM ejector tool into the small hole on the SIM tray. The tray is located on the right side of your iPhone 8. If you don't have the SIM ejector, you can use a small bent paper clip as an alternative.

Gently pull out the tray then remove the SIM card from it.

Examine the SIM card for any visible indications of hardware damage such as liquid traces and scratches.

If everything looks okay, insert the SIM card back to the tray in the same orientation before you removed it.

Push the tray back into the phone until it locks in place.
After securing the tray, you can turn your iPhone back on and see if the no service error is gone. It may take a few moments for your iPhone to re-establish cellular signal so just wait until it's done.
Third solution: Toggle Airplane Mode switch on your iPhone on and off.
Performing the Airplane Mode trick has also been proven effective when dealing with various types of network problems on an iPhone, including those depicted by a no service error. It works by simultaneously restarting wireless radios of your iPhone and thereby eliminates any existing flaws that caused random network issues to occur. If you wish to give it a shot, then simply follow these steps to perform the Airplane Mode trick on your iPhone 8:
From the Home screen, tap Settings.

Scroll down and tap on Airplane Mode.

Toggle the Airplane Mode switch to turn the feature ON. Doing so disables your iPhone's wireless radios and associated features like Wi-Fi and Bluetooth. 

While Airplane Mode is turned on, reboot or soft reset your iPhone to clear out network cache.

After it reboots, go back to Settings-> Airplane Mode menu.

Then toggle the Airplane Mode switch to turn it OFF again.
Give your iPhone enough time to re-establish wireless signal and then see if the no service error is gone.
Fourth solution: Update carrier settings to fix no service or no signal issues.
Carrier settings updates rolled out by network service providers/carriers can also be the key to fixing the no service error on your iPhone 8. These updates are typically created in order to keep network-related features and services stable, optimized and more secure. If you don't have trouble connecting to Wi-Fi and the internet connection on your iPhone is stable, you can check for new carrier updates by heading to Settings-> General-> About menu. Otherwise, you can manually view any available carrier updates for your iPhone in iTunes. Just follow these steps:
Connect your iPhone to the computer and then open iTunes. Be sure to use the latest version of iTunes app to avoid bumping into some system conflicts.

Wait for your device to sync and back up with iTunes.

Click to select your iPhone when it appears in iTunes.

Navigate to the Summary section and then hold down the Shift key on the keyboard and click Check for Update. Doing so will prompt iTunes to install an iOS image (*.ipsw).

Change the file type to iPhone/iPad Carrier Configuration File (*.ipcc).

Select the desired file and then follow the rest of the onscreen instructions to complete the process.
After installing new carrier updates, restart your iPhone to save the recent changes. See if that solves the no service error on your iPhone 8.
Fifth solution: Reset network settings on your iPhone 8.
Some updates would end up ruining your existing network configuration and thus network errors instigate. To clear this out, resetting the network settings on your iPhone is recommended. This reset will erase all your current network settings including APNs, saved Wi-Fi networks and Bluetooth connections. Any existing network errors including post-update network glitches are likewise eliminated. It doesn't affect the internal data though so there's no need to back up all saved information on your iPhone beforehand. Just follow these steps to proceed with a network settings reset on your iPhone 8:
From the Home screen, tap on Settings.

Select General.

Scroll down and tap on Reset.

Tap to select Reset network settings from the given options.

Enter your passcode if prompted to continue.

Tap on Reset network settings again to confirm action.
Your iPhone will restart automatically when the reset is finished. By then you can start enabling necessary network features, particularly those that are disabled by default in order to use them again your iPhone.
Last resort: Restore your iPhone in iTunes (via recovery mode).
Among the last options you've got if the no service errors continues after performing all the above solutions would be an iOS restore. This is when you will use iTunes to wipe everything from your iPhone and then restore from a previous iOS backup file. You can use a Windows computer or Mac to restore your iPhone 8 in iTunes. You can start with a standard iOS restore to erase your iPhone 8 and restores its factory default settings or put your iPhone in recovery mode to wipe all data and restore from a backup. Here's how it's done:
Connect your iPhone to a computer using the original USB cable or Lightning cable that came with it.

Open iTunes on your Windows and/or earlier Mac computer or Finder app on your Mac running macOS Catalina.

While your device is connected, quickly press and release the Volume Up key. 

Then quickly press and release the Volume Down key.

Next, press and hold the Side button until the Connect to iTunes or recovery mode screen appears. Do not release the button if you  see the Apple logo as you'll need to boot your phone in recovery mode.

Shortly after you see the Connect to iTunes screen, you will be prompted with the next instructions via message prompts. 

If prompted to Update or Restore your iPhone in iTunes, select Restore to erase your device and restore it from a recent iOS backup saved on your computer drive via iTunes. 
In the case where a recovery mode still failed to fix the problem and your iPhone 8 still prompts a no service error, you can troubleshoot further by performing a DFU mode restore. DFU or Device Firmware Update mode is the deepest type of system restore you can do on your iPhone. It puts your iPhone in a special state wherein iTunes would still be able to access and communicate with iOS even without activating the bootloader. This is often used to deal with major iOS problems including fatal system errors from a recent iOS update. The main drawback however would be a permanent data loss. On a positive note, your iPhone will likely run flawlessly again after the process.
Still getting no service error or having no signal on your iPhone 8?
The above procedures are usually good enough to deal with software-related factors that might have triggered your iPhone 8 to encounter no service error after an update. If none of them works, then there's a good chance that the problem is not on your end but rather with your network service provider. There may be some temporary outages or scheduled maintenance that caused the network signal to become unstable. As a result, your iPhone isn't getting a stable signal and randomly bumps into a no signal or no service error. To further check, you can contact your carrier or network service provider then. 
Alternatively, you may also consider escalating the problem to Apple Support given that the onset was when the iOS 13.3 update was installed on your iPhone. Your iPhone 8 no service error could be just another iOS bug that needs a dedicated fix patch. And that's what Apple needs to figure out and confirm on their end.
ALSO READ: Fixing no service error on iPhone XS Max after iOS 13 update