This post will help you deal with a post iOS update issue affecting the Snapchat app on the Apple iPhone 13 mini smartphone. Here's what to do if Snapchat crashes on iPhone 13 mini after an iOS 15 update.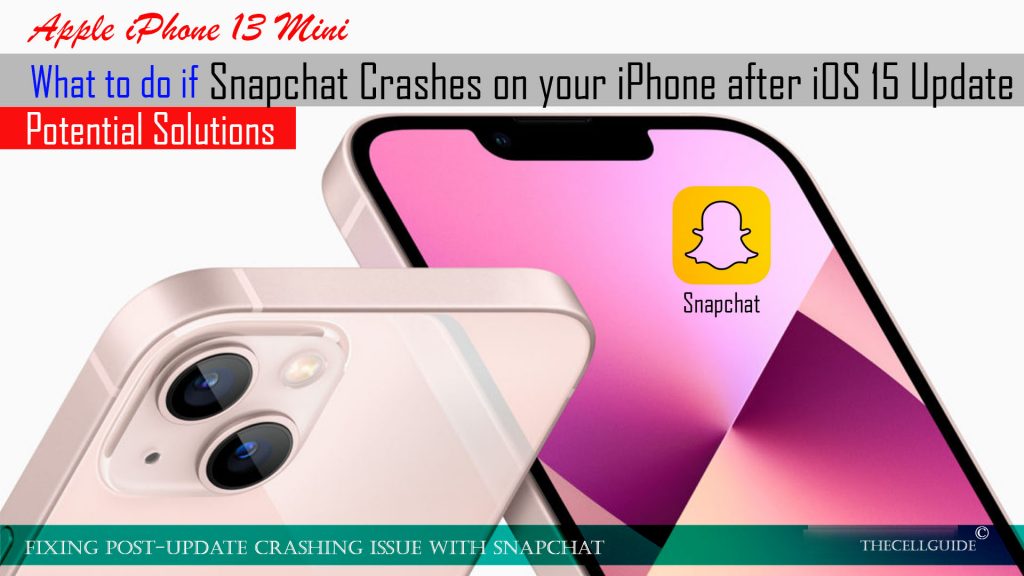 Random app crashes are inevitable among online or internet-based applications in smartphones. As a matter of fact, many iPhone users encounter relevant issues after updating. Even the most stable apps to-date can succumb to such problems at some point.
Why do apps crash after an iOS update?
There are many factors that can trigger an app to crash on an iPhone. For app crashing issues that start after an iOS update, an update bug is more likely to blame.
Some software updates would automatically override your current settings, resulting in random app glitches. Settings override can cause conflicts with your current app preferences, restrictions and permissions.
Internet-related issues transpiring on the phone are also among other factors to rule out in this case. Apparently, online apps won't be able to work properly if your iPhone is experiencing problems with the internet connection. Chances are that the recent iOS update might have inflicted network problems on your device.
Aside from internet problems, memory-related issues are also among the underlying causes. This is likely the case if your iPhone storage is running low and the recent update has completely used up the available space. As a result, performance issues including random software crashes start to manifest.
Another possibility is that the app has ended up being corrupted from the recent update.
Fix Snapchat crashes on iPhone 13 mini after iOS update
The following procedures will help rule out common factors that can trigger an iOS app to crash following a new system update. These methods are also applicable when dealing with relevant problems on other iOS devices running on the same iOS version with that of the iPhone 13 mini. Actual screens and menu items may vary between device models and carriers.
Don't forget to test-run the Snapchat app after applying each solution to determine whether or not the problem is fixed. Proceed to the next applicable solution, if needed.
Solution #1: End all background apps.
If you've left some of your apps open and running in the background during the update, chances are that any of these apps have gone rogue and caused conflicts with the Snapchat application. To clear this out, just end all background apps on your iPhone 13 mini's app switcher.
Here's how:
Swipe up from the bottom edge of the screen to launch the app switcher, containing the previews of all apps you've recently used and left open/running in the background.
To close individual running apps, just swipe up on each of the app previews.
Once you're done closing all background applications, relaunch Snapchat and see if the problem is gone.
Solution #2: Reboot the iPhone (soft reset).
Performing a soft reset or iPhone reboot is also a potential solution if random system errors are the underlying cause. Some updates would inflict minor errors to certain software segments and thereby trigger problems when loading certain apps. This is when a soft reset comes in handy. It gives a quick system refresh and eliminates minor software glitches including post-update errors.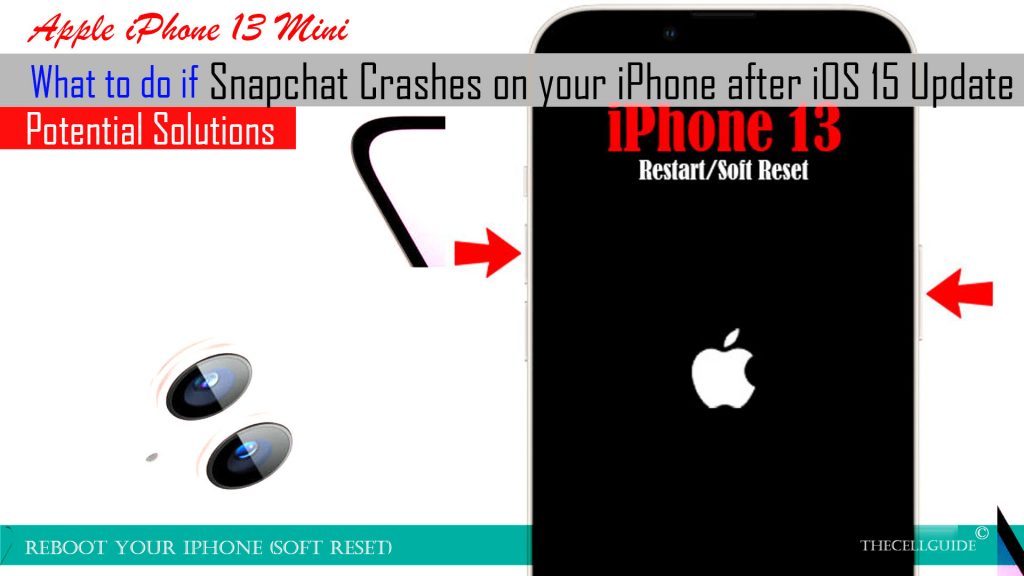 Here's how it's done on the iPhone 13 mini:
Press and hold the Power/Side button and either Volume buttons for a few seconds and then release when the Power off slider appears.
Then, drag the slider to turn your iPhone completely off.
After 30 seconds, press and hold the Side button again until the Apple logo appears.
A soft reset does not affect any saved data on the iPhone storage so it doesn't delete any critical information from your device.
Solution #3: Optimize Snapchat app.
Another possibility is that the Snapchat app has become unstable from an iOS update because the app also requires an update.
App developers usually push dedicated updates or patches shortly before or after a new iOS update is released. This is one way to ensure that the app remains working stable after the new system changes are implemented. If you haven't set your apps to auto-update, chances are that you've missed installing some critical updates including those with bug fixes. In this case, manually installing pending app updates on your iPhone is recommended. So here's what you should do then:
Launch the App Store.
While on the App Store main screen, tap on your profile picture on the upper-right.
Then, pull down to refresh the page and view apps with recent updates available.
To update individual apps including Snapchat, just tap the Update button next to the app's name.
If multiple updates are available, tap Update All to simultaneously download and install all pending app updates on your device.
Wait for the app(s) to finish updating. Once the update is complete, reboot your iPhone to ensure that all recent software changes are properly implemented.
Solution #4: Manage app restrictions.
To rule out the possibility that the recent iOS update automatically imposed restrictions to your apps including Snapchat, go ahead and review your iPhone's content and privacy restrictions. If this feature is enabled, try to disable it and see if Snapchat stops crashing while it's turned off.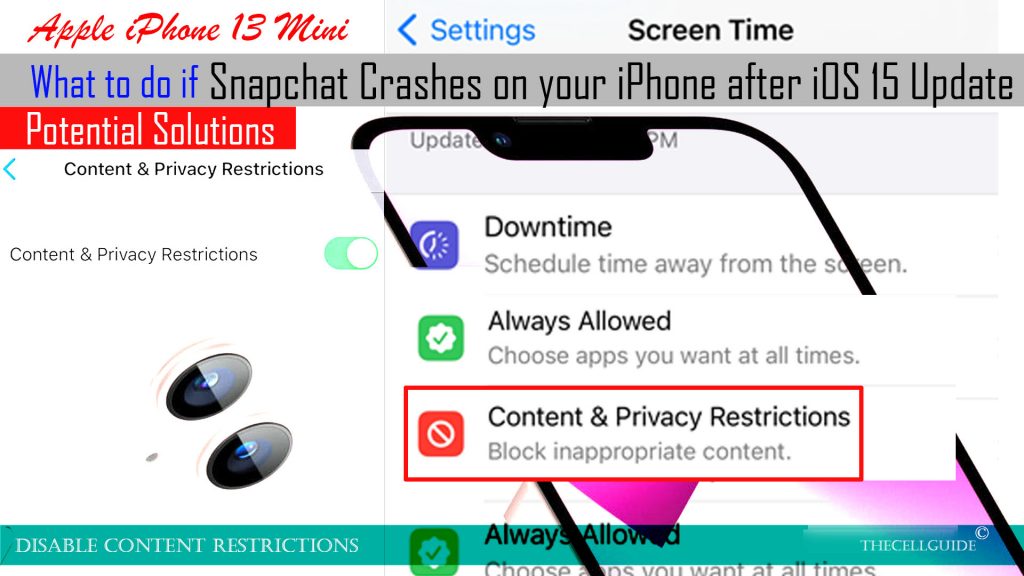 Here's how:
Go to Settings.
Tap Screen Time.
Tap Content & Privacy Restrictions.
Enter your passcode if prompted and then turn off the Content & Privacy Restrictions switch.
This will disable all restrictions including the ones that were automatically applied to your iPhone from the recent iOS update overrides, restricting online apps including Snapchat.
Solution #5: Manually Offload Snapchat app.
If the app continues to crash after performing the above procedures, then it's probably because it has been totally corrupted. To fix the problem, manually offloading the Snapchat app is recommended.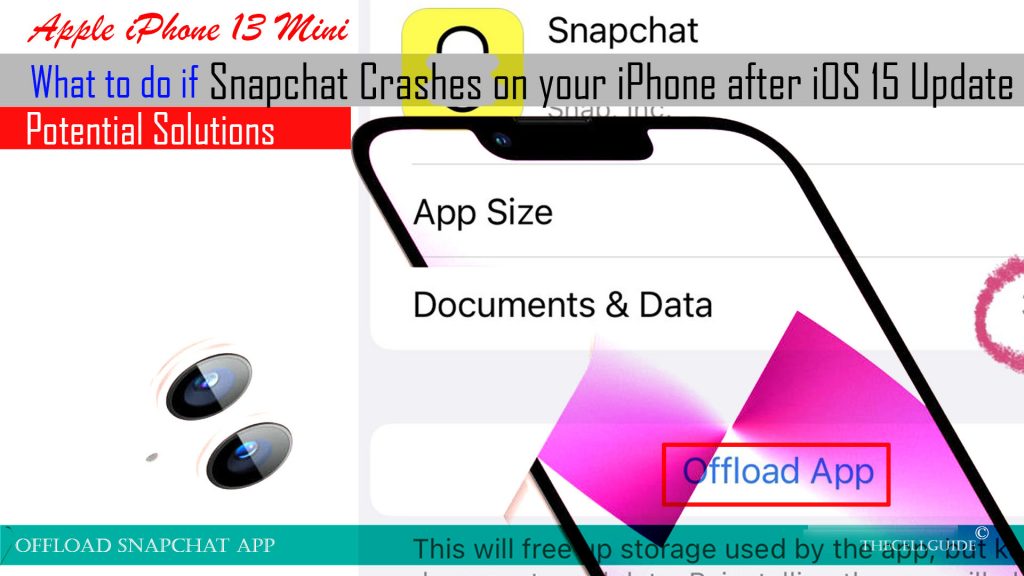 Here's how:
Open the Settings app by tapping on the Settings icon from Home.
On the succeeding menu, tap General.
Then, tap iPhone Storage.
Tap to select the app that you'd like to offload then tap the command to Offload App.
If prompted, enter your passcode and tap Offload App again to confirm.
Should you wish to enable Automatic Offloading, just follow these steps:
Go to Settings.
Tap App Store or iTunes and App Store.
On the succeeding menu, tap to enable or turn on the switch next to Offload Unused Apps.
Offloading unused apps is a built-in iOS feature that automatically deletes an app that you haven't used for quite some time. With this feature enabled, all unused apps will be deleted if the phone is running low on storage.
This process does not delete the app data so you can always recover every setting after reinstalling the application.
Solution #6: Reinstall Snapchat on your iPhone.
For recurring app problems that started from an iOS update, uninstalling and reinstalling the erratic application is often needed. There's a higher chance that the app has been completely ruined and dysfunctional after the recent system changes and therefore needs a fresh install.
So here's what you should try doing then:
Go to the Home screen and then touch and hold the Snapchat icon.
On the quick menu, tap Remove or Delete app.
After deleting the app, launch the App Store app.
While on the App Store, tap on your Apple ID profile picture then select Purchased.
Locate the Snapchat app and then tap the cloud icon to instigate app installation.
Reinstalling an app is also a way to clear cache and data from an iOS application. Various app-related issues are often resolved with this procedure.
Solution #7: Reset all settings on your iPhone 13 mini.
If the recent update overrides your current settings, chances are that some of these of the recent overrides result in conflicts with the Snapchat app. In this case, reverting the settings back to the original values will likely solve the problem. This is when the reset all settings command comes into play.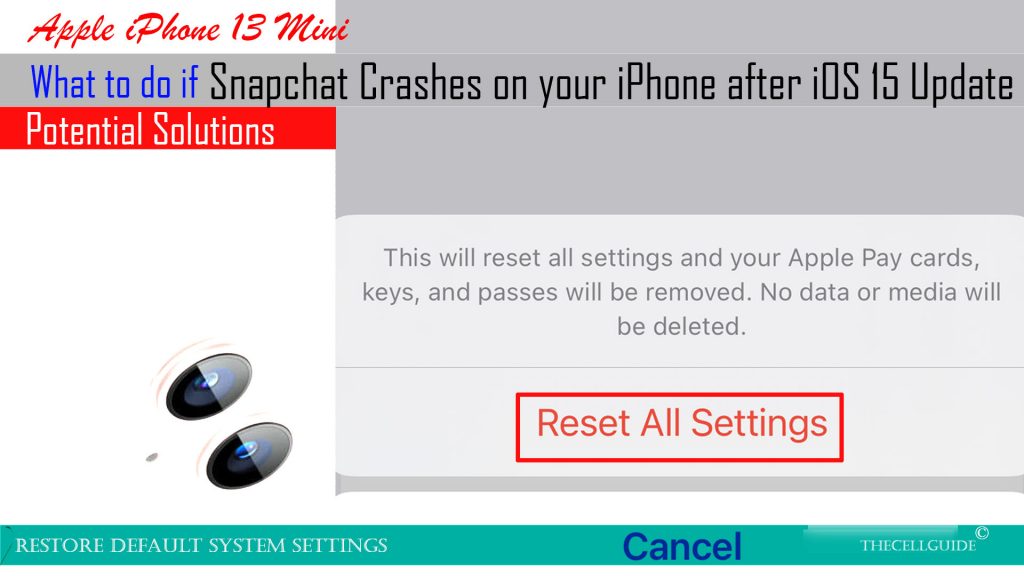 Unlike a factory reset, this reset only deletes recent settings changes including custom networks app permissions, restrictions and app preferences. Thus, creating backups beforehand won't be necessary. Just follow these steps whenever you're ready:
Go to your Home screen and then open the Settings app.
Scroll to and tap General.
Tap Transfer or Reset iPhone to proceed.
Then tap on Reset.
On the succeeding menu, tap Reset all settings from the given options.
Enter your device passcode if prompted.
Tap the option to confirm all system settings reset on your iPhone.
After the reset, the phone reboots automatically and then restores the default system settings and options. This means the need for you to re-enable necessary features including Wi-Fi in order to reconnect to the internet and use online apps and services.
Once your iPhone is connected to the Wi-Fi internet, reload the Snapchat app and see if the crashing problem is gone.
Is Snapchat still crashing on your iPhone 13 mini?
If the problem continues after performing all the aforementioned procedures, it might be due to some complex issue affecting the Snapchat app's main server. Things like this could happen to any online apps just like what has recently occurred to Roblox that went down for a couple of days due to a major internal server issue.
Internet connectivity issues including random network outage that might have caused intermittent connection on your iPhone can also be the underlying cause. To rule this out, try loading up other online apps or navigate through different web pages and sites to see if they're working.
Report to Snapchat Support
You may also escalate the problem to Snapchat Support for further assistance and recommendations. Snapchat users are typically advised to report issues for immediate actions. Just head over to the snapchat support page and click the link to report bugs or suggestions.
Contact Apple Support
Reporting the problem to Apple Support is also advised considering that the symptom has instigated following an iOS update. This might be due to an iOS bug affecting many Snapchat users and therefore requires immediate patch.
Hope this helps!
Please check out our YouTube channel to view more tutorial and troubleshooting videos for popular iOS and Android devices.
You Might Also Want To Read: