This post highlights potential solutions to the most common issues encountered by Samsung phone owners when using the internet giant's email platform. Here's a quick guide on how to troubleshoot Gmail that's not working on Galaxy A73 5g.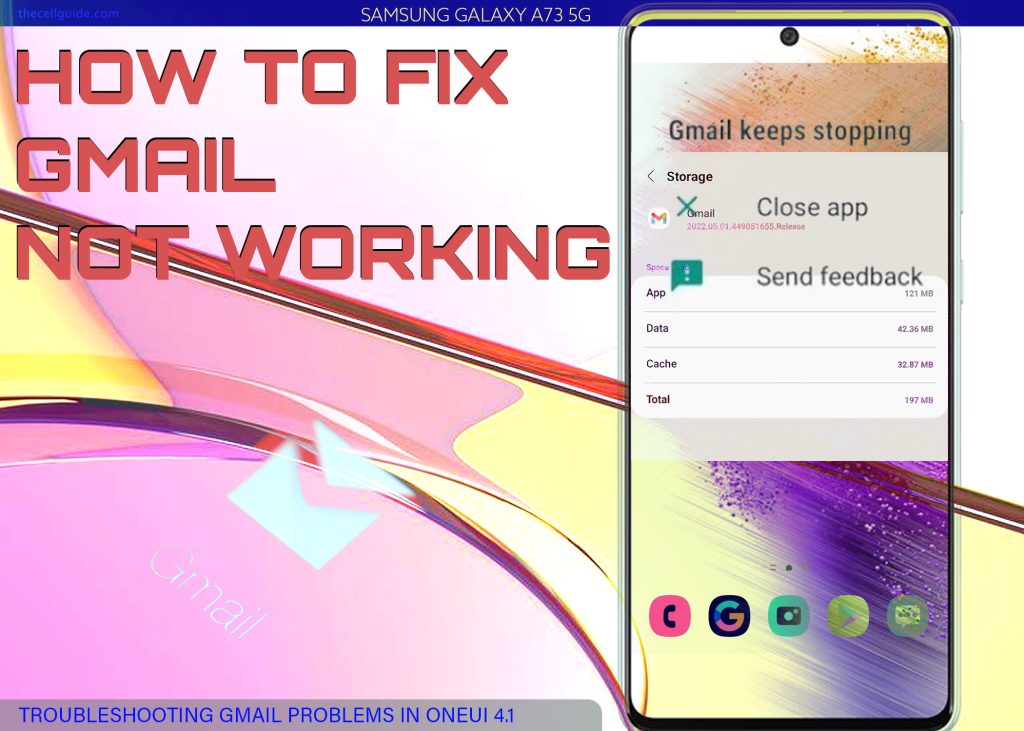 Gmail Issues in Android 12/One UI 4.1
"Internal error," "The requested folder was not found," "There was a problem securing the connection," "Gmail has stopped responding." These are just some of the common Gmail errors (Gmail bug) that you may encounter randomly when using Google's email service on your mobile device either on iOS or Android.
Each of these errors can be triggered by many different factors from network connectivity issues, random software issues, invalid settings, corrupted files, faulty updates, bugs and malware.
For Gmail issues depicted by specific error messages or codes, the required solutions are typically given. Thus, reading and reviewing the pop-up warnings or error messages is highly recommended as they usually suggest what went wrong and what needs to be done in order to get things right.
For general issues like loading, crashing, not responding or any other performance-related issues with Gmail, performing generic solutions to rule out every possible culprit is recommended.
Among the identified factors that can make apps like Gmail act up on an Android device include unstable internet connection, memory problems, settings conflicts, and data corruption.
There are also some random instances wherein Gmail and other Google-related services like Google Drive or Chrome suddenly become unavailable due to unexpected technical difficulties transpiring from within the main server.
To give you extra inputs on how to deal with these issues on your Samsung Galaxy a73 5g smartphone, I've mapped out some basic yet very effective solutions that you can try on.
Troubleshooting Gmail not working on Galaxy A73
Lined up below are potential solutions to the most common issues encountered by many Samsung phone owners when using Gmail on their phone.
Before you begin, make sure that your phone is sufficiently charged and has stable internet connection either through a Wi-Fi or cellular data network. Also ensure that the date and time information on your device is correct. This is to ensure that there will be no problem encountered when Gmail attempts to sync with the main server.
You may go ahead and start troubleshooting whenever you're all set. Don't forget to test run Gmail after performing each of the given solutions to determine whether or not the problem is solved.
Solution #1: Force stop then restart Gmail app.
If the Gmail app was working fine and suddenly it stopped, it's possible that the app crashed and got stuck. Should this be the case, you will need to terminate the application so it normally loads up.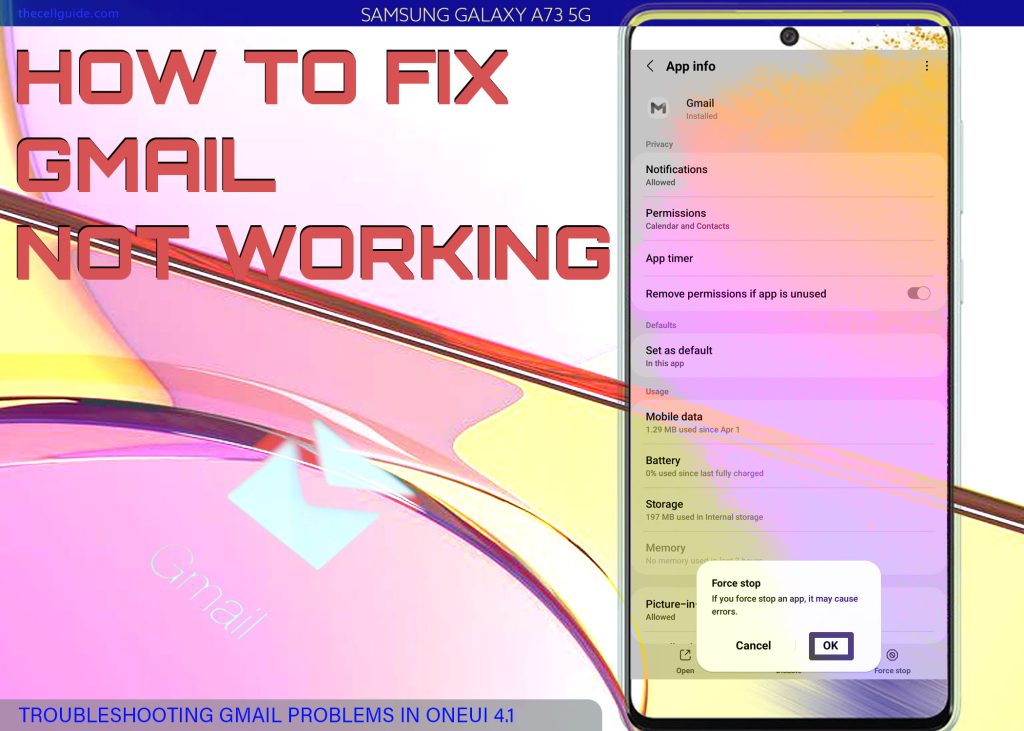 To force stop an app on the Galaxy A73, just head over to Settings-> Apps then select Gmail from the list. On the next menu (Gmail App Info screen), tap Force Stop at the bottom.
That should force the app to quit or stop running on the system.
Alternatively, you can end the app straight from the Home screen.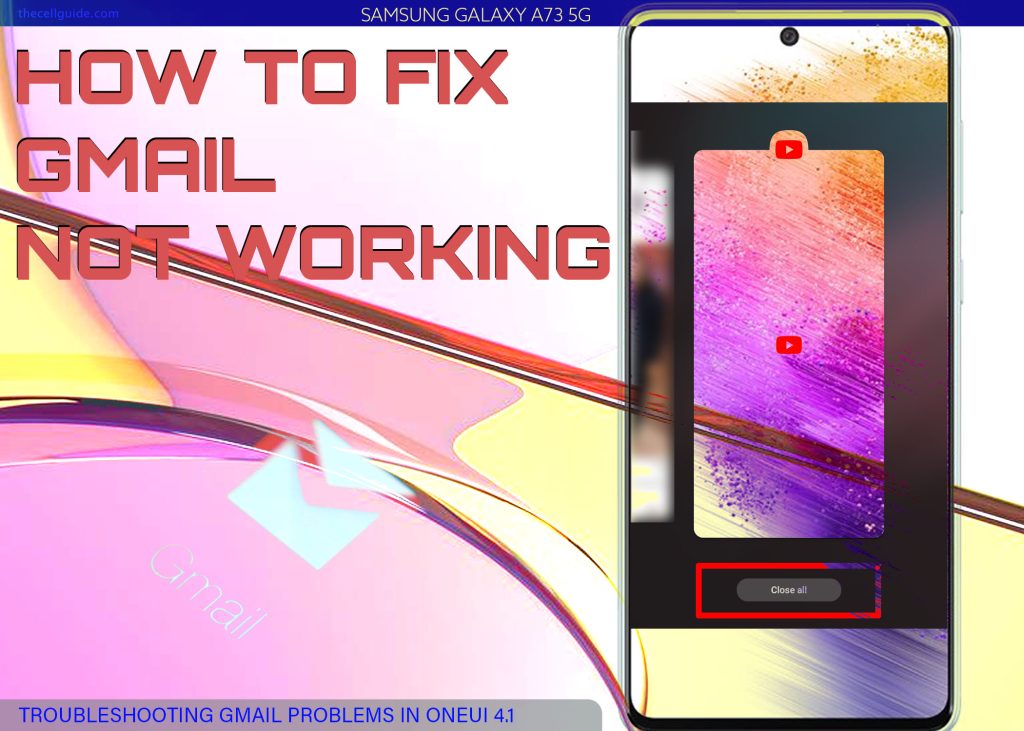 To do this, just press and hold the Home key (three short vertical lines) at the bottom-left corner of the Home screen to access the Recent Apps screen. Previews of all recently used apps will then be displayed. Finally, tap Close all to terminate all running apps including Gmail.
After terminating all background apps, try to relaunch the Gmail app and see if it works.
Meanwhile, if you're using Gmail on a web browser, force stop the browser application and then restart it.
Clearing the browser's cache and cookies, internet history and other residual browsing data may also help fix the problem if corrupted cached files are to blame.
Solution #2: Restart the phone.
Restart is another simple yet very effective solution to random app problems including those affecting Gmail and other apps.
Doing so clears out and corrects minor system errors that trigger preloaded apps to suddenly act up. It does not delete any user data from the internal storage so there's no need to back up files.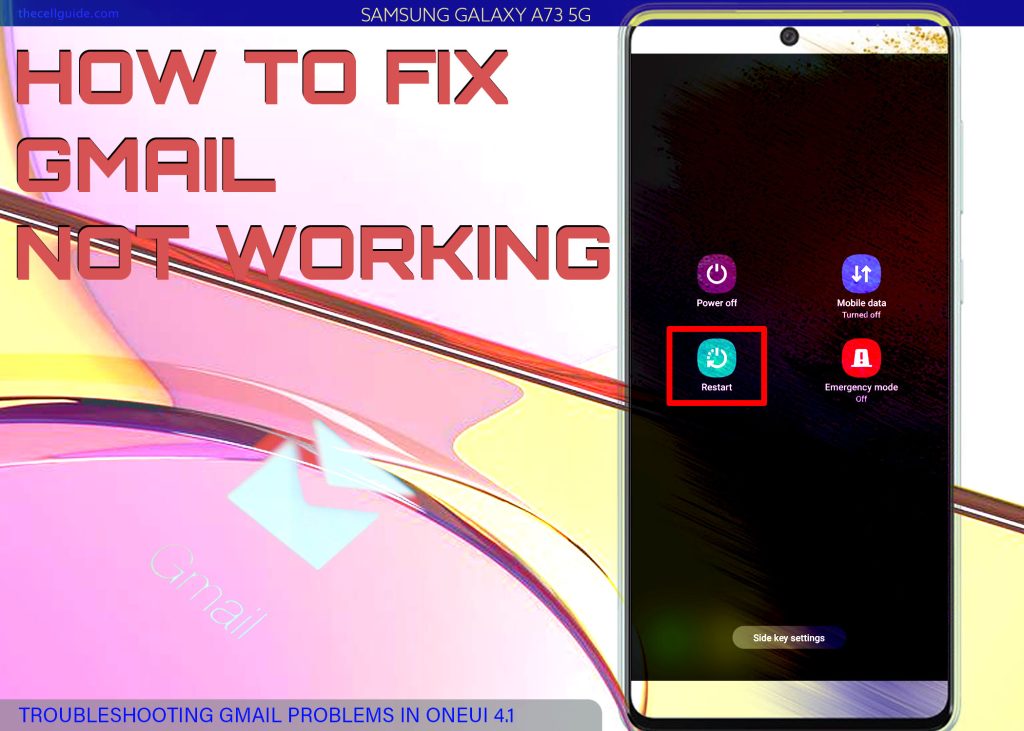 Just follow these steps if you haven't yet restarted your Galaxy A73:
Press and hold the Power button for a few seconds until the power options appear. Tap Restart to instigate system reboot. Wait for your phone to finish rebooting and load back up to the Lock/Home screen.
Alternatively, you may choose to tap on the Power off icon to turn the device off for a few seconds and then turn it back on by pressing on the Power button until the phone boots up.
In the case where the phone becomes unresponsive or frozen as Gmail encounters a fatal error and has stopped working, performing a forced restart on the phone would be necessary.
To force restart the Galaxy A73, press and hold the Power button for about 10 seconds and then release when the Samsung/Android logo appears on the screen.
Allow your device to finish booting up and reconnects to the internet. Once the connection becomes stable, try launching Gmail and see if it's already working good and steady.
Solution #3: Clear Gmail app cache.
Every app including Gmail stores and saves temporary files every time you launch and use them. These temporary files will be used by the app whenever the same information is requested the next time it runs.
However, accumulated cached files may eventually get ruined or corrupted. When this happens, there's a tendency that the app's normal operation would be halted. Thus, the app begins to act up.
To fix the problem, clearing the app's cache is recommended.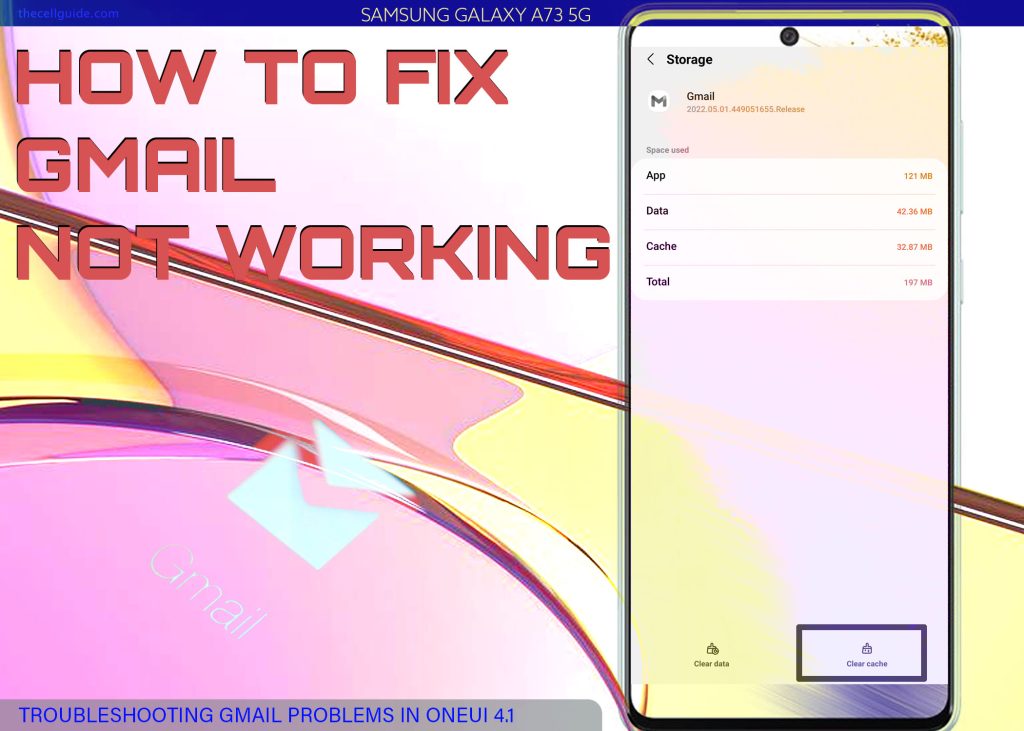 To clear app cache on the Galaxy A73, just head over to Settings-> Apps menu and then select Gmail from the list of apps. In the Gmail app info screen, tap Storage and then tap Clear cache to clear temporary files that are stored as cache in the Gmail app storage.
There is also an option to Clear data, should you wish to remove or delete all the app settings, preferences, and saved information from Gmail.
In other words, the Gmail app will be restored to its default state and make it act like the first time you use it on your phone.
If you don't want to delete this information, only trigger the command to Clear Cache. Otherwise, tap both to clear the app's cache and data.
If you opted to clear the app's data, you will be logged out from your Gmail account so the next time you launch the platform, you'll be asked to enter your account credentials like the first time you sign into your Gmail account on your phone.
Be sure to input the correct username and password to ensure that the correct Google account is set up in the system.
Solution #4: Reset app preferences.
Restoring the default preferences for the Gmail app is also a potential solution should the error be inflicted by recent personalized app settings on the phone.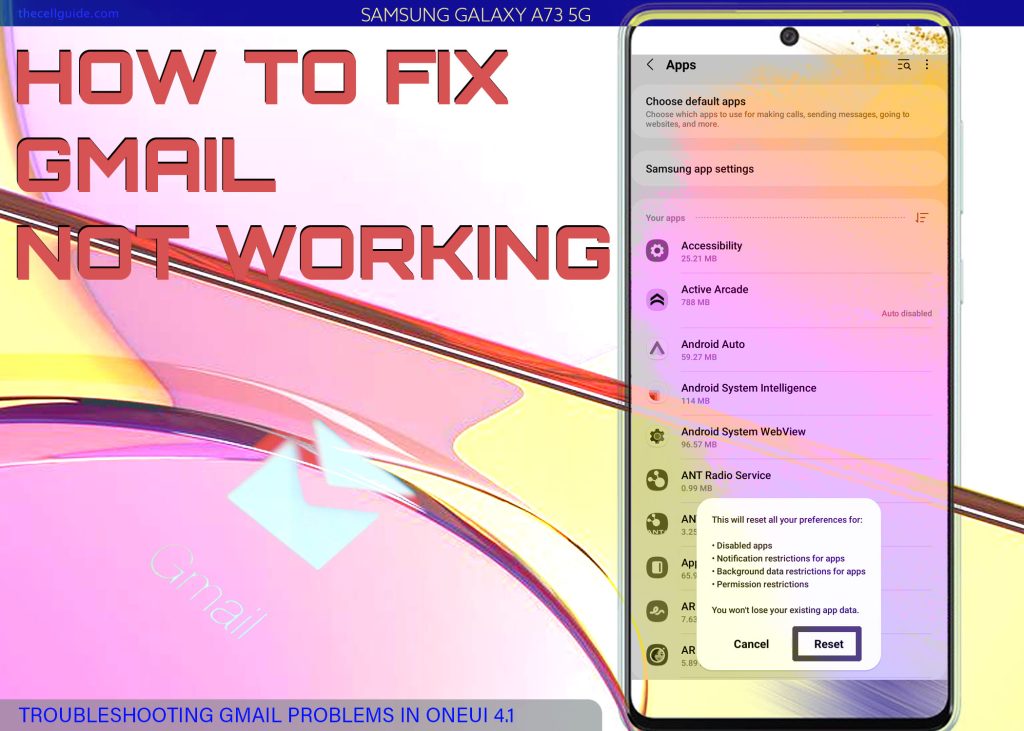 To reset app preferences on the Galaxy A73, just launch the Settings app and then tap Apps. Tap the triple-dot icon on the upper-rightmost corner of the Apps screen then tap Reset app preferences from the given menu items. Read the warning prompt and then tap Reset to confirm.
All your preferences for disabled apps, permission restrictions, notification restrictions for apps and background data restrictions that might have caused conflicts with the Gmail app will be reset and restored to their default values.
Solution #5: Update Gmail (if applicable).
Software updates released by Google for the Gmail app typically contain essential patches, security and system enhancements that would make Gmail perform faster and better with new features implemented.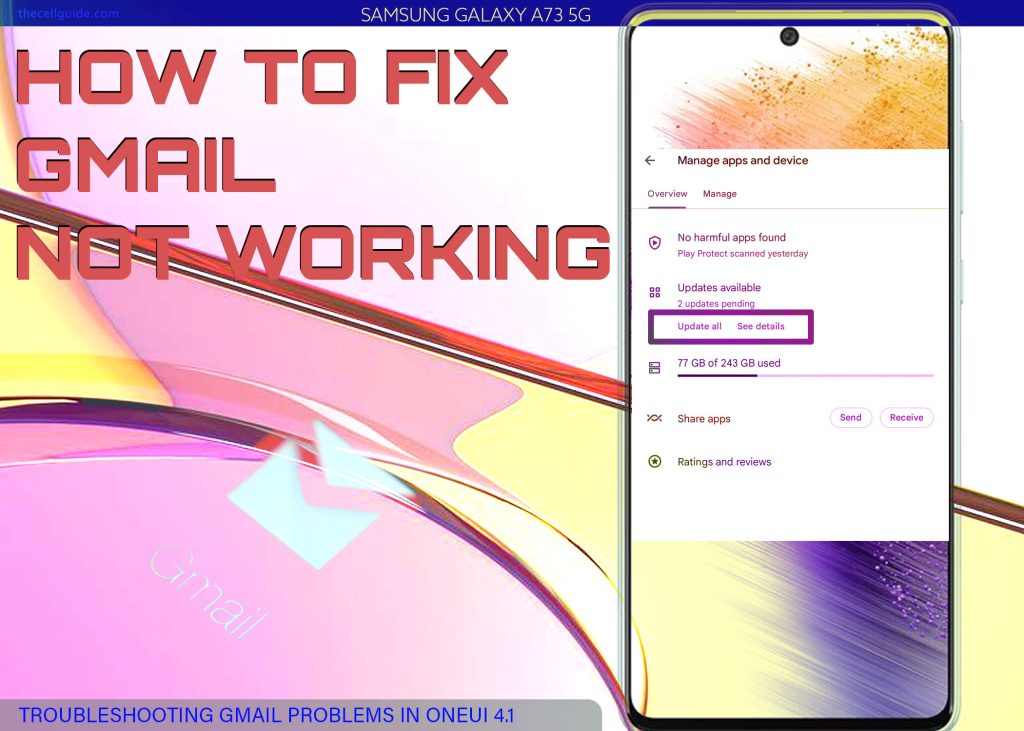 To get the new Google updates, open Gmail on a web browser and then tap the Settings icon on the top-right corner of the Gmail screen in line with your profile icon. If a new update is available, you'll see a message suggesting to Try the new Gmail or something similar. Just click on the message to get and use the latest version of Gmail.
The prior method is applicable if you're using Gmail on a web browser. To get new updates for the Gmail app, you will need to launch the Google Play Store app and view all pending app updates including those for Gmail.
To do this, just open the Play Store then tap on your profile icon. Then, tap Manage apps & device then tap Updates available to view what apps have pending updates.
To update individual apps, just tap the Update button next to an app or tap Update All to update all apps at once.
After updating apps, restart the phone to refresh the apps and services. A quick reboot is also recommended to ensure that all recent software changes and in-app bug fixes are properly implemented.
Is Gmail still not working?
The above solutions are usually found effective when resolving Gmail issues that are attributed to random system errors on the phone.
If none of them works and the problem continues, performing these additional tweaks might help.
Wipe cache partition on your Galaxy A73
Wiping the system cache partition on the phone is usually recommended when dealing with performance issues when using system or downloaded applications. It basically works by clearing out all temporary files and residual data from the system cache. Any corrupted data segments that might have caused conflicts to the Gmail app will also be removed and so as the transpiring symptoms.
Wiping the cache partition does not delete any user data from the internal storage so you won't lose any critical information saved on the phone.
Reset all settings on your Galaxy A73
Resorting the built-in reset options can be regarded among the last options. This usually fixes software-related issues that are attributed to system settings conflicts including symptoms that instigated after altering system app settings and services.
Resetting all settings is different from a factory reset as it doesn't affect any user information from the system storage. Only some of the system settings are restored to their default state.
Delete your Google account then add it back.
A number of Gmail issues in Android devices are found to be attributed to a corrupted if not invalid Gmail/Google account set up on the device. To clear this out, removing and re-adding of your Gmail account from/on your Galaxy A73 might be able to fix it.
This will allow you to set up your Google account credentials like you did during the initial setup. Be sure to input the correct/valid account information to evade any relevant errors.
Boot your Galaxy device in Safe Mode
Troubleshooting the problem in safe mode can also help you determine whether or not the problem is attributed to a third-party application on your device. While in safe mode, all third-party downloaded apps will be disabled temporarily, leaving on the preinstalled apps including Gmail to run.
If the problem doesn't occur while the device is in safe mode, then it's an indication that any of your recent app downloads is the culprit. In this case, you will need to rule out all possible triggers individually.
Seek more help
Contacting Google Support for further assistance can also be deemed among the last hopes if none of the applicable tweaks is able to resolve the issue.
Should this be found to be a Gmail server issue, Google would be obliged to work on a prompt solution. Typically, unexpected technical difficulties and outages that make Google services unavailable are promptly addressed by a designated technical support team. Rest assured, it should be back up and running smoothly again in no time.
Meanwhile, if the problem started from an Android/One UI update and it persisted up to this point, then that's more likely an update bug that's causing conflict with Gmail. In this case, you can report the problem to Samsung Support for further assistance.
Hope this helps!
Please check out our YouTube channel to view more tutorial and troubleshooting videos for popular iOS and Android devices.
You Might Also Want To Read: