A factory reset is a process that restores a device to its original factory settings, which means erasing all data and settings on the device, including apps, contacts, and personal files. It can be useful for troubleshooting problems or preparing for resale.
In this article, we'll guide you through the steps on how to factory reset a Samsung Galaxy phone.
Warning:
Performing a factory reset will permanently erase all your data, so ensure you've backed up your important files before proceeding.
Prerequisites:
Before factory resetting your Samsung Galaxy, make sure to:
Back up your data: Use Samsung Cloud, Google Drive, or another backup service to save important files, contacts, and app data.
Remove your Google account: To unlink or remove your Google account, just head over to Settings > Accounts > Google, and then remove your Google account to avoid possible issues during the reset process.
Steps to Factory Reset Your Samsung Galaxy
The following are two ways to perform a factory reset on a Samsung Galaxy device.
Method 1: Using Phone Settings
This method is only applicable if the device you're trying to reset is still working properly and responsive. To factory reset via settings menu, just follow these steps:
1. First, open your Settings app by tapping on its icon from the Home screen or Apps tray.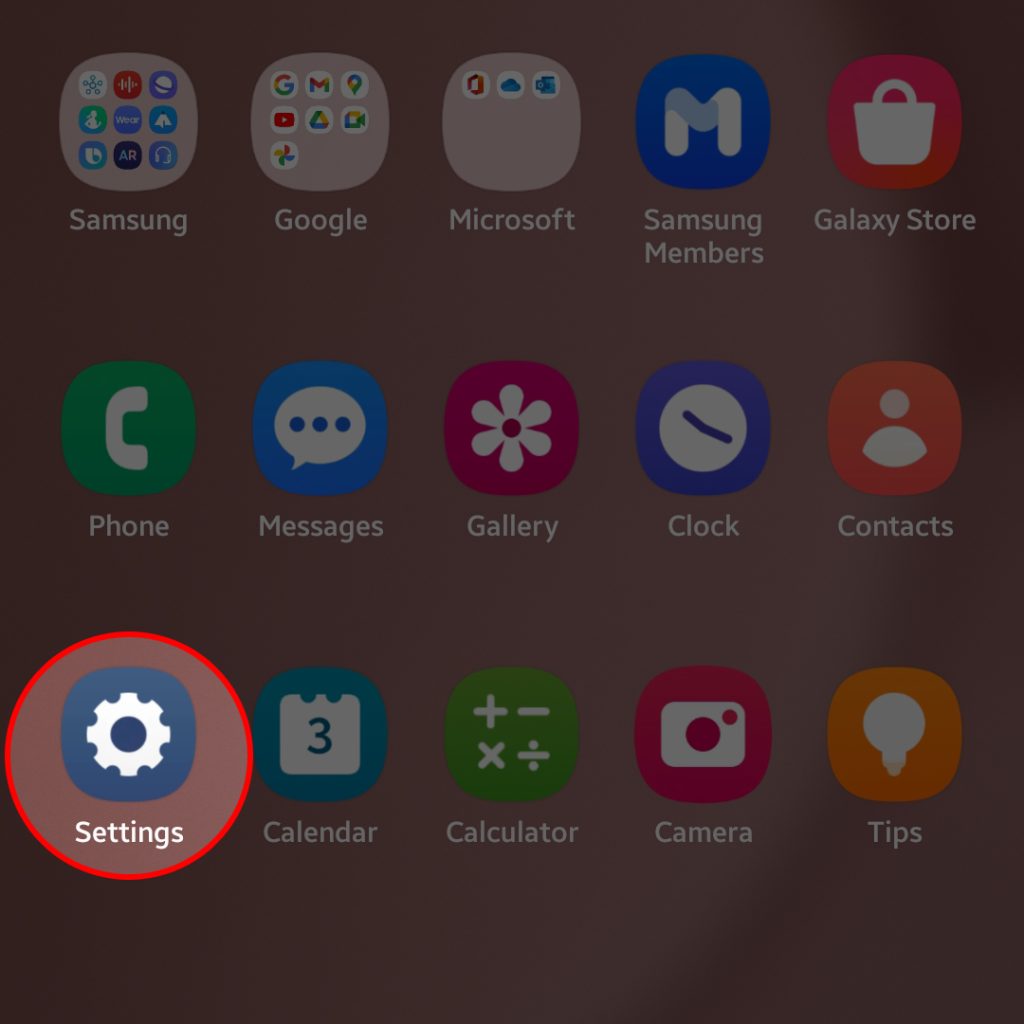 2. In the Settings menu, scroll down and tap on General management.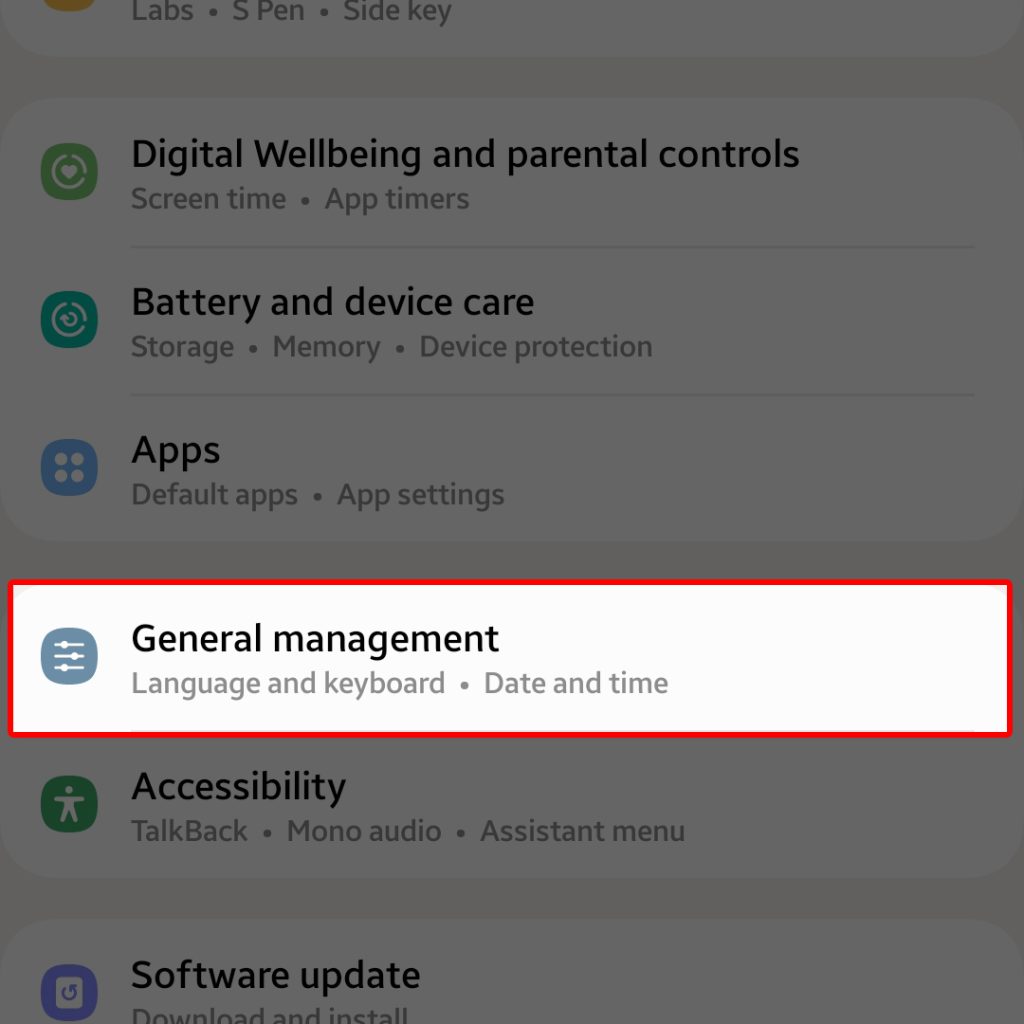 3. Next, tap on Reset.
4. Choose Factory data reset from the reset options.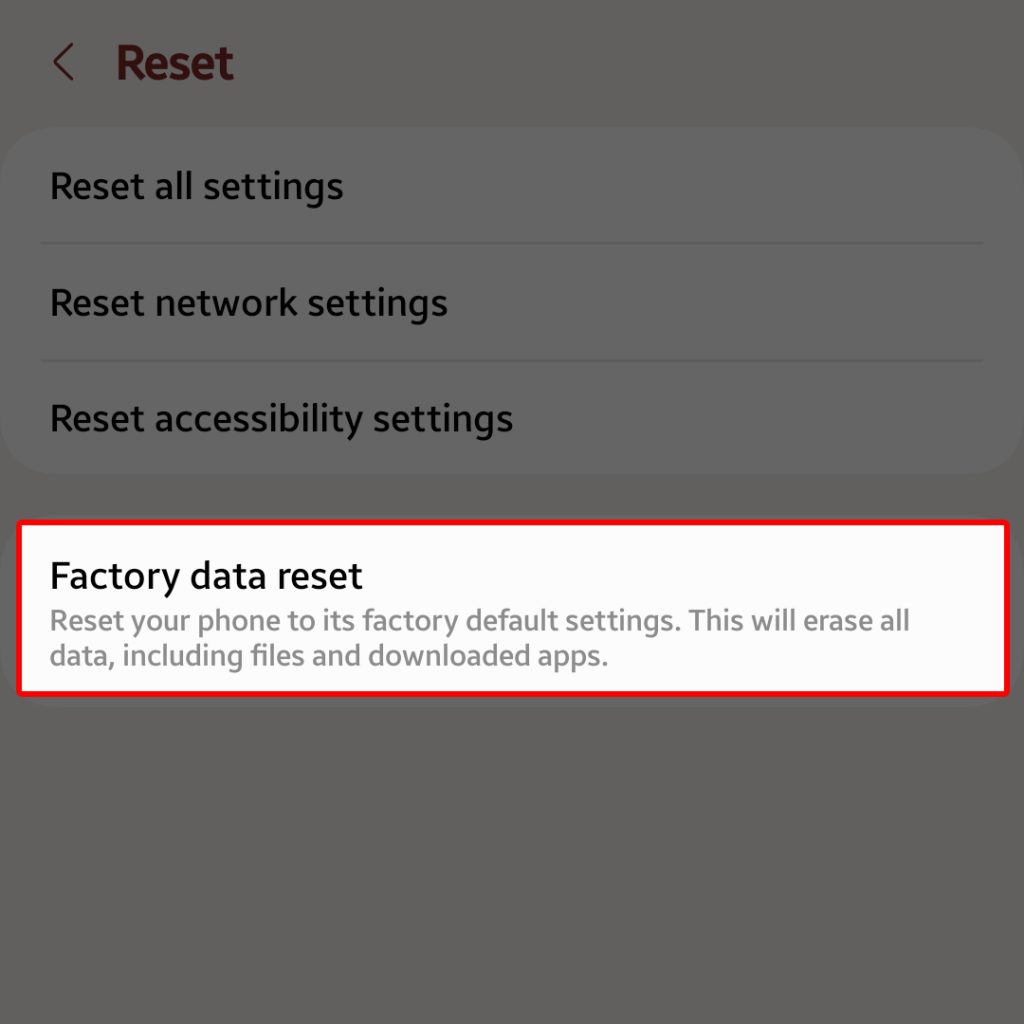 5. Review the information displayed, and scroll to the bottom of the screen and then tap Reset to proceed.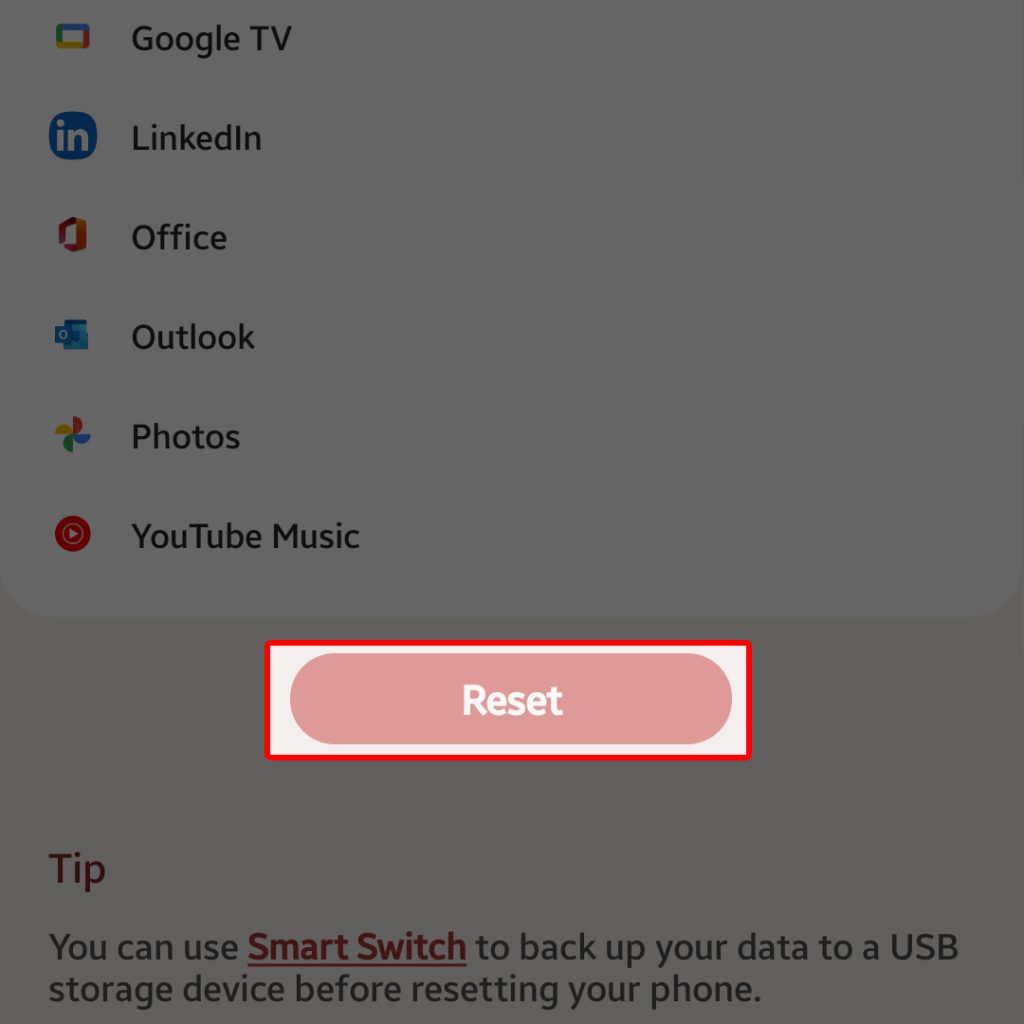 6. If prompted, enter your device PIN, password, or pattern and then confirm by tapping Delete all.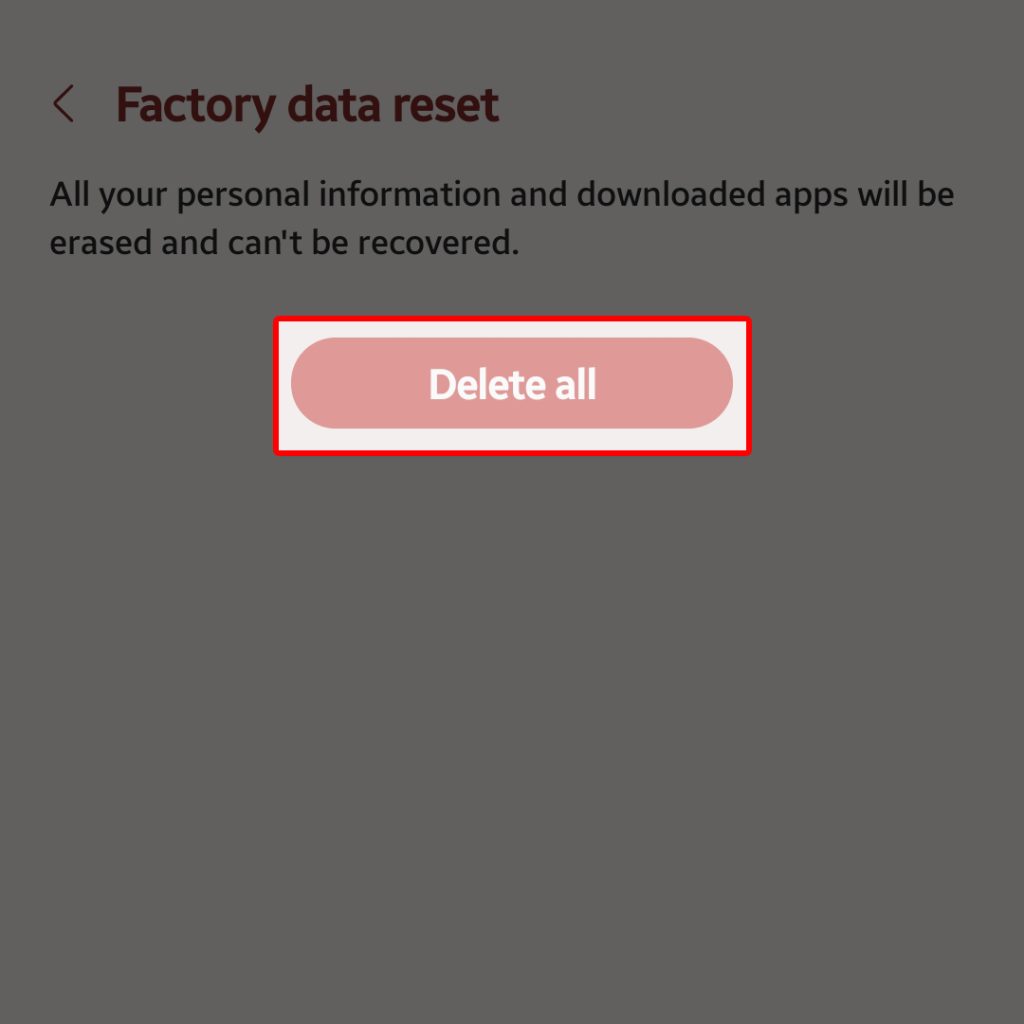 The factory reset process will begin, and your phone will restart once completed.
Method 2: Using Recovery Mode
Use this method if you're unable to access the phone settings or your device is unresponsive.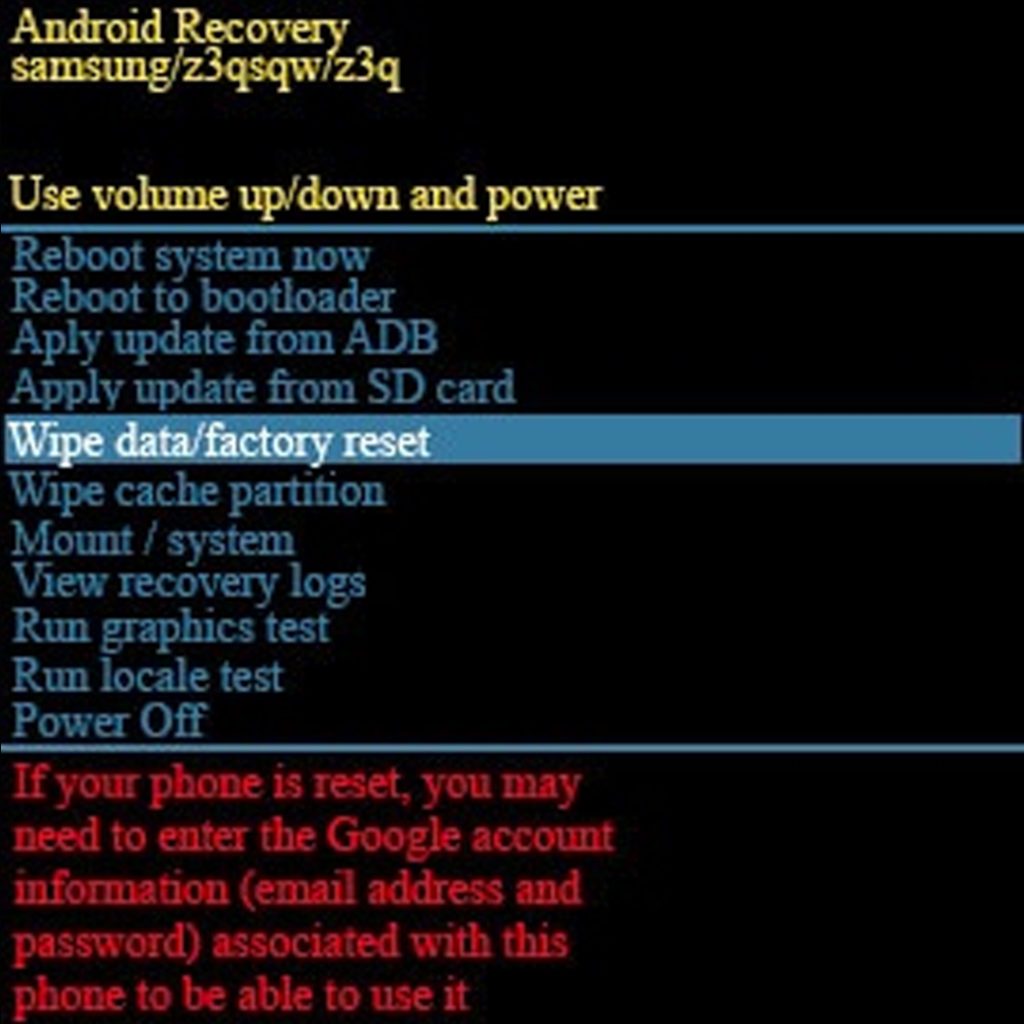 First, power off your device.
While the device is turned off, press and hold the `Volume Up`, `Home/Bixby` (if applicable), and `Power` buttons simultaneously. Release the buttons when the Samsung Galaxy logo appears.
The device will enter the Android Recovery Mode. Use the `Volume Up` and `Volume Down` buttons to navigate and the `Power` button to select.
Highlight `Wipe data/factory reset` and press the `Power` button to confirm.
On the next screen, highlight `Yes` and press the `Power` button again to confirm the factory reset.
After the reset is complete, the device will show the option `Reboot system now`. Press the `Power` button to restart your Samsung Galaxy.
Your Samsung Galaxy phone will now be in its original, factory-new state. By then, you can set it up by following the on-screen instructions, restore your backed-up data, and reinstall your preferred apps.
FAQs
Here are some frequently asked questions about factory resetting a Samsung Galaxy device.
1. When should I perform a factory reset on my Samsung Galaxy?
Perform a factory reset when:
– Your device is consistently freezing or unresponsive.
– You're experiencing frequent crashes or issues with apps.
– Your phone is very slow, even after clearing cache or uninstalling unnecessary apps.
– The device has undergone a significant software update, and you're facing multiple issues.
– You want to sell or give away your phone, and you need to erase all personal data.
Remember to always back up important data before proceeding with a factory reset, as it will erase all the content on your device.
2. Does a factory reset remove malware or viruses?
A factory reset may remove some malware or viruses from your device. However, not all potential threats will be eliminated. To ensure optimal security, always use a reliable antivirus app and perform regular scans to detect and remove potential threats.
Keep your device software up-to-date, since security patches are often released to address new threats.
3. Why is my Samsung Galaxy still not working properly after a factory reset?
If your device still experiences problems after a factory reset, there might be a hardware issue, or the problem could be related to an app you reinstalled. Consider contacting Samsung's support team or visiting an authorized service center for further troubleshooting and hardware diagnostics.
4. Can I recover my data if I didn't back up before the reset?
Once you perform a factory reset, the data on your device is permanently erased. It's possible to recover some data using third-party recovery tools, but the success rate will depend on several factors, including whether the data has been overwritten.
To be on the safe side, always back up your data before initiating a factory reset.
5. What's the difference between a factory reset and a hard reset?
A factory reset, also known as a "hard reset," "master reset," or "restore to factory settings," refers to the process of reverting a device to its original factory configuration by erasing all data and settings.
In popular usage, "hard reset" often refers to the recovery mode method, where a user triggers a factory reset without accessing the phone's settings interface. Both terms essentially refer to the same process.