This post highlights potential solutions to a problem on the Facebook app that unexpectedly stops working or crashes on the Samsung Galaxy S21 smartphone. Here's what to do if Facebook keeps crashing on Galaxy S21.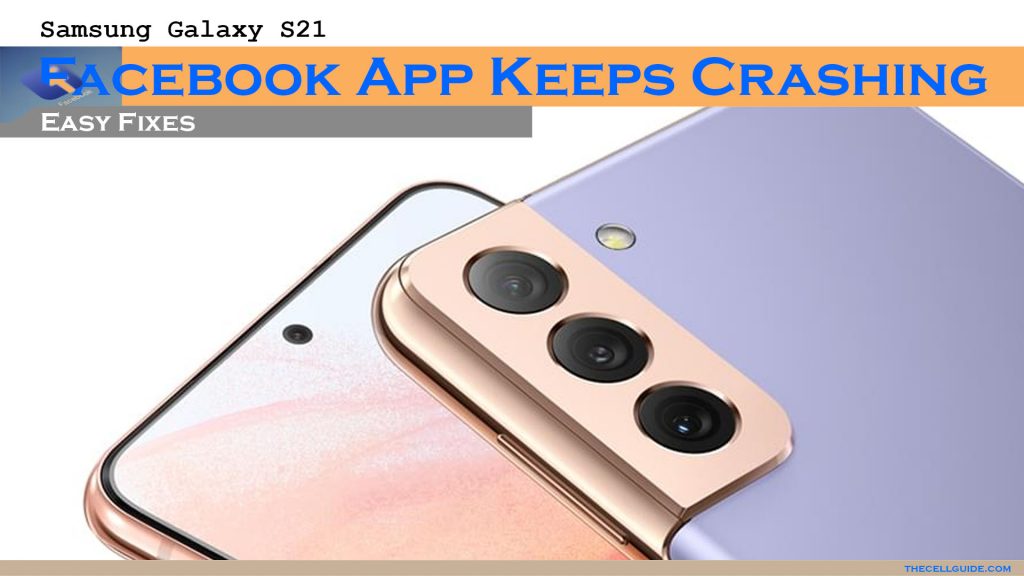 What triggers Facebook app crashes?
There are a lot of factors that can cause an app to crash. Among the common triggers include random in-app glitches, faulty updates, software bugs and malwares. Random internet connectivity issues and memory-related issues on the device are also among other factors to consider ruling out. In server-based apps, unexpected technical difficulties affecting the main server can also be the underlying cause of the problem.
Troubleshooting Facebook keeps crashing on Galaxy S21
Before you begin performing the recommended solutions, verify and ensure that your phone's storage isn't running low. Note that random to frequent app crashes can also be directly attributed to low memory issues in mobile devices. Thus, make sure that your phone has sufficient storage. At least 3GB of free storage space is safe. Also ensure that your phone has a stable internet connection, preferably through a Wi-Fi network.
Once you've got everything set, you can start performing the following procedures. Don't forget to test the Facebook app after performing each solution to determine whether or not the problem is fixed.
Solution #1: Force close/end app.
If this happens unexpectedly, then there's a higher chance that the Facebook app has gone rogue and got stuck. In this case, ending or quitting the app is recommended.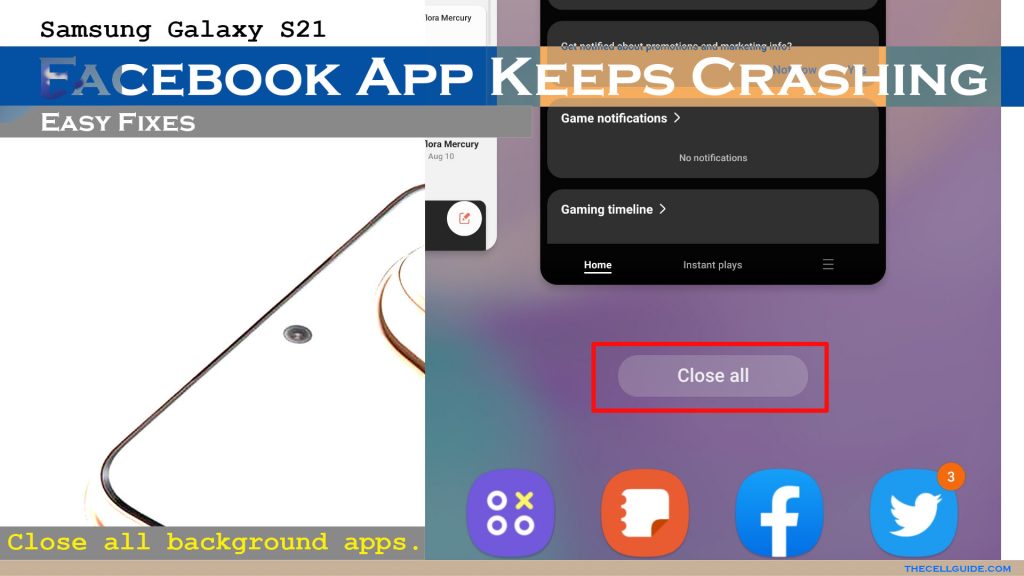 Here's what you should do then:
From the Home screen, tap the Recent Apps key to view all apps that are still running in the background.
To end or force all background apps to quit, tap Close All.
Ending all other background apps is recommended to ensure that none of them would cause conflict to the Facebook app.
Solution #2: Reboot the phone.
The simplest solution to random software issues affecting downloaded and preloaded apps is to restart or reboot your phone. Various problems inflicted by minor system glitches are rectified by restarting the phone so be sure not to miss it.
For starters, just follow these steps:
Simultaneously press and hold the Volume Down and Side/Power keys for a few seconds.
Release both keys when the power options appear.
To instigate a system reboot, tap on the Restart icon.
If the phone seems to stop responding as the Facebook app crashes, then you better do a force restart. It works the same as the usual reboot when it comes to refreshing apps and system functions. Just follow these steps:
Press and hold both the Volume Down and Side/Power keys for a few seconds and then release both keys when the Samsung logo appears.
Allow your device to finish rebooting and reconnect to the internet.
Once the internet connection is stable, launch the Facebook app and see how it works. If it continues to crash, try the next applicable solutions.
Solution #3: Clear app cache and data.
In-app glitches can also be the root cause of the problem. This is usually the case if some residual data accumulated in the Facebook app cache have been corrupted. To rule this out, clearing the app cache and data is recommended.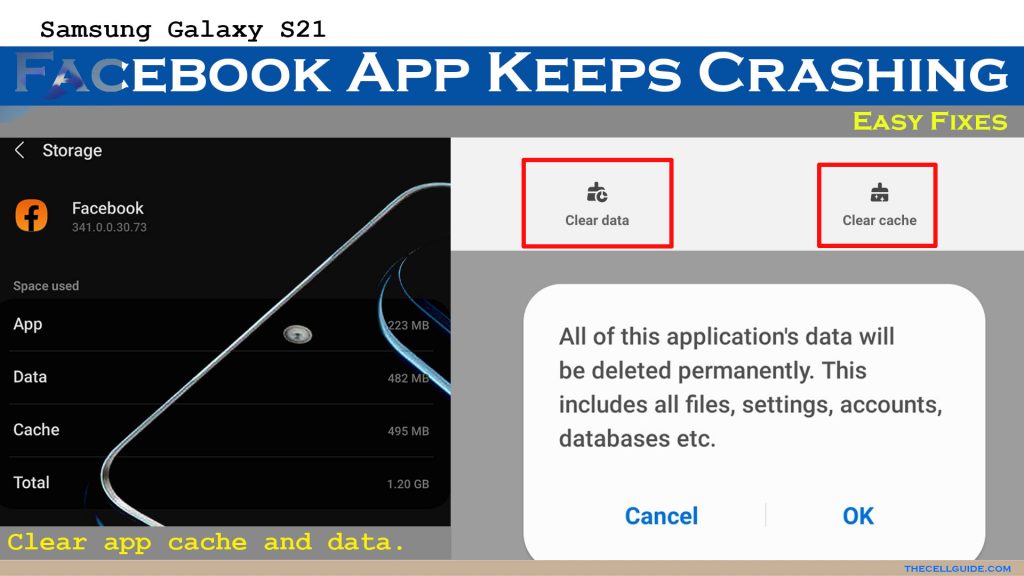 Here's how:
To get started, tap the Settings icon from the Home screen. Doing so will launch the Settings app.
From the Settings menu, tap Apps and then select Facebook from the list of Apps.
On the Facebook App info, tap Storage.
Tap Clear cache at the bottom to clear cache from the app.
Or, tap Clear data if you want to delete all residual data accumulated when using the Facebook app.
Note:
Clearing the app data will delete all temporary data stored for the app including login credentials. That said, you will need to re-login to your Facebook account afterwards.
Solution #4: Install pending updates.
Keeping apps up-to-date is highly recommended. This is one way of keeping your apps optimized and stable. Aside from adding new features, updates also embed essential patches to fix certain bugs that are inflicting widespread issues including app crashes.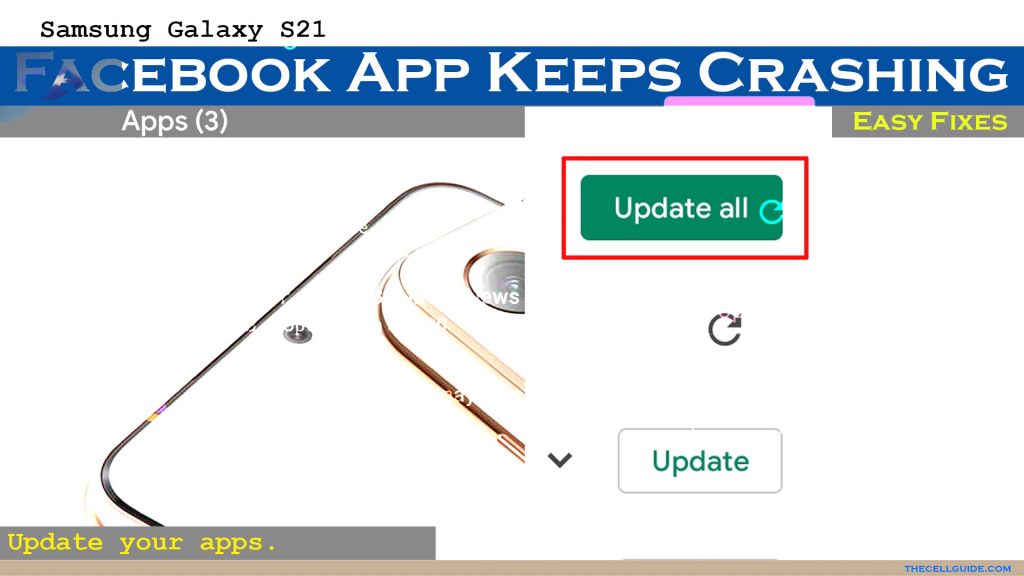 Before updating, make sure that your phone has sufficient storage space, ample battery life and stable internet connection. Once you've got everything ready, just follow these steps:
Swipe up on an empty area from the Home screen, to launch the Apps viewer.
Tap the Play Store icon.
While on the Play Store app screen, tap the Menu icon and then select My apps & games from the menu options.
Tap Update next to the name of an app to update each application.
If multiple app updates are available, tap Update All instead.
Aside from app updates, also ensure that your phone software is up-to-date. If you did not configure your phone to auto-install new updates, then you need to do it manually. Here's how:
Go to Settings-> Software update menu. If a new software version is available, you will see a corresponding notification.
Just tap Download and install and follow the rest of the onscreen commands to update your device.
Don't forget to reboot your phone after installing new updates to ensure that all new software changes are properly implemented.
Solution #5: Optimize your internet connection.
Internet problems such as slow internet, intermittent or unstable connection might also be the main reason as to why internet-based applications like Facebook suddenly stops working or becomes unstable. To clear this out, try to refresh your internet connection.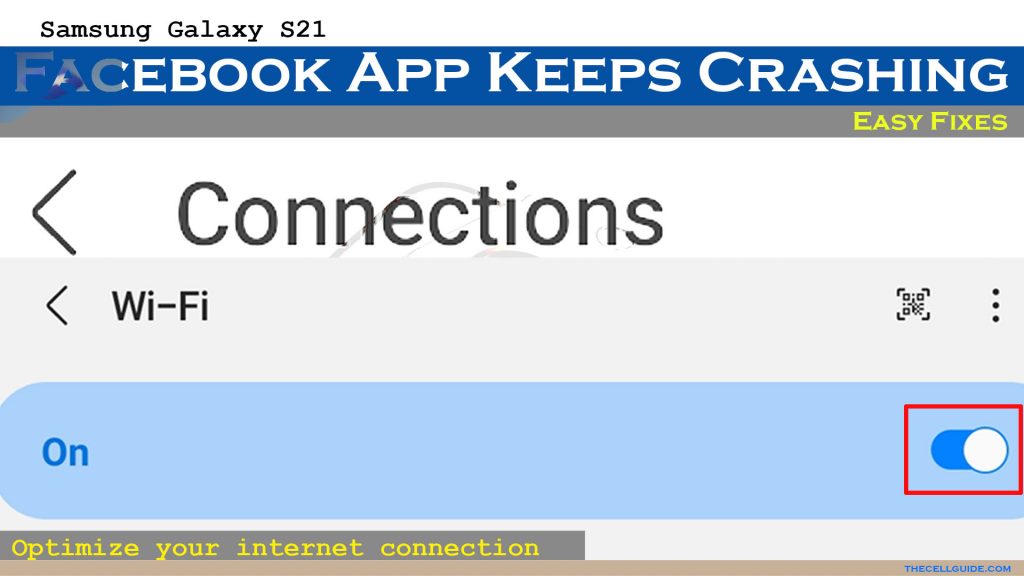 There are many ways to get this done. You can do the modem/router power-cycle (reboot), turn Wi-Fi off and on, or switch to another Wi-Fi network available.
To turn Wi-Fi off and on, just go to Settings-> Connections menu and then toggle the Wi-Fi switch off and on. Alternatively, you can toggle the Wi-Fi icon straight from the notification panel.
To power cycle the modem or wireless router, just follow these steps:
Turn off the modem/router by pressing on the power button until the device shuts down completely.
While it's powered off, unplug its adapter from the power source and keep it that way for about 30 seconds or 1 minute.
After the elapsed time, plug it back in and wait for it to finish booting up.
If you've set your phone to auto-connect to your Wi-Fi network, it will reconnect once the Wi-Fi signal has stabilized.
Once the Internet connection is back, launch the Facebook app and see if the problem is gone.
If you've managed to set up multiple Wi-Fi networks on your Galaxy S21, then you can try switching to another active Wi-Fi network in range.
To do this, just go to Settings-> Wi-Fi menu. Tap Wi-Fi to access the Wi-Fi menu containing a list of available networks and the current network in use. Then, tap to select the new Wi-Fi network that you'd like to use.
Switching between Wi-Fi networks can potentially fix the problem if it's tied to a corrupted network or weak Wi-Fi reception in use.
Solution #6: Uninstall then reinstall Facebook app.
Recurring app crashes are more likely due to some fatal in-app errors. A drastic solution to such problems is to uninstall and reinstall the problematic application.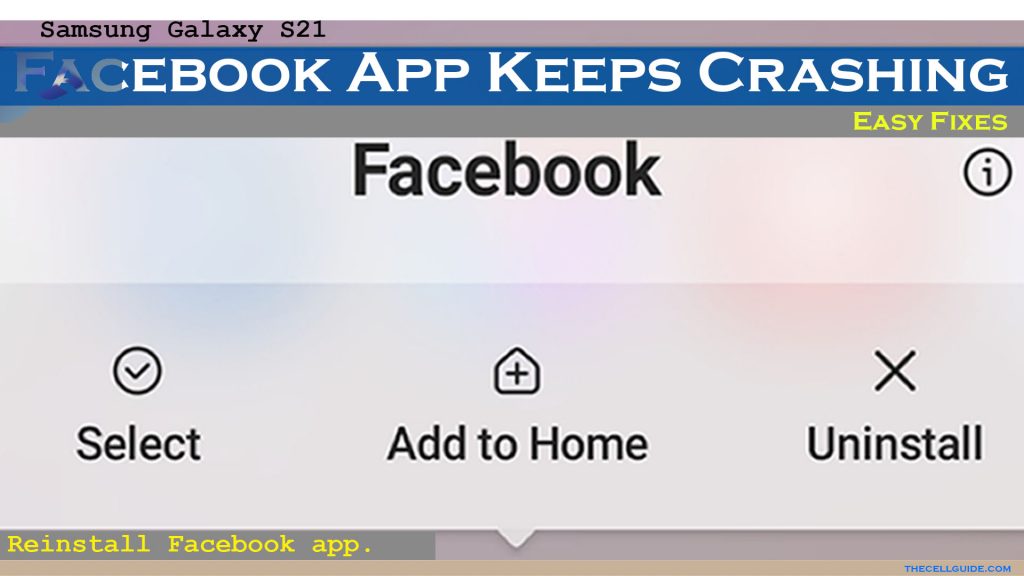 So here's what you might consider doing if ever the problem continues and you run out of choice.
From the Home screen, launch the Apps viewer and then find the Facebook icon.
Tap and hold on the Facebook app icon until the Quick Options menu appears.
Tap Uninstall from the list of options and tap OK to confirm.
Once the app is successfully uninstalled, open the Play Store app.
While on the Google Play Store, search for Facebook, and then tap Install.
Wait for the app to be successfully installed and then open it to see if the problem is gone.
Other Suggestions
A factory data reset (factory reset) can also be deemed among the last options if you suspect that the problem is caused by fatal system errors on your phone. A factory reset however will wipe everything from your phone storage including all downloads and saved information.
Performing the above solutions is usually what's needed to rectify software-related errors that might have triggered the Facebook app to randomly crash on an Android smartphone. However, there are also certain instances that couldn't be addressed by these workarounds. For example, when the Facebook server might have encountered some technical difficulties and thus it's temporarily down or unavailable at the moment. In such cases, all you can do is wait until the server is back up and the service is restored.
To check real-time outages among popular websites and services including those that might have affected the Facebook server and mobile app, you can use online tools such as downdetector and isitdownrightnow, to name some.
Hope this helps!
Please check out our YouTube channel to view more tutorial and troubleshooting videos for popular iOS and Android devices.
You Might Also Want To Read: