This post highlights some useful tweaks that will help you deal with a Facebook app that randomly crashes on an iPhone 13 mini. Feel free to try these workarounds if Facebook crashes on iPhone 13 mini.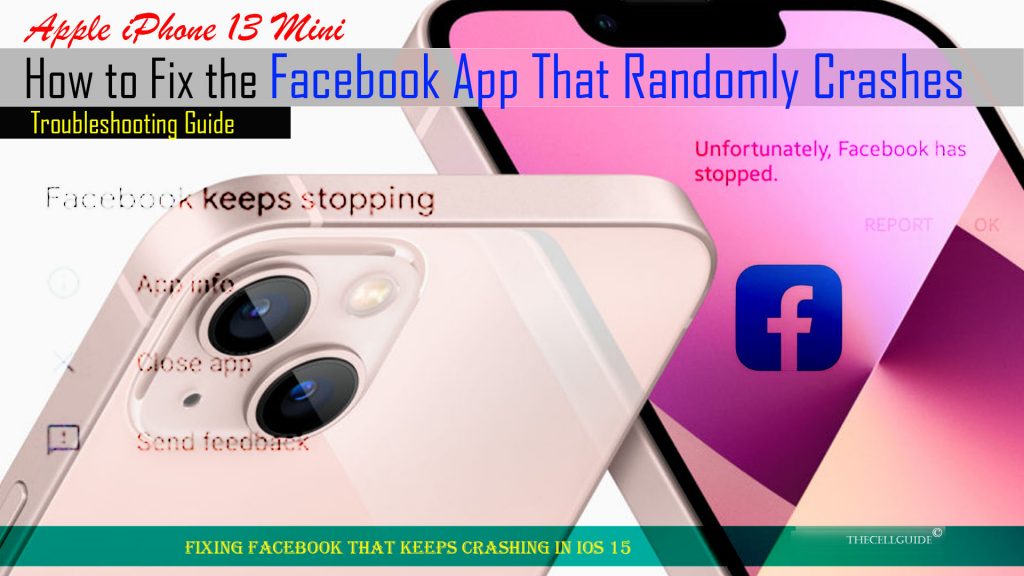 Why does Facebook app crashes on your iPhone?
Random crashes affecting online apps like Facebook can be attributed to many different factors from in-app glitches and software-related issues on the devices.
Most of the underlying causes are software-related and thus the problem is rectifiable by end-users.
Outlined below are the most common culprits that are linked to random app crashes, particularly with the iOS Facebook application.
Internet connectivity issues – random internet problems like when your iPhone is experiencing slow, intermittent or no connection are often found to be the main reason as to why online apps would suddenly stop working, fail to load or keep crashing. Bumping into internet problems is inevitable so random connection errors among online apps and services cannot be prevented.
Data corruption – this is often the case when the app installation wasn't completed or might have been completed but the app ended up being corrupted. The same thing can happen if any relevant data for that app gets corrupted and eventually makes the app dysfunctional.
Faulty updates – although updates are pushed with good intentions, post-update outcomes may not always be good. In fact, various problems and issues could arise from an update. If Facebook was perfectly working until a new update is installed, then you're dealing with a post-update issue.
iOS bugs – this is when problems arise after installing a new iOS update on your iPhone. Similar to app updates, iOS updates are purposely rolled out to keep the device stable and optimize but then again, unexpected bugs can occur on some devices.
Memory-related issues – random app crashes may also be an indication of a performance issue when the iPhone storage is running low.
Server issues – scheduled and unexpected server outages can also be the underlying cause of the problem. Server-based apps and services like Facebook usually have periodic maintenance as part of the platform enhancement.
For as long as your iPhone is free from any sort of hardware damage, the problem is more likely to be fixed without having to take a trip to the Apple Genius bar.
Troubleshooting Facebook Crashes on iPhone 13 Mini
The following solutions are also applicable when dealing with random Facebook app crashes on your other iPhone or iPad that's running on the iOS 15 platform.
Actual screens and menu options may vary between device models and service providers so expect some slight differences on the user interface.
Before you proceed, verify and ensure that your iPhone storage is not running low. Having at least 3 GB of available storage is good. Otherwise, you will need to consider deleting old and unused content in order to free up some storage space.
All Set to Troubleshoot?
Feel free to start whenever you're all set to troubleshoot and fix Facebook on your iPhone.
Also don't forget to test the app after applying each solution to determine whether or not the problem is resolved.
Solution #1: End Facebook and other background apps.
If you've previously opened Facebook, there's a chance that it's still running in the background and then it starts to go rogue the next time you launch it.
Should this be the case, forcibly ending the app would be necessary in order to give it a fresh start.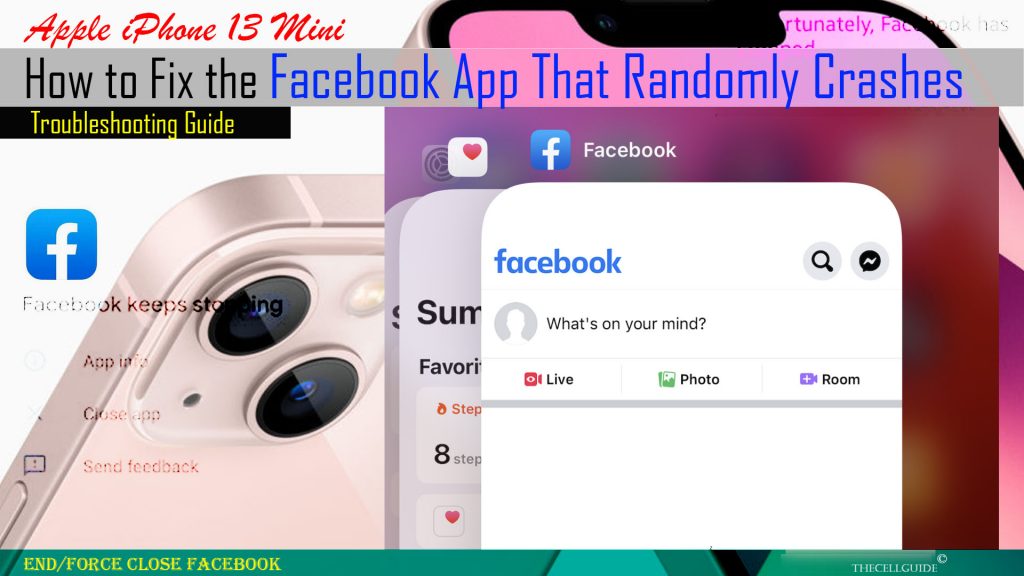 So here's what you should do then:
Swipe up from the bottom of the screen then stop when your finger reaches the middle and pause until the app cards/previews show up.
While on the apps switcher, swipe sideways and then swipe up on the Facebook app card or preview.
Doing so will forcibly end the Facebook app from running.
If you've left multiple apps running in the background, just repeat the same steps to end them.
Solution #2: Restart your iPhone (soft reset).
If ending Facebook and other background apps doesn't solve the problem, then perhaps your iPhone is experiencing some random system issues that eventually caused conflicts to certain applications including Facebook.
To clear out random iOS glitches, rebooting or performing a soft reset on the iPhone is recommended.
A soft reset or iPhone reboot does not affect any user data so you won't lose any important information in the process.
Just follow these steps:
Simultaneously press and hold the Side button and Volume Up button for a few seconds.
Release both buttons when the Slide to Power Off bar appears.
Swipe or drag the bar to turn your device off.
After about 30 seconds, press and hold the Side button and then release when the Apple logo appears.
Wait for your iPhone 13 mini to finish rebooting and re-establish internet connection. Once the internet has stabilized, launch the Facebook app again and see if the problem is gone.
Alternatively, you can do a force restart on your iPhone to forcibly end any relevant services that might have been stuck in the background and caused conflicts when you open Facebook.
Solution #3: Optimize your internet connection.
To rule out internet-related issues from the underlying cause, try to refresh your internet connection. If you're on Wi-Fi, turning the iPhone's Wi-Fi feature off and on can help.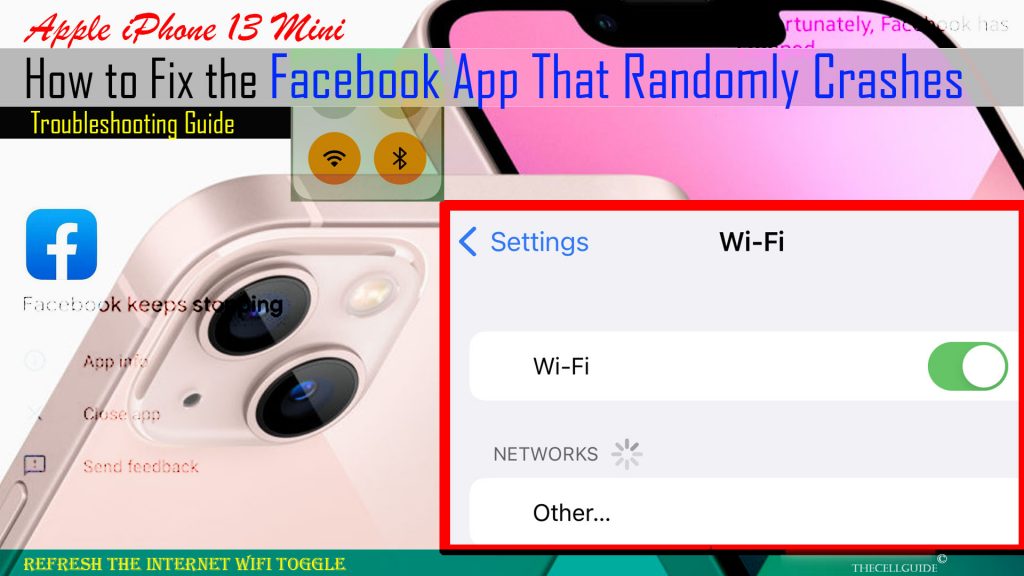 Simply head over to your iPhone Settings-> Wi-Fi menu and then toggle to turn the Wi-Fi switch off and on. You can also access the Wi-Fi icon straight from the iPhone 13 mini's control center.
Alternatively, you can use the Airplane mode trick to simultaneously refresh wireless features and services on your device.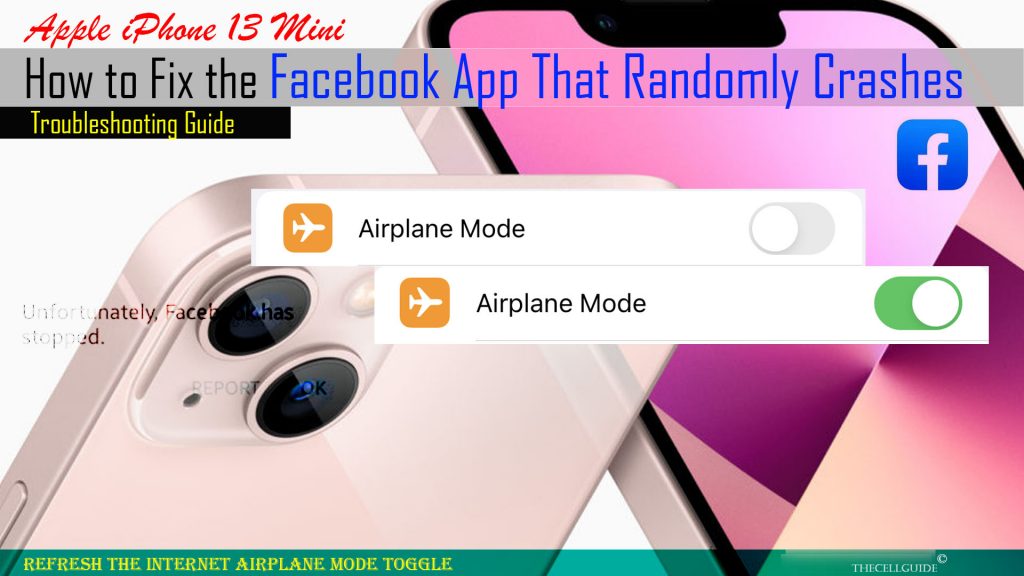 Just go to Settings-> Airplane Mode menu and then turn the switch off for a few seconds and then turn it back on again.
This tweak has been proven to work wonders when dealing with wireless connectivity issues including those affecting online apps in iOS devices.
In the case where the internet connection on your iPhone seems to be very slow, disconnecting and reconnecting from the Wi-Fi network can also be a potential solution.
Also consider ruling out other factors that might have slowed down your iPhone's internet connection.
Solution #4: Install pending software updates.
Software updates released by app developers usually contain essential patches to get rid of any existing bugs that caused an app to act up on your device.
If you haven't set your App Store account to auto-update apps, chances are that you've missed some critical updates for Facebook. As a result, the app has eventually become unstable.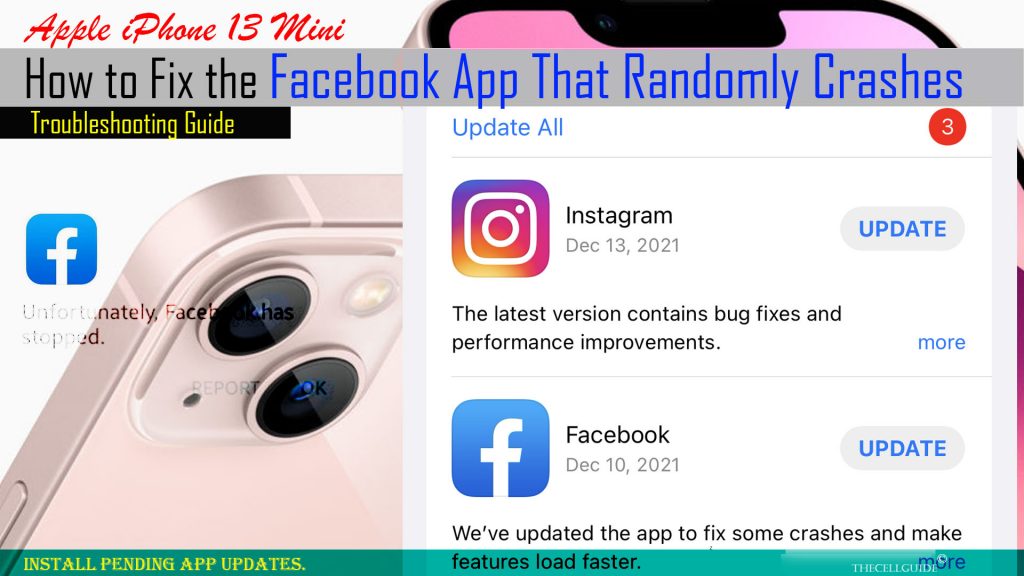 To check for any pending app updates on the iPhone 13 mini, just head over to the App Store with these steps:
Open the App Store application.
While on the App store menu, tap on your profile icon on the upper-right corner to view more options.
On the succeeding window, pull down the screen to refresh and view apps with recent updates pending.
Find Facebook and then tap the Update button next to it.
If multiple app updates are available, just tap the Update All button instead. Doing so will simultaneously update the apps.
When all apps are done updating, reboot your iPhone to save and apply all recent software updates and bug fixes.
Solution #5: Offload Facebook app.
Sometimes, in-app glitches can also be triggered when any of the residual data or cached files for the app (Facebook cache) gets corrupted.
When this happens, you will likely have trouble loading the app or it may be able to load up but eventually crashes.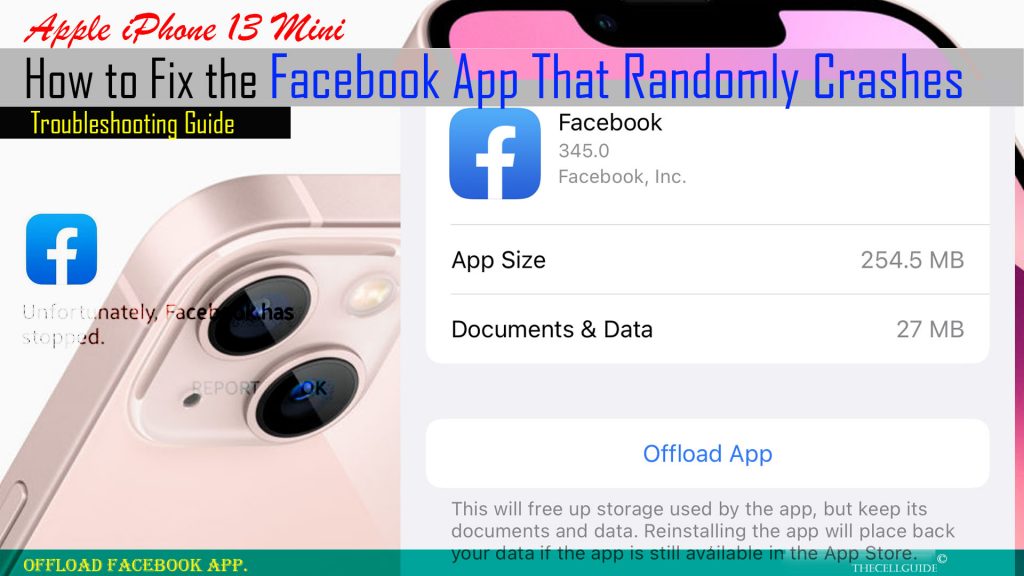 Should this be the case, offloading the app can potentially fix it.
Open the Settings app by tapping on the Settings icon from Home.
On the succeeding menu, tap General.
Then, tap iPhone Storage.
Tap to select the Facebook app on the list and then tap the command to Offload App.
If prompted, enter your passcode and tap Offload App again to confirm.
Offloading does not delete any data for the application and therefore all app settings can be retrieved after reinstalling the app on your iPhone.
Offloading apps is also recommended when your iPhone's memory is running low.
Solution #6: Uninstall then reinstall Facebook app.
The worst possible cause is that the Facebook app on your iPhone might have been totally corrupted and therefore dysfunctional.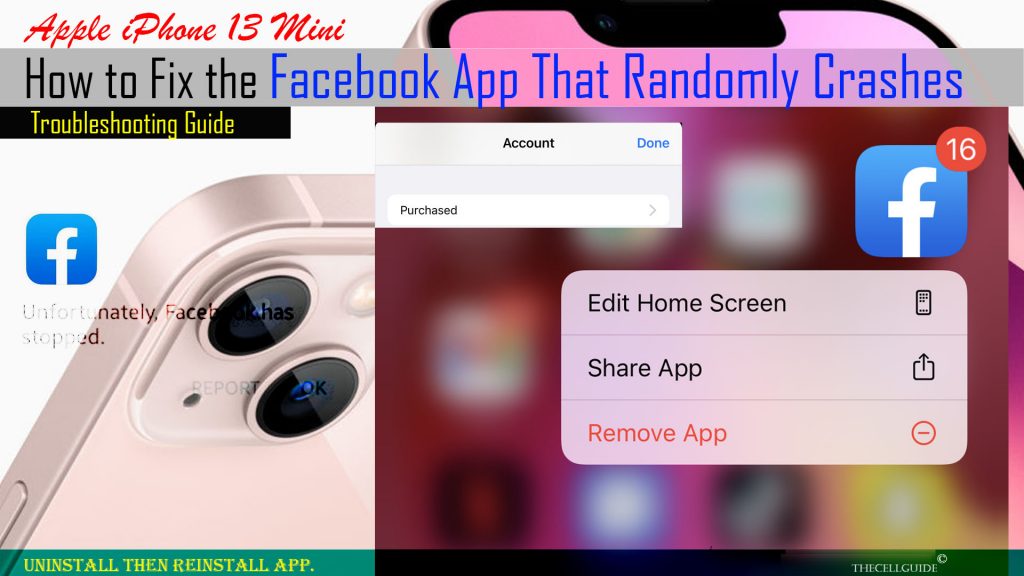 In this case, reinstalling the app would be necessary. This also denotes the need for you to uninstall the problematic Facebook app beforehand.
Here's how:
Go to the Home screen and then touch and hold the Facebook app icon.
On the quick menu, tap Remove or Delete app.
After deleting the app, launch the App Store app.
While on the App Store, tap on your Apple ID profile picture then select Purchased.
Locate the Facebook app and then tap the cloud icon to instigate download and reinstallation of the app on your phone.
The latest version of Facebook app will then be installed on your iPhone.
When the app is finished installing, try launching it, sign into your Facebook account and then see if the problem is gone.
If the reinstalled Facebook app is still crashing, then there might be an internal problem with the social media platform.
Is Facebook still crashing on your iPhone 13 mini?
Normally, minor glitches resulting in Facebook crashes are often addressed by any of the aforementioned procedures unless there's an ongoing issue with the Facebook server.
To check and see if there are any technical difficulties affecting Facebook or other Meta platforms, you can perform a quick search using free online outage trackers such as downdetector.
You can also try accessing the Facebook web version to determine whether or not the problem is isolated to the iOS version of the app.
Should this be found to be an outage or server downtime, then there's not much can be done on your end to fix Facebook but to wait until the server is back up and available again.
Hope this helps!
Please check out our YouTube channel to view more tutorial and troubleshooting videos for popular iOS and Android devices.
You Might Also Want To Read: