This post will walk you through activating an advanced battery feature on the newest Samsung Flip smartphone that allows it to share its power with other compatible phones wirelessly. Here's a quick guide to enable wireless power sharing on the Galaxy Z Flip4 device.
Estimate Cost : 0
Time Needed : 3 minutes
Wireless power sharing is a Samsung smartphone feature that allows the device to share a portion of its remaining power with another device. Such is a handy feature to keep your other device staying up longer even if you forgot their chargers.

All you have to do is place your other device together with your Samsung Galaxy phone and start the reverse charging process.

And here's how to activate and use this feature on the Galaxy Z Flip 4 smartphone.

First, launch the Settings app by tapping on its shortcut icon from the Home screen or Apps screen.




You can also access the Settings app shortcut icon represented by a gear-shaped image on the quick settings panel of your phone.

In the Settings menu, find then tap Battery and device care.




Doing so launches the device care menu with a list of relevant options.

To continue, tap Battery. On the succeeding menu, you will see more details about your phone's battery usage.




Beneath the power usage graph are relevant features including power saving, background usage limits, wireless power saving and more battery settings.

Tap Wireless power sharing from the given options to proceed.




On the next screen, you will see the main toggle to turn the feature on or off.

By default, the switch is set to OFF and the feature is disabled.




To change this, simply tap to turn the OFF switch ON. Doing so activates the wireless power sharing feature of the phone.
All set for wireless power sharing!
Your Galaxy Z Flip 4 is now ready to charge your other phone or device wirelessly. Just put your phone back to back with another device. Make sure that the other device is aligned with your phone's battery.
If you've encountered any charging issue like your other device is charging very slow or not charging at all, try to remove any cover from either device as it may affect the connection.
Also verify and ensure that your other device is compatible with your Galaxy Z Flip4 and supports wireless power sharing feature.
This charging feature works with most Qi-compatible devices. Charging process and speed may vary between devices.
Having trouble with call receptions?
Be sure to note that using wireless power sharing may affect your phone's call reception and data services depending on your network environment. Thus, if you have to take a very important phone call, then you may have to consider turning the feature OFF for a moment and re-enable it when the call is finished.
To disable the feature, just repeat the same steps outlined above to return to the Battery menu where you can find Wireless power sharing toggle.
Don't forget to set Battery Limit
Furthermore, you have to specify the battery limit so that your phone has a basis as to when it would stop sharing power to another device via wireless power sharing.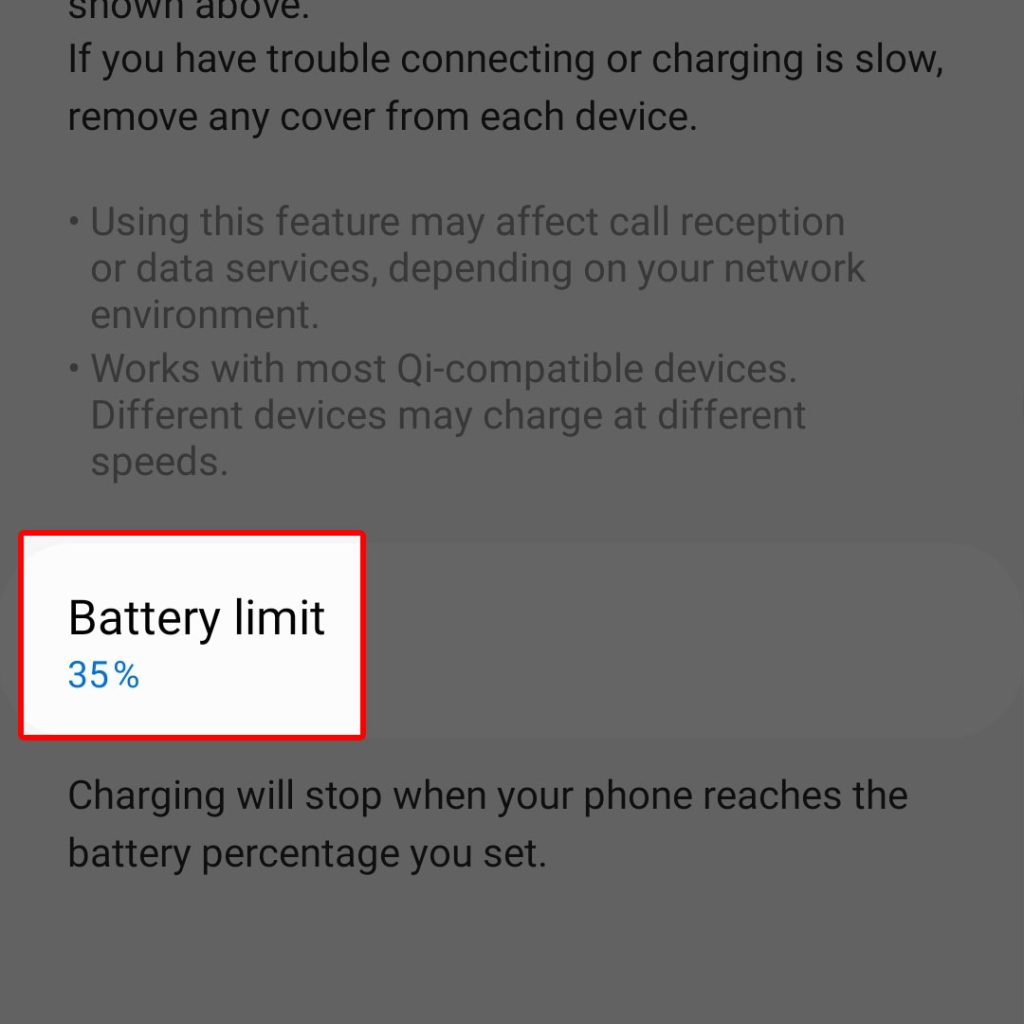 Setting the battery limit will prevent your other device from draining your Galaxy Z Flip 4's battery completely.
With a battery limit set, the charging will stop whenever the phone has reached the battery percentage you've indicated.
By default, the battery limit is set to 30 percent. You may opt to increase it to 30%, 40%, 45% or up to 90%. Just tap to mark your desired limit from the battery limit menu options.
And that's how you activate and use wireless power sharing on the new Samsung Galaxy Z Flip 4 smartphone.
---
Posts you might like
---