This post will help you activate a hidden feature from the Galaxy S21 Developer Options menu. Read on to learn how to enable USB debugging on Samsung Galaxy S21 to allow file transfers via USB connection.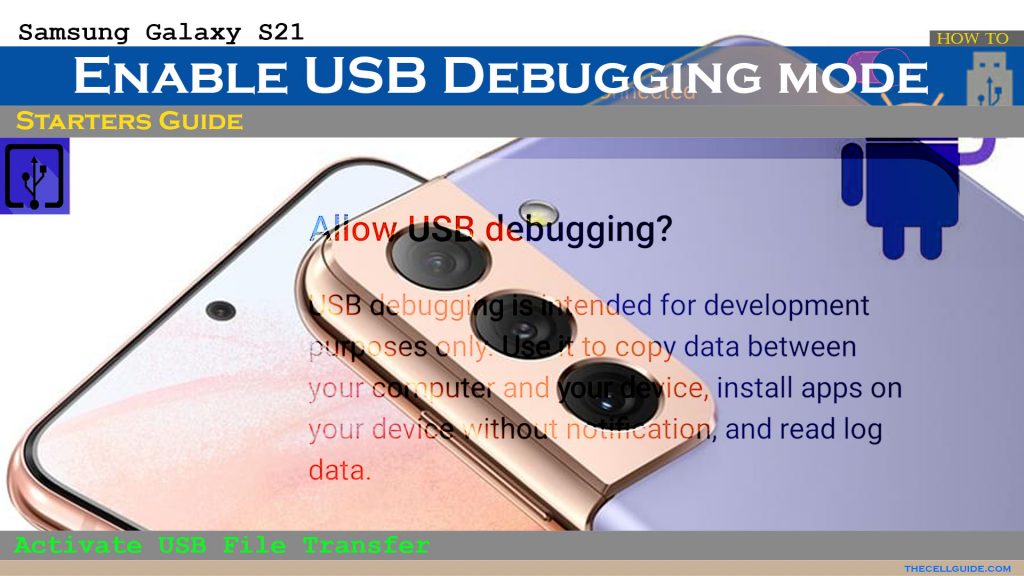 Trying to access files from your Android smartphone through your computer but your phone isn't recognized when plugged into the USB port? If that's so, then you may have to enable the USB debugging feature on your phone.
USB Debugging Mode Overview
USB Debugging or USB debugging mode is a hidden developer feature that allows an Android device to communicate with the Android Software Developer Kit over a USB connection. When app developers develop Android apps, they typically install the Android SDK on their computer. An SDK gives them the tools they need to create apps for a certain platform.
Enabling USB debugging also comes in handy for developers to streamline the processes of moving files between devices, running commands and performing relevant tasks when developing and debugging Android apps.
What Happens when USB Debugging Mode is Enabled?
When enabled, it allows an Android device to receive files and commands from a computer and the computer is able to access crucial information including log files from the Android device.
Although keeping USB debugging enabled is discouraged for security purposes, there are certain instances when you badly need to use the feature in order to access and manage critical files from your Android phone straight to your computer. But on a positive note, turning this feature on and off just requires a few taps on the screen.
For starters, USB debugging is listed among other hidden Android features in a secret menu called Developer options. These features are purposely intended for use by advanced users, particularly software developer for debugging apps and and configure system behaviors that aids in profiling bugs and debugging app performance. Newly programmed apps can also be copied via USB to the device for testing.
In order to activate USB debugging, you will need to enable your phone's developer options menu beforehand.
Once you've got the Developer options menu unlocked, you should be all set to access and manage any of the hidden features including USB debugging.
Easy Steps to Enable USB Debugging on Samsung Galaxy S21
The following steps are also applicable on other Galaxy phones with the same One UI or Android version with the Galaxy S21 series. Actual screens may vary between device models and wireless carriers.
Step 1: Tap the Settings icon from the Home or Apps screen to access the Settings app menu.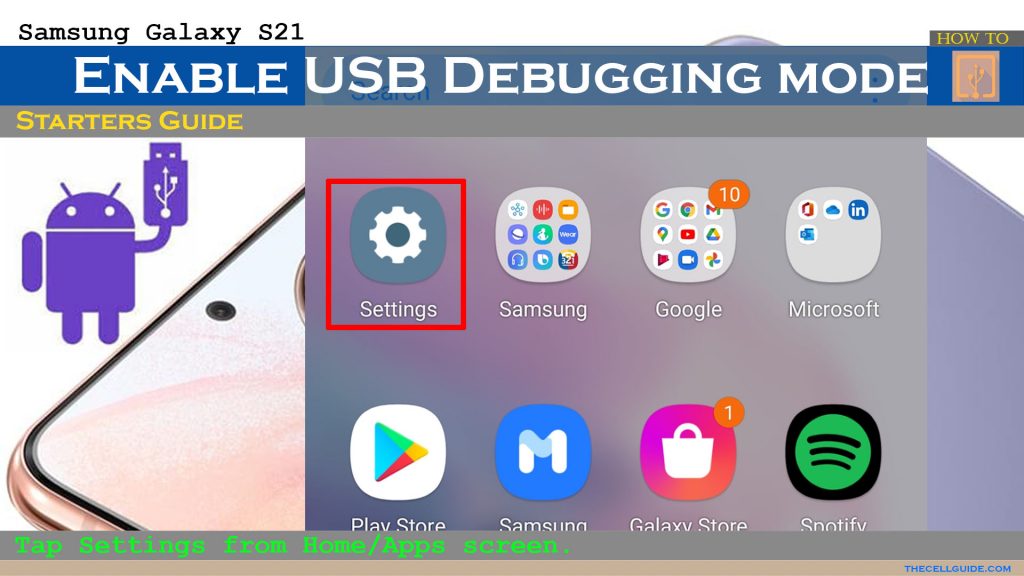 Step 2: While on the settings menu, scroll down to the bottom part and then tap Developer options.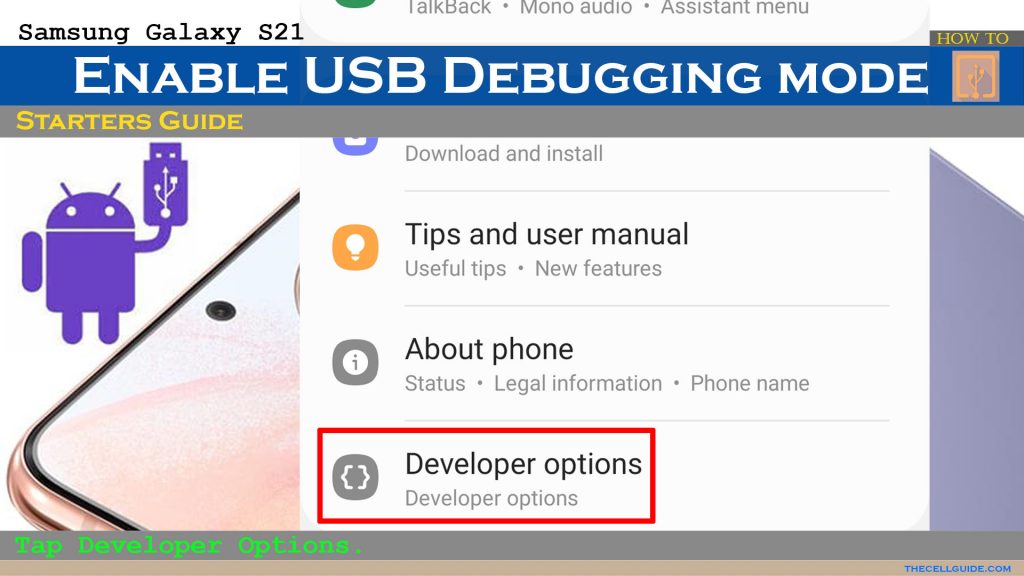 If you don't see Developer options, then you will need to enable it first. To enable this the Developer options menu, just go to Settings-> About phone-> Software information and then successively tap on Build number. You can also refer to a separate guide on this site.
Otherwise, continue to step 3.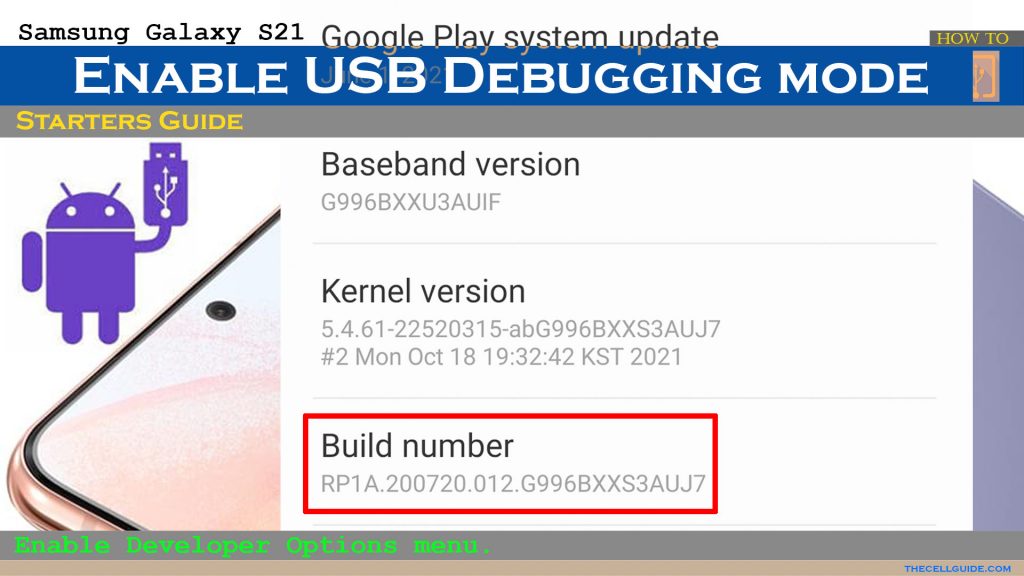 Step 3: Scroll down to the Debugging section and then toggle to turn on the USB debugging switch.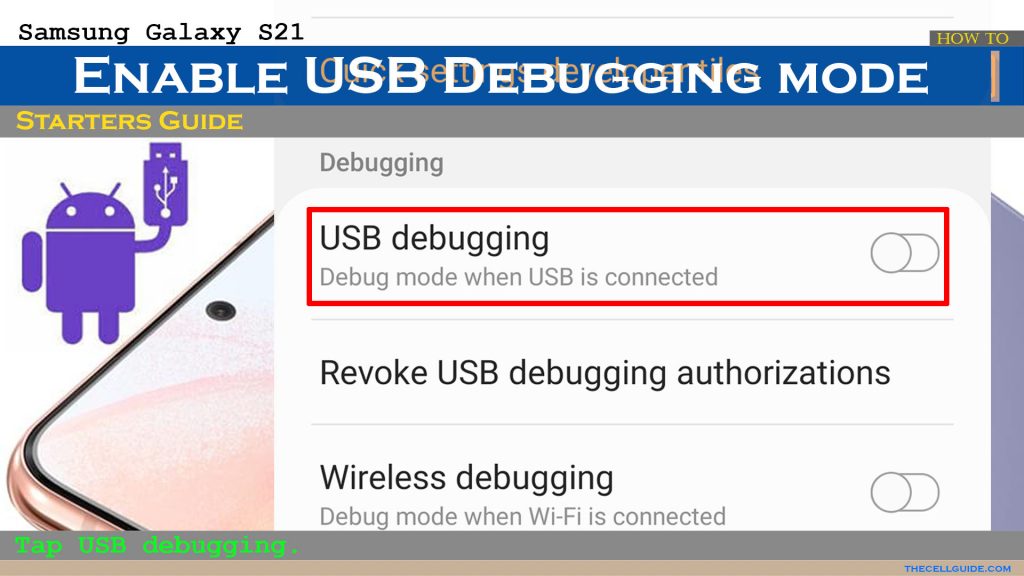 Step 4: If prompted, read and review the warning message and then tap OK to confirm.
At this point, your phone is already set for file transfers via USB connection. To see if it works, try to connect your Galaxy S21 to a computer using a compatible USB cable. When connected, open the Windows File Explorer app on your computer and try to see if your Galaxy S21 is detected. If not, then you will need to go to your phone and tap the option to Allow access to your computer.
By then, you should be all set to access contents from different folders on your phone including DCIM screenshots and video recordings.
Important Notes when using USB Debugging
For security purposes, it is highly recommended to keep USB debugging disabled on an Android phone to prevent any unauthorized access to critical files via USB connection.
Please note that leaving USB Debugging enabled will make your device exposed when it's plugged into an unfamiliar USB port such as a public charging station. In cases like this, someone who has access to that charging station will likewise be able to steal private information from your device or push some sort of malware onto it using USB debugging.
That said, be sure to turn the feature OFF once you're done using it. Just toggle to turn the USB debugging switch OFF and you should be all set. You can always turn it back on when needed anyway.
What if debugging access is granted by mistake?
Now that you have enabled USB debugging, you just need to connect your phone to a computer using a USB cable. The moment you plug the device in, you will see a prompt on your phone asking if you want to authorize USB debugging for that specific computer.
The message prompt is specifically intended to keep your phone safe from any unauthorized access, ensuring that you trust the computer before granting access.
In the case where you accept or allow a prompt by mistake, just go back to the Developer options and then select the option to Revoke USB debugging authorizations. Doing so will reset all trusted computers on your phone.
And that's how to enable USB debugging on the Samsung Galaxy S21 smartphone.
Hope this helps!
Please check out our YouTube channel to view more tutorial and troubleshooting videos for popular iOS and Android devices.
You Might Also Want To Read: