This post will walk you through activating an Android 12 Developer options feature that can help manage running services for both running and inactive apps on a Samsung Galaxy smartphone. Here's a quick guide on how to enable strict mode on Samsung Galaxy S21.
Android 12 Strict Mode Overview
Android devices including recent modern smartphones embed a number of advanced hidden features that are contained in a secret menu called Developer Options.
These hidden features are primarily designed for use by advanced users for apps debugging and software development. Nonetheless, a number of these hidden features are likewise useful to common users in certain instances.
In order to access and make use of any of these hidden features, unlocking the Developer options menu on the phone would be necessary.
Once you've got the Developer options menu unlocked, you'll be granted access to more advanced Android features and functionalities.
Among the advanced features that might be beneficial to common users is the strict mode.
Strict mode is a developer tool that basically works by limiting memory processes or activity leaks and thereby lessens the workload of the processor. This can help keep the device performing smoothly and stable.
Easy Steps to Enable Strict Mode on Samsung Galaxy S21
The following steps are also applicable when activating strict mode on other Samsung phones with the same One UI/Android version with the S21 series. However, you might see some slight variations on the actual user interface given that screens and menu items vary between device models and service carriers.
Prerequisites:
Before you proceed, verify and ensure that your phone is running on the latest software version. Also consider unlocking the phone's developer options, if needed.
Once everything is ready, you may go ahead and start configuring your phone settings.
Step 1: Open the Settings app by tapping on the Settings app icon (Settings icon) from the Home screen or Apps viewer.
Step 2: While on the main settings menu, scroll down and tap Developer options.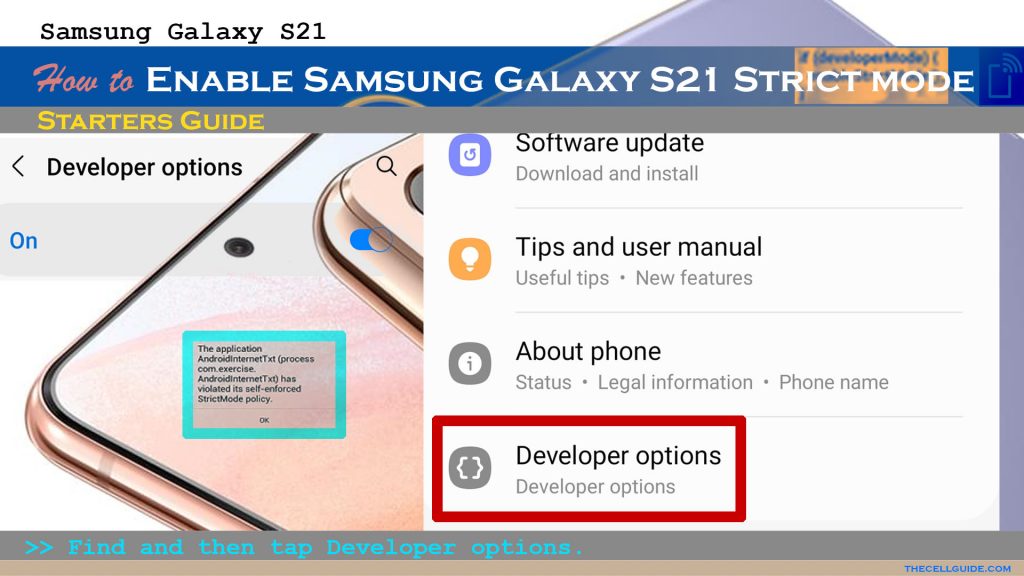 If you don't see Developer Options on the list, then you will need to unlock it first. Just refer to this separate guide if you need help unlocking the Galaxy S21 developer options menu.
Otherwise, continue to the next step.
Step 3: While on the Developer options menu, scroll down to the Monitoring section and then tap to turn on the switch next to Strict mode enabled.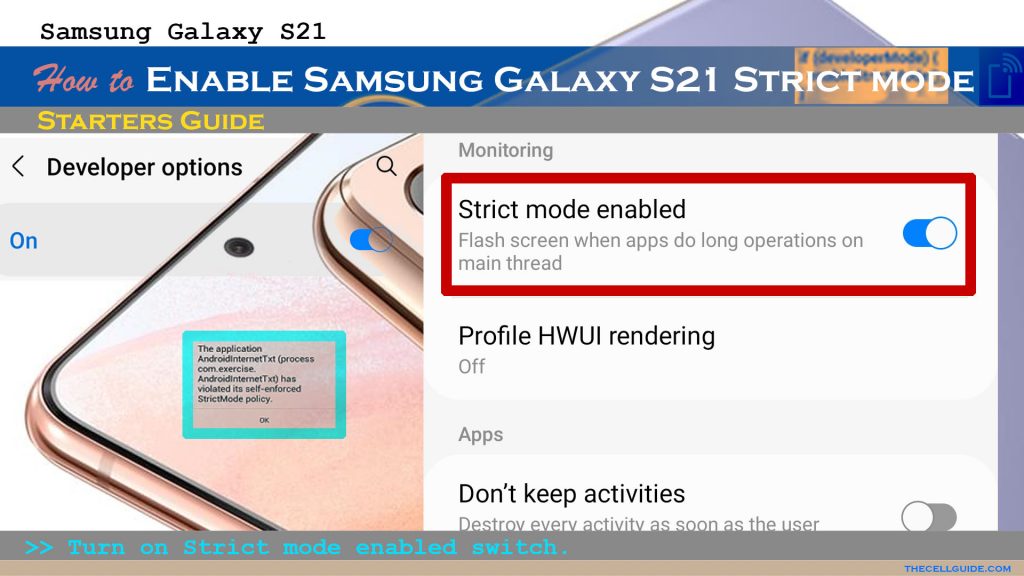 When the switch turns blue, it means that strict mode is already activated on the device. This therefore prompts the device to flash a warning message whenever apps do long operations on the main thread.
Should you wish to disable the feature, just toggle to turn off the Strict mode enabled switch again.
What Does Your Phone Do with Strict Mode Enabled?
With strict mode enabled, your phone's screen flashes whenever apps perform long operations on the main thread.
More features from the Developer options menu that are beneficial in monitoring memory and system operations include CPU usage, GPU rendering profile and OpenGL traces.
You can also make use of some basic debugging tool, advanced Bluetooth features and networking tools.
However, altering any of the default configurations for any of these options is discouraged especially if you're not certain about how it works. Any incorrect settings might cause conflicts that could result in more serious system errors on the device.
Problem encountered after altering the settings?
If for some reason your phone is experiencing unusual behavior after altering the developer options settings, just do a soft reset or forced restart to clear any errant cache that triggers the system to glitch.
And that's all about monitoring apps and system operations on your Samsung Galaxy S21 smartphone by activating strict mode from the Android 12 Developer options.
Hope this helps!
Please check out our YouTube channel to view more tutorial and troubleshooting videos for popular iOS and Android devices.
You Might Also Want To Read: