This post will walk you through activating a preloaded emergency feature on the Galaxy S21 that allows you to raise an emergency alert when needed. Here's how to enable Send SOS Messages on Samsung Galaxy S21 in One UI 4.0.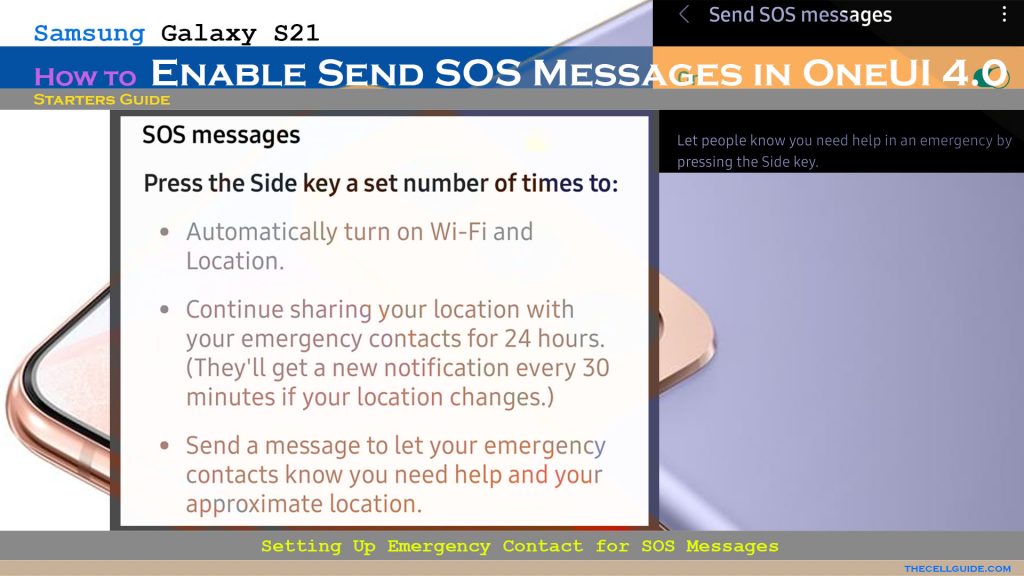 One UI 4/Android 12 Send SOS Messages
One of the important features that you should consider activating on your Samsung Galaxy smartphone is the Send SOS Messages.
As the name implies, this feature works by notifying a specified contact whenever you're in an emergency. In order to make this feature work, it has to be activated beforehand.
Enabling this feature on your Samsung smartphone also requires you to select and set the recipient for future emergency alerts from your device.
After enabling the feature and setting the recipient, your device should be all set to raise and send automatic alerts when you press the Lock/Side button three to four times successively. The alert message will also contain a link of your current location.
When that link is opened, your location's coordinates will be shown. You can also add a photo or voice message to the preset SOS message to help provide more proof of where you are and what's happening. All these will make it easier for the recipient to know where you are and get to you faster.
To give you some input on how to activate and use this feature on your new Samsung Galaxy S21 smartphone, I've mapped out a step-by-step instruction for your reference.
Easy Steps to Enable Send SOS Messages on Samsung Galaxy S21
The following steps are also applicable when activating the Send SOS Messages feature on other Galaxy devices that are running on the latest OneUI version.
Actual screens and menu items may vary between wireless service providers and device models so expect some slight difference on every device's interface.
Feel free to start whenever you're all set to configure your device.
Step 1: Open the Settings app by tapping on the Settings icon from the Home or Apps screen.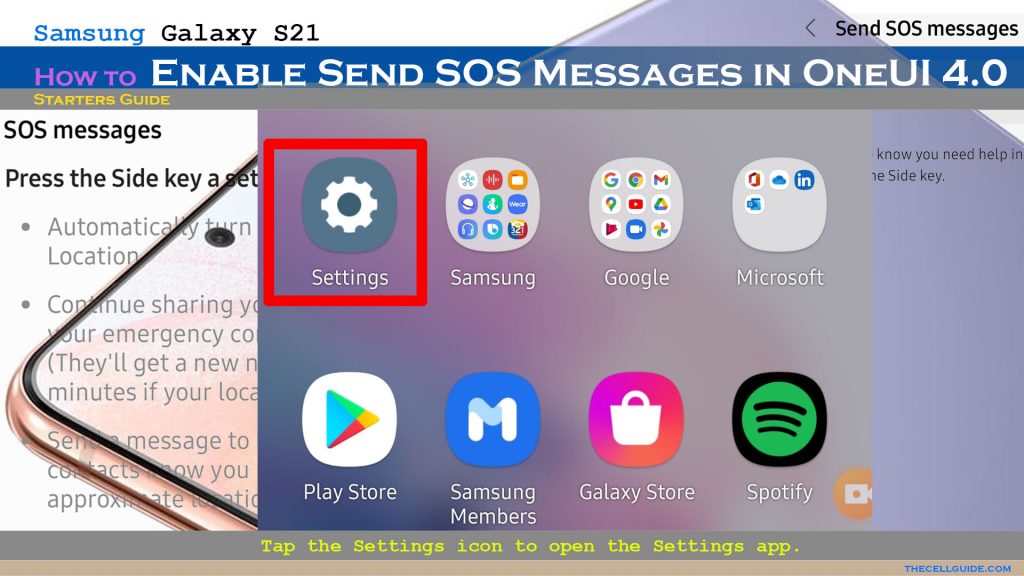 Step 2: While on the Settings app menu, scroll to find and then tap Safety and emergency. Another menu opens with all built-in features for medical info and wireless emergency alerts.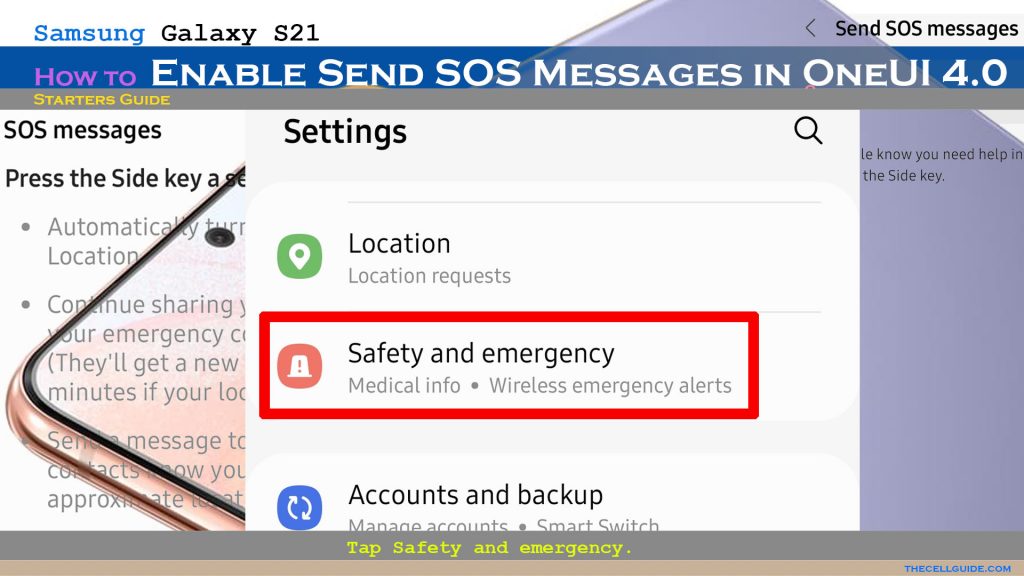 Step 3: Scroll down to the lower section and then tap Send SOS messages to proceed.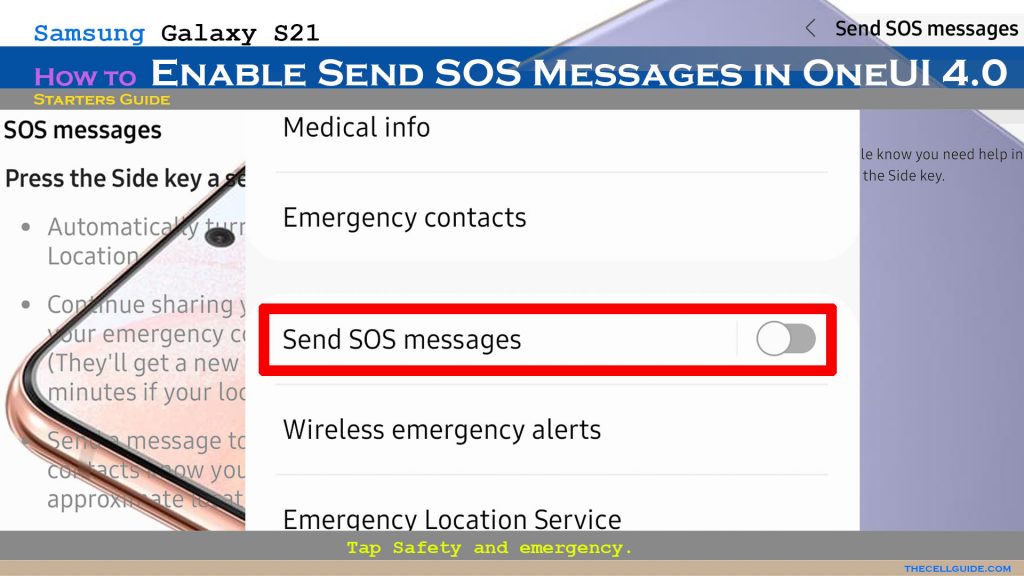 Step 4: On the Send SOS messages menu, turn the OFF toggle ON to enable the feature.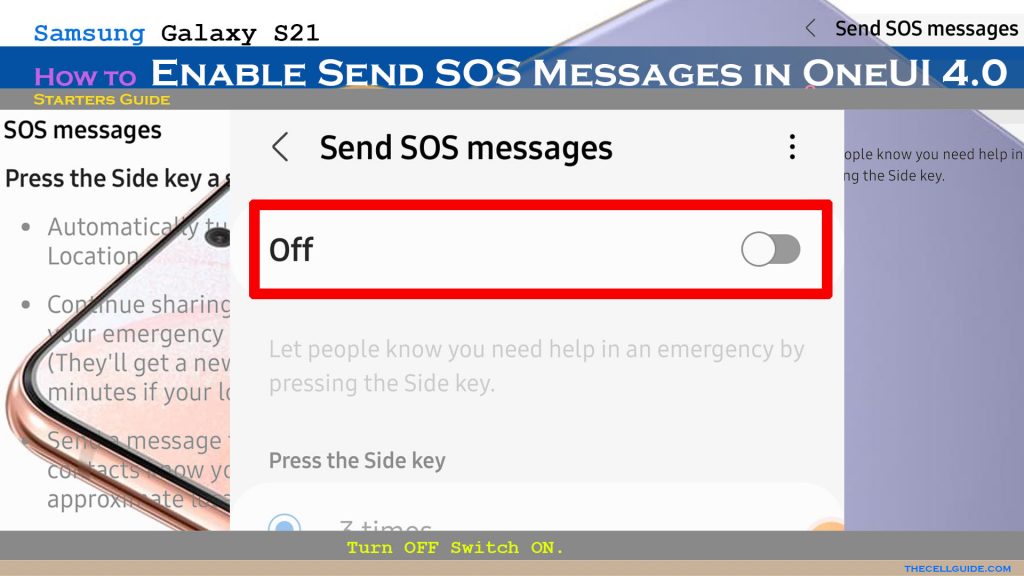 Step 5: If prompted, read and review the permissions and then tap Continue on the SOS Messages pop-up to proceed and then tap the Start button on the next screen to begin setting up the feature.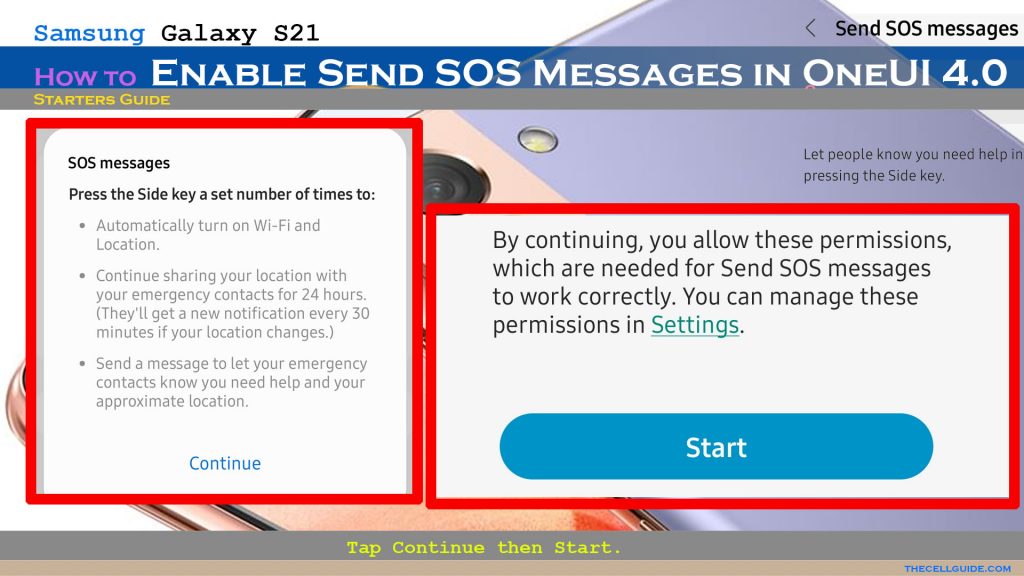 Step 6: The Add recipient pop-up menu appears. Tap Add to add a dedicated recipient or contact to send SOS messages to in case of emergency. At least one recipient is required.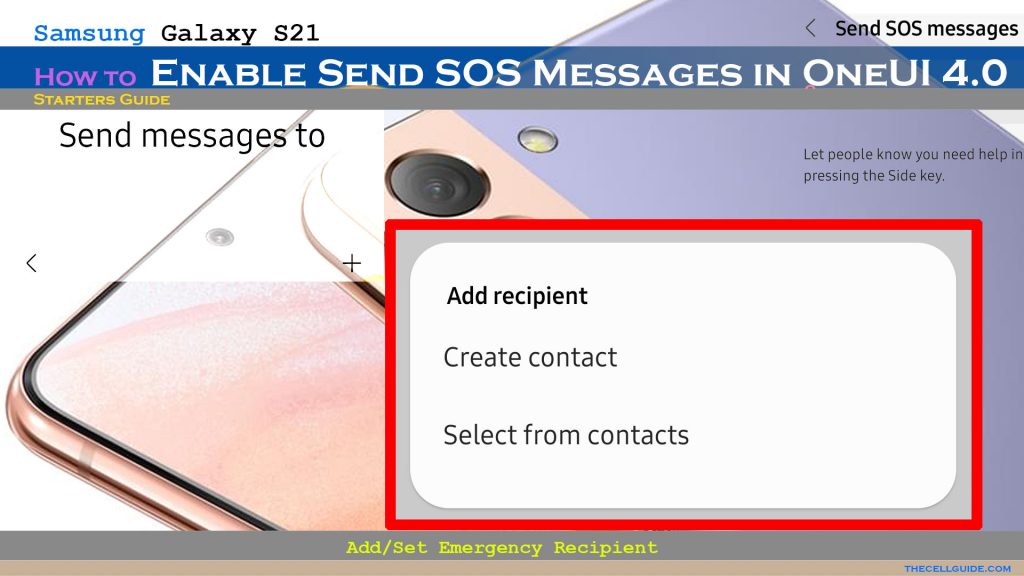 Step 7: You can add a recipient from your Contacts list by tapping on Select from Contacts or add a new one by tapping on Create contact from the Add recipient pop-up menu.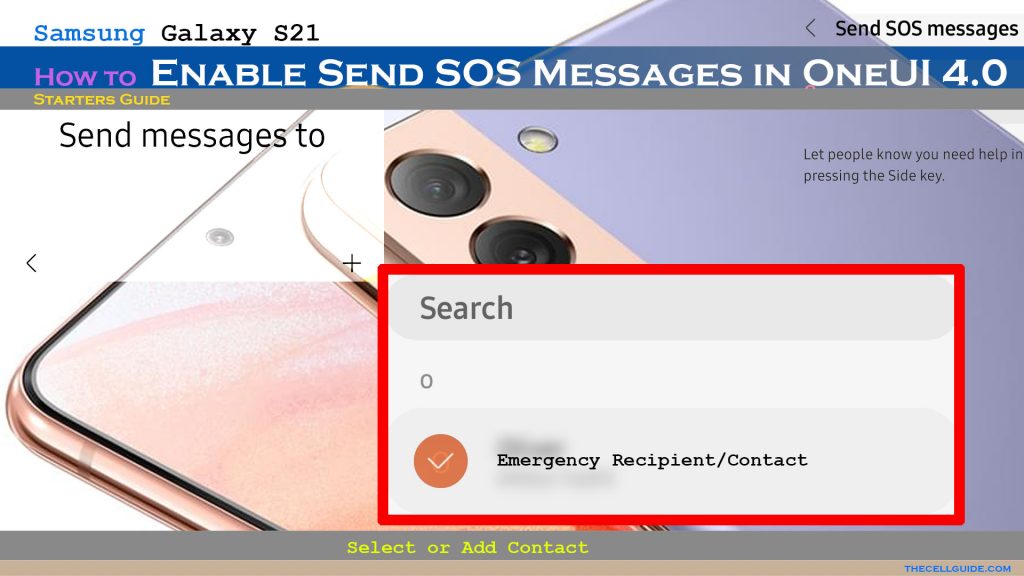 Step 8: After selecting the recipient, tap Done to confirm.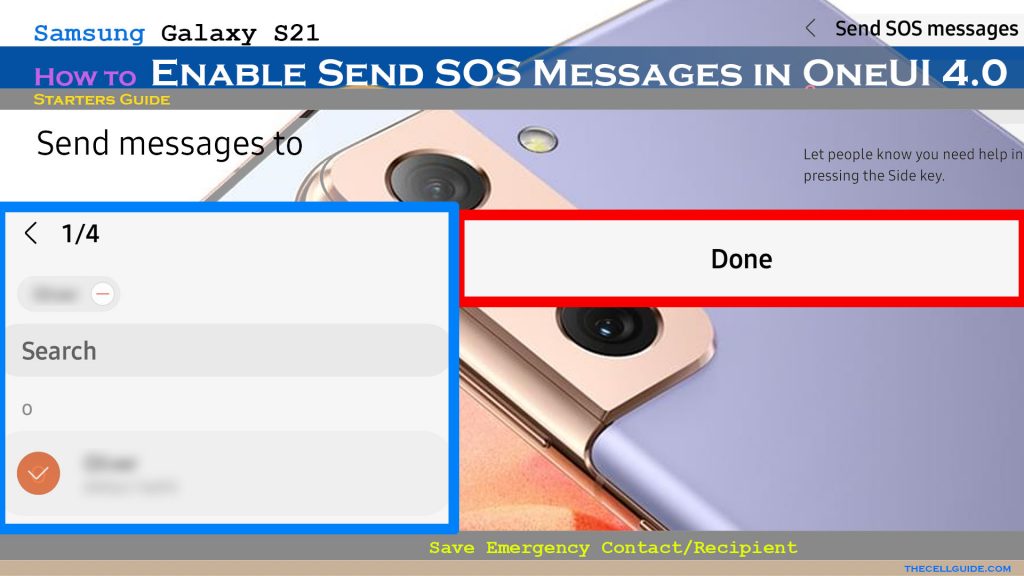 SOS messages or any emergency alert you'll raise will then be sent straight to the specified contact or recipient automatically.
To check and see if it works, try to raise a test alert by pressing the Lock/Side button on your Galaxy smartphone three to four times successively. That should prompt the device to generate an SOS message together with a link to your current location, attach pictures and audio recording if available.
An auto call option is also available should you wish to call someone after your SOS messages are sent. Just tap Auto call someone from the Send SOS messages menu then choose your preferred emergency contact to receive your emergency calls in the future.
Send SOS Messages with your Samsung Galaxy Watch
The Send SOS Messages feature is also available on selected Samsung Galaxy smart watches running on Tizen 5.5 and later.
The watch must be paired and connected to your Galaxy S21 through the Galaxy Wearable app. Once connected, enable the Send SOSes feature from the Galaxy Watch menu and set a recipient or emergency contact from your contacts list or add a new one.
After activating the Send SOSes feature on your Galaxy Watch, you can raise an alert by pressing the Home button on the watch three times. The watch will automatically send an SOS message with the link of your current location automatically.
To view the SOS message, just swipe up or down the screen and then tap to open the SOS message through the built-in Messages application.
The Send SOS Messages feature is also available on other Samsung Galaxy smartphones running on prior OS down to Android Nougat.
Should you wish to disable this feature, just head back to Settings-> Advanced features-> Send SOS messages menu on your phone and then toggle to turn the switch OFF.
And that's all about activating the Samsung Send SOS Messages feature on the latest One UI version.
Please check out our YouTube channel to view more tutorial and troubleshooting videos for popular iOS and Android devices.
You Might Also Want To Read: