This post will walk you through activating low power mode to prolong the Galaxy A13 battery life. Here's a quick guide on how to enable power saving mode on Samsung Galaxy A13.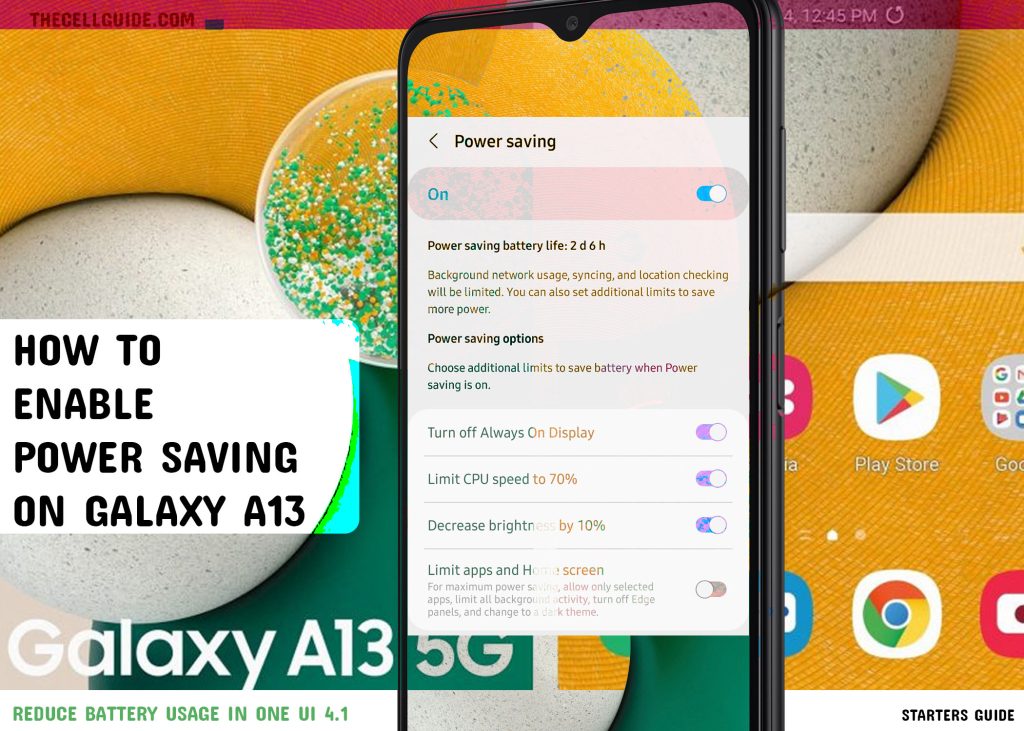 One of the widespread issues encountered by smartphone owners be it an Android or iOS phone is on battery draining. This is when the battery rapidly drains regardless of the device usage.
To address this issue, different power saving options are embedded into each of the recent devices for users to activate when needed.
In modern Samsung phones, battery usage can be limited and charges are made to last longer by activating Power saving mode.
Samsung Galaxy A13 Power Saving
Similar to the high-end models, Samsung's entry and mid-range devices including the Galaxy A13 also have a built-in power saving feature.
In critical situations, you can put your device in power saving mode to make it last longer until the next recharge.
When enabled, it reduces the phone's performance and limits power-consuming apps, location services, background data and vibrations.
In Samsung devices running in Android 12 with One UI 4 operating system, activating Power saving can be done through the quick panel and through the main settings menu.
Keep reading for more detailed instructions.
Steps to Enable Power Saving Mode on Samsung Galaxy A13
Performing the subsequent steps will put the phone in a power-saving state. This method is also applicable when activating power saving mode on other Samsung Galaxy phones running on the same One UI or Android version.
To ensure all key features and options are available on the power saving menu, be sure to keep your device software updated.
Once you've got everything set, you may go ahead and proceed with these steps.
Step 1: First, go to the Home/Apps screen then tap Settings. Doing so will launch the settings app.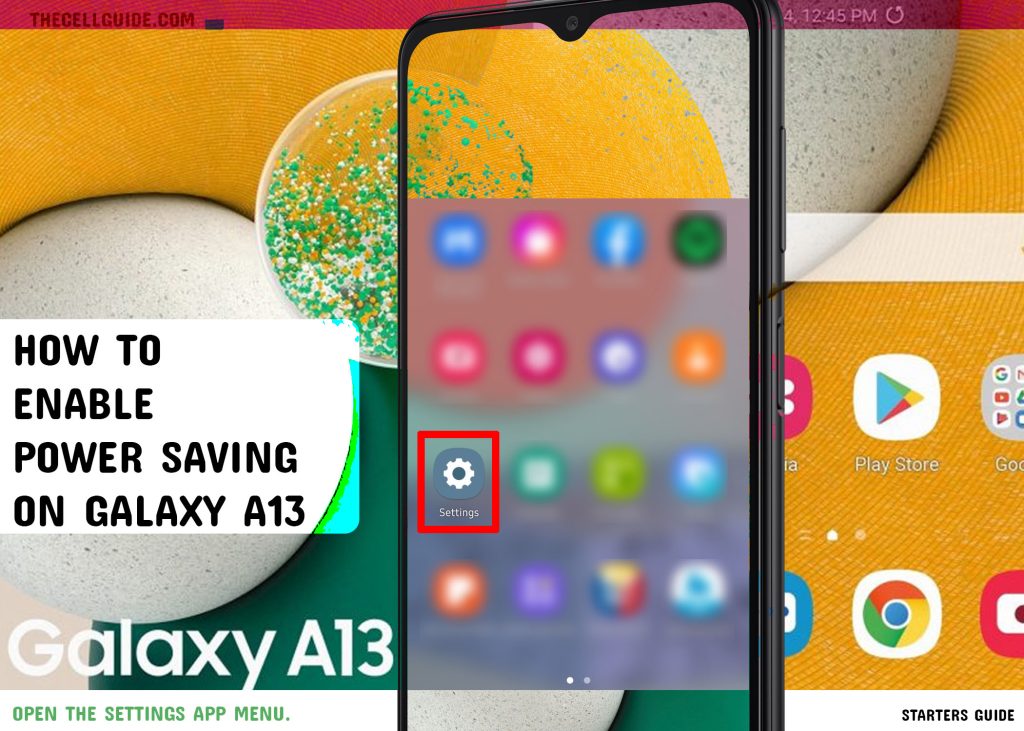 Step 2: While in the Settings app menu, find and then tap Battery and device care. More details about the phone's battery usage will load up next.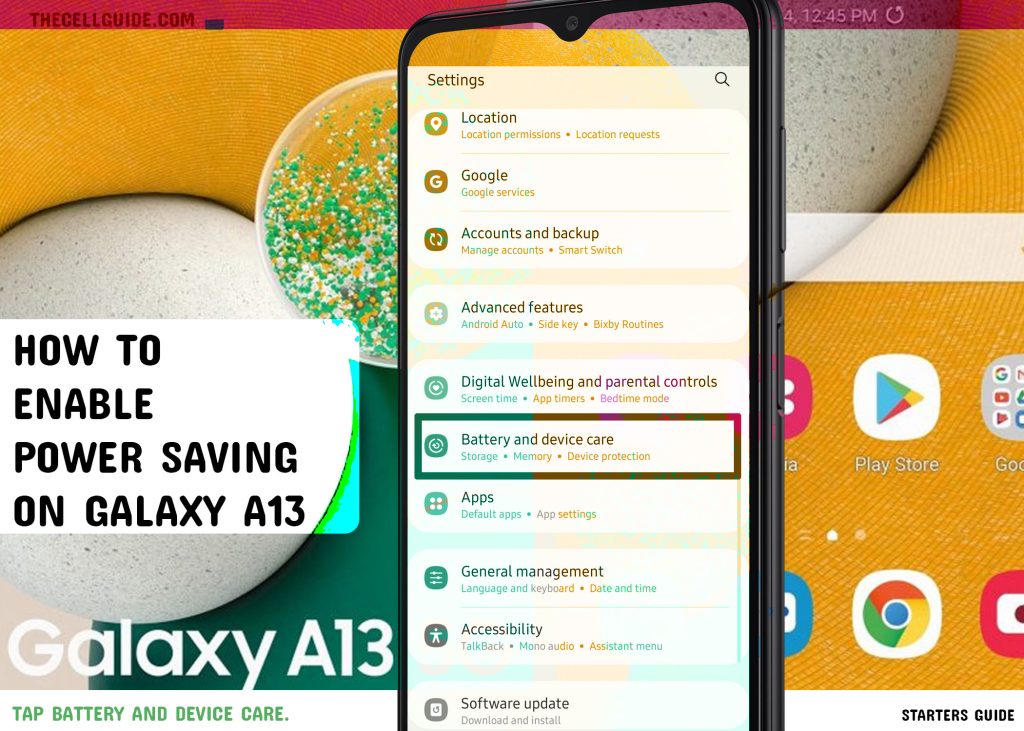 Step 3: To continue, tap Battery. Another screen will launch with more battery-related features.
Step 4: Tap Power saving to access and manage the phone's power saving options.
Step 5: To put the phone in power saving mode, turn on the Power saving switch.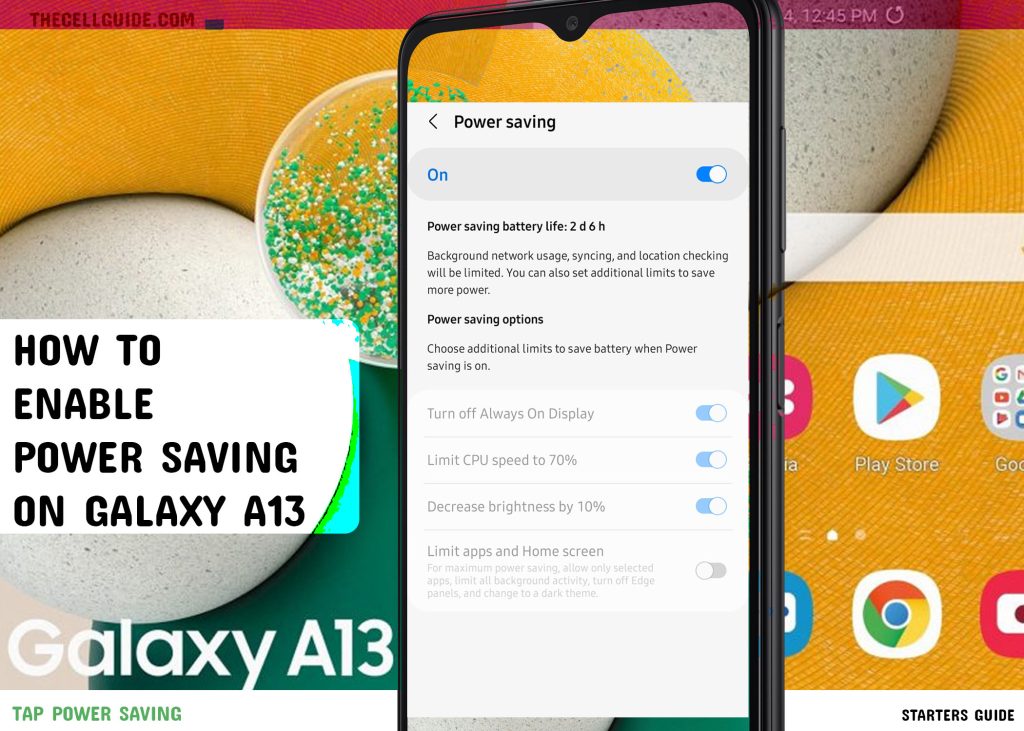 Alternatively, you can activate Power saving through the quick panel. Simply launch the Quick panel on any screen and then tap to turn on the Power saving icon. When the icon turns blue, it means that the feature is active. To turn it off, simply tap on the Power saving icon again. The icon will then turn gray.
While the phone is on power saving, background network usage, syncing, and location checking activities will be limited.
You can also use other limit options to reduce battery consumption and make your phone operate a little longer.
Other limit options you can activate to save battery while on Power saving are as follows:
Turn off Always on Display. Enabling this option will disable the phone's AOD or Always On Display feature.
Limit CPU speed to 70%. Enabling this option reduces the phone's processing speed.
Decrease brightness by 10%. Enabling this option offers a maximum power saving as it limits background activities with a simplified Home screen. Available apps are also limited.
For maximum power saving, enable the option to Limit apps and Home screen. Doing so will limit certain apps and all background activity. It also turns off Edge panels and switches to a dark theme.
Is your phone performing a bit slower while in power saving? 
Please note that the use of Power saving mode can affect performance of certain apps and the device itself.
That said, there's a chance that your phone or a certain app would take longer to complete an operation. Updates and notifications may likewise be unavailable temporarily.
Rest assured, all these will go back to normal once your device is recharged as you will no longer need to put it in power saving.

Aside from power saving, you can also make use of the other features like limit apps and home screen, adaptive battery, and put unused apps to sleep.
Putting unused apps to sleep will limit the battery usage for apps that are idle or not in use for a long period of time.
And that's all about activating the Power Saving mode to limit power usage on a Samsung Galaxy A13 smartphone.
Hope this helps!
Please check out our YouTube channel to view more tutorial and troubleshooting videos for popular iOS and Android devices.
You Might Also Want To Read: