This post will walk you through putting the new Samsung Galaxy Z Flip4 in power saving to save and extend battery life. Here's a quick guide to enable power saving mode on the Galaxy Z Flip4 smartphone.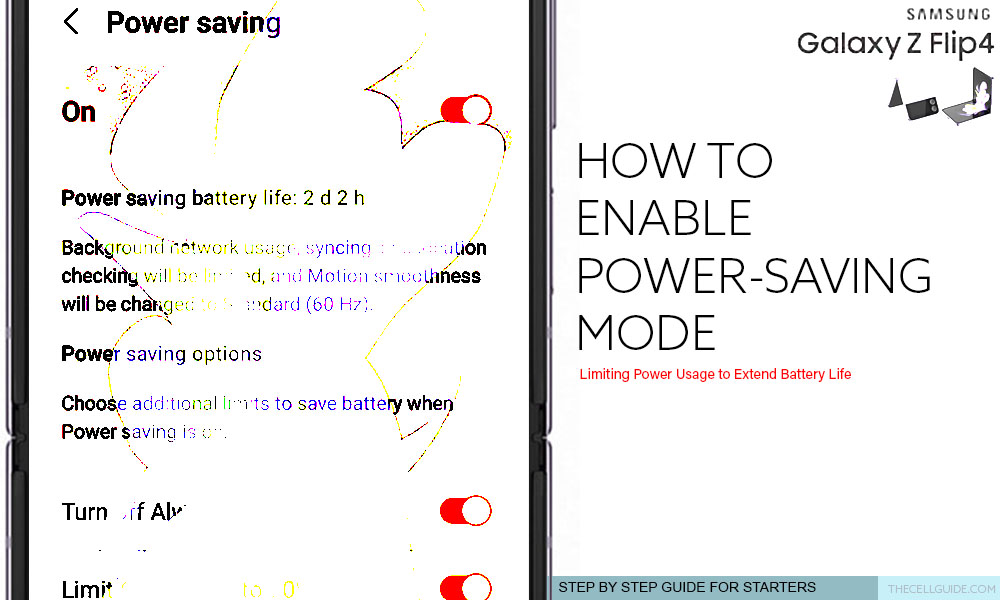 Galaxy Z Flip 4 Power Saving
Samsung phones integrate a number of battery-saving features that you can use whenever your phone's battery is running low and yet you still need to keep it up and running for a little longer. One of these features is the Power saving mode.
When enabled, your phone's battery usage is reduced and makes your device last longer in critical situations and you don't have a charger on hand.
Power saving works by limiting background network usage, syncing, and location checking on your device. Battery-consuming features such as screen animations, AOD, screen brightness, apps and CPU speed are also limited.
Different Ways to Enable Power Saving Mode on Samsung Galaxy Z Flip4
There are two ways for you to access and activate Power saving mode on your Samsung Galaxy phone. The quicker method is through the quick settings panel and the longer (standard) procedure is through the settings app.
Outlined below is a step-by-step guide on how to carry out both on the new Galaxy Z Flip smartphone. Just choose your preferred method.
A. Turning on Power saving via Quick Settings Panel
The quick settings panel can be accessed on any of the Home screens of your phone. And here's how it's done on the newest Galaxy Z Flip series.
Step 1: With your two fingers, swipe down from the top of the Home screen to launch the quick settings panel. While on the panel, locate the Power saving icon and then tap on it to enable the feature right away.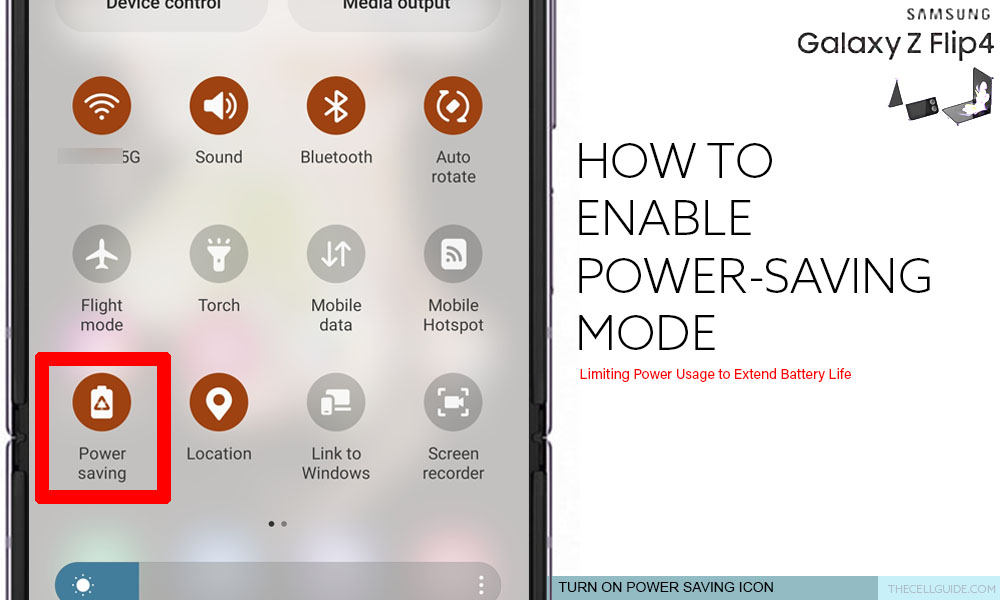 Step 2: To access the Power saving menu and view more details, tap Power saving then tap Details on the pop-up menu.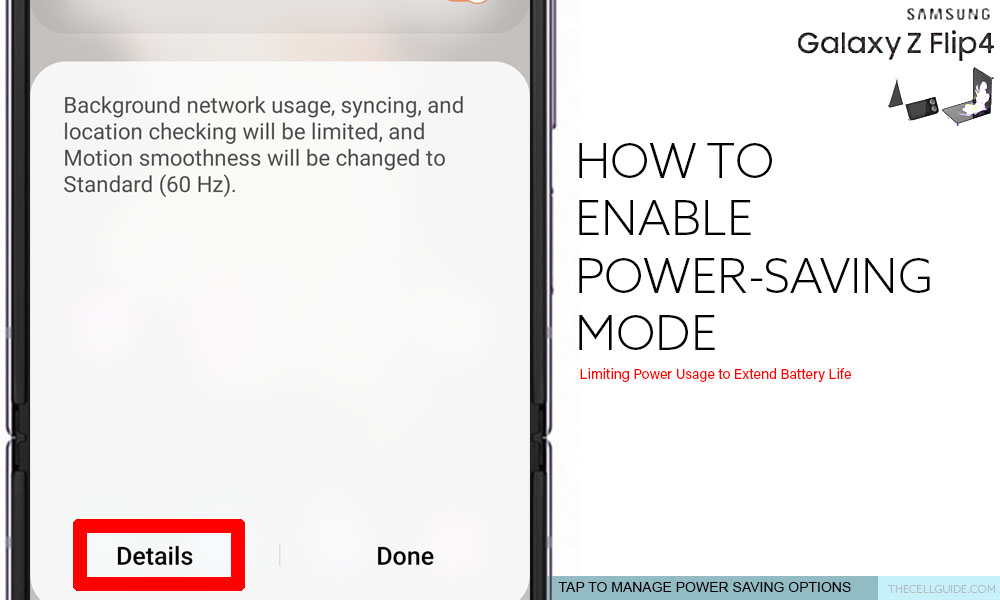 You will be routed to the Power saving menu where you can find different Power saving options and relevant features that you can turn on or off.
B. Turning on Power Saving through Battery Settings
Most of the inbuilt settings and features of a Samsung phone are accessed and managed through the Settings app.
The following steps for example, will let you access the Galaxy Z Flip 4's Power saving menu that contains battery saving features including Power saving mode.
Here's how it's done:
Step 1: To access the Settings app, tap the Settings/Gear icon from the Home screen or Apps screen of your phone.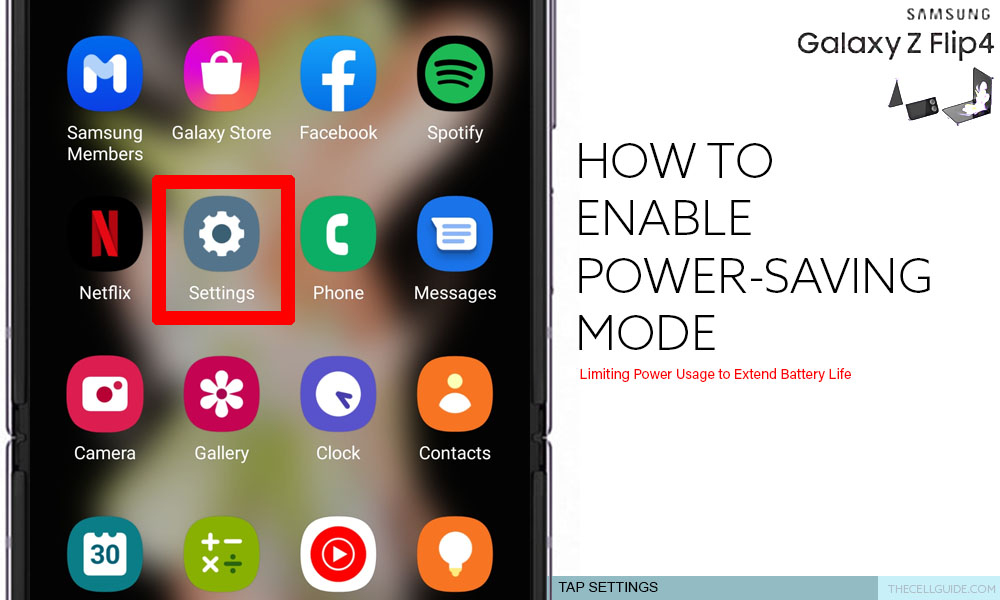 Step 2: In the main settings menu, scroll to find then tap Battery and device care.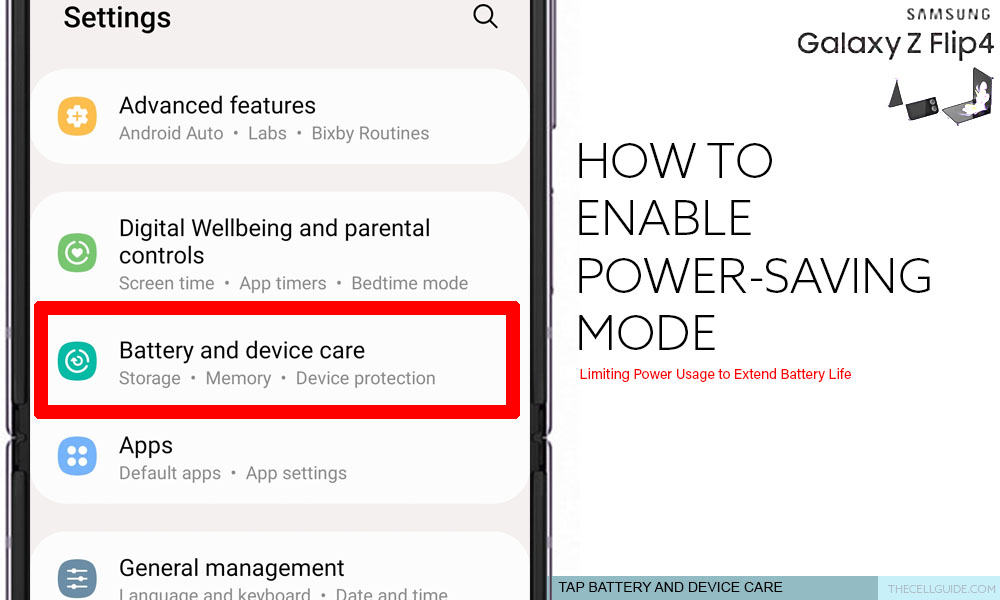 Step 3: On the Device care menu, you'll see relevant features including Battery, Storage, Memory, Device Protection and more. To access the power saving menu, tap Battery.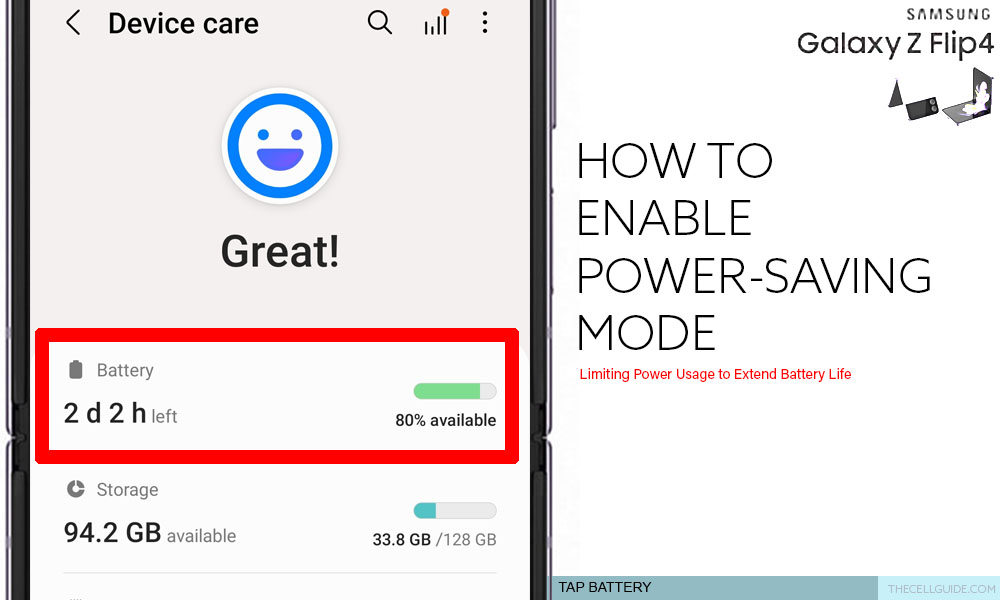 Step 4: In the Battery menu, tap to turn the Power saving switch ON to put the phone in power saving immediately.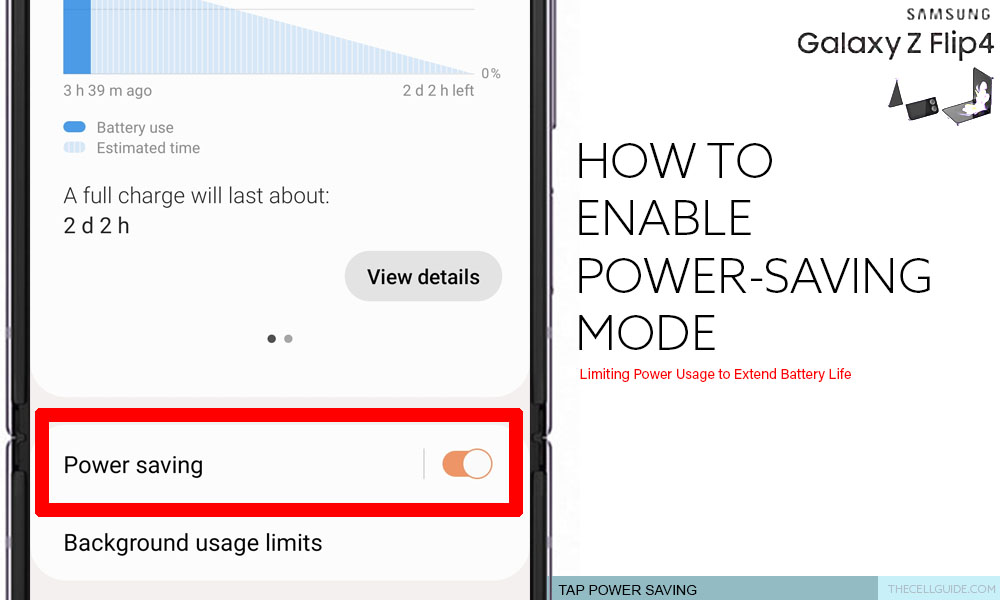 Step 5: To access and manage power saving options, tap Power saving.
On the next screen, you will see more details about the phone's battery life while on power saving mode. Beneath this information are the power saving options that you can use if you don't want to put your device into Power saving mode but rather limit some functionalities and features of the phone to save battery.
Among the in-built power saving options include Turn off Always on Display (AOD), Limit CPU speed to 70%, Decrease brightness by 10%, and Turn off 5G functionality.
To access and manage any of these power saving options, you will need to to turn off the Power saving button from the power saving menu.
When the button is OFF, you will see all power saving options enabled. After making necessary adjustments to any of the power saving options, you can turn the Power saving switch back ON.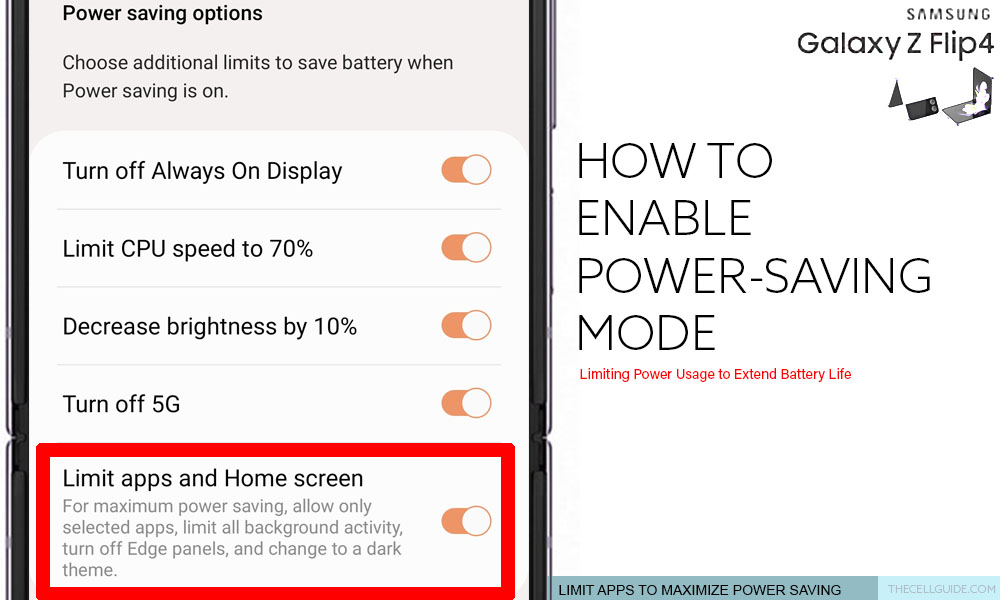 To maximize power saving, you can turn on the option to Limit apps and Home screen. When enabled, only selected apps are allowed to run.
All background activities are also limited and Edge panels are turned off. The system interface also switches to a dark theme, to reduce or minimize power usage.
You can disable Power saving mode and switch back to normal mode whenever your phone is sufficiently charged. Just access the power saving mode switch either through the quick settings panel or through the settings app menu of your device.
Is your Galaxy Z Flip 4 battery draining so fast?
If you think that your phone's battery is rapidly draining, you can check and manage some settings including its battery usage, screen timeout, adaptive brightness, sleeping apps and more battery settings.
Disabling some features that are not in use, particularly those that use a significant amount of power can also help.
Keeping apps and the phone's software updated is also recommended to ensure optimum performance and battery life.
Hope this helps!
Please check out our YouTube channelto view more tutorial and troubleshooting videos for popular iOS and Android devices.
You Might Also Want To Read: