This post will walk you through configuring the Galaxy Z Flip4 to automatically activate dark mode on a specified time. Here's a quick guide to enable Samsung Galaxy Z Flip4 dark mode on schedule.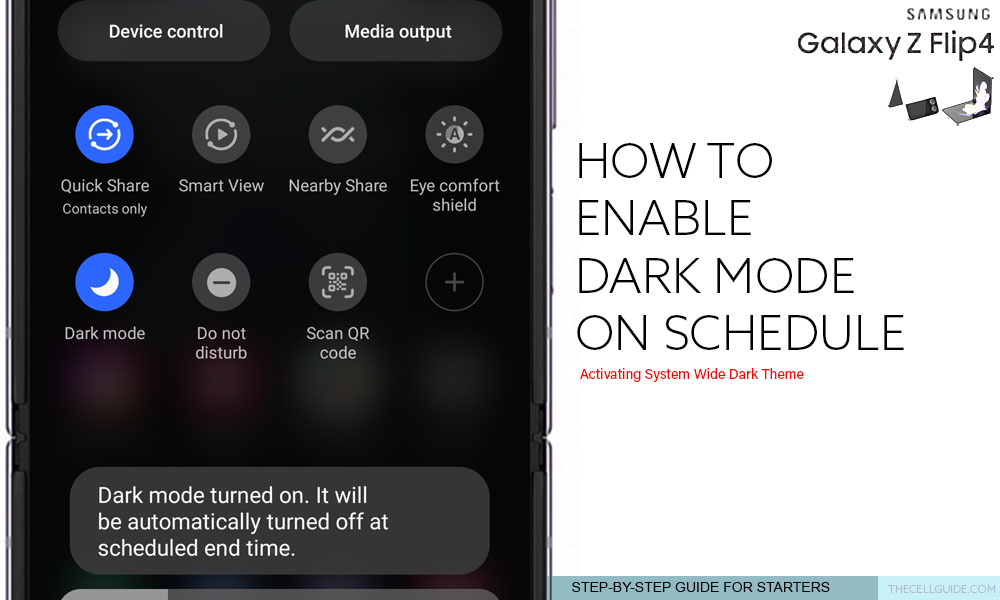 One UI 4.1.1 Dark Mode Feature
One of the many ways to reduce battery consumption in modern smartphones is to activate dark mode.
Dark mode is a display feature found in both iOS and Android devices. When enabled, the phone's screen and system interface become dark or black.
The process of activating dark mode is pretty straightforward. All it takes are a few taps on the screen and then your phone's display turns black.
Depicted below is a step-by-step walkthrough on how to activate dark mode on the newest Galaxy Z Flip phone. Read on for more detailed instructions.
Steps to Enable the Galaxy Z Flip4 Dark Mode on Schedule
These steps are also applicable when activating the dark mode option (night mode) on other Samsung phones running on Android 12 with One UI 4.1.1 OS version.
Actual screens and menu items may slightly vary between device models and carriers.
Start whenever you're all set to configure your phone's display settings and start using your device in a darker interface.
Step 1: Launch the Settings app menu to get started. Just find the Gear icon from the Home screen or Apps screen and then tap on it to launch the app.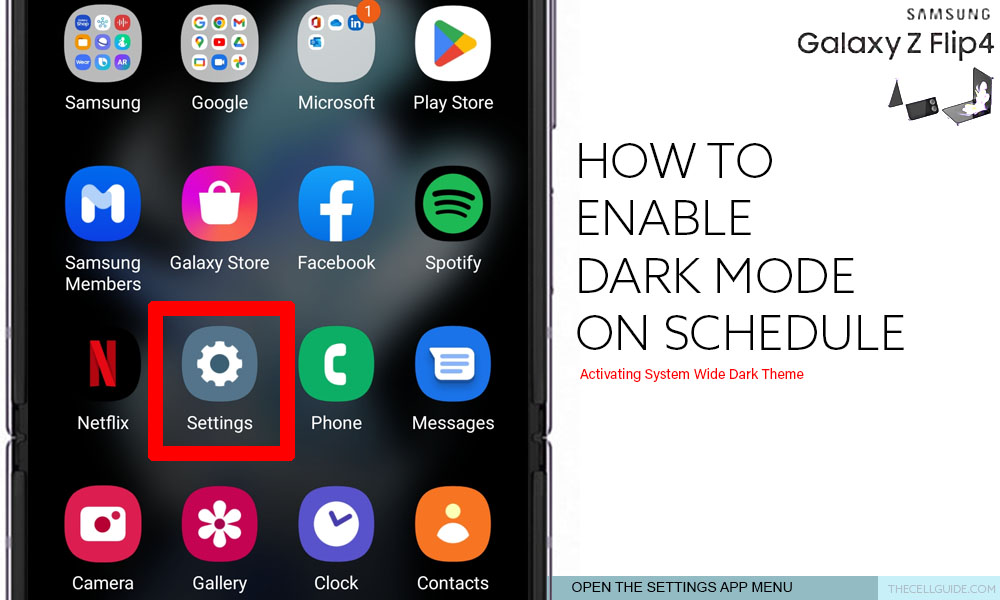 Step 2: In the settings menu, find and then tap Display. The current display settings of your phone along with relevant features will load up next.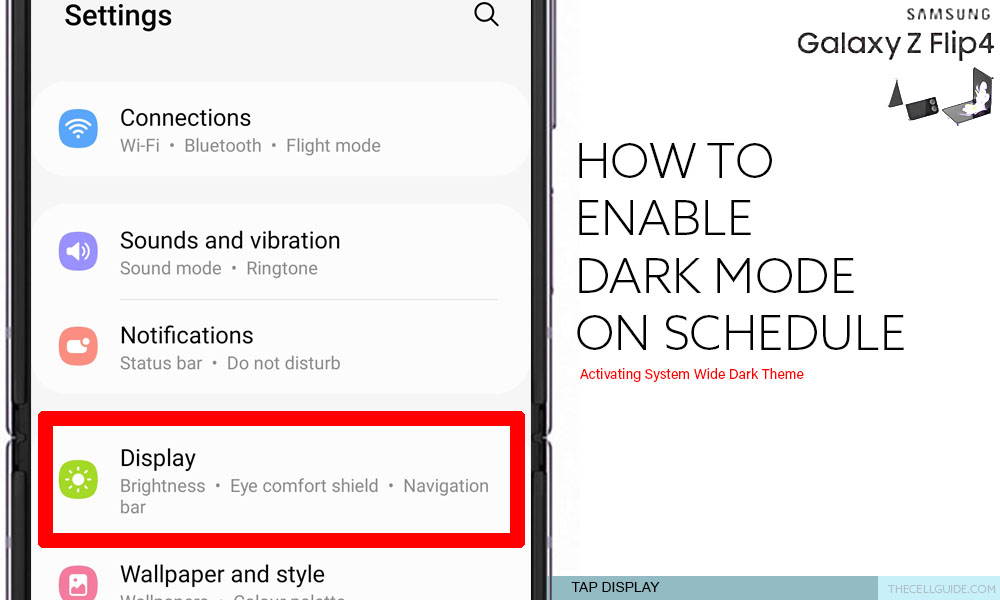 Step 3: On the upper section, you'll see two screen modes namely, light and dark. The current selection is set to Light mode and thus, the Light button is marked. To switch to dark mode, tap Dark.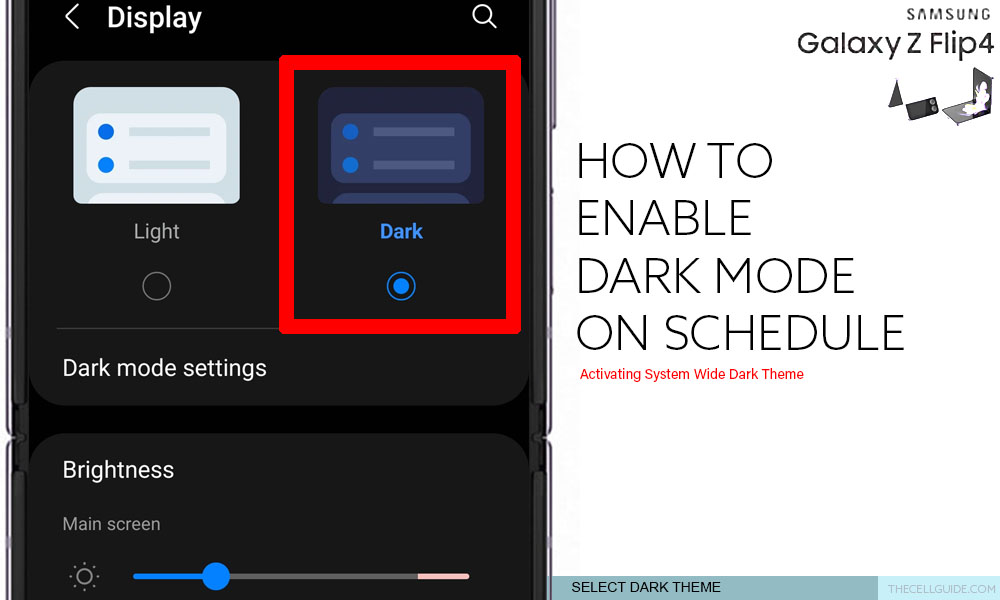 The phone's display will instantly become dark.
Step 4: To manage dark mode settings, tap Dark mode settings.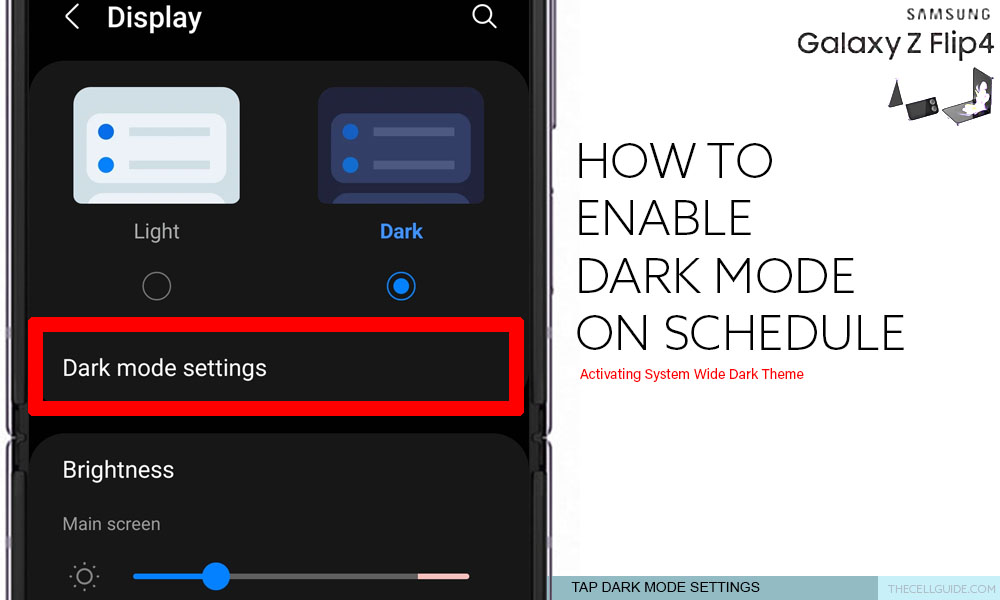 Step 5: On the next screen, you will see the Turn on as scheduled option. Tap to enable the switch next to it then choose between Sunset to sunrise and Custom schedule.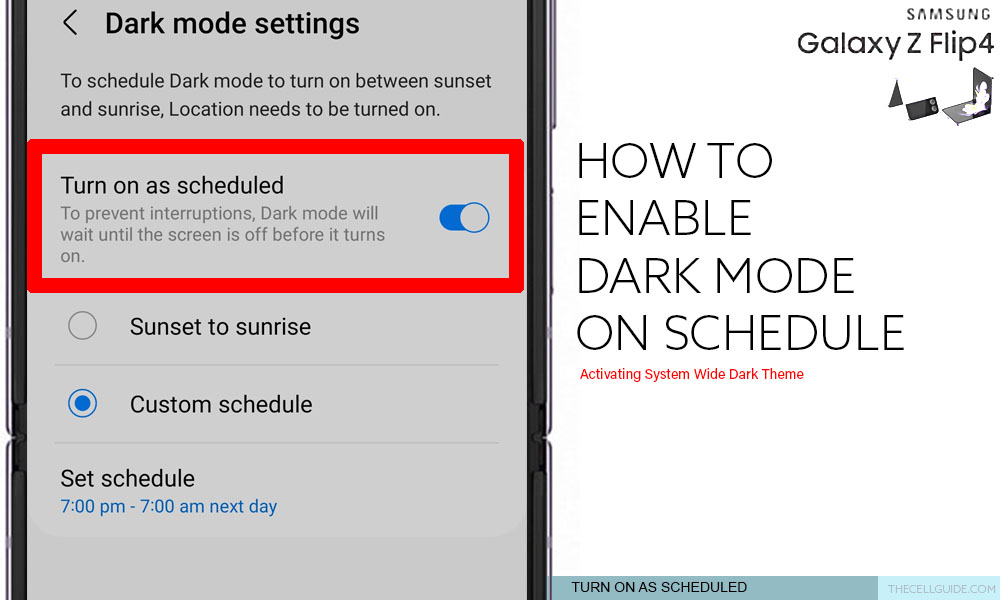 If you select Sunset to sunrise, your phone will automatically switch to dark mode from sunset and then switch back to Light mode after sunrise.
Step 6: To set a custom schedule, tap Custom schedule then tap Set schedule. Set the start time and End time then tap Done.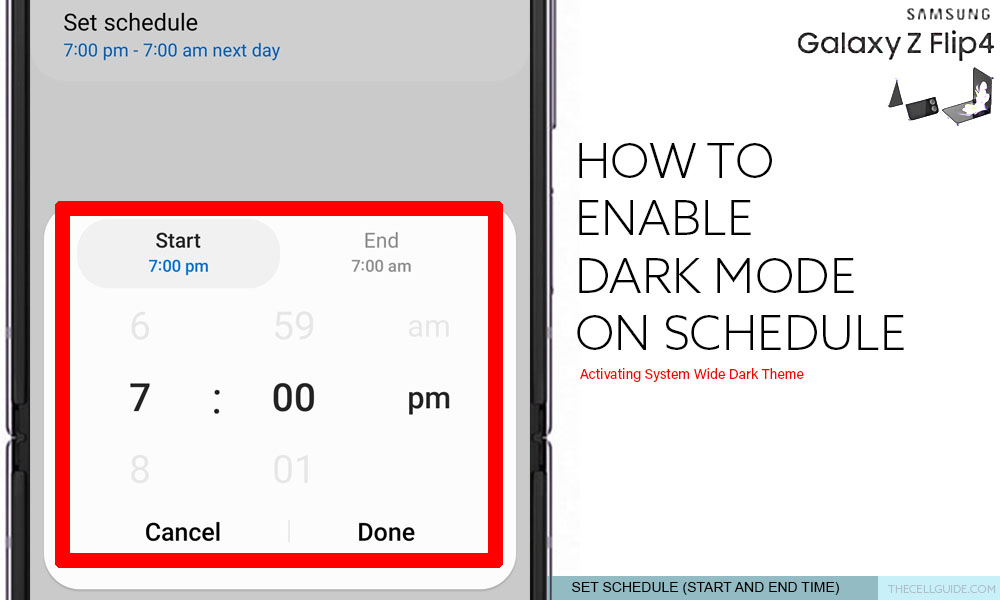 Dark mode will automatically turn on and off at scheduled time. In order to use the phone's dark mode feature, location must be enabled on your device.
Should you wish to switch back to light mode, just repeat the same steps to head back to the Display settings then switch the display from Dark to Light to disable dark mode.
Enable Dark Mode via Quick Settings Panel
Dark mode can also be activated straight from the quick settings panel of your phone.
To do this, use your two fingers to swipe down from the top of the Home screen to pull up the quick settings panel. In the quick panel, swipe right to view additional controls then tap Dark Mode.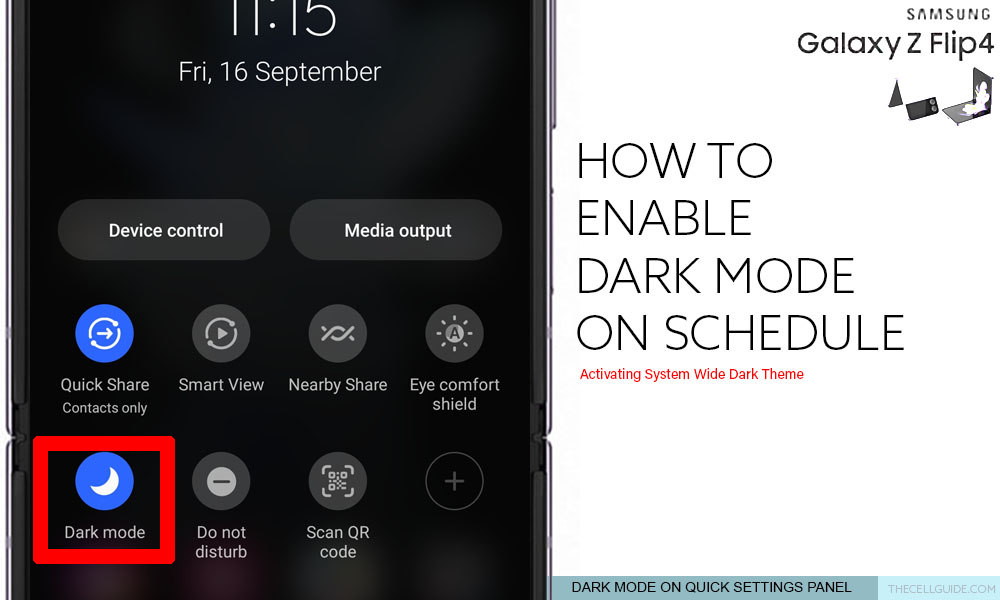 The phone's interface will instantly turn dark. To switch back to light mode, simply tap on the Dark mode icon again to disable/turn the feature off.
Benefits of System Wide Dark Mode (dark theme)
Aside from reducing battery consumption, activating dark mode can also benefit those who have sensitive visions and prefer a darker interface to lessen eye strain especially when using the phone late at night. The same thing when using the phone during the day when the sun is just too bright.
Setting a darker theme on your phone is also another good option if you are not comfortable with the dark mode effect.
Other Useful Display Features
You can also make use of other eye safety features such as Eye Comfort Shield to limit the screen blue light emission and thereby prevent your eyes from hurting.
Eye Comfort shield was first introduced in One UI 3.1 devices and it's main purpose is to limit your screen's blue light. It works similar to that of the regular Blue light filter except that it uses a special algorithm to adjust the screen's color based on external factors like how bright is the surrounding ambience.
Similar to dark mode, Eye comfort shield can also be activated straight from the quick settings panel or through the settings menu.
Another display feature that can help maintain optimal brightness of your Galaxy device is Adaptive brightness. Enabling this feature will prompt the device to automatically adjust the screen brightness based on the lighting conditions of your surroundings.
To activate this feature, you will need to go to the Settings-> Display menu then toggle to turn the Adaptive brightness switch ON.
You can always disable this feature in case you don't like the after effect with adaptive brightness activated on your phone's display.
Just be sure to keep your device software and apps up to date to avoid bumping into some unusual display behaviors such as screen flickering when using dark mode or eye comfort shield with certain apps.
And that's how you enable schedule dark mode on Samsung Galaxy Z Flip 4 smartphone.

Hope this helps!
Please check out our YouTube channelto view more tutorial and troubleshooting videos for popular iOS and Android devices.
You Might Also Want To Read: