This post will walk you through muting sound alerts on the Google Pixel 7 smartphone without putting the device in total silent mode. Here's a quick guide to enable Do Not Disturb mode on Google Pixel 7.
Estimate Cost : 0
Time Needed : 4 minutes
Do Not Disturb is one of the useful features in terms of limiting sound interruptions from both iOS and Android smartphones. When enabled, it silences the phone by muting sound, stopping vibration and blocking visual disturbances from your device screen. 

Depicted below is the actual process of activating the Do Not Disturb feature through the Sounds and vibration settings menu on the recently released Google Pixel 7 smartphone. Feel free to refer to this guide if you're not yet familiar with this device.

To get started, open the Settings app menu on your Pixel phone.




To do this, simply swipe up from the bottom of the Home screen to launch the Apps tray where you can see different app icons or shortcut controls including the Settings app shortcut that's represented by a gear-shaped figure.

In the Settings app menu, tap Sound & Vibration.




Sound-related features and options will load up on the next screen.

Scroll to find then tap Do Not Disturb.




The Do Not Disturb settings menu will load up next. Here, you will find the main switch to turn the feature on or off.

Tap the Turn on now button on the Do Not Disturb menu to activate the feature.




Doing so activates the feature and mutes all sounds from incoming calls, text messages and app alerts.
Enable Do Not Disturb via Notifications settings
You can also access the Do Not Disturb settings menu and activate the feature straight from the Notification settings.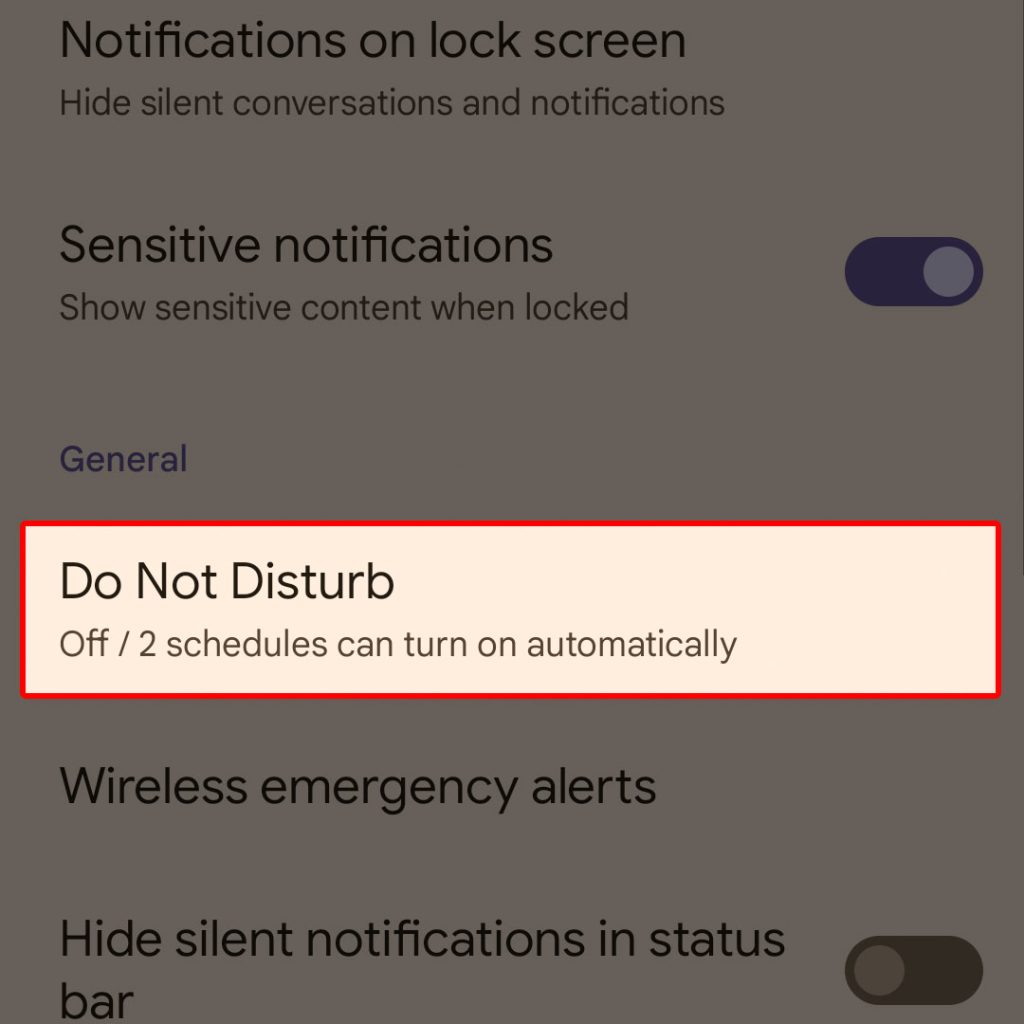 To access the notification settings on your Pixel phone, repeat the same steps to launch the Settings app.
While in the Settings app menu, find then tap Notifications. On the succeeding menu, you will see different options to manage your phone's notifications.
Navigate to the General section then tap Do Not Disturb. Doing so will take you to the Do Not Disturb menu where you can access different options that you can use or manage.
To put the phone in Do Not Disturb Mode right away, tap the Turn on now button.
All sound notifications will then be muted for all calls and text messages unless you've set some exceptions.
Manage Do Not Disturb options
Should you wish to use this feature on schedule or set some exceptions, navigate to the bottom section of the Do Not Disturb menu. There, you will see different options such as People, Apps, Alarms & other interruptions.
Under the General section, you'll see the option to set Schedules, Duration for Quick Settings, and Display options for hidden notifications.
Simply tap on any of the available options that you'd like to use or customize accordingly.
Enable Do Not Disturb via Quick Settings Panel
A quicker way to activate Do Not Disturb on the Pixel 7 is through the quick settings panel. All you have to do is launch this panel on your phone and find the Do Not Disturb shortcut icon. And here's how you do it: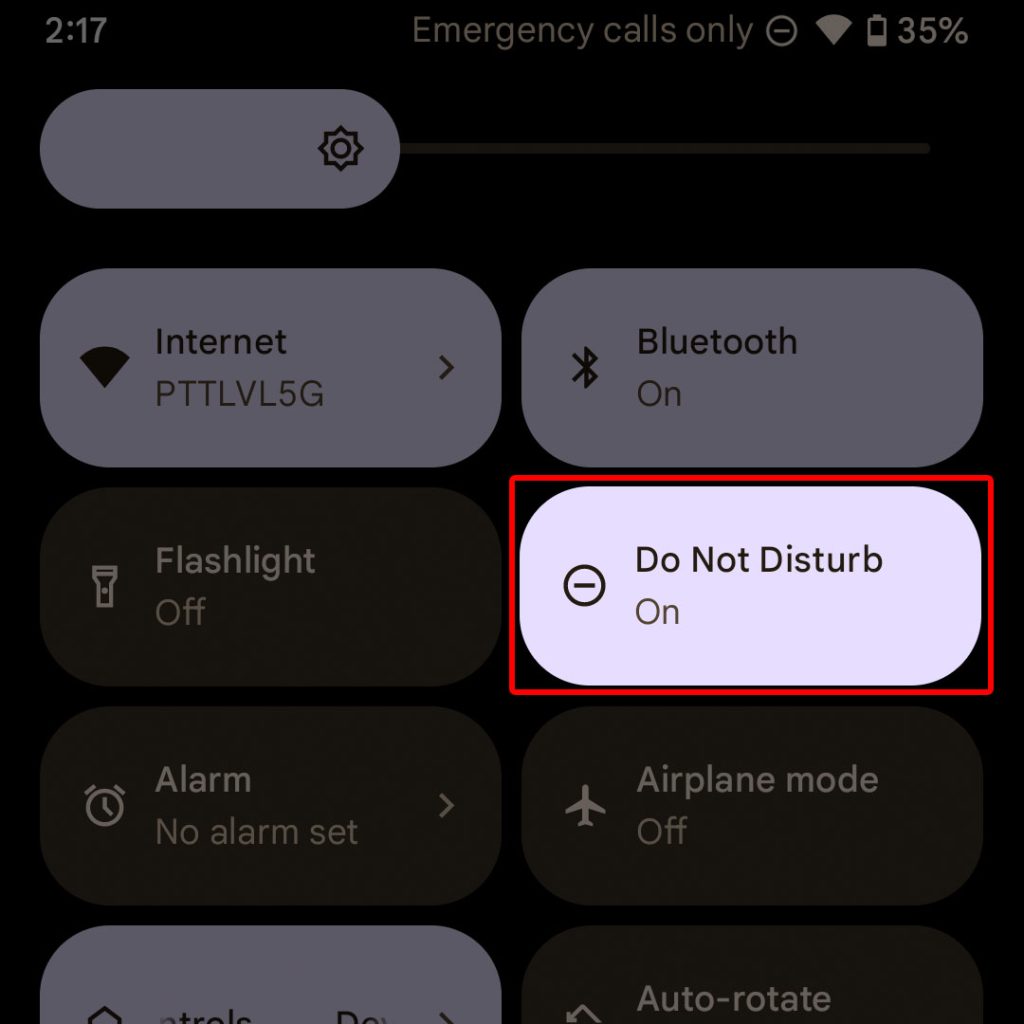 With your two fingers, swipe down from the top of the Home or Apps screen. Doing so will launch the quick settings panel with preset shortcut icons or controls
Find Do Not Disturb then tap on it to activate the feature. When the Do Not Disturb control is highlighted, it means that DND mode is already enabled.
If you want to configure or change some options for Do Not Disturb, just long-press (touch and hold) on the Do Not Disturb icon to go straight to the DND settings menu where you can manage any of the relevant options to make your device work accordingly while on Do Not Disturb mode.
While Do Not Disturb Mode is enabled…
Incoming calls that transpire while the phone is in Do Not Disturb mode will automatically be sent to voicemail. In addition, you won't hear your phone alert about calls or text messages.
Notifications are also silenced so you're not disturbed by your device whenever a new notification arrives.
Enabling Do Not Disturb mode is typically recommended when you go to bed, when having important meetings, family gatherings or any other occasions or events where phones can be a disturbance.
Should you wish to disable the feature, you can just repeat the same steps to head back to the Settings menu where you can turn the Do Not Disturb mode toggle OFF. This however is no longer needed if you've set Do Not Disturb to automatically turn on and off during a certain time of the day.
And that's all about limiting sound notification disturbances by putting the Google Pixel 7 in Do Not Disturb mode.