This post will walk you through activating DND mode on the new Samsung Galaxy Z Flip smartphone. Here's a quick guide to enable Do not disturb mode on the Galaxy Z Flip4.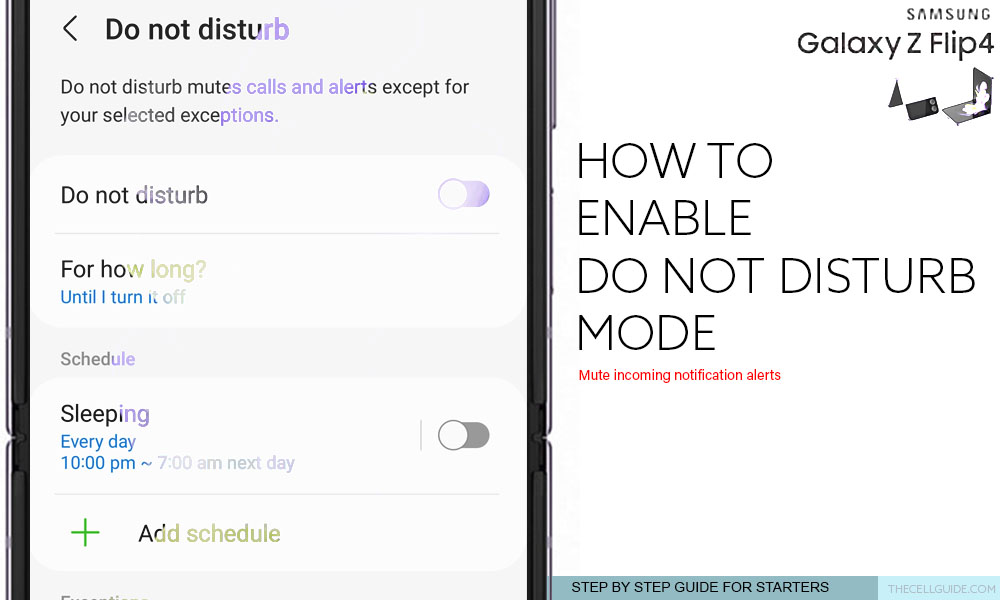 Flip4 Do not disturb
Do not disturb is a built-in feature that mutes sounds and all incoming notifications, phone calls, and alerts, preventing any unwanted smartphone destructions.
This feature is available in both modern iOS and Android smartphones including the recently released Galaxy Z Flip4 device.
When enabled, you won't hear any sound or vibration on your phone, the lock screen remains dark and incoming calls are directly routed to your voicemail.
Activating this feature is recommended for those who do not want to be disturbed when sleeping as well as those who opted not to get notifications and other sort of alerts from their smartphones while at work.
In Android 12 devices, the Do not disturb feature is tagged among other in-built functions under the notifications menu. If you're new to Android phones and wondering how to access and manage this feature on your new Flip4 device, you can refer to the simplified walkthrough as follows.
Steps to Enable Do Not Disturb Mode on Galaxy Z Flip4
Performing these steps will mute all sounds on your phone without having to put your device in complete silent mode. These steps won't affect alarms and other critical alerts, including those that are coming from exempted apps.
Feel free to start whenever you're ready to configure your device.
Step 1: Launch the Settings app menu to get started. To do this, just tap on the Gear icon from the Home screen or Apps tray of your phone.
If you don't see it on either screen, you can access it straight from the quick settings panel instead. Either way will let you open Settings.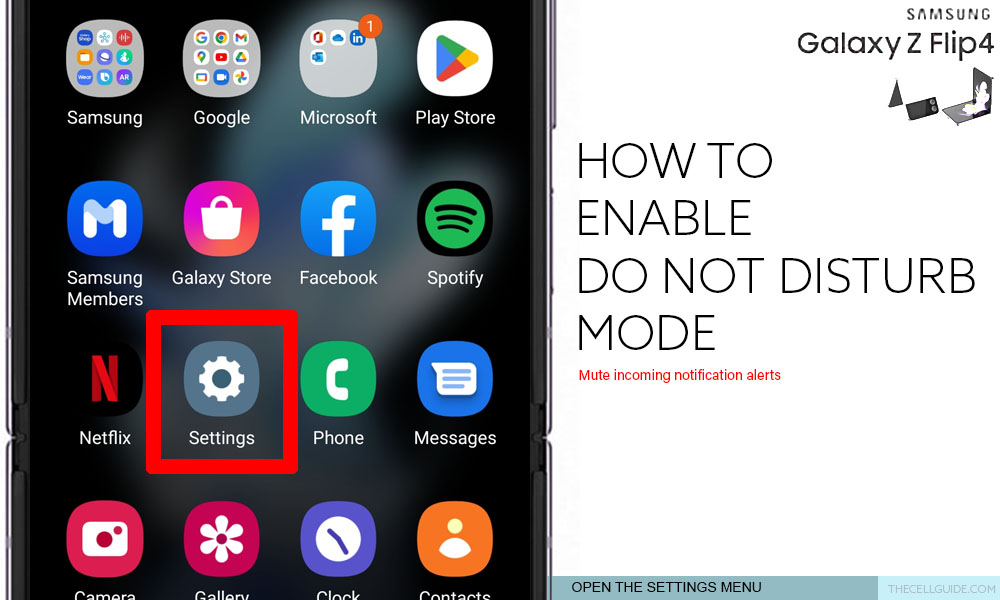 Step 2: In the main settings menu, tap Notifications. Another screen launches with a list of inbuilt notification features.
Step 3: Tap Do not disturb to continue.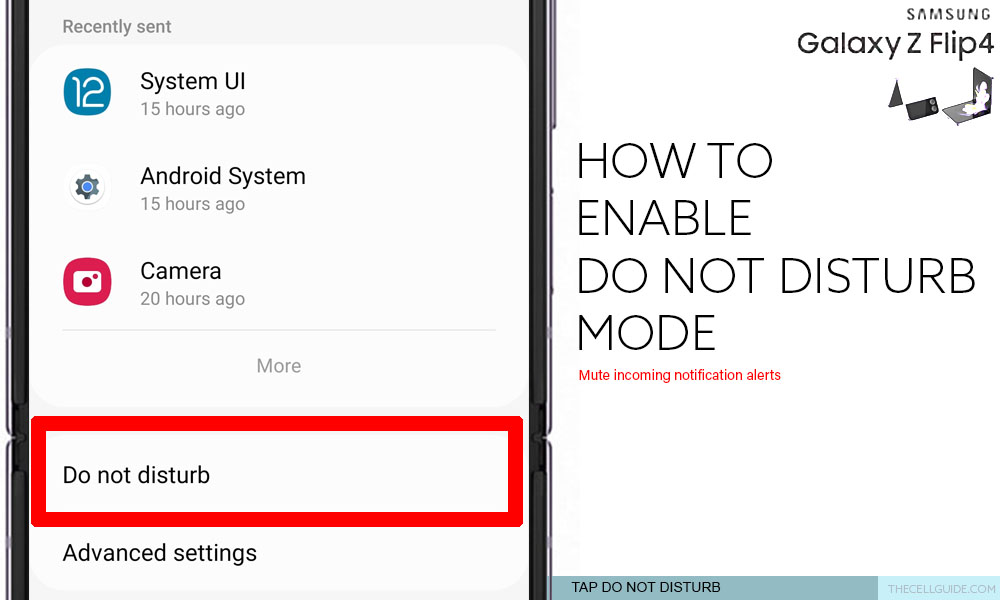 Step 4: On the next screen, you will see the DND mode toggle. To enable Do not disturb immediately without any exceptions, simply toggle to turn the Do not disturb switch ON.
Step 5: To set a schedule for Do not disturb to enable automatically, navigate to the Schedule section then tap to turn the Sleeping switch ON.
Step 6: To configure the schedule, tap Sleeping.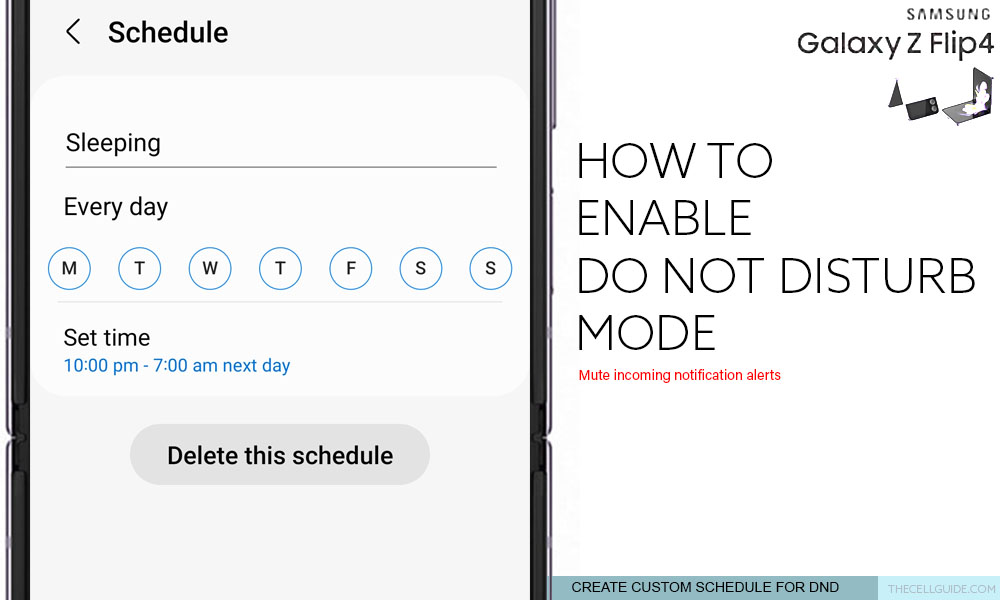 Step 7: On the succeeding window, type in your preferred DND label then select the days you want Do not disturb to activate automatically.
Step 8: Tap Set time then use the time scheduler to set the start then tap End. Set the end time then tap Done.
Step 9: After completing all Do not disturb schedule details, tap Save.
You will know when Do not disturb mode is enabled on your Galaxy phone if you see the crescent moon-like (do not disturb) icon on the status bar.
You can keep old schedules and add a new schedule to use. Just repeat the same steps to get back to the Do not disturb menu where you can set a schedule for automatic DND activation.
Setting Exceptions for Do not disturb
Consider setting up exceptions if you want to use Do not disturb mode to focus on your work but don't want to miss an important call. All you have to do is allow exceptions and customize which type of alerts your device gets.
To set exceptions for calls, messages, conversations, alarms, sounds and apps, navigate to the Exceptions section then continue with the following.
Tap Calls, messages, and conversations then set to allow Do not disturb exceptions for calls, repeat callers, messages and conversations. You may opt to allow calls and/or repeat calls from contacts only, or favorite contacts only. Do the same to set exceptions for messages and conversations.
To manage which type of sounds to mute while on DND mode, tap Alarms and turn off the sounds that you want to be muted.
You can also set exceptions for certain apps. To do this, simply tap Apps, then tap Add apps on the following screen.
Hiding Notifications while on Do not Disturb
Notifications can also be stopped from showing up as icon badges in the notification panel, in the status bar and in pop-ups while on Do not disturb mode. All you have to do is manage the option to Hide notifications when the screen is on.
To limit notifications while on Do not disturb, tap Hide notifications then apply your preferred settings on which notifications to hide.
Critical notifications associated with phone status or activity will not be hidden even when you enable the option to Hide notifications on the phone.
If you activate Do not disturb on schedule, the phone automatically switches to Do not disturb during the set day and start time then ends on the designated end time. If you turn on Do not disturb without following a schedule, then you will need to manually disable the feature to un-mute incoming notifications and switch the phone back to ring/sound mode.
Hope this helps!
Please check out our YouTube channelto view more tutorial and troubleshooting videos for popular iOS and Android devices.
You Might Also Want To Read: