This post will help you configure your iPhone 13 to notify or stop notifying you for a certain email. Here's a quick guide to enable/disable email notifications on iPhone 13 using the iOS 15 Mail application.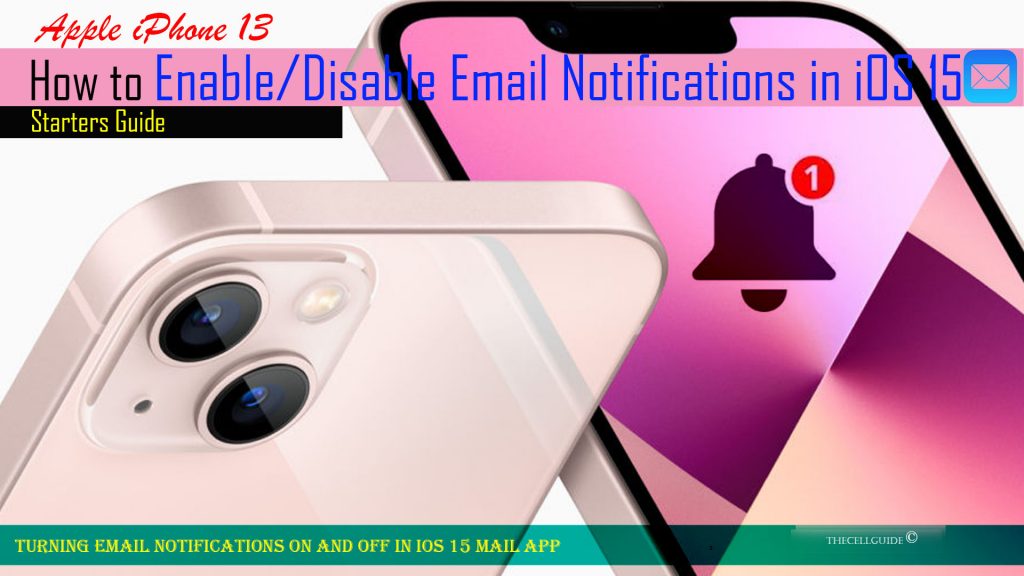 Configuring your device to render mail notifications will help you not miss important mails in your inbox. Thus, it's imperative to manage notifications on your iPhone.
iOS 15 Email App Notifications
Email notifications are programmed to notify users for every new email received. These programs work very similar to the clients that are used to send and receive email messages. They check and report whether any new mail is found on the server.
Mobile devices including Apple's newest iPhone series also come with a built-in email notification program. That said, you can set and configure the Mail app to turn email notifications on or off.
Most of the notification settings for each app on the iPhone are customizable. That said, you can turn notifications on or off for an app, choose a notification sound you'd like to play, choose notification previews and specify where you'd like the notifications to appear — either on the home or lock screen.
The iPhones notification settings can be managed through the iOS settings app menu or straight from an individual application.
The steps outlined below depict the latter given that notification settings are managed straight through the built-in iPhone mail app.
Easy Steps to Enable Email Notifications on iPhone 13
The following steps can also be applied when activating individual email notifications on other iOS devices with the same software version as that of the iPhone 13.
However, there might be some slight differences with the actual interface given that screens and menu items vary between device models and carriers.
Before you begin, verify and ensure that your iPhone is connected to the Internet. Otherwise, the Mail app won't be able to load up recent email messages for your account.
Once you've got everything set, you may proceed to these subsequent steps.
Turning Notifications ON for Specific Email
These steps will enable notifications for specific email sent to the email account set up on the iPhone 13 Mail app.
Step 1: Open Mail app by tapping on the Mail icon from the Home screen. Typically, you'll be routed straight to the Mailboxes. If not, then just tap the back arrow to return and get back to the Mailboxes menu.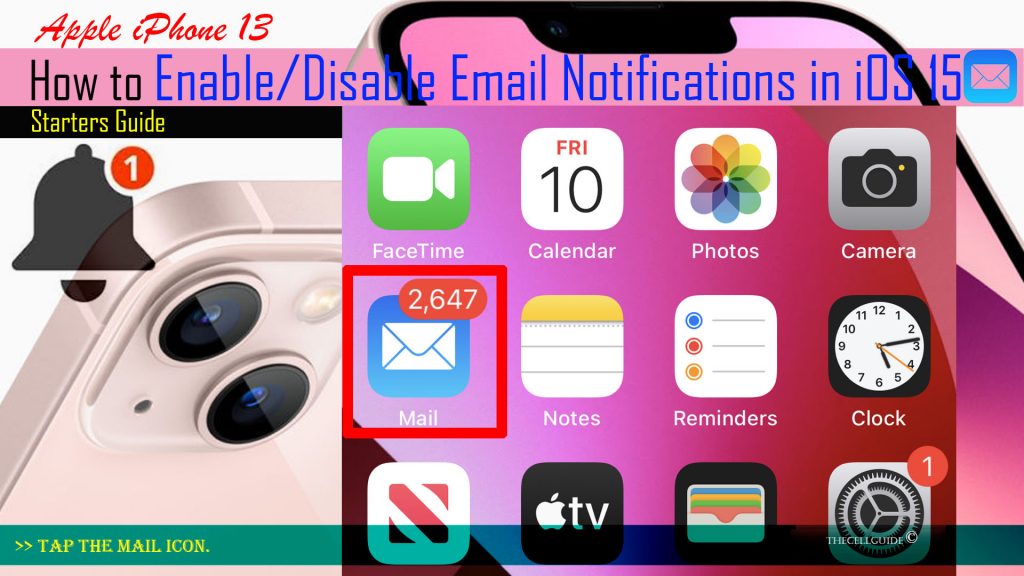 Step 2: While on the Mailboxes menu, then tap Inbox. Doing so will launch the inbox folder, containing all emails sent to your account.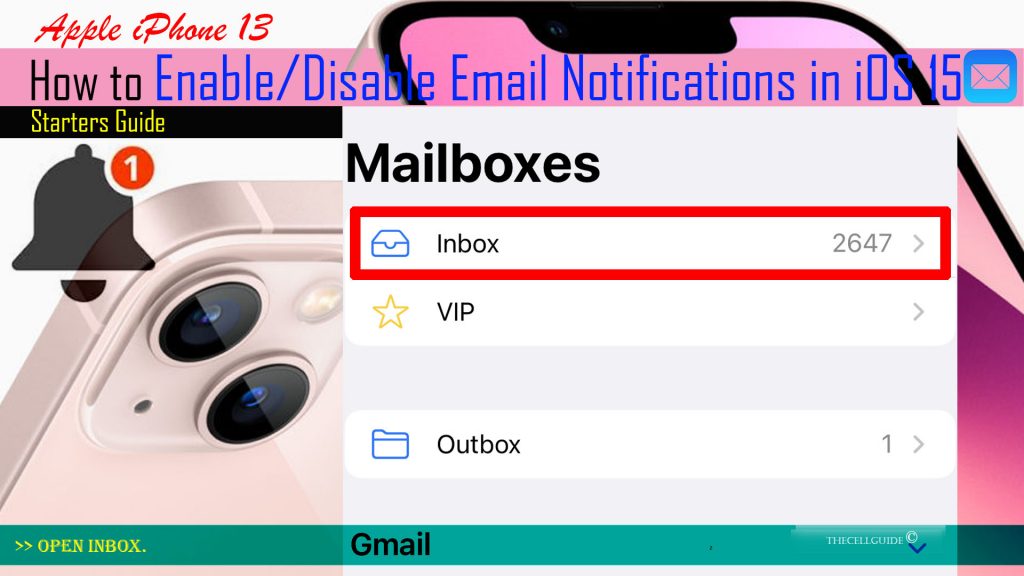 Step 3: Find and select the preview of the email that you'd like to enable/disable notifications for and then swipe it to the left to view quick options.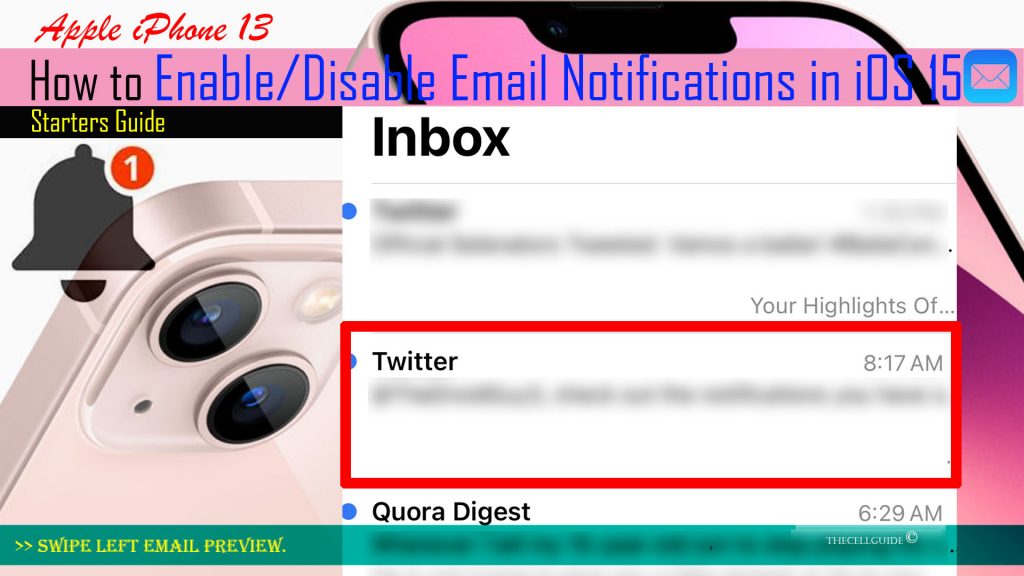 Step 4: Tap More from the quick menu options to view additional items. The More icon is represented by a triple-dot (…) figure inside a white circle.
A pop-up menu will launch along with different options.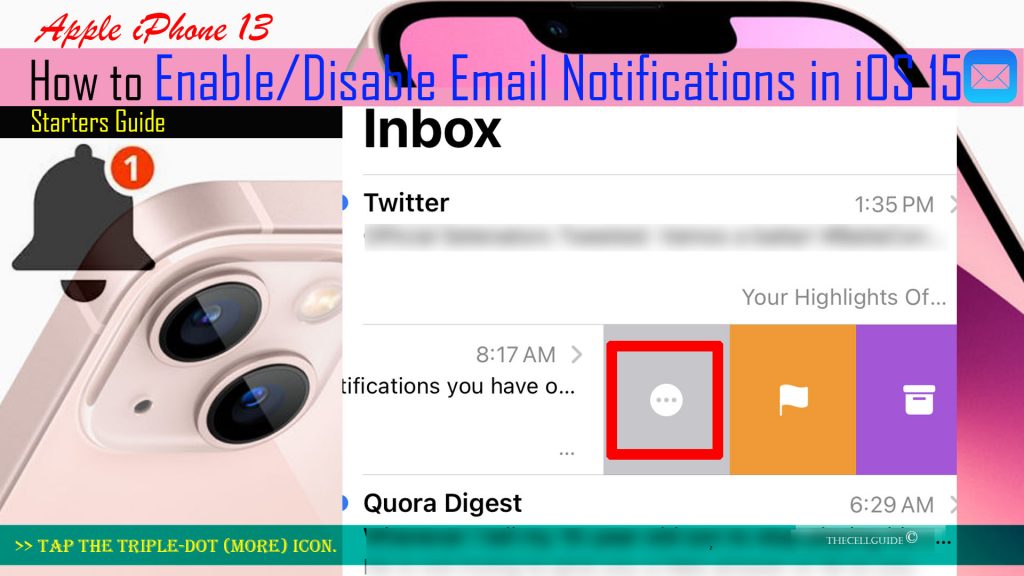 Step 5: Scroll down to the bottom of the list and then tap Notify Me. The notification bell icon will then appear on the right-most corner of the selected email preview.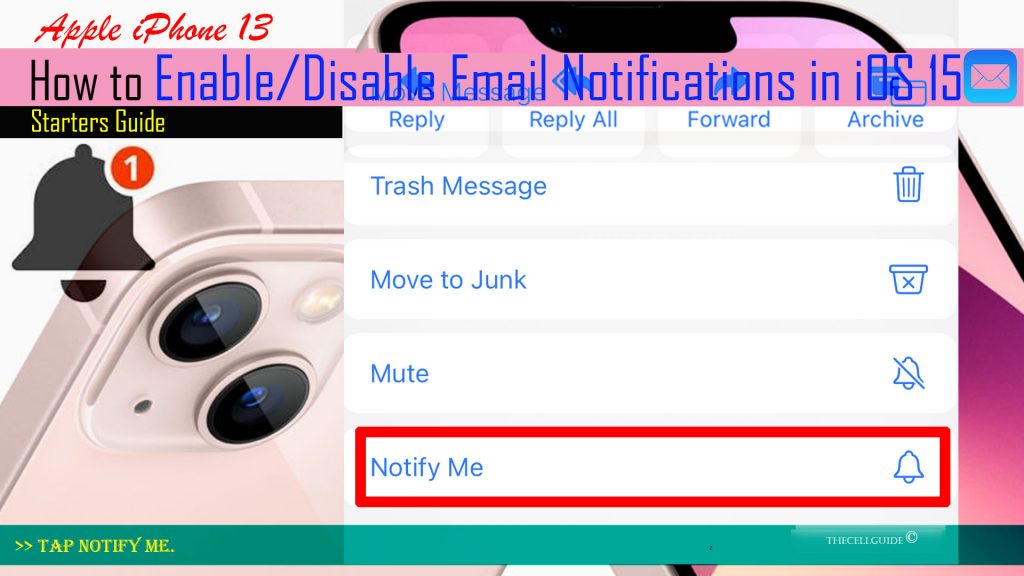 That's an indication that notifications are enabled for that email.
Turning Notifications OFF for Specific Email
These steps will disable notifications for a certain email from your Mail app inbox, just follow these steps.
Step 1: Open the Mail app and then go back to the inbox folder.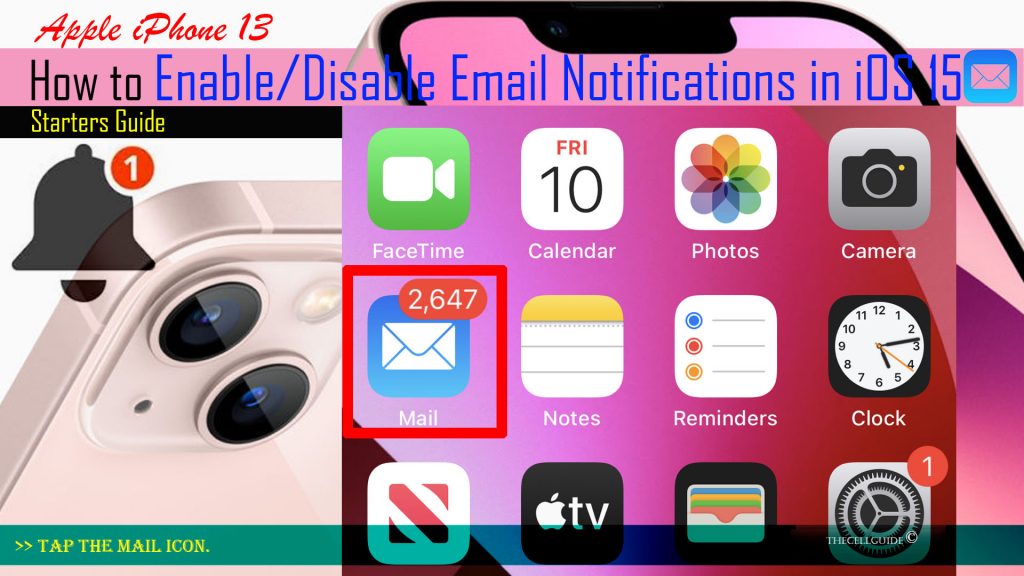 Step 2: Find and select the desired email preview that you'd like to turn off notifications for and then swipe left to the quick controls.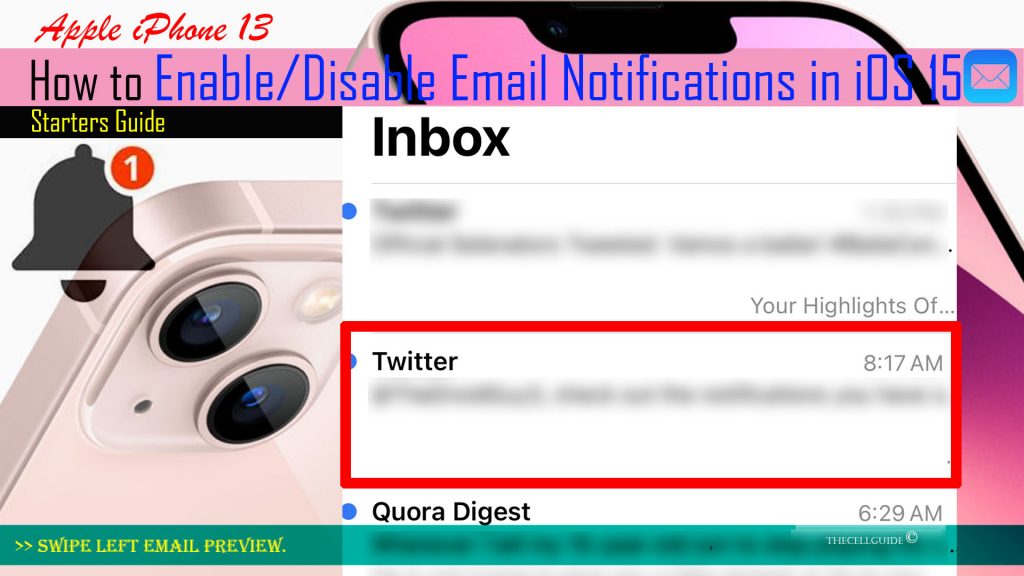 Step 3: Tap the Triple-dot (More) icon.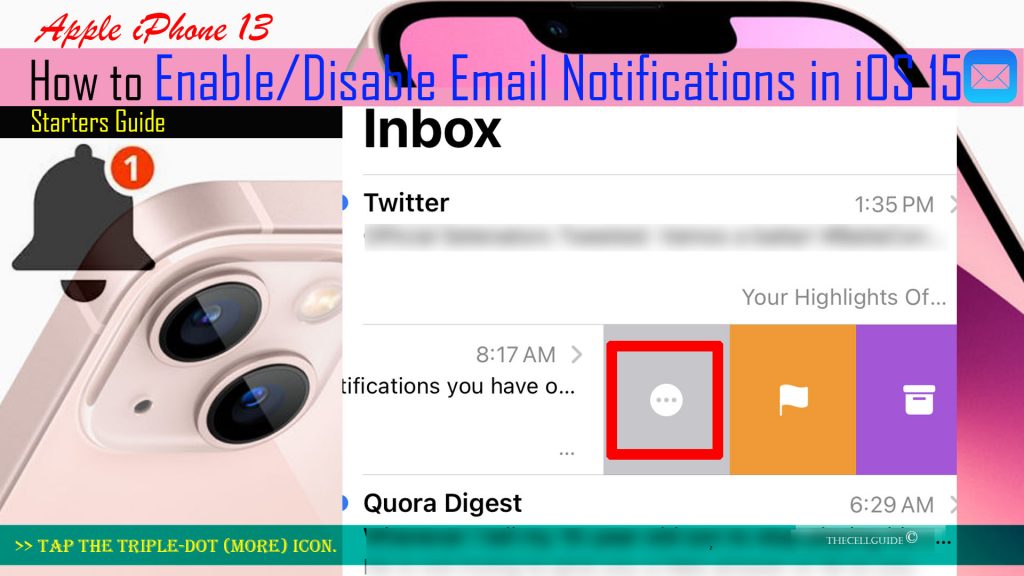 Step 4: Scroll down and then tap Stop Notifying from the quick menu options.
That should turn off notification alerts for that specific email.
And that's all about turning email notifications on or off through the iPhone 13 (iOS 15) Mail application.
Aside from the preloaded email notification feature in the Mail app, you can also make use of a third-party email notification tool for iOS webmail. You can download and install any of these programs to your iPhone or iPad. By then you can start using the tool's built-in functions to manage app notifications on your iPhone.
Each of these programs come with distinct functionalities so they work in a different manner.
Hope this helps!
Please check out our YouTube channel to view more tutorial and troubleshooting videos for popular iOS and Android devices.
You Might Also Want To Read: