This post will walk you through configuring the Play Store notifications settings to push alerts whenever a new update is available for any of your installed applications. Here's a quick guide to enable app update notifications on Samsung Galaxy A73 5g Play Store.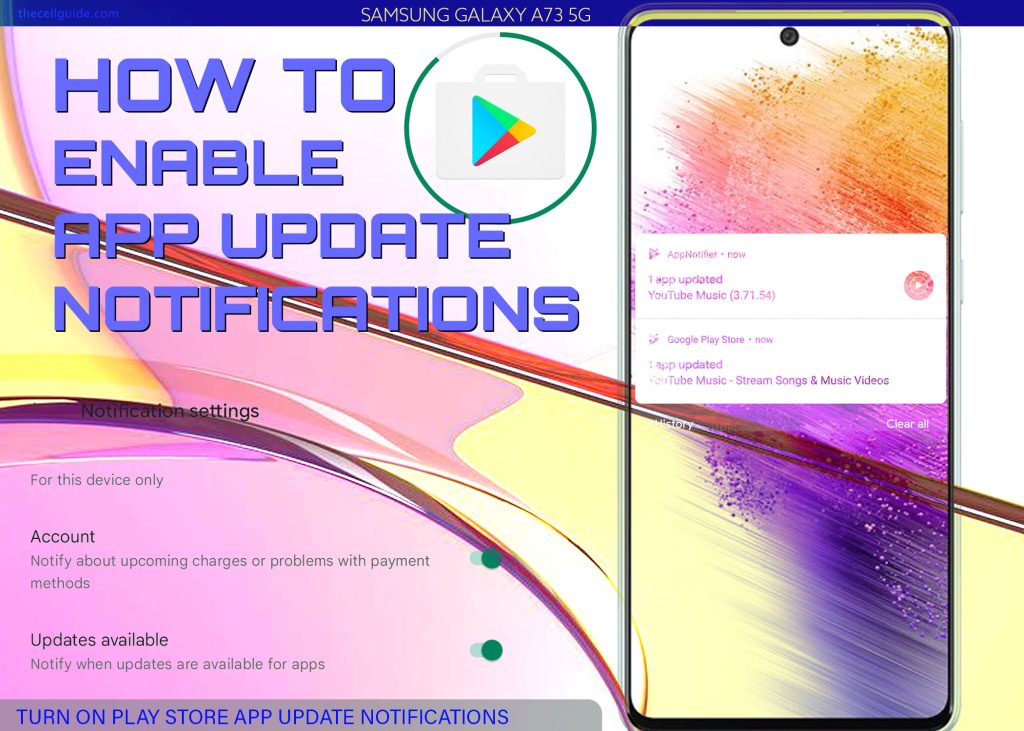 Wondering how to receive notifications for every new update available for the apps you've downloaded from the Play Store? If so, then you will need to enable the inbuilt notification settings on the Google Play Store app on your device.
Below are the actual steps that show how to get this done on the Galaxy A73 App Store settings. Just read further for more detailed instructions.
Google Play Store Notification Settings
App developers generally designed their apps to push alerts on the device where it's installed. These pop-up alerts are called push notifications. These alerts reach your device at any time even when you're not using the app or your device itself.
Push notifications that reach your device can be about the latest offers and promos, events, utility messages, quick surveys, or new updates. Generally, they are made to inform smartphone users about something that they might be interested in.
In Samsung devices, users are allowed to manage the notification settings according to their preferences. That said, they may opt to allow or stop notifications on their respective devices. All it requires is to toggle a dedicated switch to enable and disable notifications.
Depicted below is a step by step walkthrough to manage the Play Store notification settings on the Galaxy A73 device, and set it to push notification alerts for every app update available.
Steps to Enable App Update Notifications on Samsung Galaxy A73 5g
The following steps are also applicable when configuring the App Store notification settings on other Samsung Galaxy phones to push alerts for new app updates available.
Please note though that the user interface of every device may vary depending on the software version, device model and network service provider.
That said, keeping the device software up-to-date is highly recommended to ensure that all key features and menu options are present.
Feel free to start whenever you're all set to configure the App Store notification settings on your Galaxy A73 5g smartphone.
Step 1: First, tap the App Store icon from the Home screen or Apps tray to launch the app.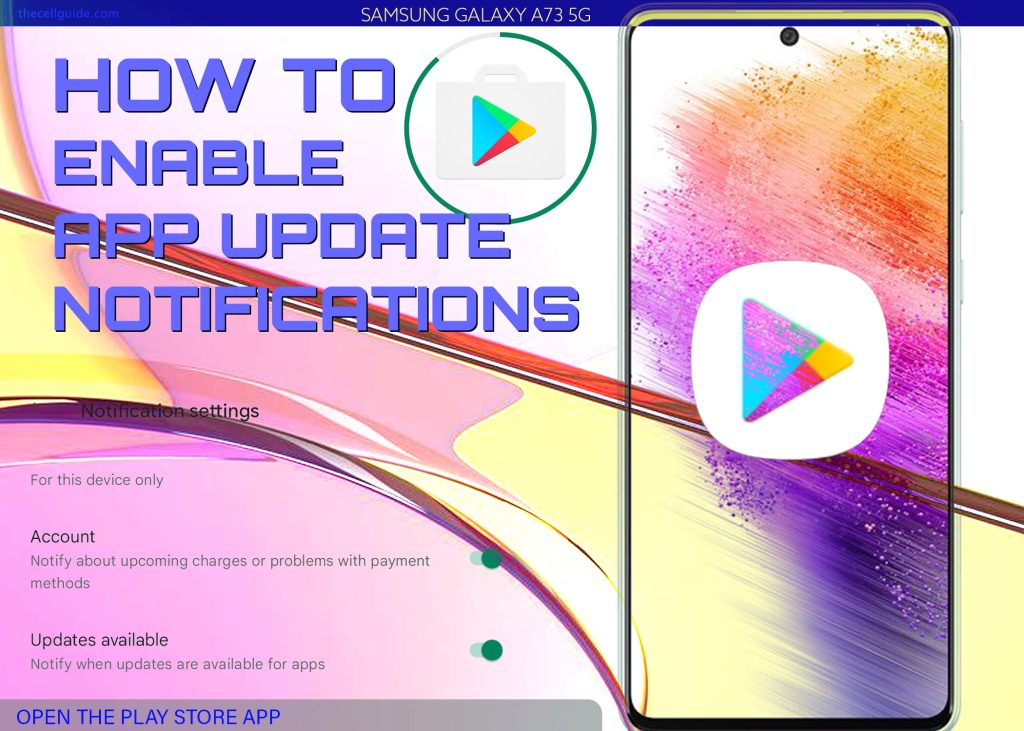 Step 2: Next, tap on your profile icon on the upper-right corner of the App Store main screen. Doing so opens a side menu with options to manage your App Store account.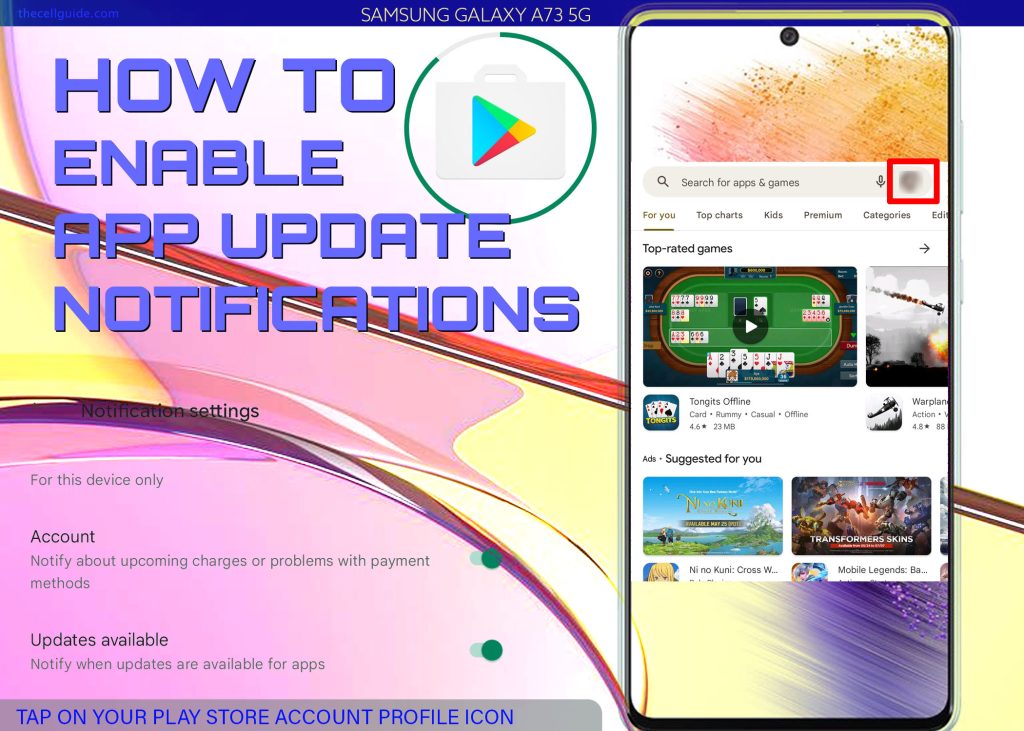 Step 3: On the side menu, tap Settings to access the App Store settings menu.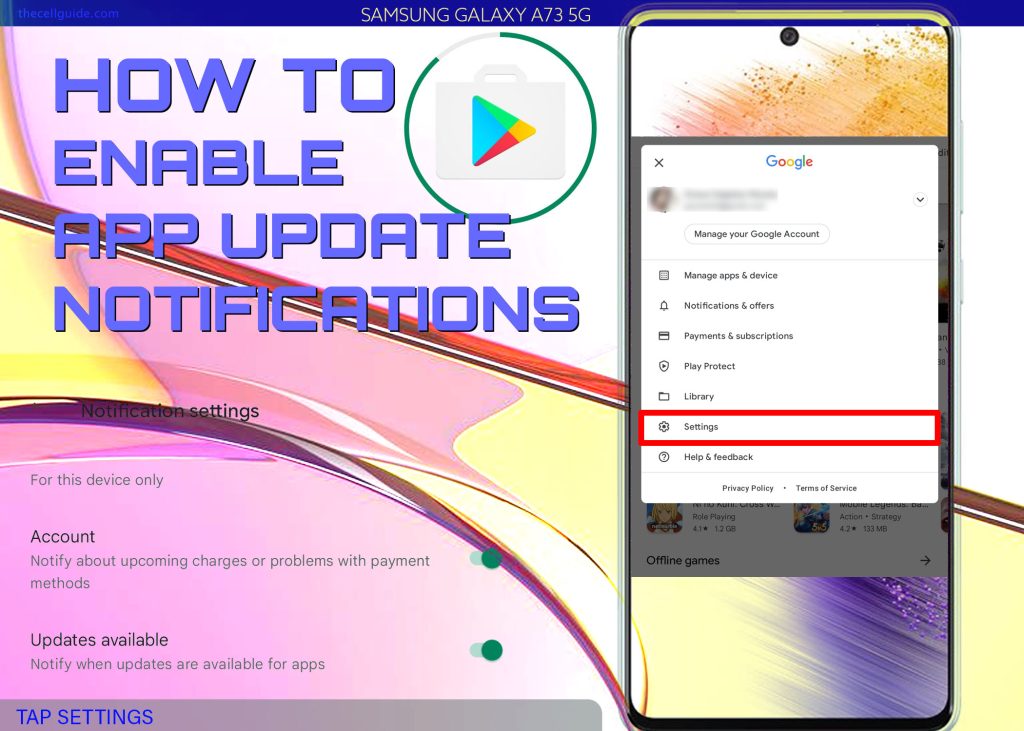 Step 4: While in the App Store Settings menu, tap General.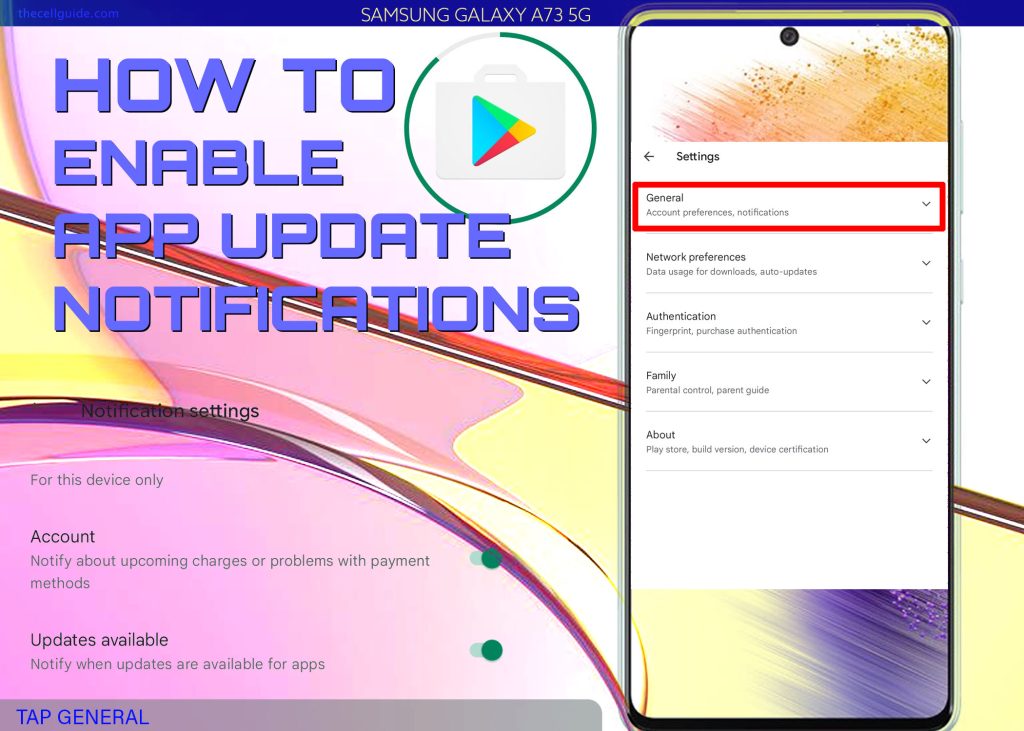 Step 5: Another menu opens with account preferences and notification settings. Tap Notifications to manage App Store notification settings.
Step 6: On the Notification settings menu, turn the Updates available switch ON.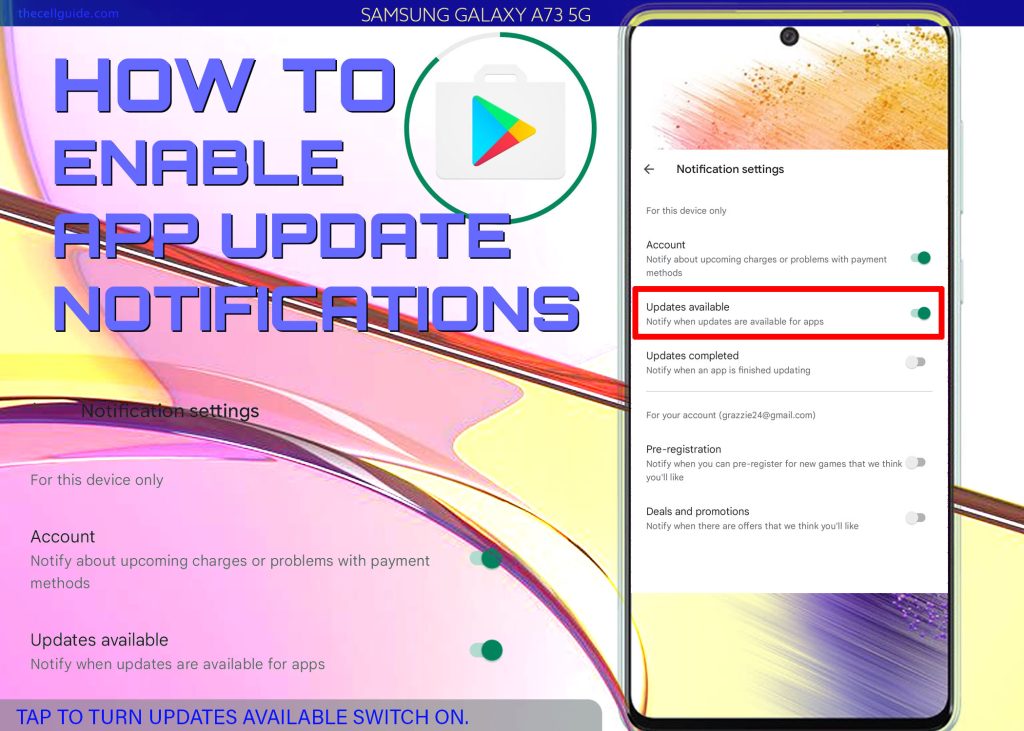 Doing so enables the App Store notifications whenever new updates are available for your apps.
Should you wish to get notified every time an app is finished updating, tap to turn the Updates completed switch ON.
With this option enabled, Play Store will push notifications for every new update released for any of your downloaded applications.
Should you wish to disable the feature, just head back to the App Store notification settings menu then toggle to turn the designated switch OFF.
Manage Notification Settings for Other Apps
To manage notifications for other apps, simply access the Apps Settings menu on your device.
To do this, go to Settings and then tap Apps. A list of all your apps will be displayed on the Apps screen. Just scroll to find and select the app that you'd like to manage notifications for. You can use quick search on the top-right for faster app searching.
After selecting the app, tap Notifications on the App info screen and then toggle the switch next to notification options that you'd like to enable or disable for that app.
Hope this helps!
Please check out our YouTube channel to view more tutorial and troubleshooting videos for popular iOS and Android devices.
You Might Also Want To Read: