This post will walk you through personalizing sounds and setting your preferred ear for calls on Samsung Galaxy S21 series. To make all these possible, all you have to do is to enable an advanced sound feature called Adapt Sound. Here's a quick guide on how to enable Adapt Sound feature on Samsung Galaxy S21 in the updated One UI version.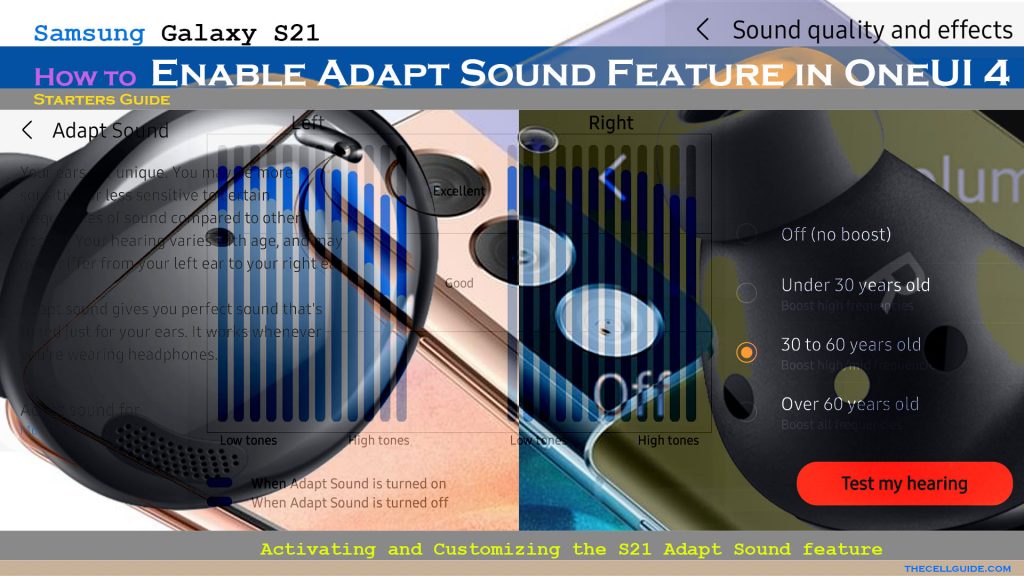 One UI Adapt Sound Feature Overview
The latest Samsung Galaxy S21 series comes with more advanced entertainment features including separate app sound and relevant options designed to offer better listening experience to end-users when pairing the phone with Bluetooth earphones or wired headphones.
Such a feature is called Adapt sounds. It's a Galaxy device's newest useful Bluetooth audio feature that makes the use of Bluetooth headphones and speakers with the phone more adaptable.
With this feature enabled, you can adjust the sound quality according to your preferences, connect wireless headphones and listen to your favorite songs on nearby Bluetooth speakers and choose the type of sound that works best for you.
Aside from customizing sound, Adapt sound also allows you to specify which ear you prefer to use for calls.
If you're new to the One UI interface and need some input on how to access and manage this new Adapt Sound feature on the Galaxy S21, I've mapped out the actual steps below.
Easy Steps to Enable Adapt Sound Feature on Samsung Galaxy S21
The following steps are also applicable when activating Adapt sound on other Samsung Galaxy devices that are running on One UI 4.0/Android 12 platform. Actual screens and menu items may vary between device models and carriers.
Start whenever you're all set to configure the advanced audio settings to improve sound quality and effects when using headphones and Bluetooth speakers with your Galaxy S21 smartphone.
Step 1: Open the Settings app by tapping on the Settings icon from the Home or Apps screen.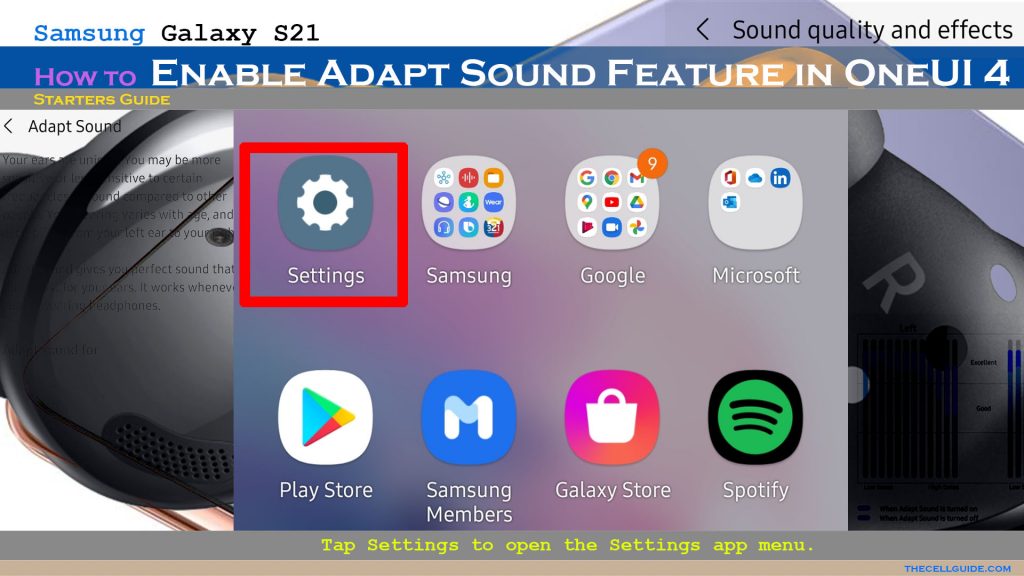 Step 2: While on the main settings menu, tap Sounds and vibration. Built-in audio features and options will load up next.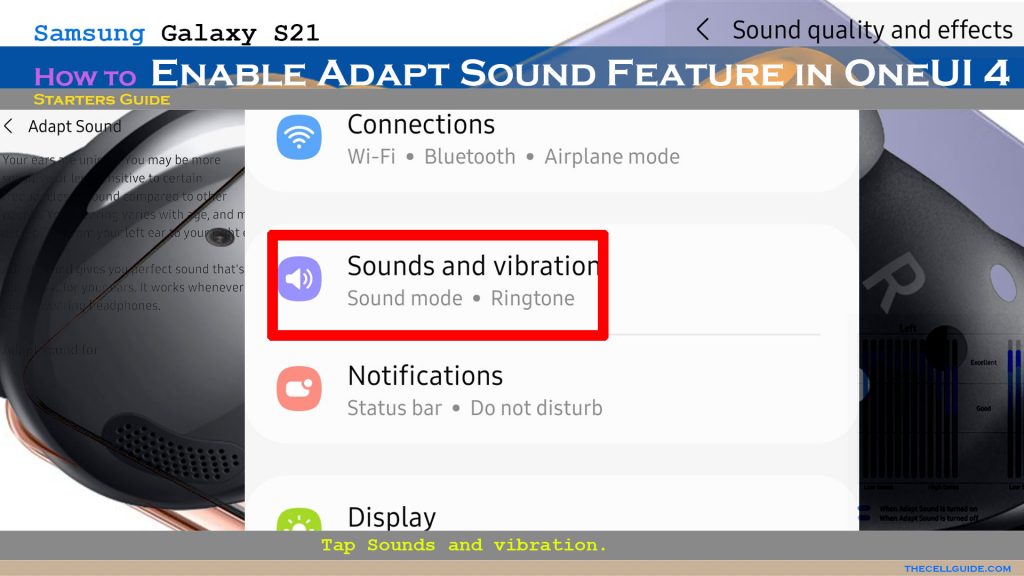 Step 3: On the succeeding menu, scroll down to the bottom section and then tap Sound quality and effects. Another menu opens with more advanced options.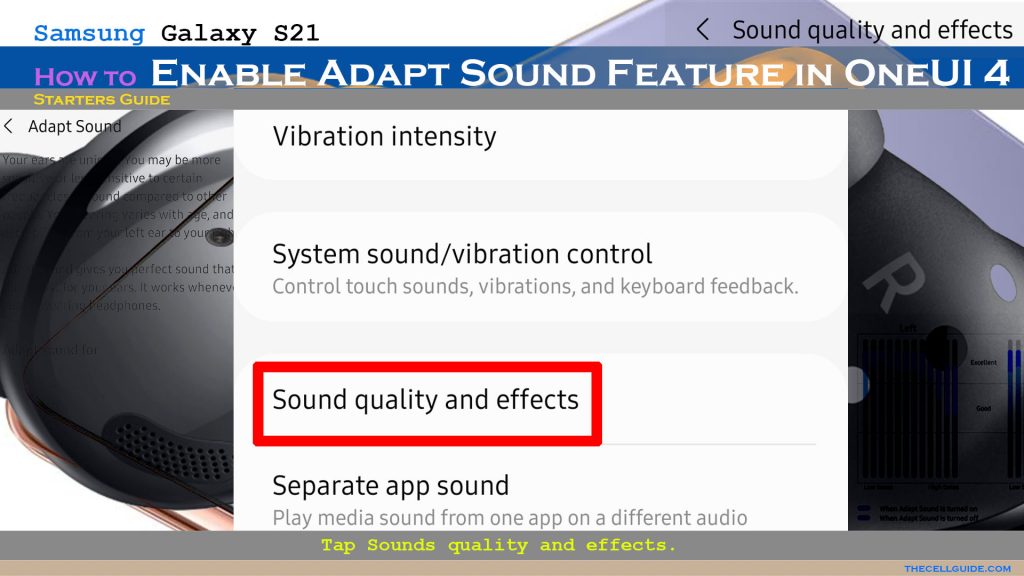 Step 4: To customize and find the best sound for you, tap Adapt sound to proceed.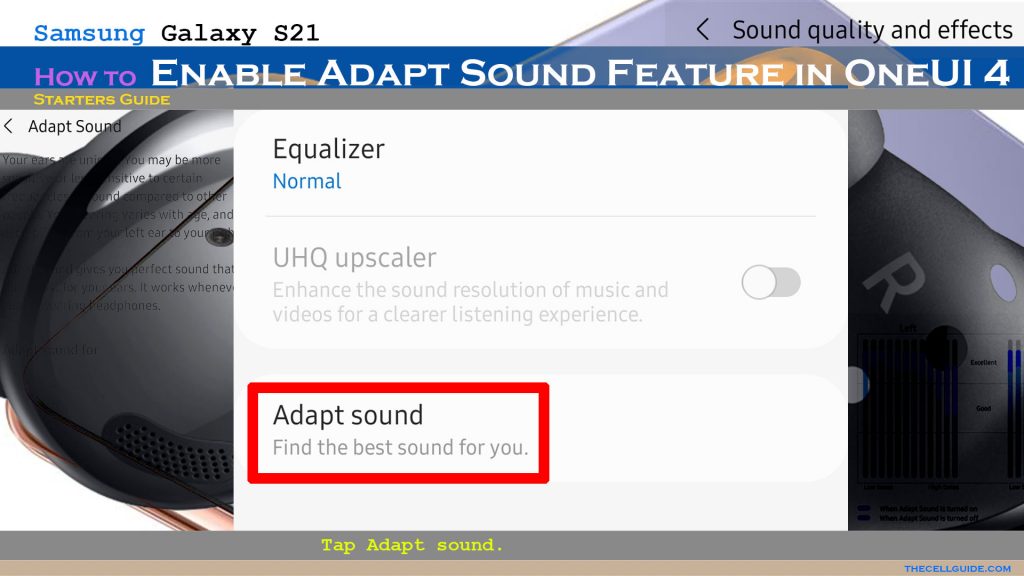 Step 5: On the Adapt sound menu, you will see different boost high-range frequencies (preset frequencies) that are suitable for a certain age bracket. Just tap to select your preferred frequency range accordingly.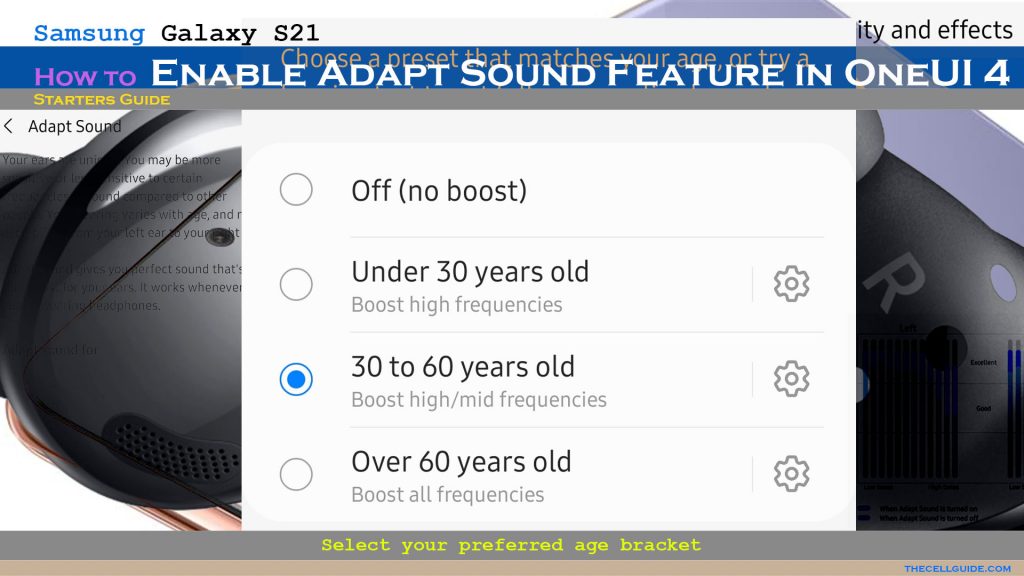 Step 6: You may also opt to test your hearing and create a personalized sound according to your needs. To do this, simply tap the Test my hearing button, tap Start on the next menu and follow the rest of the onscreen instructions to begin testing your hearing for both the left and right ears. Be sure to plug in your headphones to your Galaxy phone properly.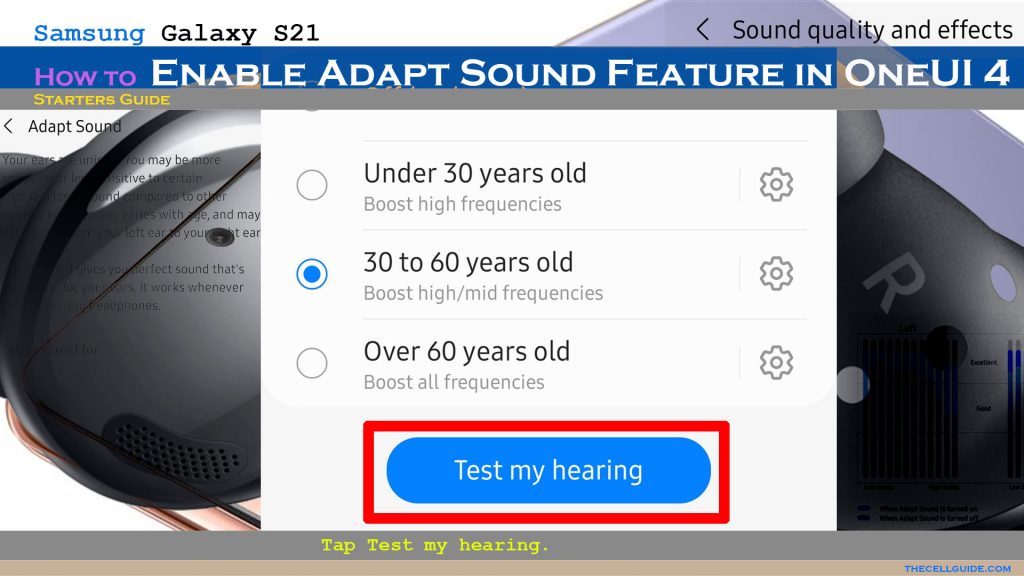 Performing a hearing test in a quiet place without any multimedia apps running on the device is highly recommended. Once the hearing test is finished, all your current personalized sound data will be replaced.
Step 7: To complete the sound personalization, specify which ear you prefer to use when listening to phone calls. Just tap to mark either the Left or Right ear from the next pop-up window.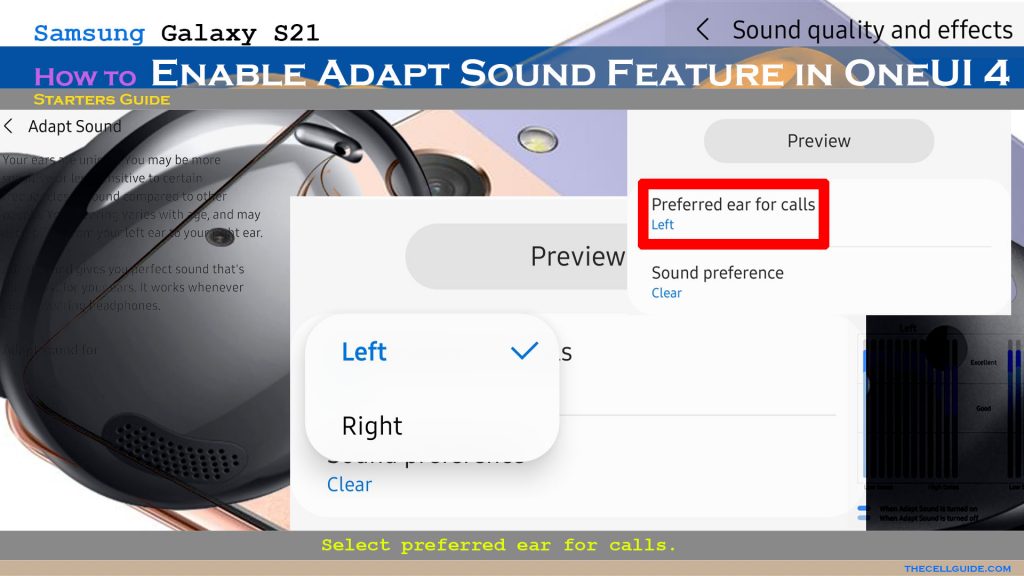 Step 8: To set sound preference, tap Sound Preference and then select between Clear and Soft.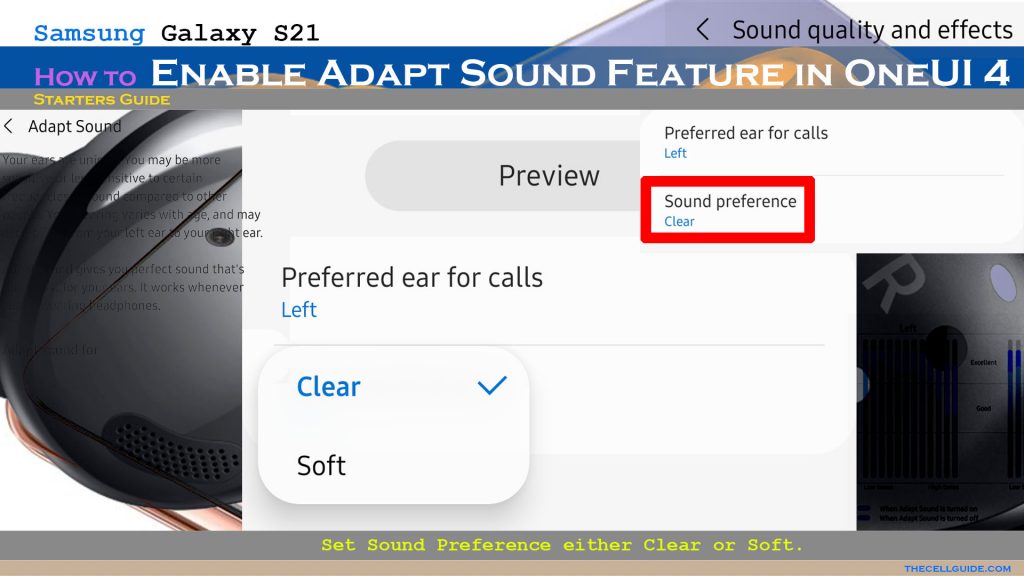 After making all necessary changes and you're satisfied with the personalize sound settings output, tap Save. In Galaxy S21, all recent changes are automatically applied to the phone's audio settings.
Step 10: To manage Adapt sound settings for media and call sound, tap Adapt sound for. A pop-up menu will appear.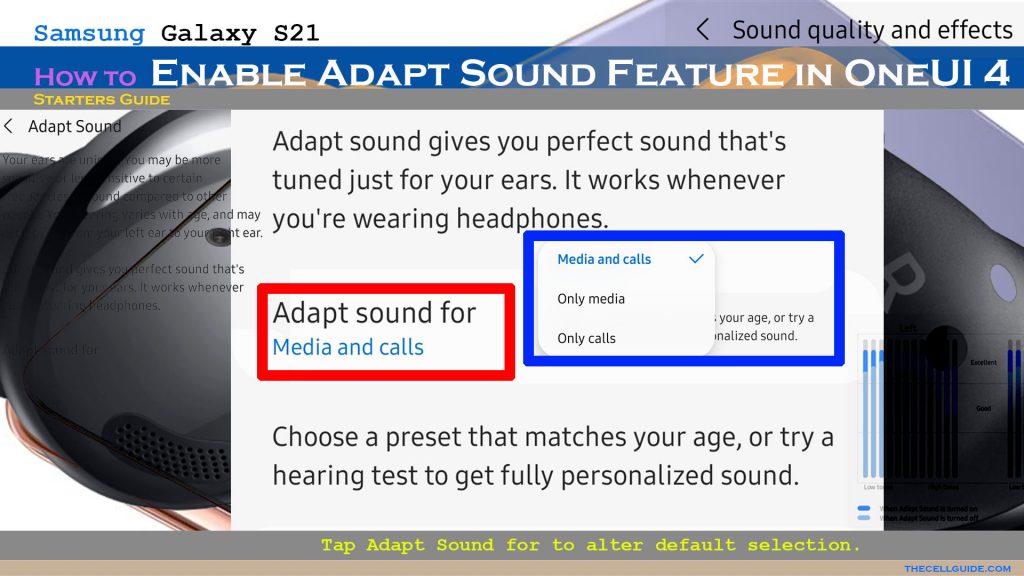 Step 10: Select any from the given options you prefer to Adapt sounds for on your device. Among the choices include Media and call sound, Only media sound and Only call sound. Just tap to mark your preferred selection.
Something Went Wrong After Altering Adapt Sound Defaults…
Having Audio Problems after you customize sounds or alter the Adapt sound defaults on your Galaxy device? Adverse outcomes like this are typically due to some invalid or messed up settings. To rectify the glitch, just revert back to the previous settings.
Restarting or performing a soft reset on the phone can also help, especially if the problem is triggered by some minor software errors.
And if none of that helps, restoring the default settings and options can be deemed among the last resorts. This is when built-in reset commands like reset all settings comes into play.
Resetting all settings deletes all custom settings and recent alterations made to certain apps and system functions. This reset is usually recommended before performing a factory reset as it doesn't affect any user data.
And that's all about activating and customizing the Adapt Sound feature on the Galaxy S21 in One UI 4.0 (Android 12) platform.
Hope this helps!
Please check out our YouTube channel to view more tutorial and troubleshooting videos for popular iOS and Android devices.
You Might Also Want To Read: