This post will walk you through activating and personalizing the One UI 4.1 sound feature that will let you use your preferred tune and set your preferred ear for calls, especially when wearing headphones. Here's a quick guide to enable the Adapt Sound feature on Galaxy S22.
What is Adapt Sound and how does it work?
Some people have ears that are more sensitive to certain frequencies of sound while others have less sensitivity compared to other people. Factors that usually affect hearing are age as well as any underlying conditions on the left or right ear. Thus, some people can hear better using their left ear while others prefer the right ear.
To address the distinctions of people's hearing needs, relevant sound features have been integrated into the modern Android phone systems including recent Samsung Galaxy devices.
New Samsung phones are already equipped with more advanced audio features for better listening experience when pairing with Bluetooth accessories or wired headphones. One of the said features is the Adapt sounds.
First introduced in Android 7.0 devices, the Adapt Sound feature works by allowing you to adjust or tune call and media frequencies to boost hearing.
When enabled, you will be able to hear everything with the perfect volume customization and right balance for left and right audio based on your hearing, sound source and preferences.
If you're wondering how to access and manage this feature on your new Samsung Galaxy S22 smartphone, you can refer to the step by step walkthrough as follows.
Steps to Enable Adapt Sound Feature on Galaxy S22
Before you begin, make sure that you are in an area with less noise. This is highly recommended especially when conducting a hearing test when using headphones with your Samsung phone.
These steps can also be used when activating the Adapt sound feature and inbuilt sound options for better hearing on other Samsung Galaxy devices that are running on Android 12 with One UI 4.1 OS version.
Please note though that there may be some slight variations between device's user interface as actual screens and menu items may likewise vary between device models and cellular service providers.
Just keep your device software updated to ensure that all key features and menu items are accessible.
Feel free to start, whenever you're all set to configure your phone's sound settings.
Step 1: To get started, tap Settings from the Home screen or Apps tray to launch the Settings app.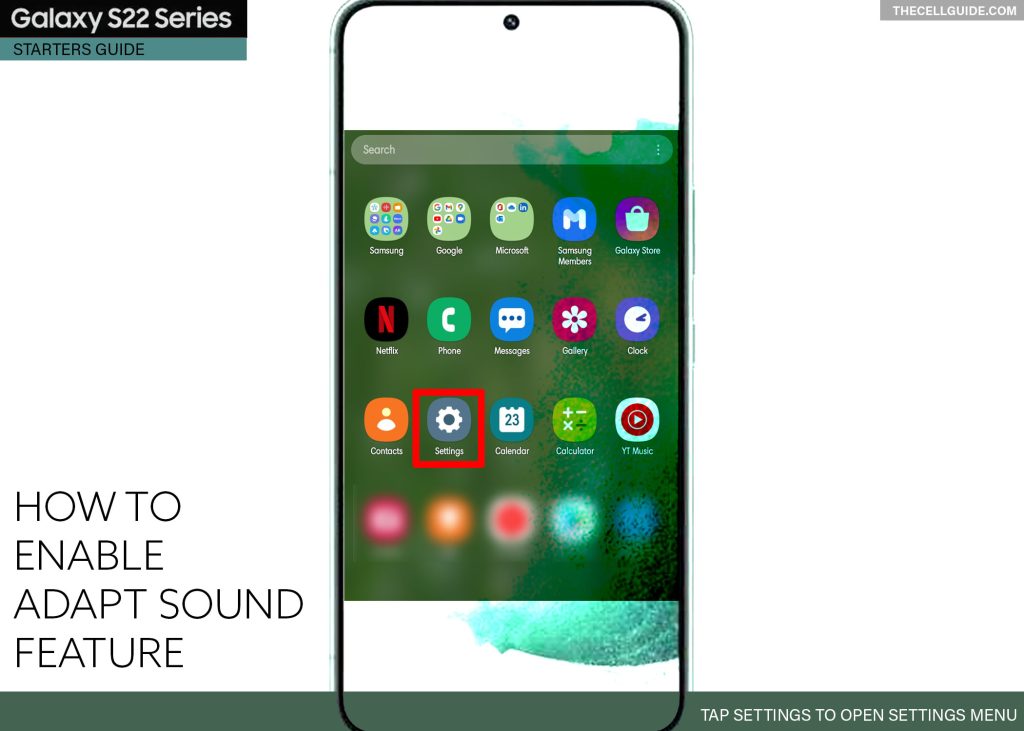 Step 2: While in the main settings menu, tap Sounds and vibration. Another menu opens with a list of inbuilt sound features and settings.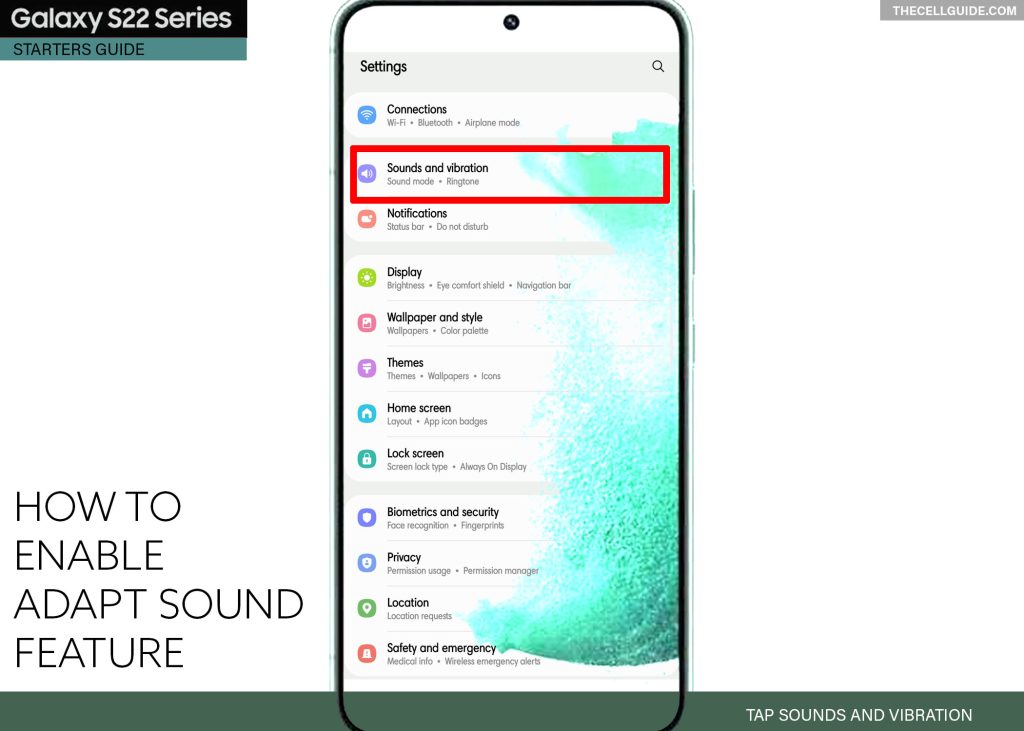 Step 3: Find and then tap Sound quality and effects.
Step 4: On the succeeding menu, tap Adapt sound. Doing so opens another menu.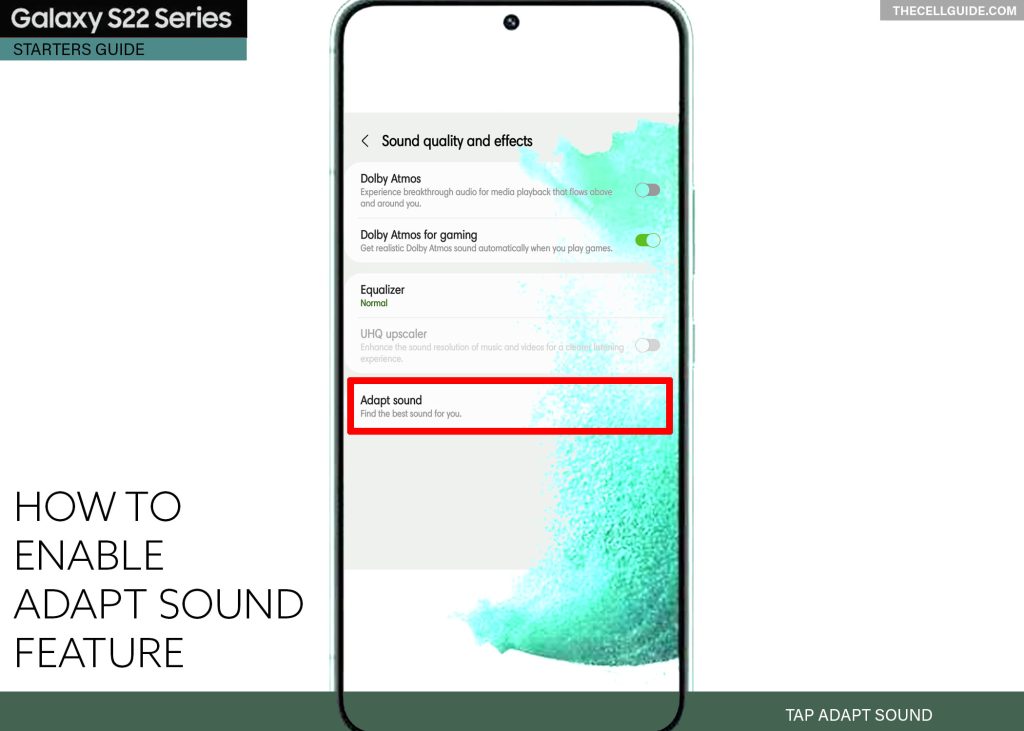 Step 5: Tap Adapt Sound for to manage and adjust adapt sound options.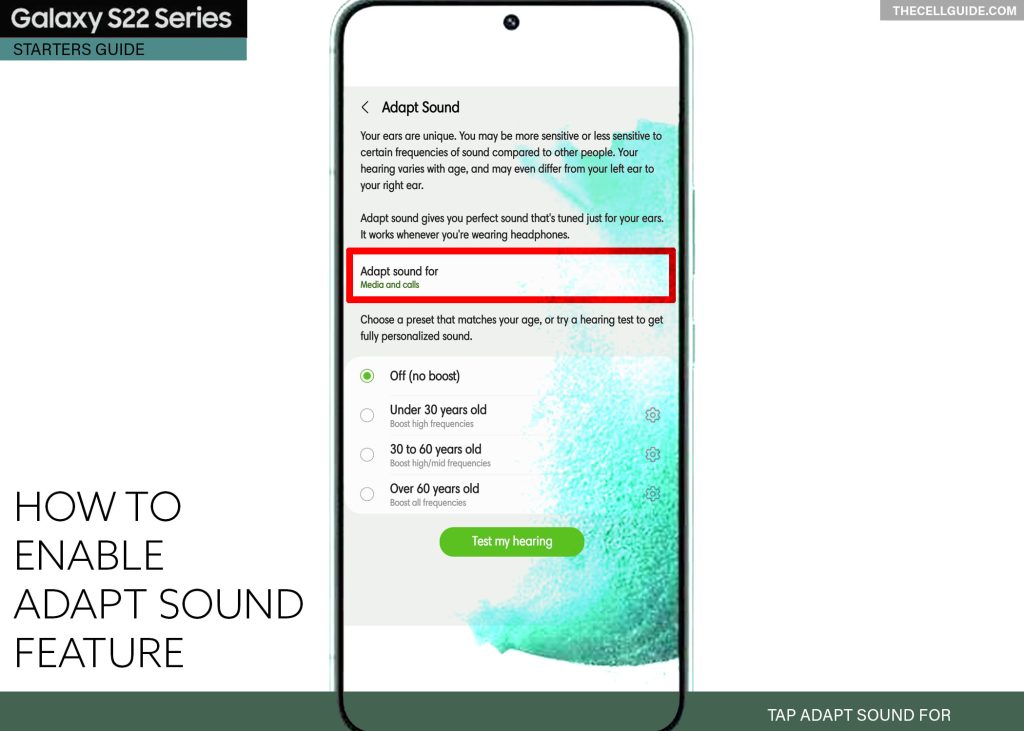 Step 6: On the pop-up menu, you will see three different Adapt sound options to tune the sound that best suits your ears when wearing headphones. Just choose any from Media and calls, Only media and Only calls. Just tap to mark your preferred option.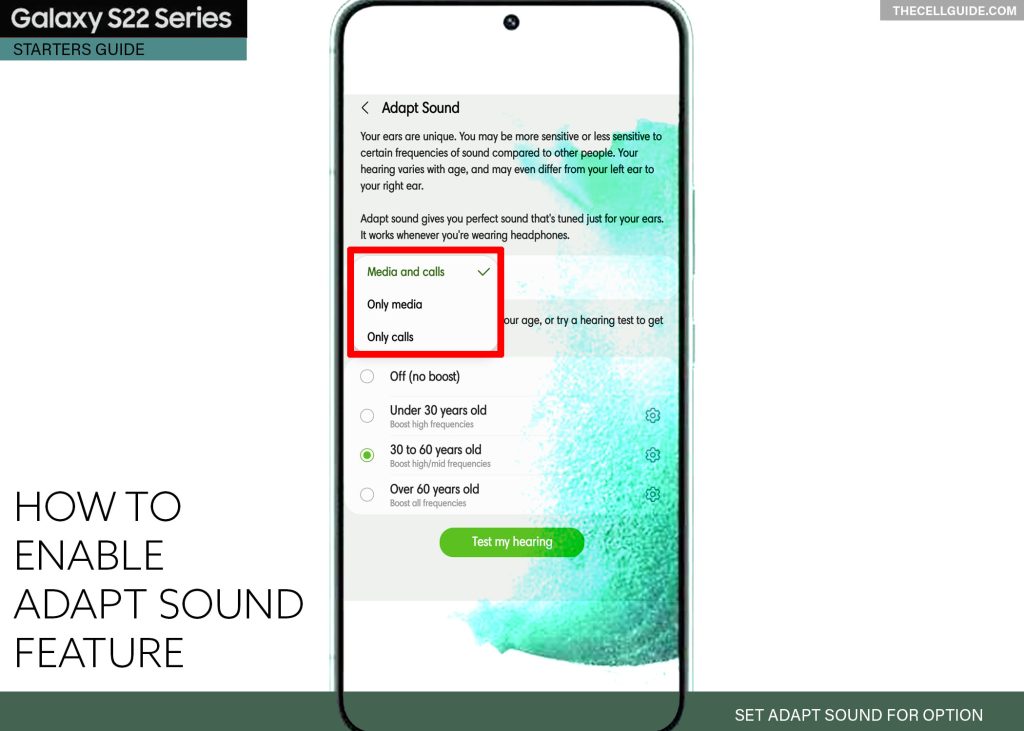 Step 6: To personalize sound options, select and set your preferred preset that matches your age bracket.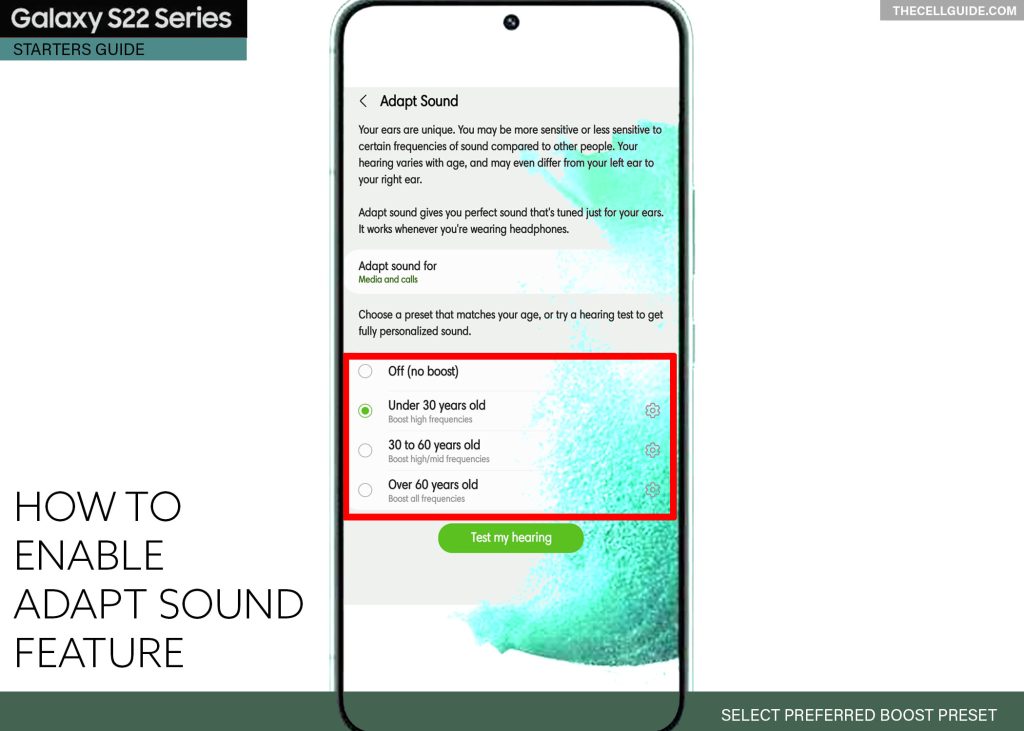 You can also try performing a quick hearing test to get the fully personalized sound, when needed.
To do so, simply tap the Test my hearing button then follow the rest of the onscreen instructions to start finding the best sound for you and use it for calls, music and video.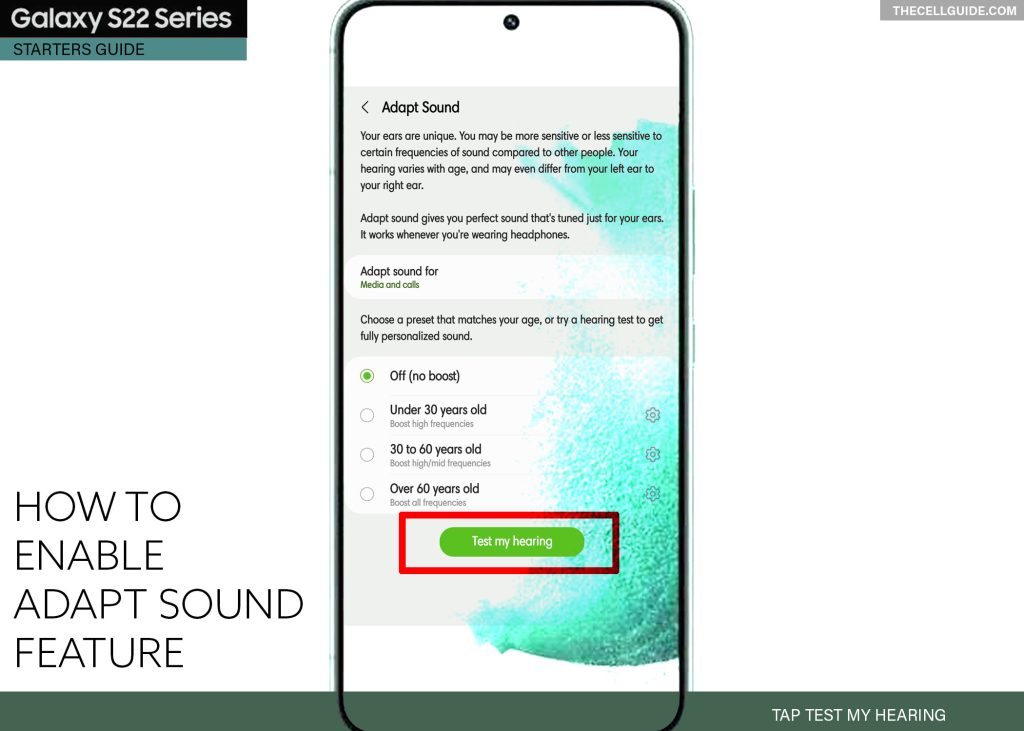 Again, it is recommended to do the hearing test in a quiet place. If you've left some apps running in the background, be sure to close all multimedia apps and then put on your headphones. Also ensure that the connection between your headphones and the phone is secure.
When performing hearing test, a series of high and low frequency beeps will be played. You will then be asked if you can hear these beeps. Based on your response, the phone maps the capacities of your specific headset and do the necessary fine-tuning to produce optimum sound output.
Your current personalized sound data will then be replaced with the recent data accumulated from your latest hearing test and tuning.
Other Sound Enhancer Tools for Android
Aside from the Adapt sound feature, you can also use third-party best sound enhancer apps to improve sound quality on your Samsung Galaxy device. Among the widely used apps that's compatible with the latest Samsung Galaxy phones include Equalizer, Bass Booster, Music Volume EQ, Equalizer FX, PlayerPro Music Player, Music Equalizer, AnEq Equalizer, to name some.
These apps can be downloaded via Play Store for free or via one-time purchase. Just pick the app, which you think would best suit your needs.
And that's all about enabling the Adapt Sound feature and personalizing the sound options on the Samsung Galaxy S22 series.
Hope this helps!
Please check out our YouTube channelto view more tutorial and troubleshooting videos for popular iOS and Android devices.
You Might Also Want To Read: