This post will walk  you through decluttering YouTube downloads in One UI 4.1 devices. Here's a quick guide to delete YouTube downloads on Samsung Galaxy S22.

Not liking what you see in your YouTube Downloads library? If so, then you can just delete them and download other more interesting content for offline viewing. Just keep reading for more detailed instructions on how to get this done on your Samsung Galaxy smartphone.
YouTube Downloads Library
YouTube allows you to download videos that you're interested in for later viewing. All you have to do is click on the Downloads icon that can be found on the same screen where the video is playing.
Such is a handy feature for those who couldn't afford to go online all day as they would still be able to enjoy watching their favorite YouTube video in offline mode.
Downloading videos on YouTube on Android devices is pretty straightforward. All you have to do is search for any interesting video on YouTube app then tap the download icon next to the share icon beneath the video playback screen then follow the rest of the onscreen instructions to complete video download.
After a few moments, the video will be added in your YouTube downloads library. Download duration may vary between contents to download and the internet connection.
Just be sure to have ample storage space to allocate YouTube videos with high resolutions as they usually come in bigger file sizes.
To optimize storage, deleting old and unused videos from your YouTube downloads library is recommended. In case you're wondering how to access and manage this information in Android 12 with One UI 4.1 OS, the following steps will walk you through the entire process.
Steps to Delete YouTube Downloads on Samsung Galaxy S22
Your Samsung phone allows you to delete YouTube downloads individually or simultaneously. All you have to do is access the YouTube app's Library settings and trigger the command to delete videos.
A. Deleting Downloaded Videos on YouTube Individually
If your YouTube library isn't that populated, you can easily delete videos one by one by finding the video title in your Downloads library. Just follow these steps whenever you're ready:
Step 1: To get started, open the YouTube app on your phone.
Step 2: While on the YouTube app's main screen, scroll down and then tap Library at the bottom-rightmost corner.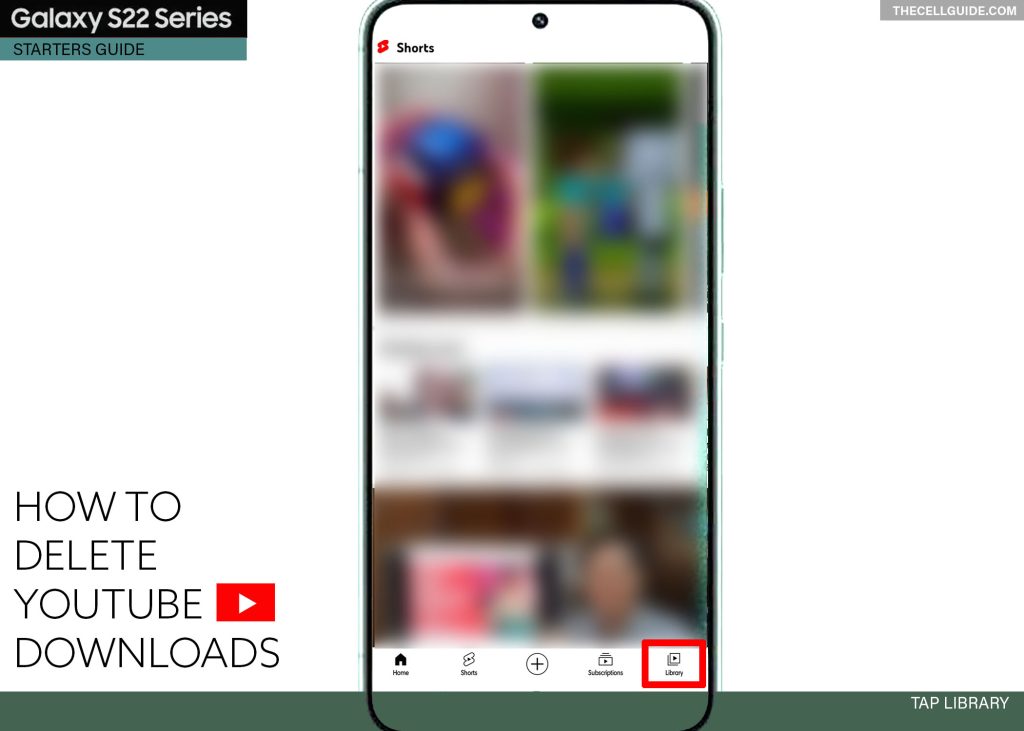 Step 3: To continue, tap Downloads to view all downloaded videos.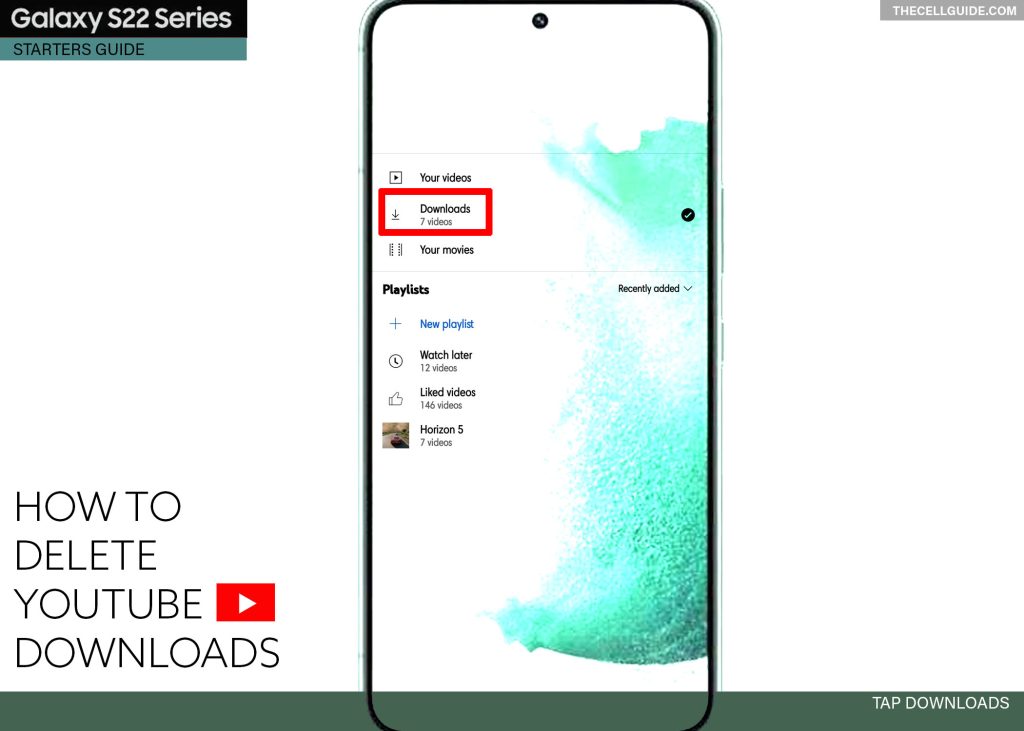 Step 4: Then, tap the three dots next to the video title that you'd like to delete and then tap Delete from downloads to confirm.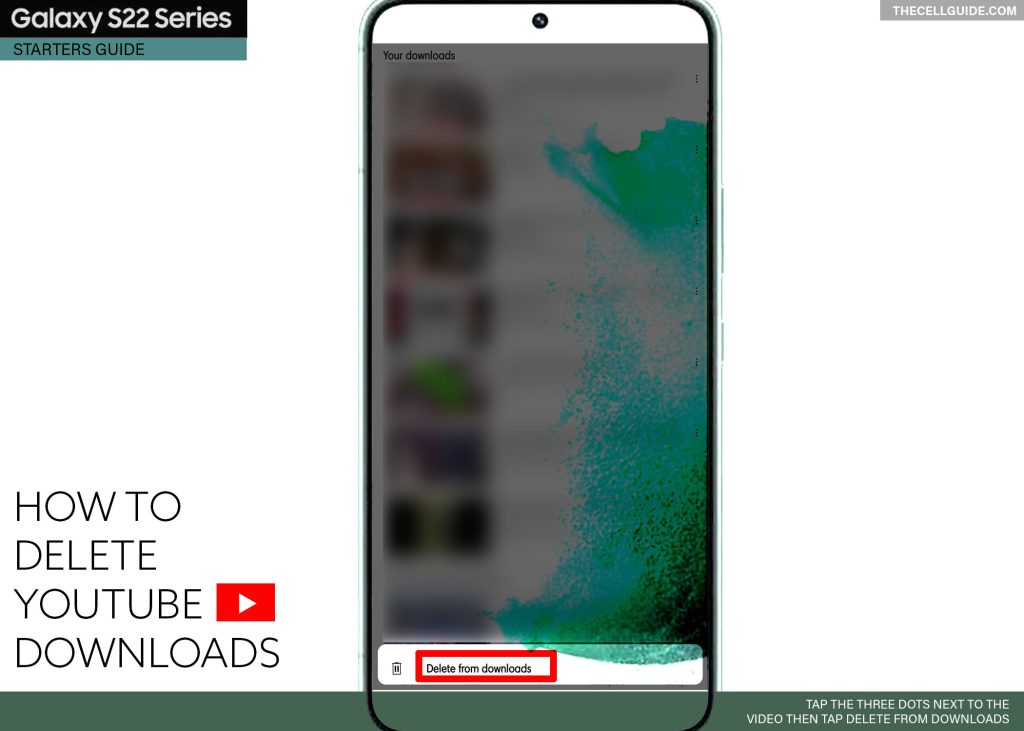 The selected video will be removed from your downloads. To delete another video from your downloads folder, just repeat the same steps.
B. Deleting All Downloaded Videos on YouTube with a One Tap
If you think all your downloads are no longer useful, you can delete them all from your downloads folder at once. Just follow these steps:
Step 1: First, open the YouTube app and then go to your Library.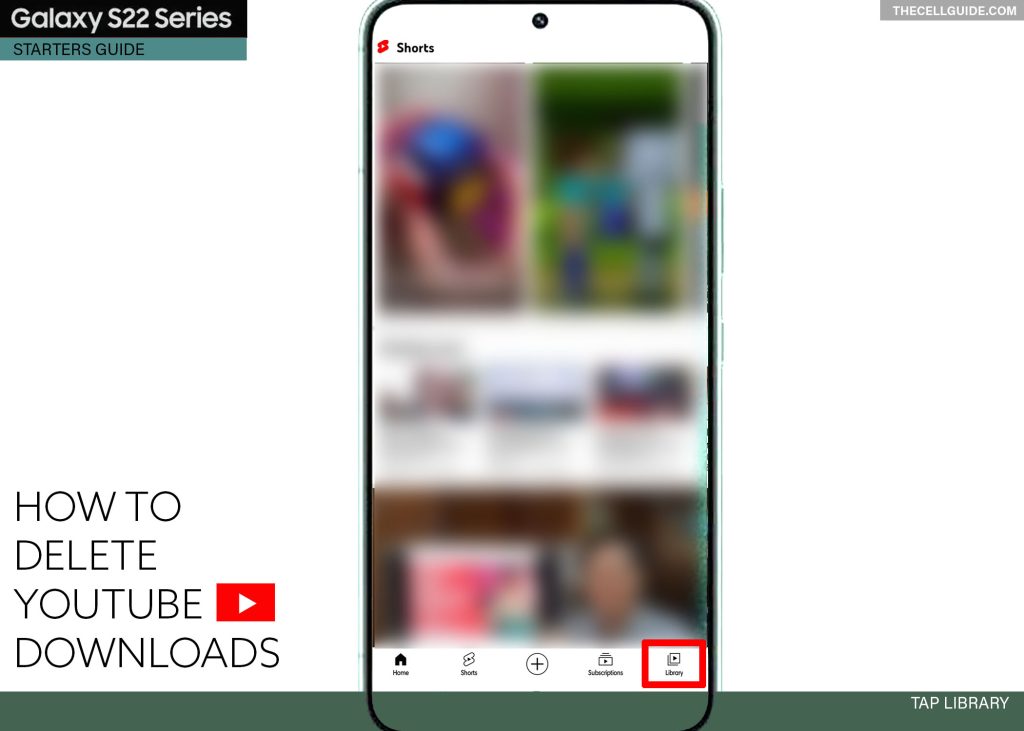 Step 2: Tap Downloads to view all your previously downloaded videos on YouTube.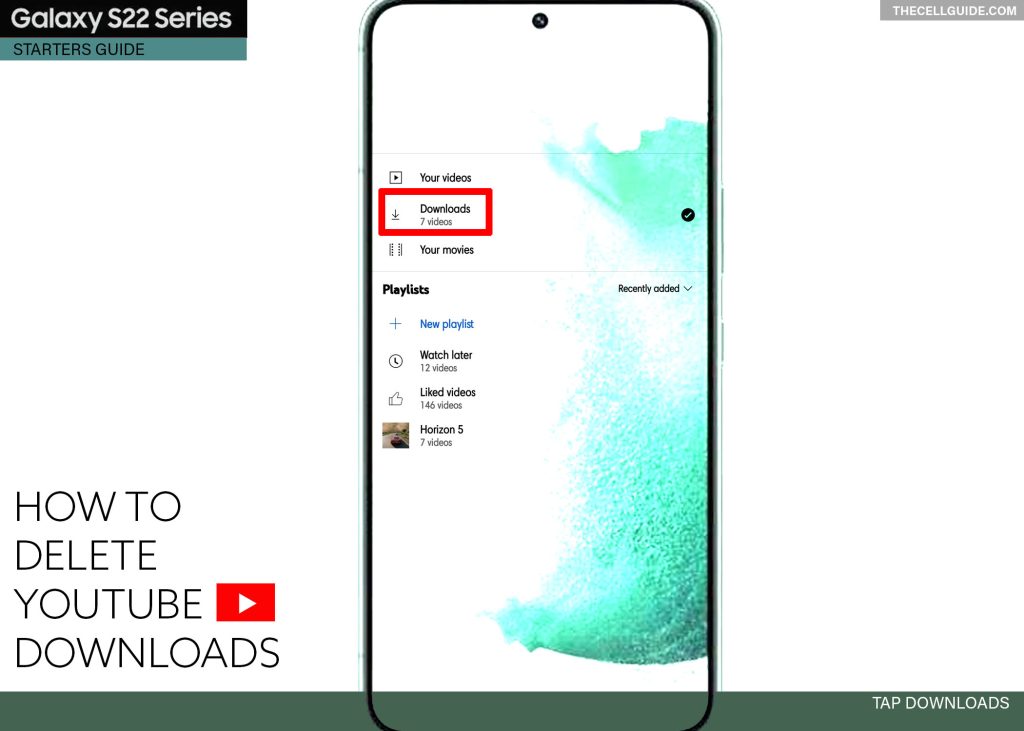 Step 3: While on the Downloads screen, tap the three dots on the top-rightmost corner. Doing so opens a side menu.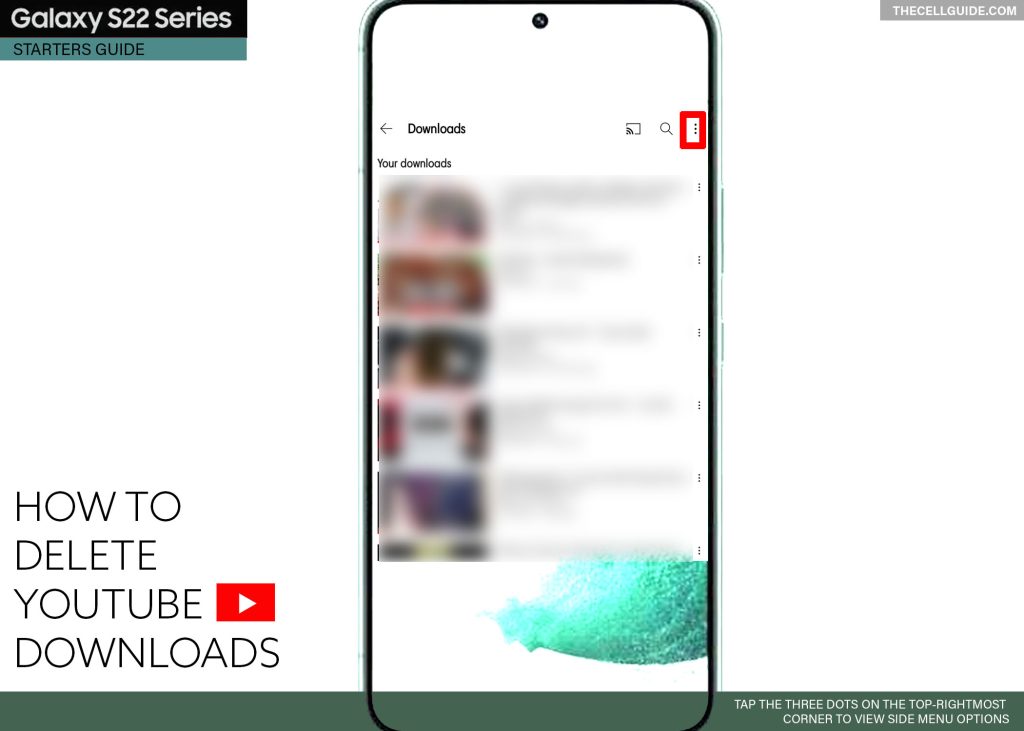 Step 4: Tap Settings from the given options to proceed. Doing so will open the settings menu of the YouTube app's library.
Step 5: Tap Delete All Downloads to continue.
Step 6: Read the message prompt and then tap Delete to confirm.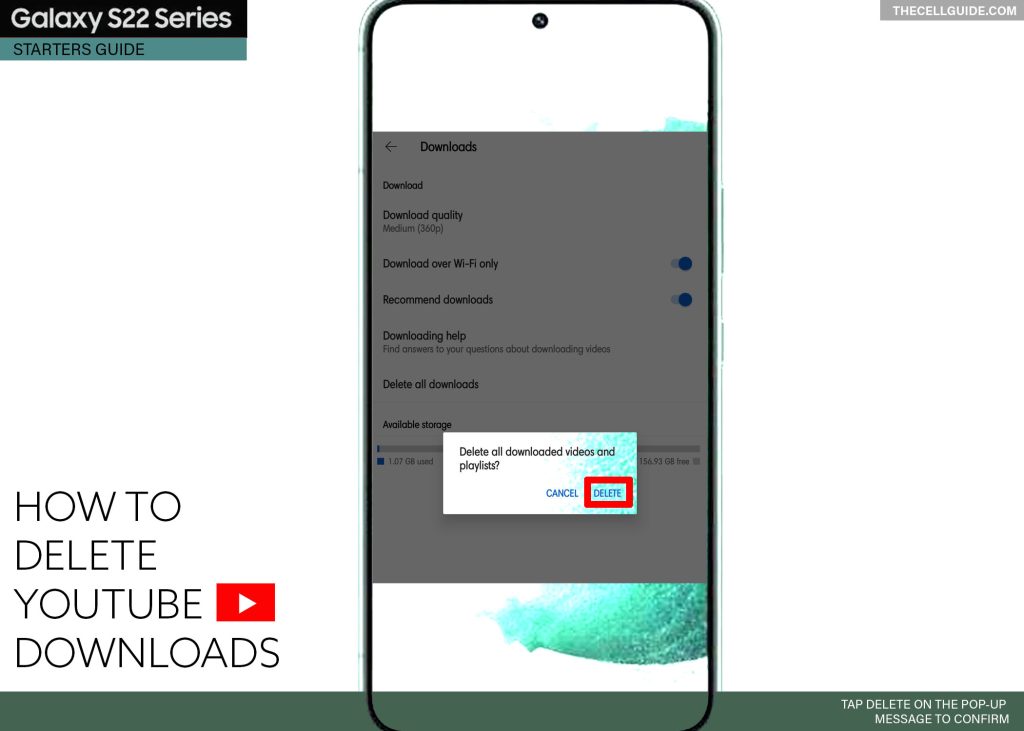 All downloaded videos will then be deleted. This clears out your library and more importantly frees up space on the app and system storage.
Important Notes on YouTube Downloads
To access your downloads, you must be signed into a registered Google account. You can set up one if you haven't already.
Meanwhile, if you've set up multiple Google accounts, make sure that you're currently signed into the correct account on your device so as to ensure that the correct YouTube library is accessed. Otherwise, you may be seeing different downloads. You can always switch to the a different account when needed.
Aside from the library, you can also view and managed downloaded videos using your phone's Gallery app or File manager.
And that's all about deleting videos from the YouTube app's Download Library on the Galaxy S22 series.
Hope this helps!
Please check out our YouTube channelto view more tutorial and troubleshooting videos for popular iOS and Android devices.
You Might Also Want To Read: