When you create a private TikTok video, whether your account is private or public, only you can view the uploaded video. The information below will give you a better understanding about sharing or posting a private video in TikTok. Read further.
Technically, "TikTokers" create and share video content for fun and entertainment. And anyone who uses the app is fully aware that once they create and post videos, it will be visible to other users especially if their account is public. When a user creates and shares a public video, it can be viewed by anyone, other users will be able to search it using hashtags, the video can be seen on your profile by everyone, and can appear on the For You page.
If you want to keep your videos private, we will walk you through on how to get it done. Read the instructions written below and be guided.
How to Create a Private TikTok Video on iPhone
Time Needed : 05 minutes
Before anything else, turn on your cellular data or connect your iPhone to a WiFi network. Note that TikTok is an online app, and therefore, requires internet connection to work as intended. If you're set, get started.
Launch the TikTok app from Home and tap the + sign to create a video.

The + sign is located at the bottom part of the screen.



Record a video, edit (add sounds and effects ), and  then tap Next.

You can also add text and stickers to your video. Once finished, tap the Next button.



Tap Who can view this video, then select Private.

Options under Who can view this video are the following:
Public – which means anyone on TikTok will be able to view your video.
Friends – followers that you have followed back.
Private – the video is only visible to you.




You will be prompted a warning message. Tap OK to confirm, then tap the Post button to post your video.

The Post button is a red button located at the lower-right corner of the screen.


In the event that you don't see the video you just uploaded, it is possible that the video content violated the national laws or regulations. Therefore, the system automatically deleted it.
For videos that were previously created and posted that you wish to private, you can do so by going to your Library. Select a video and tap the 3 dots on the video. Find Privacy settings.
Then tap Who can view this video menu and select Private. The selected video is now private. Note as well that the Likes under this video will no longer be counter under your Total Likes.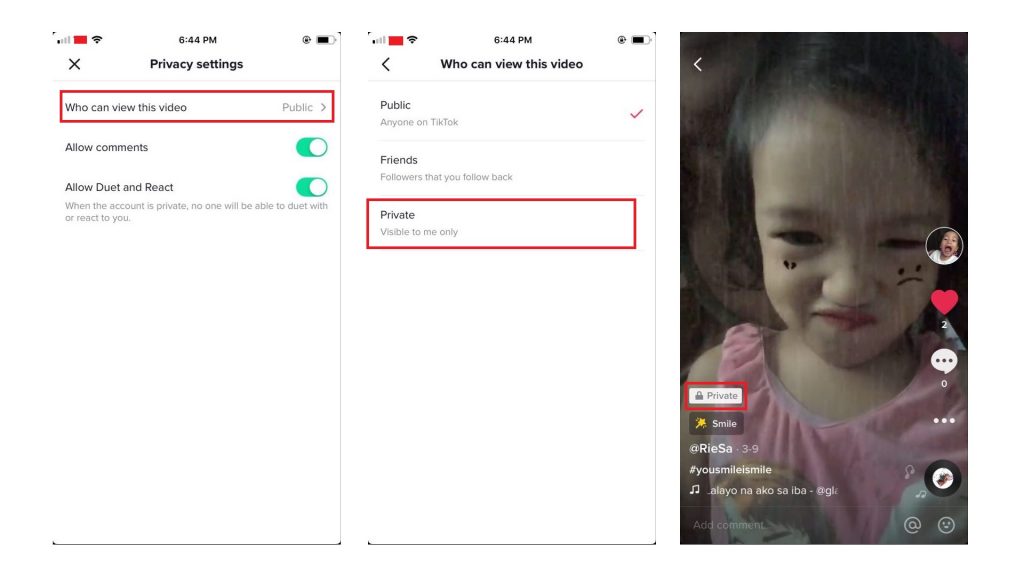 In your profile Library, you will also see a lock icon on the lower-right corner on the video indicating that it is private. This means that no one will be able to view this video except you. Good thing is, you can always undo the process anytime you want. 
And that's how you create a private TikTok video on your iOS device as well as making the uploaded videos private. I hope that we are able to help you one way or another.
If you are looking for more tutorial videos and smartphones troubleshooting guides, please visit our website and subscribe to our YouTube Channel. We appreciate you reading this post. Have a good day!