Need help setting your favorite song as the new ringtone for your Galaxy S21? This post highlights a step-by-step guide on how to do so. Read on to learn how to change Samsung Galaxy S21 ringtone with a downloaded mp3 or mp4 file.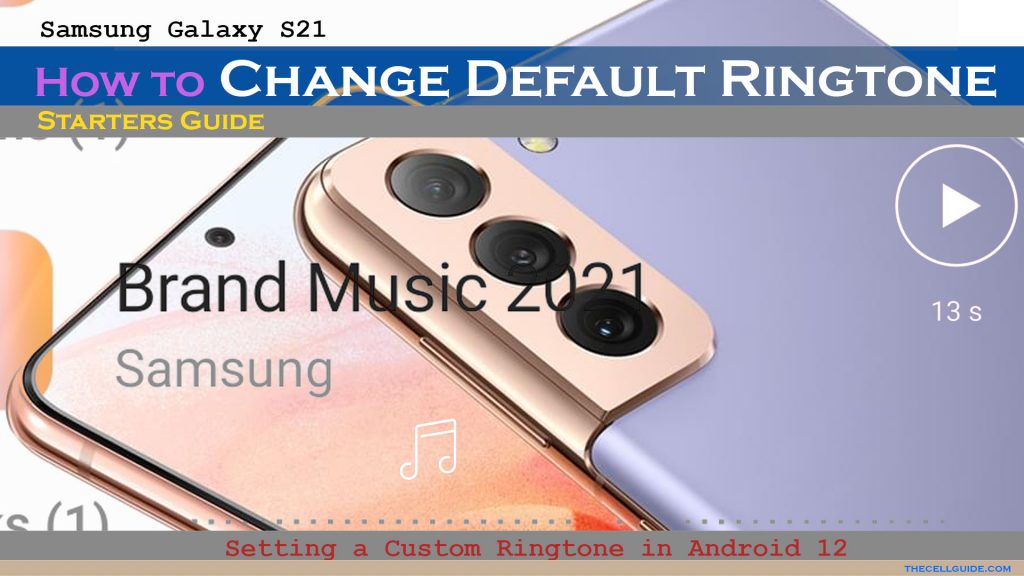 Custom Ringtones
Modern smartphones do come with a number of preloaded selection of ringtones including the flagship tone. But given the fact that not everyone would like to hear the default tone or notification sound, these phones are likewise programmed to allow users to load a new ringtone they prefer to use.
That said, you can download your favorite song and set it as a new ringtone for all or specific calls.
You can also create custom notes using a built-in composer and use it as the new ringtone.
The process of setting a custom ringtone varies between device models. Depicted in this quick tutorial is the actual process of altering the default ringtone on the Galaxy S21 and altering it with a new downloaded audio/music file.
Feel free to refer to this quick walkthrough if you need some input on how to make such changes.
Easy Steps to Change Samsung Galaxy S21 Ringtone with a Downloaded Music File
The following steps are also applicable to other Samsung Galaxy phones that are running on the same One UI or Android version with that of the Galaxy S21.
Nonetheless, you might see some slight variations on the actual interface given that screens and menu items vary between device models and carriers. Just be sure to keep your phone software updated.
First, download the desired audio file on your phone. You can move the file to a dedicated folder for you to easily access it later.
Once the audio file is set, you may proceed to these subsequent steps.
Step 1: Tap Settings from the Home or Apps screen to launch the Settings app.
Step 2: While on the main Settings menu, tap Sounds and vibration. Relevant features and options will load up on the succeeding menu.
Step 3: Tap Ringtone to access and manage the ringtone settings of your phone. On the next screen, you will see a long list of preloaded ringtones for the Galaxy S21 with the current ringtone selection.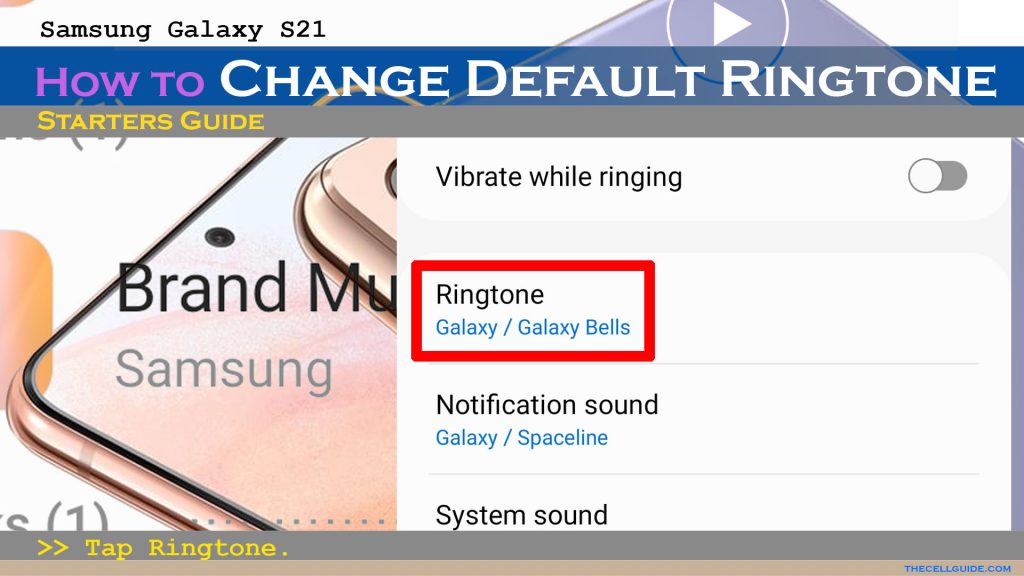 Step 4: Tap the Plus (+) icon on the upper-rightmost corner. Doing so will take you straight to the Sound Picker menu where you can see a separate list of music tracks saved on the phone including audio/music files you've recently downloaded.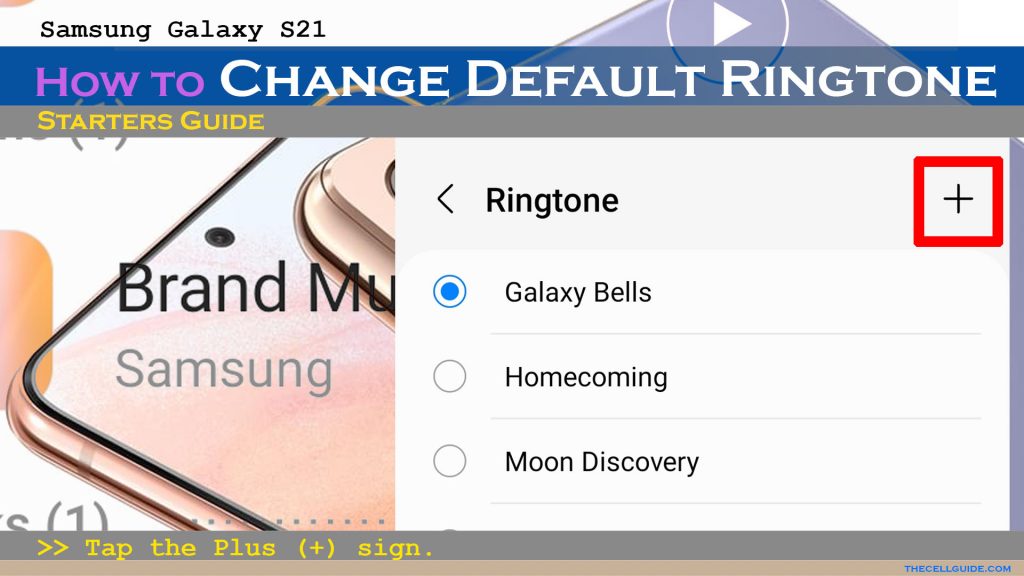 If you see multiple entries on the list, you can use the sound picker search to find your preferred song quickly. You can also narrow your search by categories including Tracks, Albums, Artists and Folders.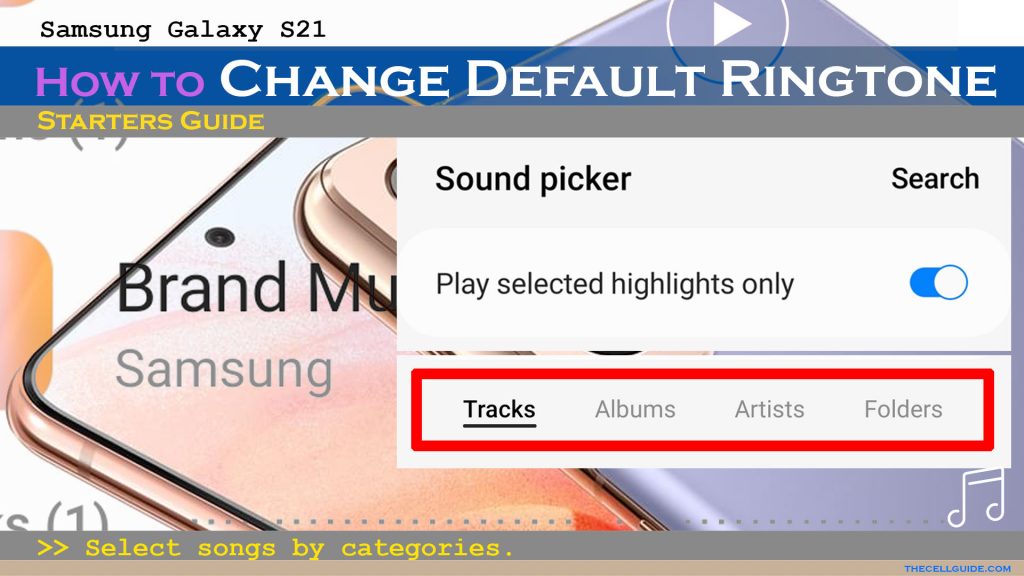 If you've previously moved the audio file to your phone's built-in music folder, then simply tap the Folders tab to access it.
Step 5: Find and tap to select the desired audio/music file. You'll hear a sample audio clip of the selected song played shortly after selecting it.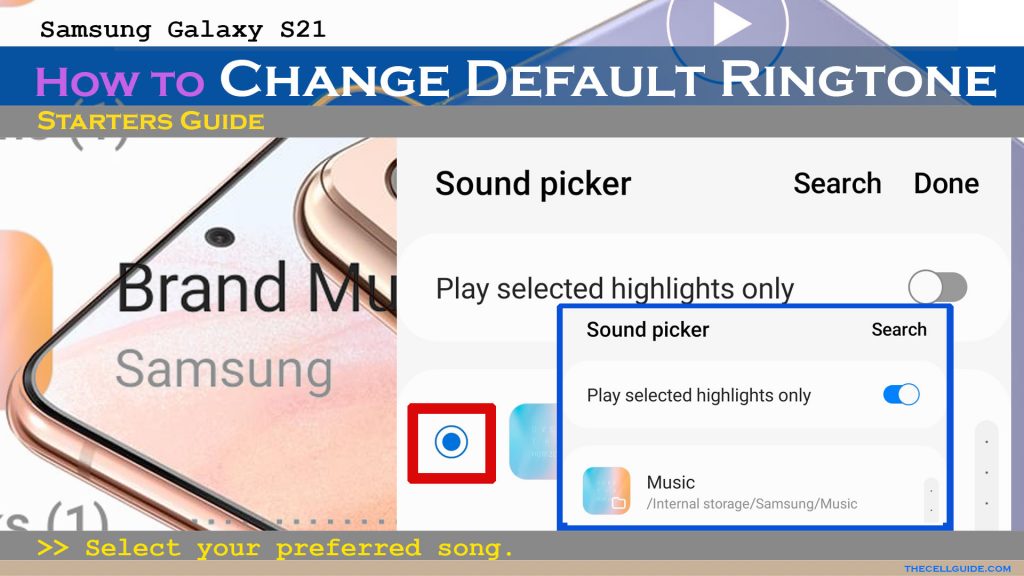 Step 6: To play selected highlights of the song, just turn on the switch next to Play selected highlights only. The selected highlights of the song will then be played in loop or until the call is answered or ends.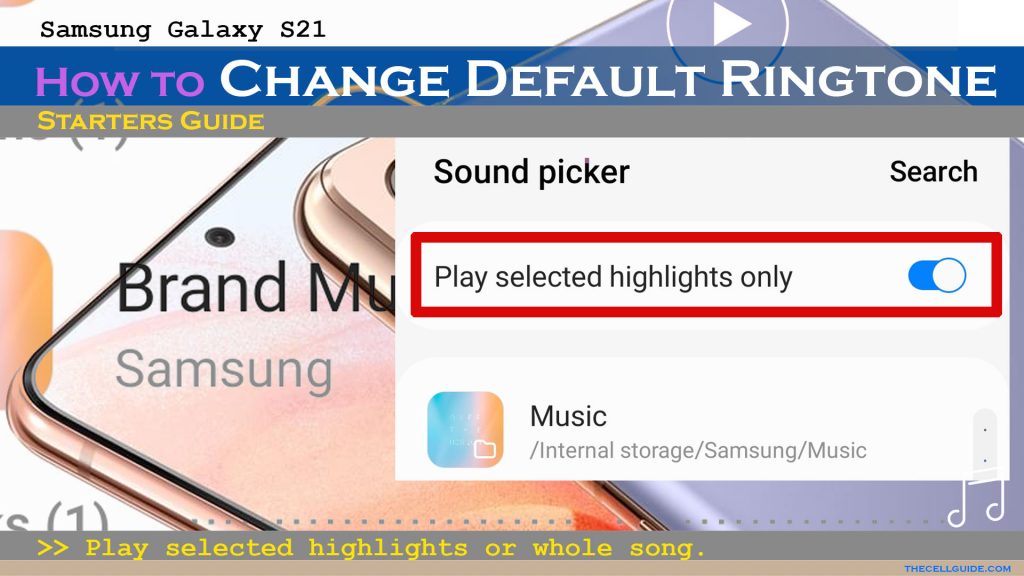 If you wish to play the whole song, then just turn off the switch.
Step 7: Once you're done making necessary changes, tap Done.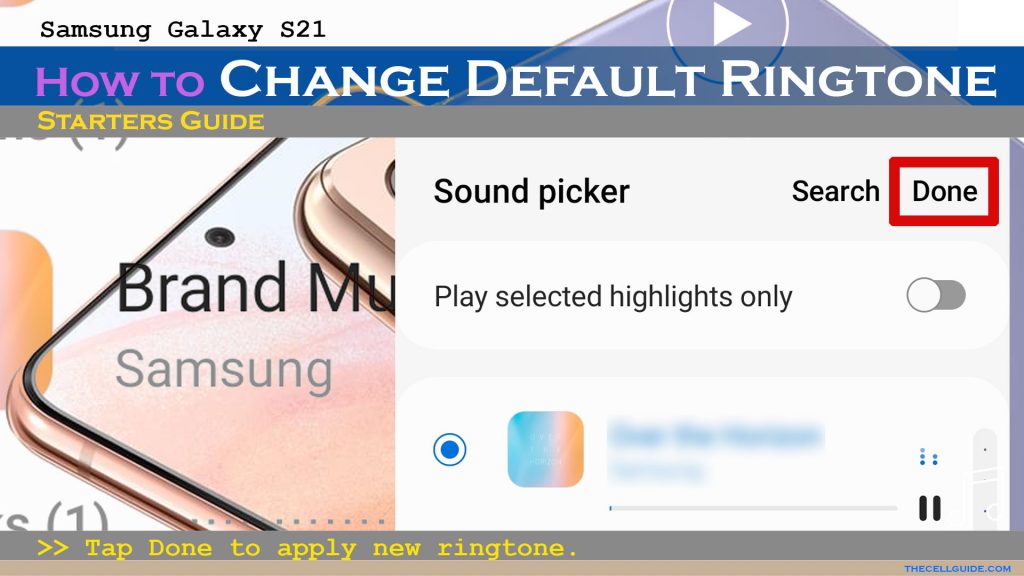 All recent changes to ringtone settings will then be saved and applied on your device.
To check and see if it works, try to place a test call on your Samsung Galaxy S21 using a different device. By then you should hear the selected song you've set is playing as the ringtone for the incoming call.
Should you wish to change it to a different song or audio file, just repeat the same steps to access the ringtone settings and then select the new music file that you'd like to use.
You can also set a unique custom ringtone to specific contacts. Doing so will help you easily determine who's calling based on the incoming call alert or ringtone playing on your phone. To this done, you will need to manage the Contacts app settings on your Samsung Galaxy smartphone.
Setting a New Custom Ringtone through Third-Party Apps
Aside from the Ringtone settings, you can also manage and set a new ringtone or notification tone using a third-party music player application like Spotify Open the Music Player app.
To get this done, you will need to use a music converter app to convert the audio file to a compatible output format such as MP3, AAC, FLAC, AIFF, WAV or ALAC as well as conversion mode like Spotify Record or YouTube Download.
Just download and install your preferred converter tool on your computer. By then you can start downloading songs from Spotify or YouTube to your computer and then convert these songs using the music converter. After converting songs, you can go ahead and import them to your Samsung Galaxy S21. Imported songs/audio files will be added to the Galaxy S21 Sound picker and listed among other existing tracks.
And that's all about setting a new custom ringtone for your Samsung Galaxy S21 smartphone.
Hope this helps!
Please check out our YouTube channel to view more tutorial and troubleshooting videos for popular iOS and Android devices.
You Might Also Want To Read: