This post will walk you through altering the password for the preloaded iOS Notes app. Read on to learn how to change Notes password on iPhone 13 and other devices running on the iOS 15.4 platform.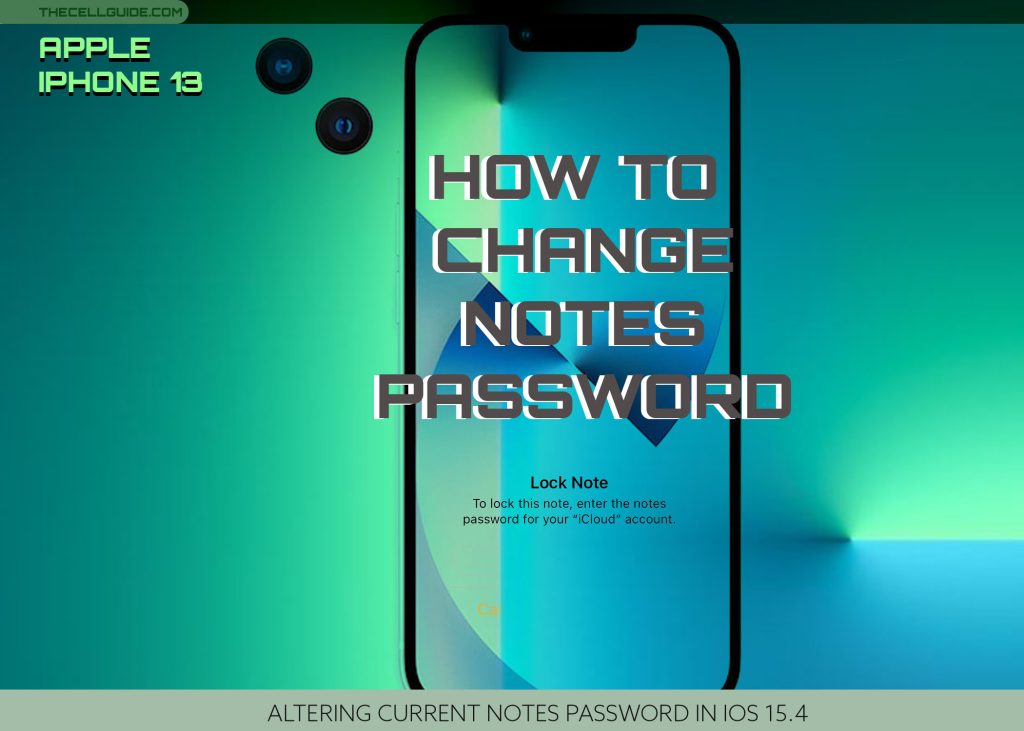 iOS 15 Notes App Security
Setting up a password is one way to keep files private and secure. This applies to various types of electronic devices like computers.
A typical way of securing files in mobile devices is to lock them with a unique password. This is on top of the standard unlocking methods such as PIN, pattern and password that you've set up for the lock screen.
Several apps in iOS devices, particularly those that may contain sensitive data are programmed with locking and locking features for further security. And one of the apps that supports such security feature is the built-in Notes app on the iPhone.
With Notes, you can sketch ideas, create checklists, capture quick thoughts and similar tasks.
The notes you created can be saved and accessible across all your Apple devices.
If your iPhone notes contain some sensitive information, locking them with a password is highly recommended especially if you let others use your device. And similar to how passwords work on other apps and services, the Notes app password can likewise be changed.
In case you need help getting this done on your new iPhone 13 device, you can refer to the outlined steps below.
Steps to Change Notes Password on iPhone 13
The subsequent steps are also applicable when altering the password for the Notes app on other iPhone models including the iPhone 13 mini, 13 Pro, 13 Pro Max and prior models that are running in iOS version 15.4. These are only applicable if you've already set up a password on the Notes app.
Actual screens and menu options may vary between device models and wireless service providers so there may be some slight differences on every device's graphical user interface. But generally, all the main settings and options are present.
Important note:
Be sure to create a password that's easier for you to remember but difficult for others to guess.
Turn on Notes in your iCloud settings if you haven't already and ensure that you use Notes that are stored on your iPhone. You may be asked to enter your Apple ID password for this.
Feel free to start whenever you're all set to configure your iOS device.
Step 1: To get started, tap Settings from the Home screen to launch the main settings app menu.
Step 2: In the settings menu, scroll to find and then tap Notes.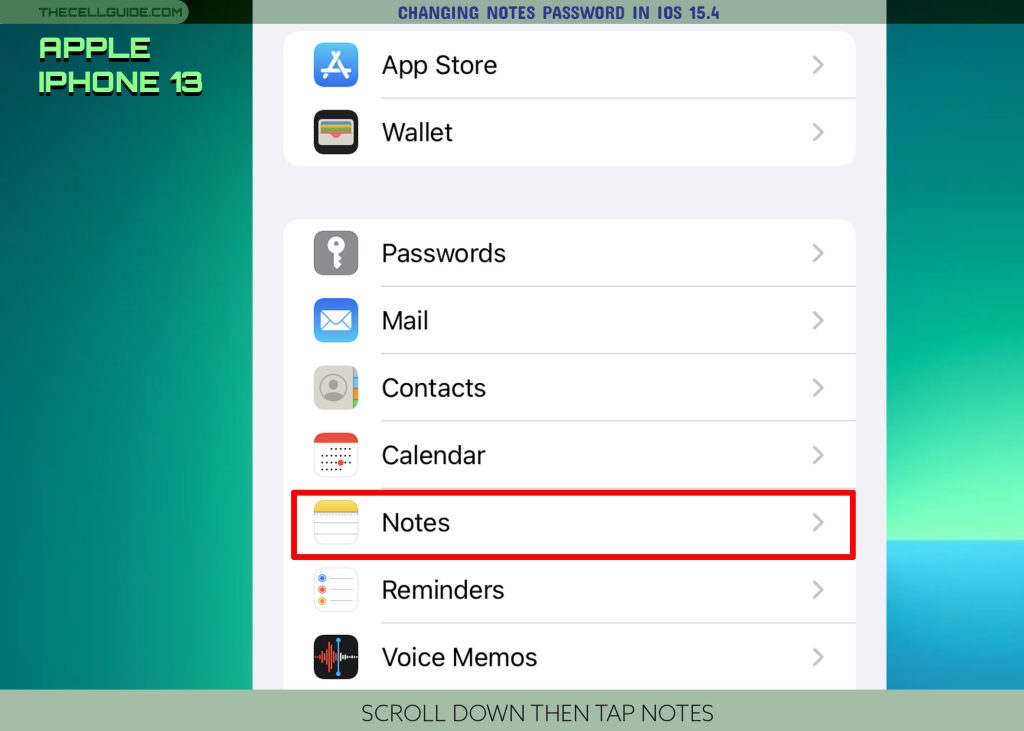 Step 3: Tap Password on the succeeding menu to continue.
Step 4: Select the Notes account that you want to change password on (if multiple accounts are available). Otherwise, proceed to the next step.
Step 5: Next, tap Change Password.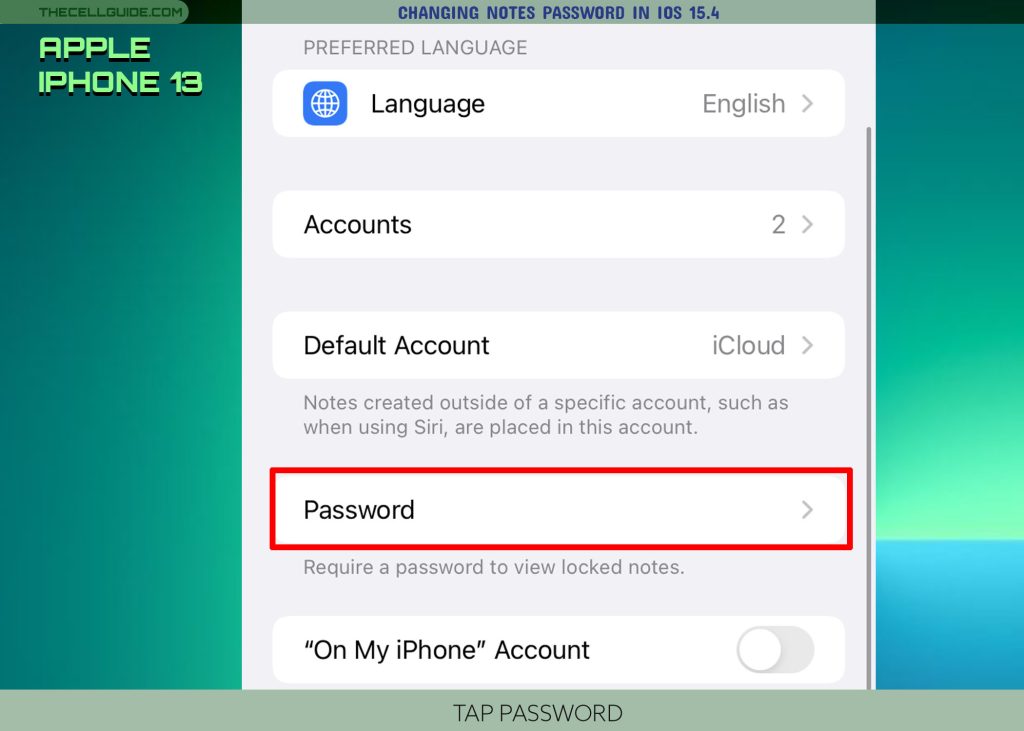 Step 6. Tap Change Password on the next screen. If prompted, enter the current or existing password for the selected Notes.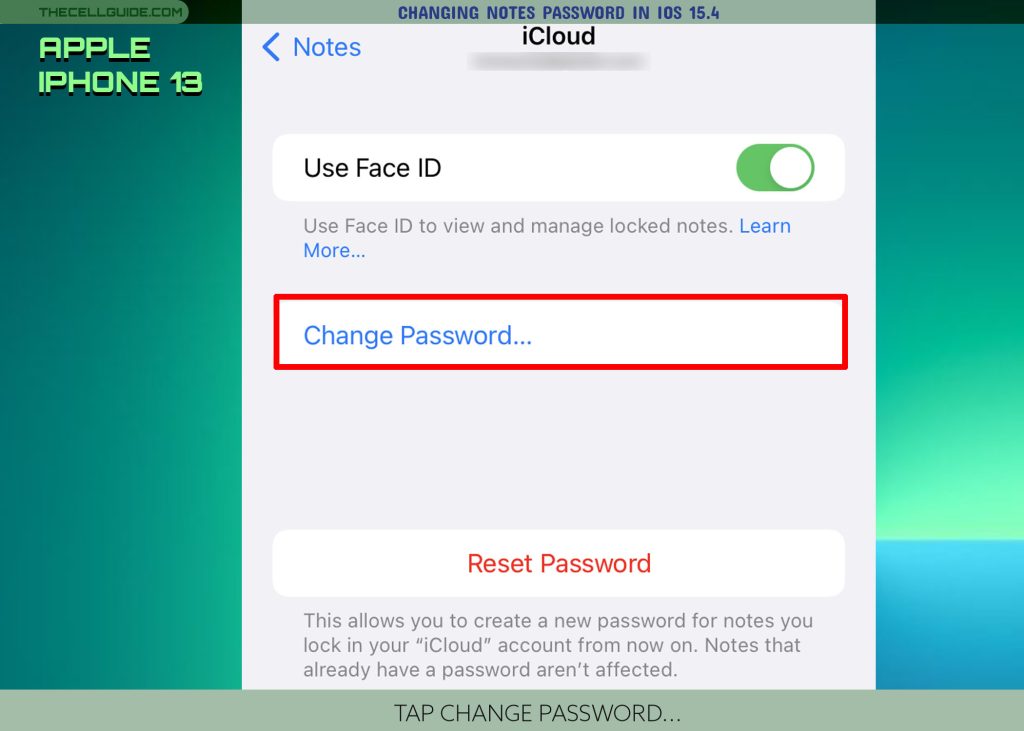 Step 7: Enter the new password to lock notes and verify details if necessary. You can also add a password hint to continue.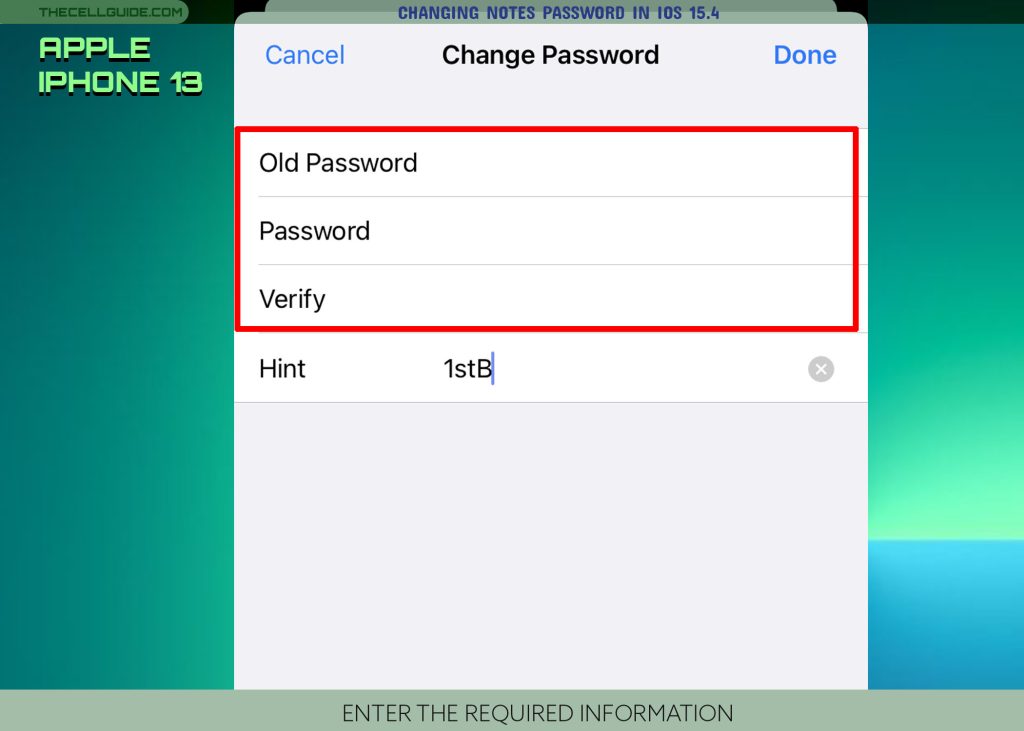 Be sure to take note of your new password as well as the password hint so you won't have trouble unlocking your notes later.
Step 8: After reviewing all entered details, tap Done to save the recent changes to your Notes password.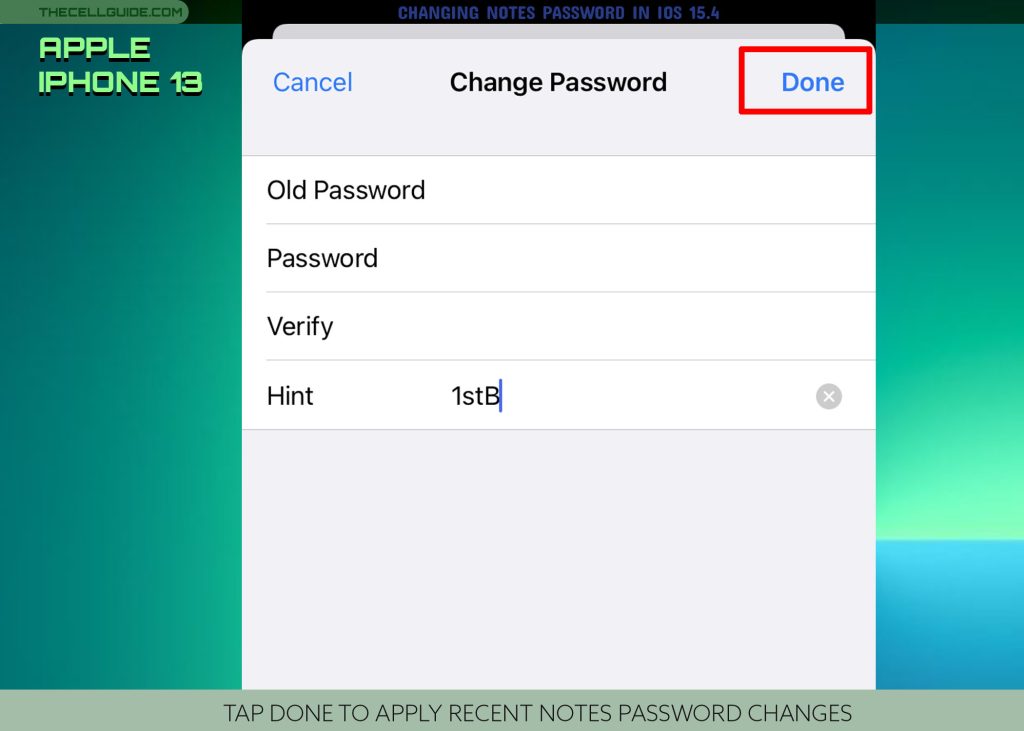 If you're using Notes on other Apple devices, you will need to use the same password to unlock them.
To unlock a secure note, just tap the Lock icon from the menu options and then enter the correct password along with the registered Face ID or Touch ID to confirm access.
To lock the notes again, just tap the lock icon at the top of the screen, tap Lock Now and then close the Notes app.
Secure notes typically appear with a lock icon on them with the title and last modified date.
What to do if you forget your Notes password?
In case you forget your existing password, the only way to resolve it is to reset password on your locked notes. This is because Apple can't help you regain access to forgotten password for Notes app.
After resetting the old password, you can set a new password to protect the next documents you create through the Notes app.
Your notes will automatically be protected with the new password you created on all your devices.
However, the previously locked notes that were protected by the old password will no longer be accessible.
For more detailed instructions on how to reset the Notes password on iPhone 13, you can refer to a separate guide here.
Creating a password hint will reduce the chance of forgetting your Notes password. Just use a hint that's significant to you.
Removing Notes Password
If your notes aren't that confidential and you think locking them isn't necessary, you can just remove the existing Notes password on your phone.
Should you wish to remove the password from your iPhone 13 Notes, just follow these steps:
Step 1: Tap to select the locked Note.
Step 2: View Note
Step 3: Enter password with your Face ID or Touch ID (if applicable).
Step 4: Tap the More icon represented by triple dots.
Step 5: Select Remove.
Follow the rest of the onscreen instructions to delete the current password to unlock Notes.
Meanwhile, if your notes contain sensitive information such as personal data, financial details, medical documents and website logins, creating a Notes password with Face ID or Touch ID is highly recommended.
And that's all about altering the existing Notes password on the iPhone 13 and other iOS 15 or later devices.
Hope this helps!
Please check out our YouTube channelto view more tutorial and troubleshooting videos for popular iOS and Android devices.
You Might Also Want To Read: