This post will walk you through altering the default theme used on the latest Samsung keyboard application. Here's a quick guide on how to change keyboard theme on Samsung Galaxy A53 5g.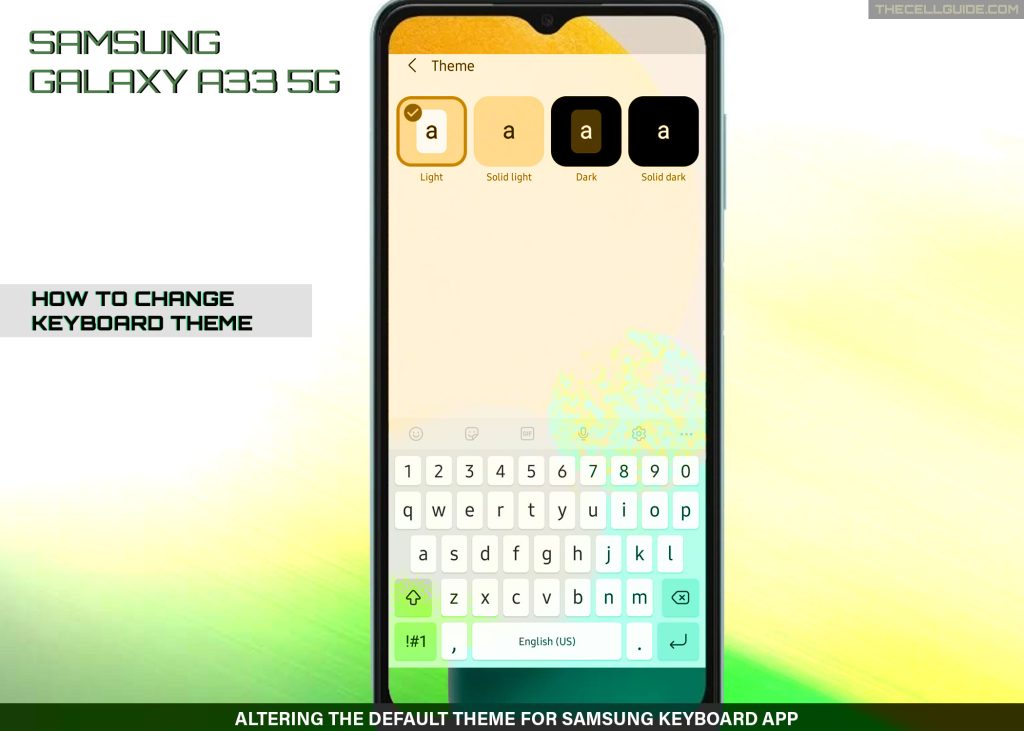 Customizing Samsung Keyboard Theme
The keyboard layout may be changed automatically if you have previously customized the Theme on your phone. Typically, the system would automatically adjust the keyboard theme to suit the current theme design.
Every Samsung Galaxy phone comes with a built-in keyboard called Samsung Keyboard. This stock keyboard is designed to deliver ease of use for all types of users, allowing you to type any text in a matter of seconds in a wide variety of options.
The Samsung Keyboard also comes with many cool features such as emoji, microphone for text dictation, a fully customizable design with several themes to select from.
If you're not satisfied with the current appearance of the Samsung keyboard app, you can do some tweaks to make it look and work the way you wanted. All you have to do is access the Samsung Keyboard settings and alter the default options.
To give you some input on how it's done on the Galaxy A33 5g smartphone, this post highlights a step-by-step instruction below.
Steps to Change Keyboard Theme on Samsung Galaxy A33 5g
Customizing methods vary between keyboard apps in use as actual features and functionalities differ between keyboard applications.
These steps only apply to the stock Samsung Keyboard application on the Galaxy A33 and other Samsung phones running in Android 12 with One UI 4 or later OS version.
Feel free to start whenever you're all set to configure the Samsung keyboard app settings on your phone.
Step 1: To get started, tap Settings from the Home screen or Apps viewer to access the settings app.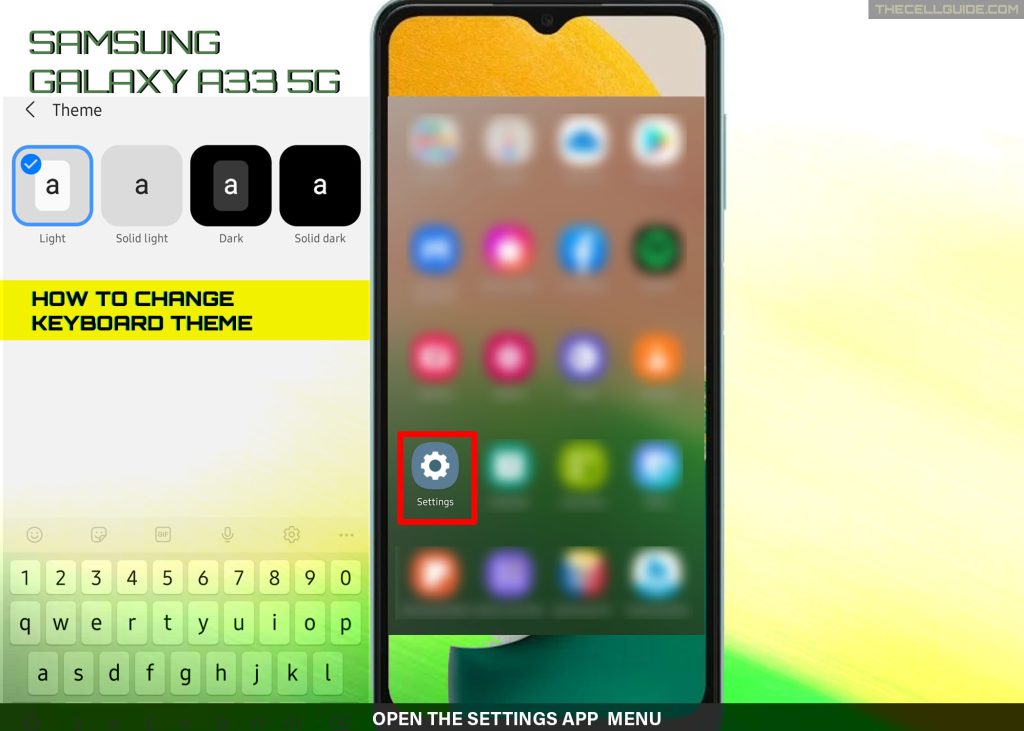 Step 2: In the main settings menu, find and then tap General management. Another screen will launch with relevant features and options.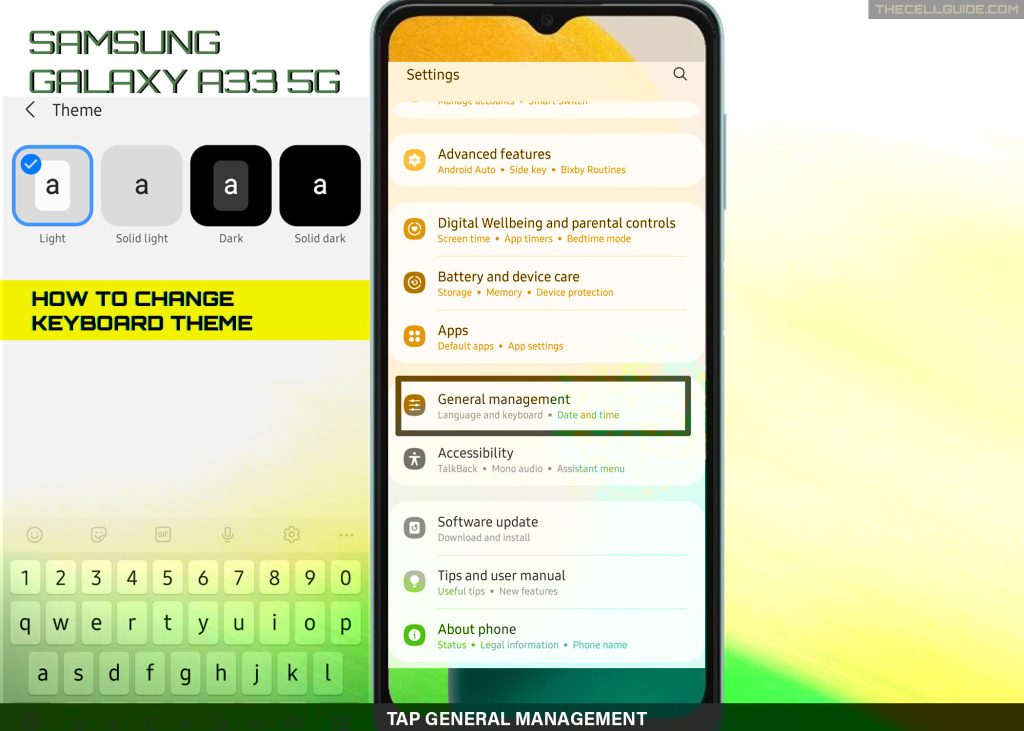 Step 3: Find then tap Samsung Keyboard settings to continue.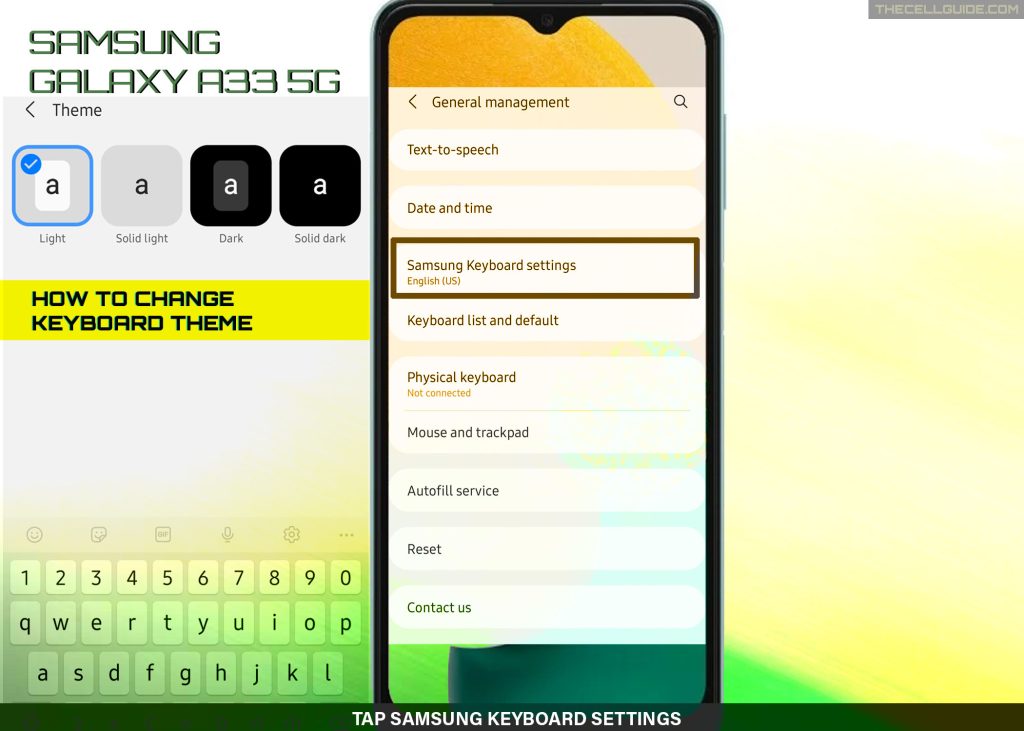 Step 4: On the succeeding menu, tap Theme. Preset themes for the Samsung Keyboard will populate the next display.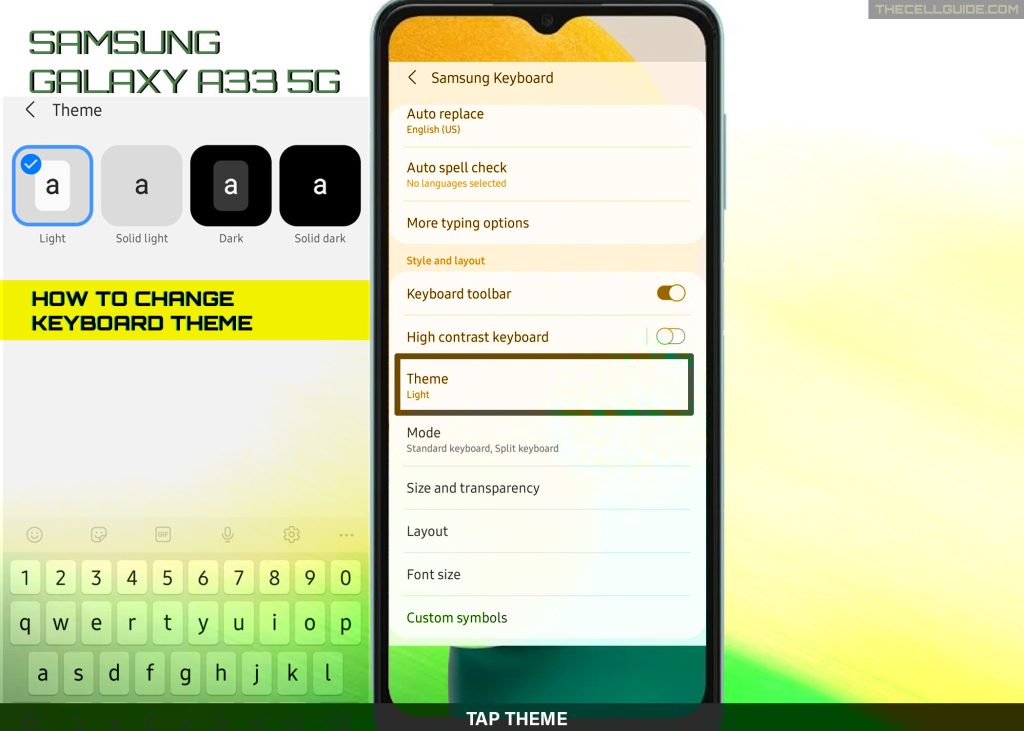 Step 5: Tap to mark/select your preferred theme.
Among the preset themes for the Samsung keyboard app include light, solid light, dark and solid dark. A preview will be displayed beneath the screen every time you select a theme. This will help you decide on which theme to pick and use.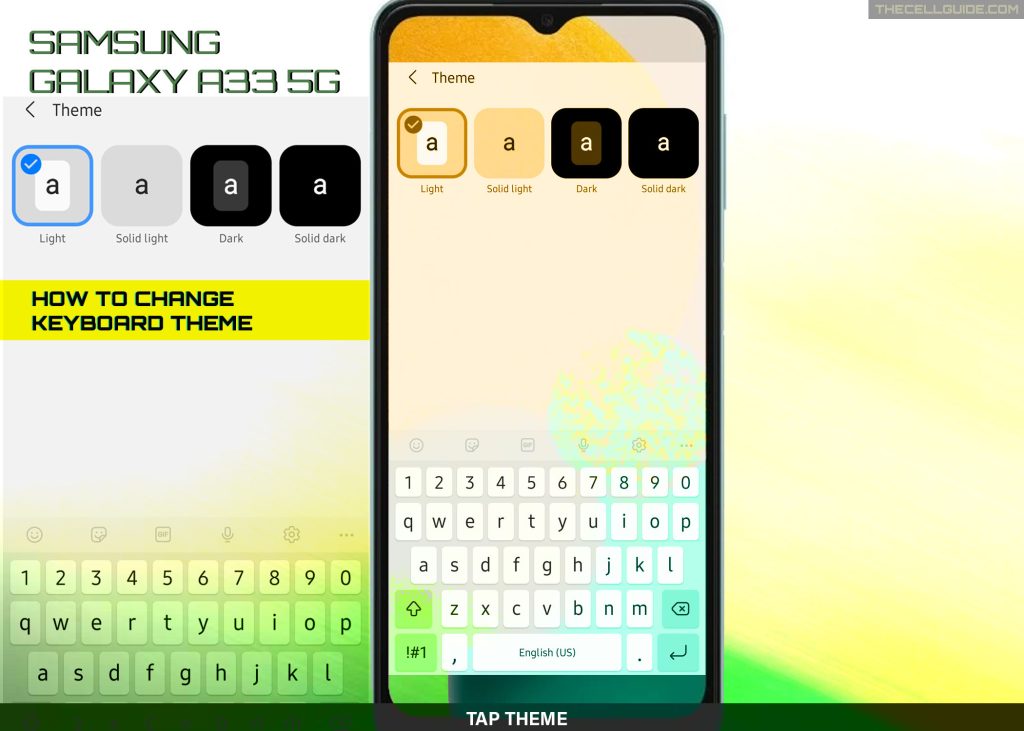 After selecting the desired theme, tap Apply.
The new theme will then replace the previous theme for the built-in keyboard application.
Aside from the theme, you can also customize other settings like Keyboard Toolbar, Predictive Text, Swipe controls and adjust the size and transparency of the Samsung Keyboard according to your needs.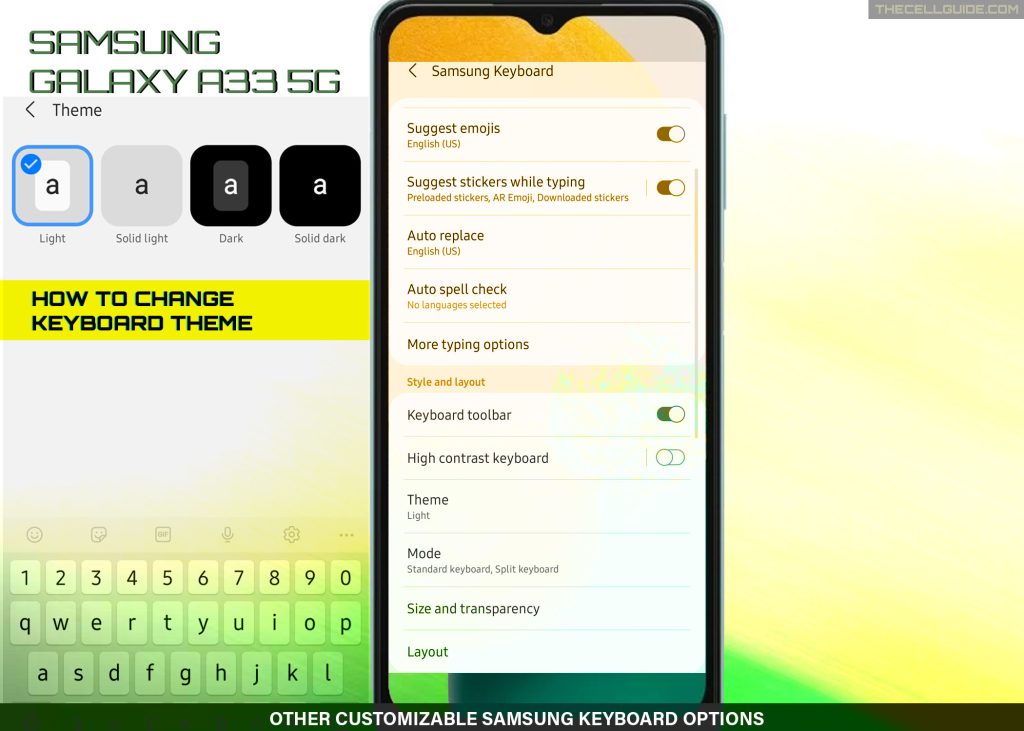 To change and set a new keyboard mode, tap Modes from the Samsung Keyboard menu and then choose your preferred mode. Available modes for the Samsung keyboard are standard keyboard, one-handed keyboard and floating keyboard.
To change the keyboard style and layout on your Samsung device, tap Style and layout from the Samsung Keyboard menu and turn on High contrast keyboard to select your preferred theme with high-contrast effect.
As for the size and transparency, you can adjust it by tapping size and transparency from the Samsung keyboard menu and then drag the keyboard sides to adjust its size.
Customizing Samsung Keyboard Background
Should you wish to customize the Samsung Keyboard layout and background, you can use a theme app like Keys Cafe and & Theme Park. These apps are typically downloaded from the Galaxy Store.
Once you've downloaded and installed the app on your phone, you can start customizing the Samsung keyboard background. Just launch the app and tap the command to customize the keyboard theme.
Some of these apps even allow you to create a personalized keyboard theme using preset styles, photos, and layouts. Just follow the onscreen instructions to create and style your own keyboard to activate and use as the new keyboard for your phone.
You can also use compatible third-party launcher apps that support themes and keyboard personalization for Samsung Galaxy phones. You can find a number of these apps from the Google Play Store.
Switching back to Default Keyboard theme and settings
If unexpected issues occur like adverse keyboard app behavior instigates after customizing the Samsung keyboard theme and other settings, you can always restore the default values and options. To do this, you'll need to trigger the command to reset Samsung Keyboard through the phone settings.
This command is typically accessible through Settings-> General management-> Samsung Keyboard settings menu. Once you get in this menu, tap Reset to default settings and then tap Reset keyboard settings on the next screen to confirm.
That should delete all custom settings from the Samsung Keyboard app and then put it to its factory state with all the stock settings and options.
And that's all about altering the Samsung keyboard theme on the Galaxy A33 5g and other Samsung phones that have the latest Android/One UI version.
Hope this helps!
Please check out our YouTube channel to view more tutorial and troubleshooting videos for popular iOS and Android devices.
You Might Also Want To Read: