This post will walk you through altering the file type of all screenshots taken with the preloaded camera app on the Galaxy S21. Here's how to change Galaxy S21 screenshot format from JPG to PNG or vice versa.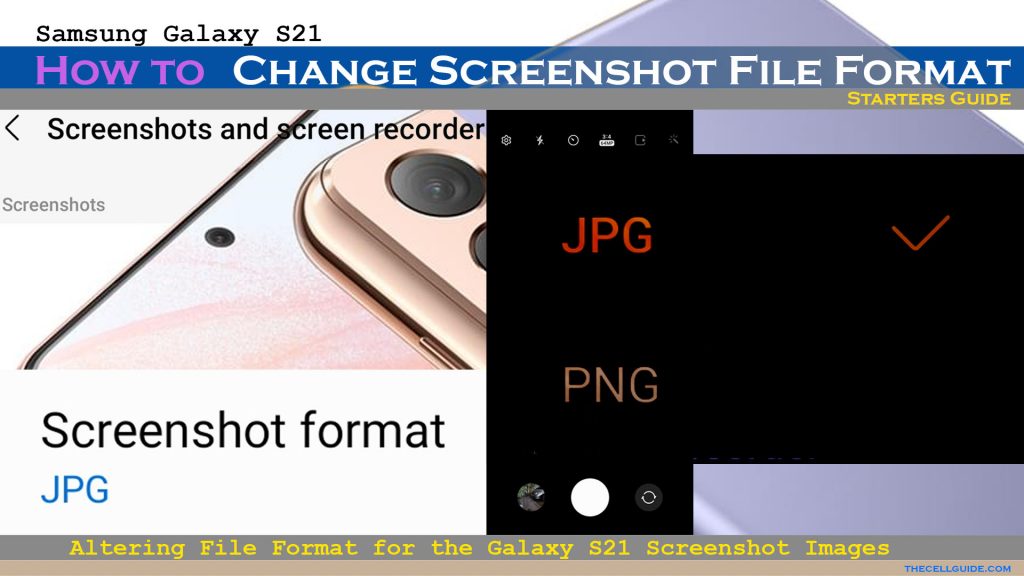 Not satisfied with the quality of your Galaxy S21 screenshot images? If that is so, then you can change the default screenshot format to another better file type like PNG instead. Keep reading to learn more.
JPG vs PNG File Format
When it comes to digital photography, JPG (JPEG) and PNG appear to be the widely used file types in various devices and mobile platforms to date. In fact, these file types are supported in modern Android devices for built-in imaging features like screen capture or screenshots.
In recent Samsung Galaxy smartphones like the latest Galaxy S21 series, the default format for screenshots or screen captures is set to JPG.
For containing digital images, JPG is a widely used compressed image format and likewise the most common image format used in digital cameras, operating systems and even on the internet.
But when it comes to high-quality format, PNG files are more popular and preferred than JPG/JPEG files. Apparently, PNG images don't lose quality any time you open and save them again. However, PNG files are heavy to load as they usually come in huge file sizes.
JPG/JPEG files on the other hand have lower file size than PNG files because they use lossy compression. This means that JPG/JPEG files are faster to load or open compared to PNG files.
And this is likely the main reason why JPG is set as the default screenshot format for the Galaxy S21 screen captured images.
If you find the image quality of your Galaxy S21 screenshots looks terrible, then you can switch it to PNG. This option can be accessed and managed through the Advanced features menu of your phone.
And to give you some input on how to get this done on the Galaxy S21, I've mapped out a step-by-step walkthrough as follows.
Easy Steps to Change Galaxy S21 Screenshot Format
The following steps are also applicable when changing the default format or switching between JPG and PNG screenshot formats on other Samsung Galaxy devices running on Android 12 or One UI 4.0 platform.
Actual screens and menu items may vary between device models and carriers so expect some slight differences on every device interface.
Just follow these steps whenever you're all set to configure your device.
Step 1: Tap the Settings icon from the Home/Apps screen to open the Settings app.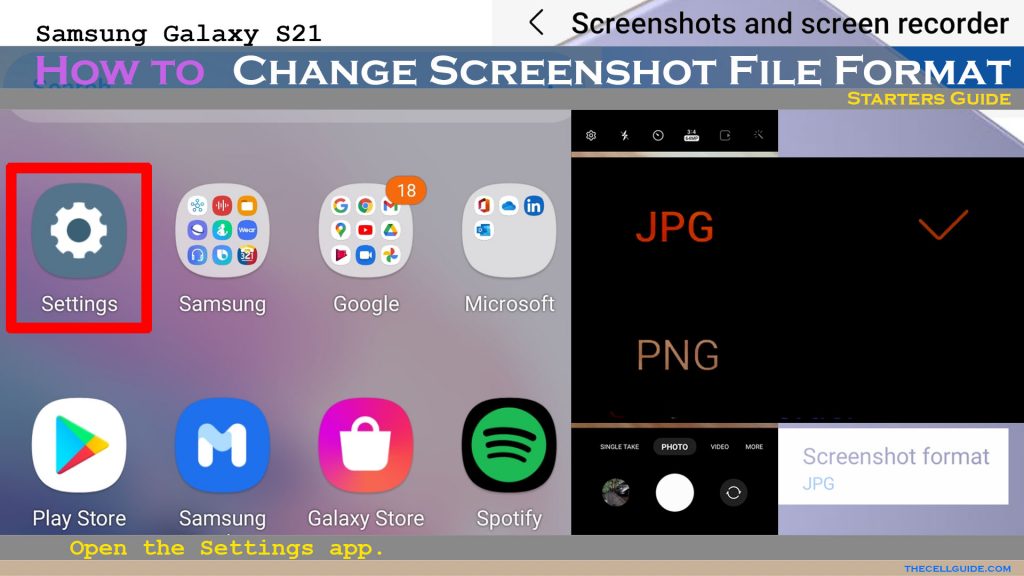 Step 2: While on the Settings app menu, scroll to find and then tap Advanced features. Doing so will load up all built-in advanced features of Android 12.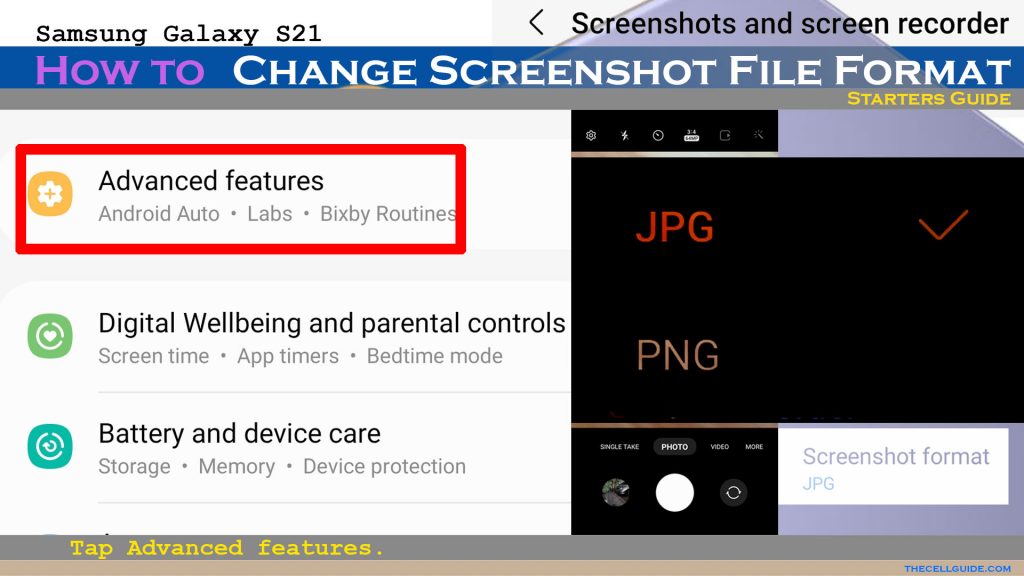 Step 3: Scroll down and then tap Screenshots and screen recorder. More relevant features and options will load up next.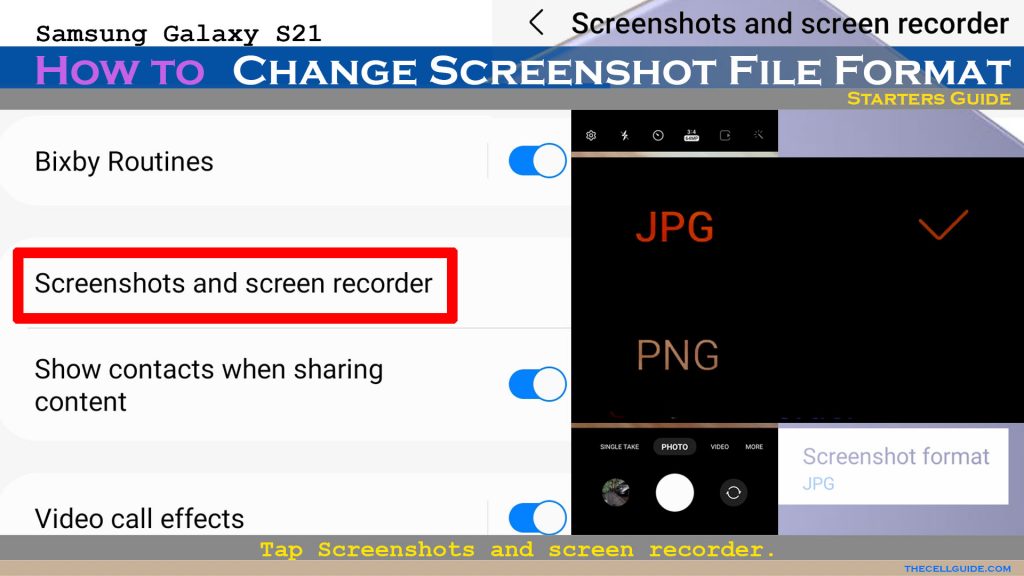 Step 4: Tap Screenshot format to open a quick menu with the available file types.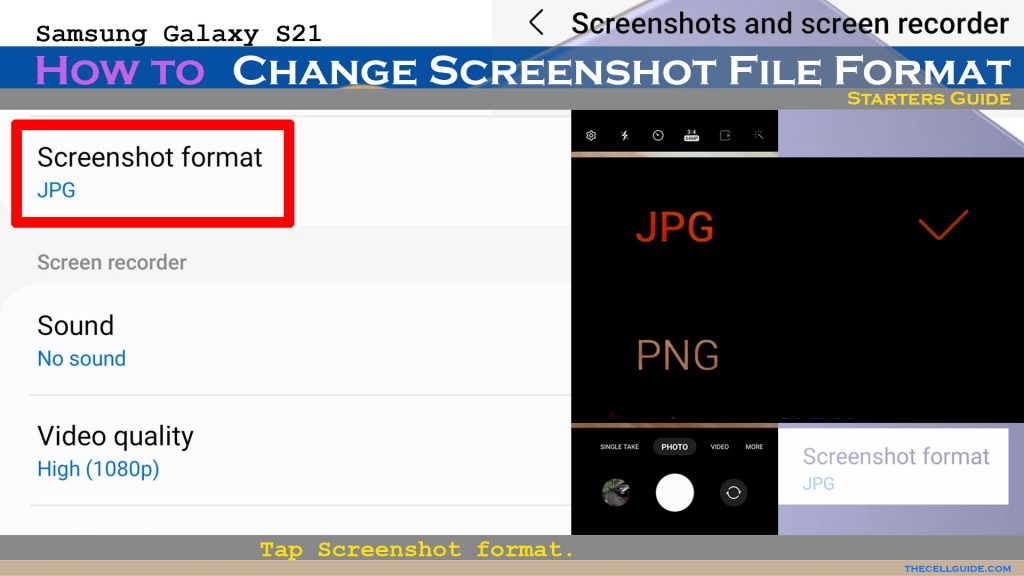 Step 5: Tap to mark your preferred file format to use for your screenshot images.
The default screenshot format selection is set to JPEG or JPG format. To switch it to PNG, just tap to put a checkmark on PNG. Doing so will save all your next screenshots in PNG format.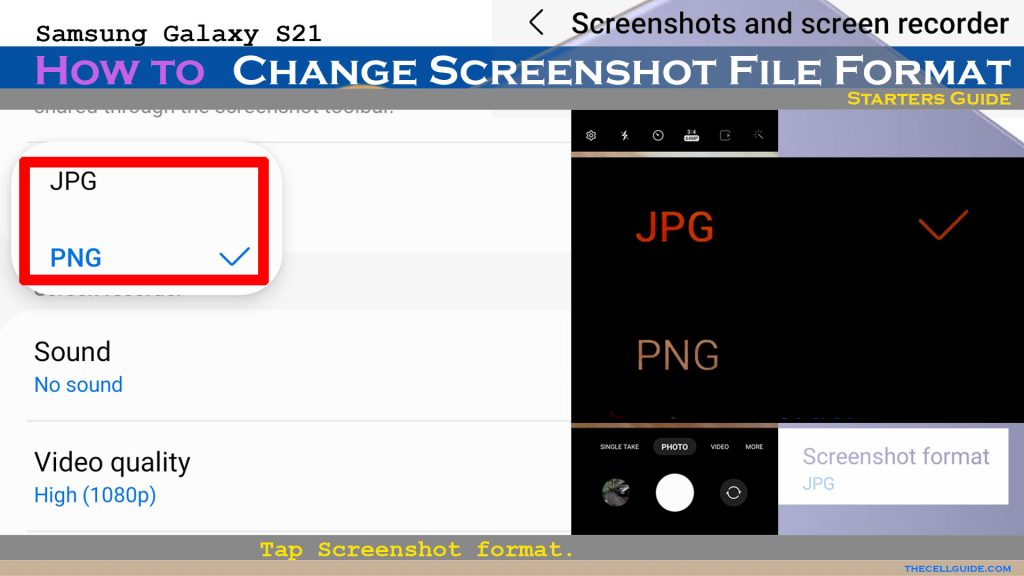 Should you wish to switch it back to JPG, just repeat the same steps to get back to the Screenshots and screen recorder menu and then tap to select JPG under Screenshot format.
Other screenshot options and attributes you can make use of include screenshot toolbar, hide status and navigation bars and delete shared screenshots.
Enabling the screenshot toolbar will show additional options after you take a screenshot. Doing so will allow you to scroll to capture more of the screen, crop or draw on the screenshot, add tags to the screenshot and share the screenshot.
If you don't want to display the status bar or navigation bars on screenshots, then you can just enable the option to hide status and navigation bars.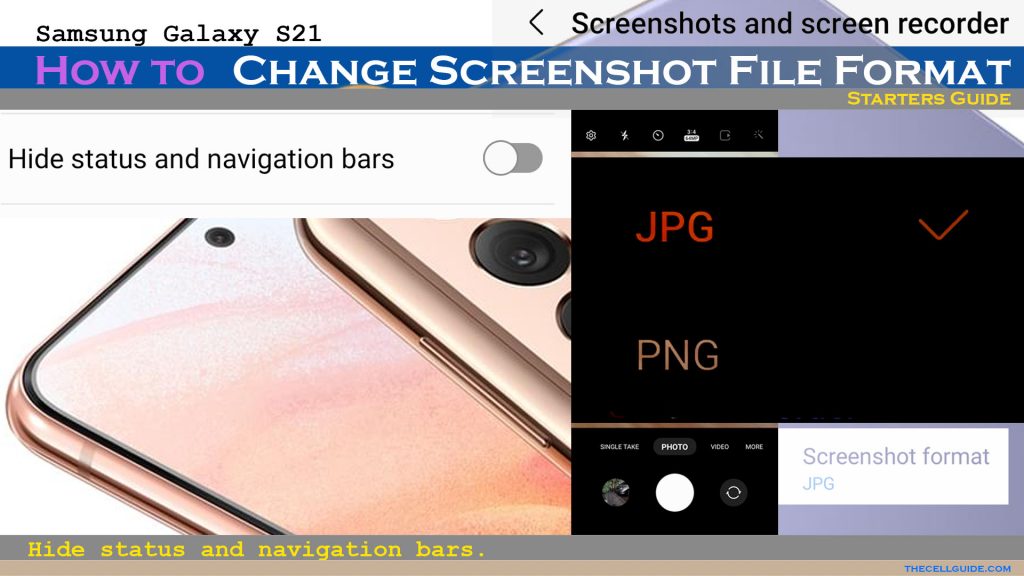 Enabling the option to delete shared screenshots on the other hand will automatically delete screenshots after they're shared through the screenshot toolbar.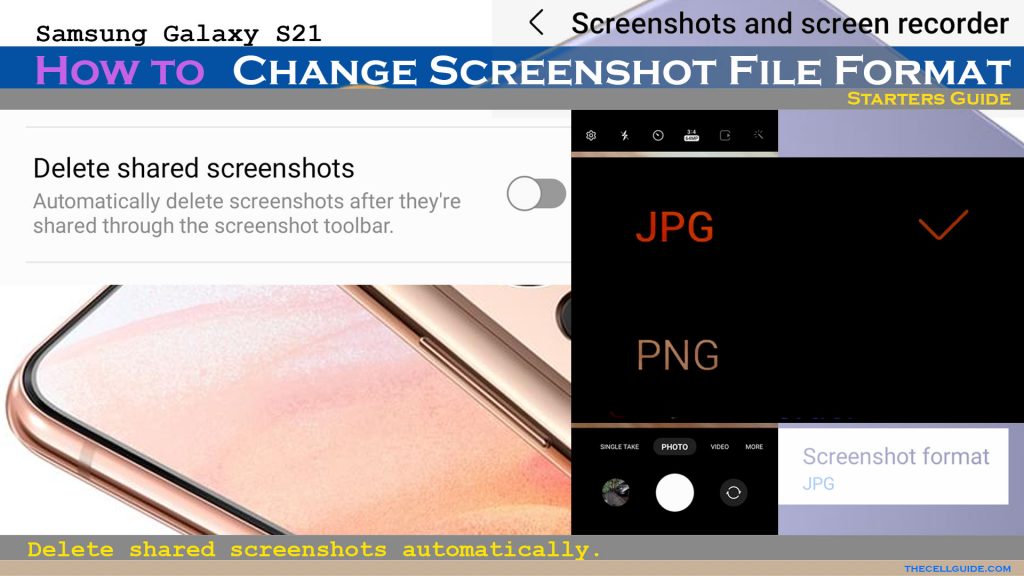 And that's all about switching between available file formats for the Galaxy S21 screenshots or screen captures.
Hope this helps!
Please check out our YouTube channel to view more tutorial and troubleshooting videos for popular iOS and Android devices.
You Might Also Want To Read: