This post will walk you through altering the default call display layout for incoming calls on the Galaxy S21 device running on the latest OneUI version. Read on to learn how to change call display on Samsung Galaxy S21 in OneUI version 4.0.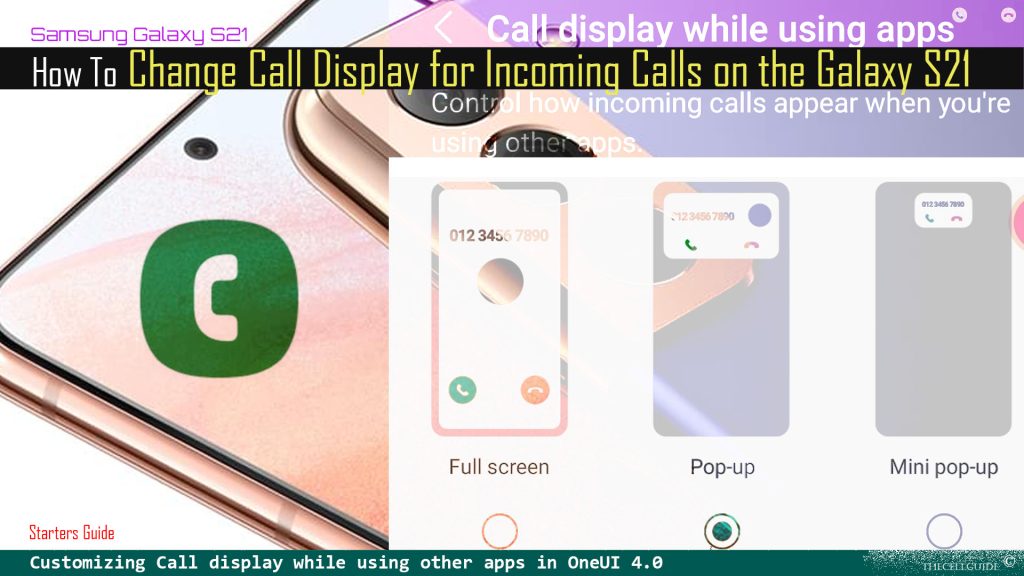 Wondering how to change the default incoming call display on your new Samsung Galaxy smartphone? If so, then keep scrolling down to view more detailed instructions.
OneUI 4.0 Call Display Options
With the updated OneUI platform, you can change the default incoming call interface in a way that won't interfere with whatever on screen activities you have on your Samsung Galaxy S21. All you have to do is customize the call display settings on your phone.
The recent call display interface on the Galaxy S21 running in One UI version 4.0 will let you choose between three display modes for incoming calls including full screen, pop-up and mini pop-up.
Altering these settings is usually recommended if the default incoming call interface somehow interrupts you when using other apps like playing a game or streaming videos with your phone.
To manage and change the default call settings on the Galaxy S21 and other new Samsung devices, you will need to access the preloaded Phone app settings menu.
If you're new to an Android phone and wondering how to access and manage these settings on a Samsung Galaxy S21 device, I've mapped out a step-by-step walkthrough for you to follow.
Easy Steps to Change Call Display on Samsung Galaxy S21 in OneUI 4.0
The following steps are also applicable when adjusting the call display settings on default or preinstalled calling app on other Galaxy devices running on the same One UI version.
Actual screens and menu items may vary between device models and network service providers so expect some slight differences on every device's interface.
Feel free to start whenever you're all set to configure your Samsung Galaxy phone settings.
Step 1: To get started, tap the Phone icon from the Home screen or Apps screen to launch the built-in phone app.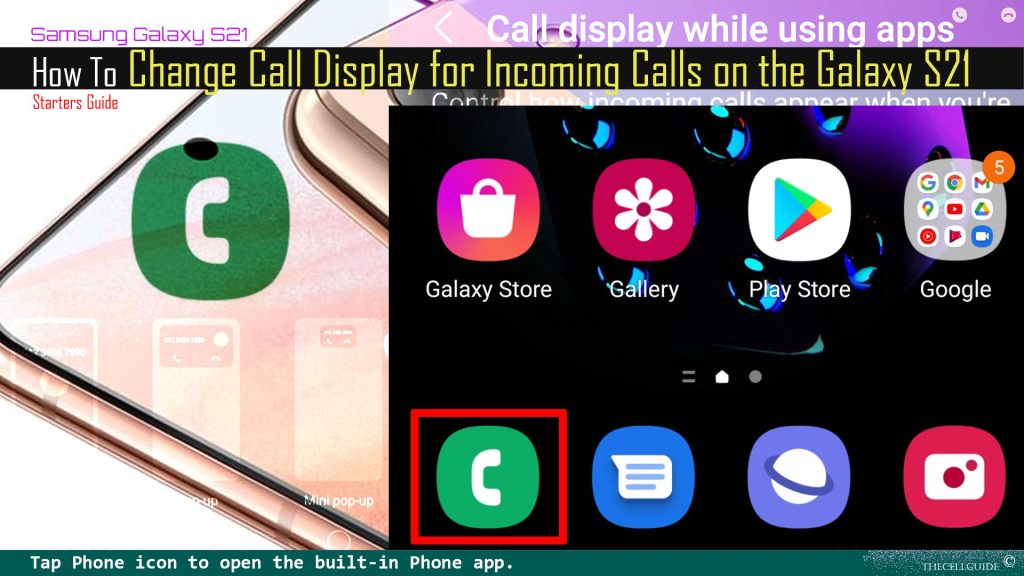 Step 2: While on the Phone app's screen, tap the Menu icon represented by a triple-dot figure located on the upper-right side of the screen next to the Search (magnifying glass) icon. A side menu opens with additional options.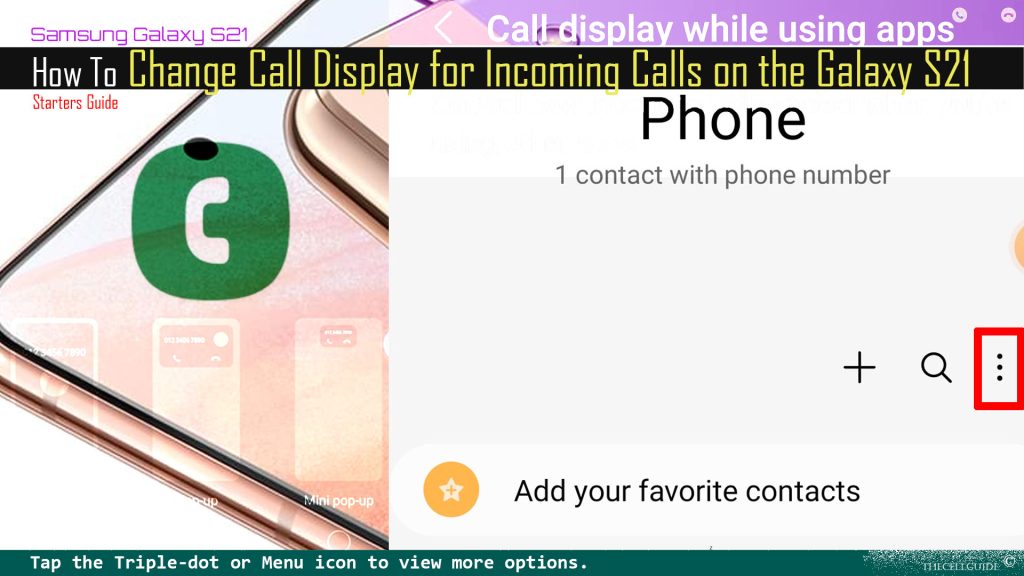 Step 3: Find and then tap Settings from the given options to continue. Doing so will route you straight to the Phone app settings screen that contains relevant features and options you can manage to make the Phone app work according to your preferences.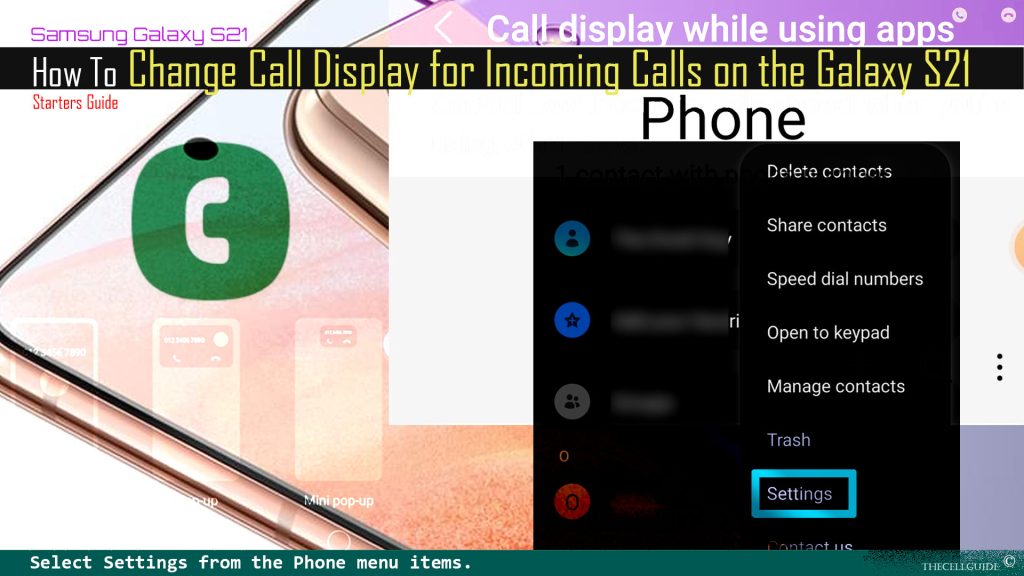 Step 4: From the Phone app's Call settings menu, find and then tap Call display while using apps. This will open another screen where you can select different call display layouts or interfaces based on the given previews.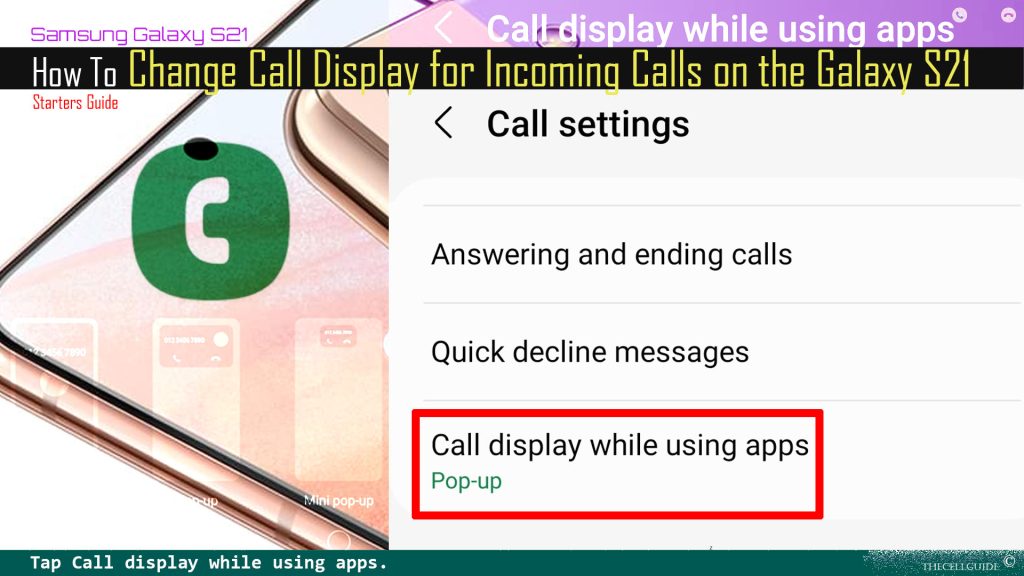 Step 5: Step 5: Tap to select your preferred layout for incoming calls. You can choose between Full screen, Pop-up and Mini pop-up.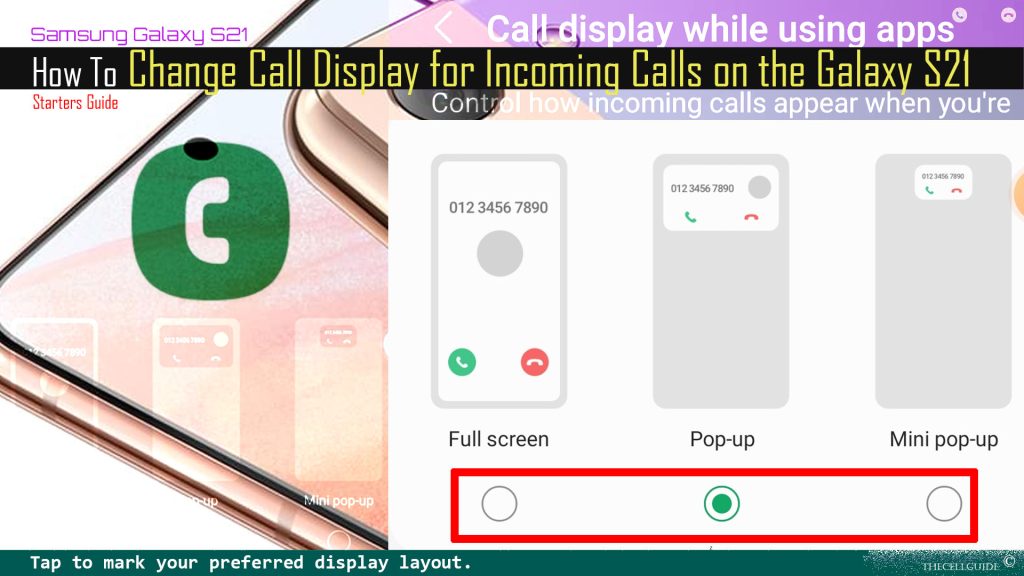 Just look at the individual previews to get a grasp of how incoming calls will appear when using other apps on your device.
If you wish to keep calls in pop-up even after they're answered, just toggle to turn on the switch next to Keep calls in pop-up.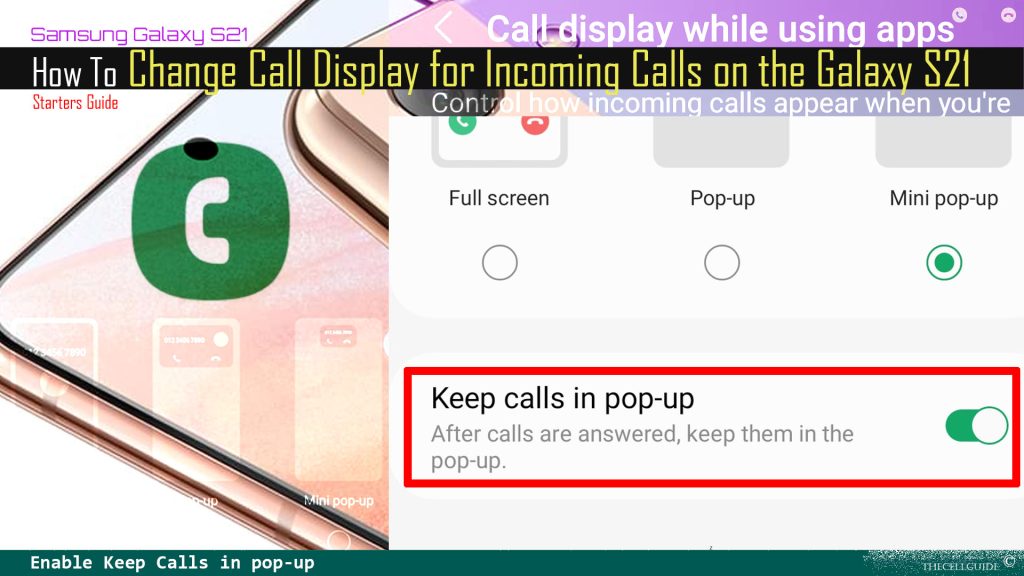 The recent changes will be applied automatically.
You can place a test call while using other apps on your Galaxy S21 using a different phone (if available) to see how the recent changes actually work. If you're not satisfied with the output, just repeat the same steps to go back to the call settings menu and try other call display options.
Other Incoming Call Controls
If you choose Pop-up or Mini Pop-up incoming call interface, you will need to tap the Answer (Green Phone) icon to answer an incoming call while using another app on your device.
If you choose Full Screen, then you will need to swipe the Answer (Green Phone) icon into the middle of the screen to answer the call.
Ending the call will just require a tap on the End (Red Phone) icon, regardless of the call interface in use.
Other call controls you can use include the Volume button to put the call on Loud Speaker, Mute to silence your microphone and the Maximum icon to switch to Full Screen call interface.
Should you encounter some problems after customizing the phone app settings, just restart or soft reset your Galaxy S21 to clear out any errant cache and random glitches that might have caused the phone app to suddenly act up.
Hope this helps!
Please check out our YouTube channel to view more tutorial and troubleshooting videos for popular iOS and Android devices.
You Might Also Want To Read: