This post will walk you through altering the default preference for Google Play Store app downloads on the new Samsung Galaxy Z Flip smartphone. Here's a quick guide to change app download preferences on the Galaxy Z Flip4 device.
Play Store Download Preference
Google Play Store apps can be downloaded on your Android smartphone using either Wi-Fi or cellular/mobile data network.
By default, the app store download preference is set to Wi-Fi or Cellular Data. This means that you can download apps on the Play Store using either a Wi-Fi or mobile data connection, whichever is available.
This setting is ideal if you have unlimited cellular or Wi-Fi subscription. However, this may also result in getting additional data charges for extra data.
To avoid incurring additional fees, setting the Play Store app download preference to Wi-Fi or manual selection is recommended.
If you're new to Android smartphones and need some input on how to make these changes on the new Samsung Galaxy Z Flip 4 device, you can refer to this step by step guide.
Steps to Change App Download Preferences on Samsung Galaxy Z Flip4
Performing the following steps does not affect any Play Store downloads but rather only alters the current download preference.
These steps are also applicable when modifying the default network preference for Google Play Store downloads on other Samsung Galaxy phones running on Android 12 with One UI 4.1.1 OS version.
You may go ahead and start whenever you're all set to configure your Play Store account settings.
Step 1: Open the Google Play Store app to get started. Simply find the Play Store app icon from the Home screen or Apps screen of your phone and then tap on it to launch the app.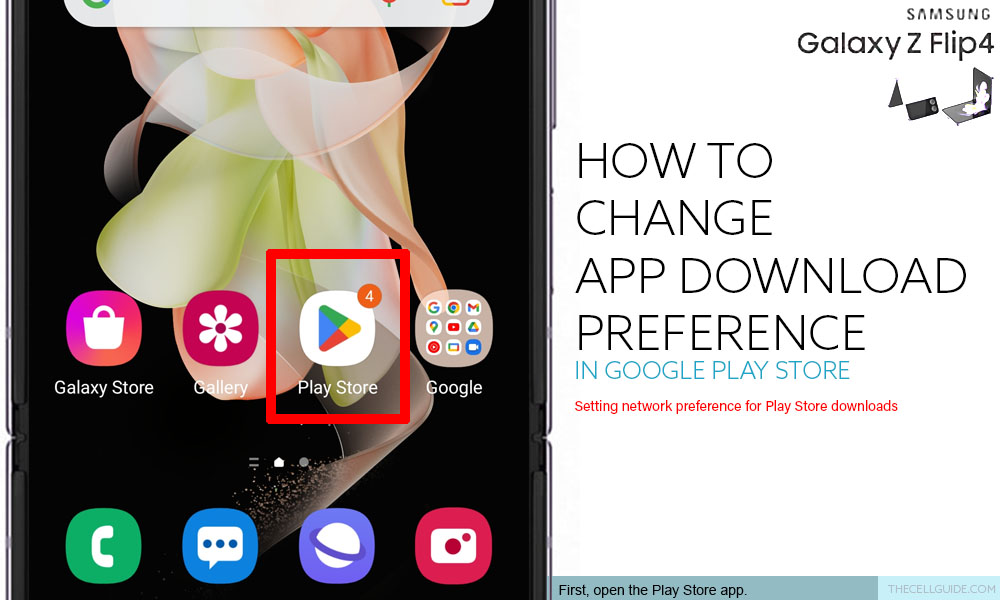 Step 2: In the Play Store main screen, tap on your profile icon located on the top-right corner. Doing so opens your Play Store account menu options.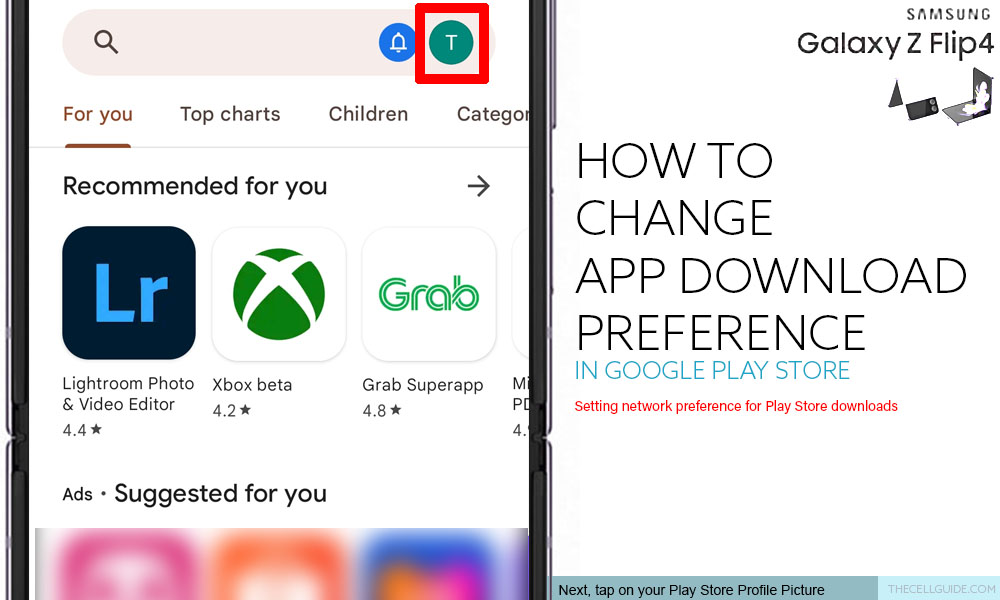 Step 3: Find then tap Settings to access and manage Play Store settings for your account.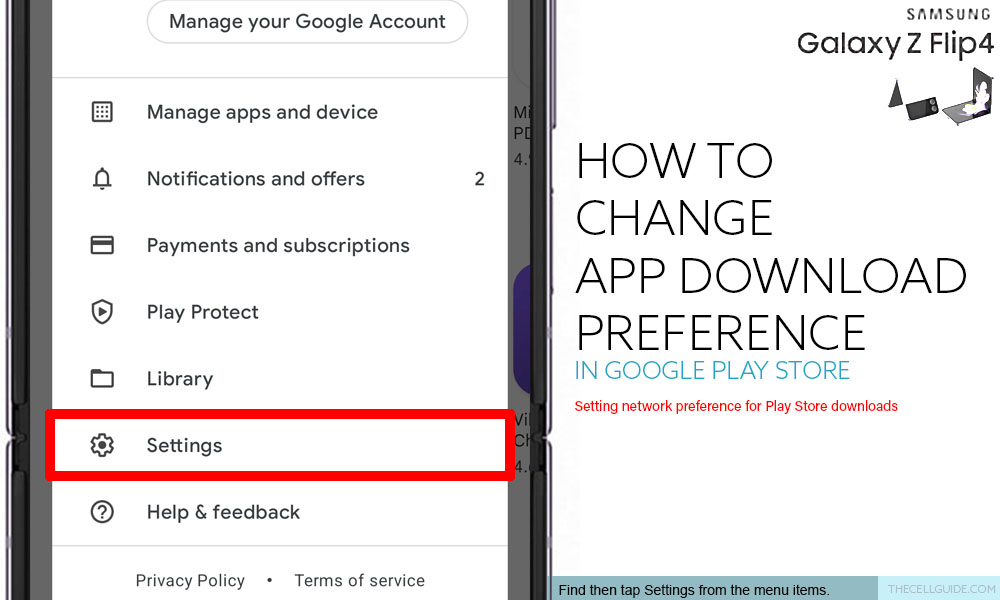 Step 4: On the succeeding menu, tap Network preferences. A drop-down menu opens next.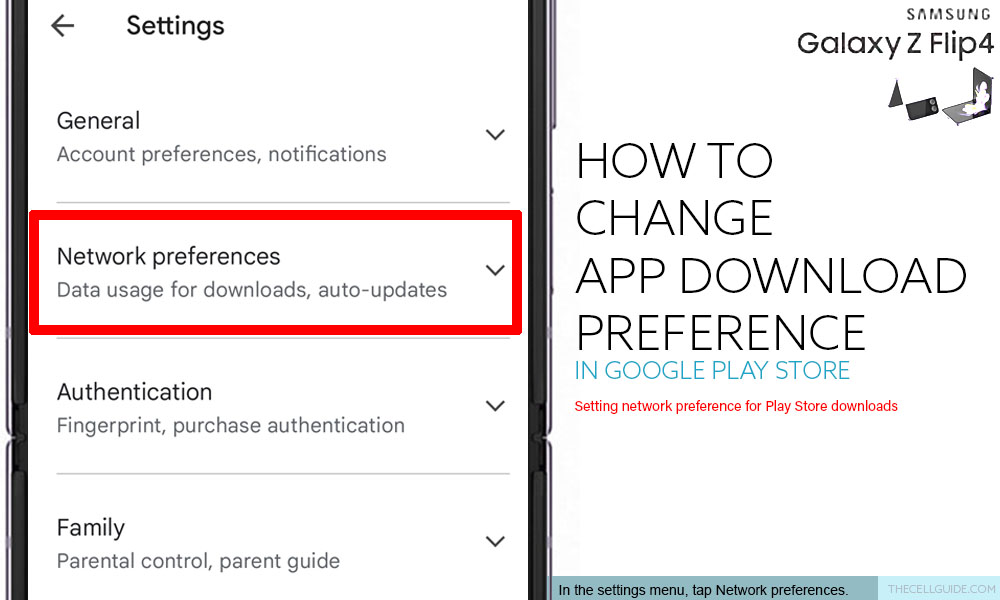 Step 5: Find then tap App download preference from the given options.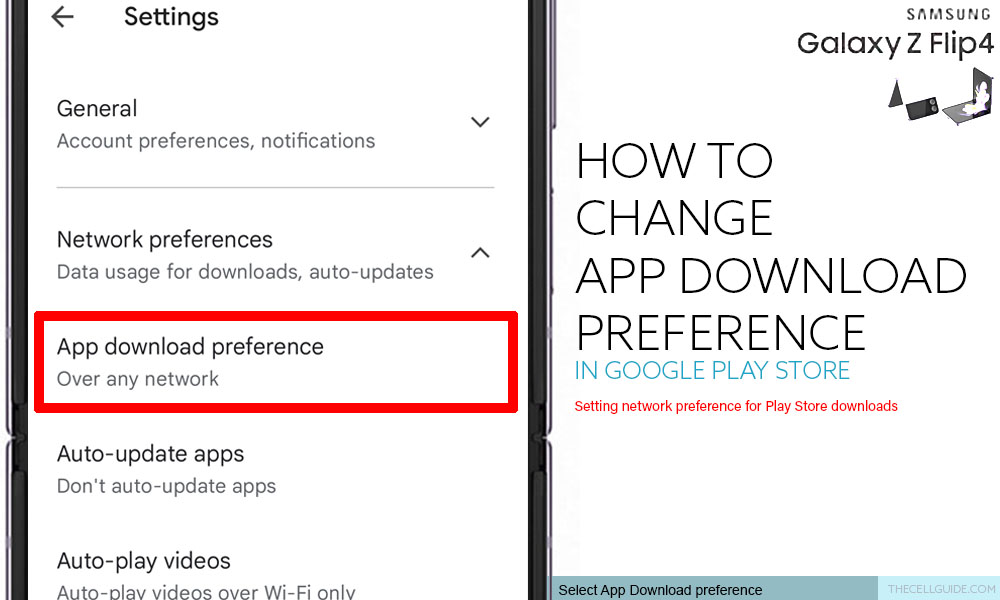 Step 6: On the pop-up menu, you will see three main options for app downloads including over any network, over Wi-Fi only and ask me every time.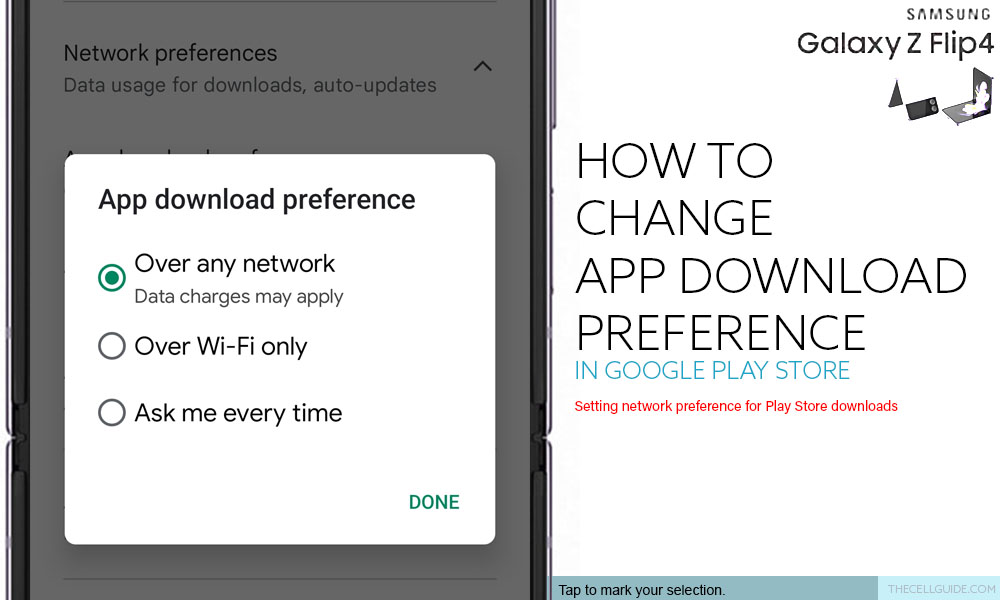 Over any network – Select Over any network if you opt to download apps over any network available like Wi-Fi or cellular data. Please note though that choosing this method may result in extra data charges, especially if you already go beyond your monthly data cap.
Over Wi-Fi only – If you opt to download Play Store apps only through a Wi-Fi connection, select Over Wi-Fi only. This is a recommended option to ensure no extra data charges are incurred.
Ask me every time – You can also set it to ask which connection to use each time you download an app from the Google Play Store. Simply tap to select Ask me every time from the given options.
After setting your app download preference, tap Done to apply your changes.
Should you wish to change this setting later, just repeat the same steps to return to your Play Store account settings and adjust the network preferences for your next app downloads.
Having trouble downloading apps on the Play Store?
The main requirements for downloading apps on a smartphone include a stable internet connection, preferably via Wi-Fi network, sufficient storage, and a valid Google (Play Store) account. Other important things that must be met are the minimum system requirements and software compatibility, like if the app is supported or compatible with your phone's operating system.
If for some reason you cannot download an app, try to check your internet connection and make sure it's stable. Also ensure that your phone has sufficient storage space for the new application. If necessary, free up storage by deleting old and unwanted contents.
Clearing cache from the Google Play Store app can also help especially if the problem is attributed to some corrupted cached files or broken residual data from the app's storage.
Logging out and back into your Google Play Store account may likewise fix the problem should it be tied to some conflicts with the current account in use.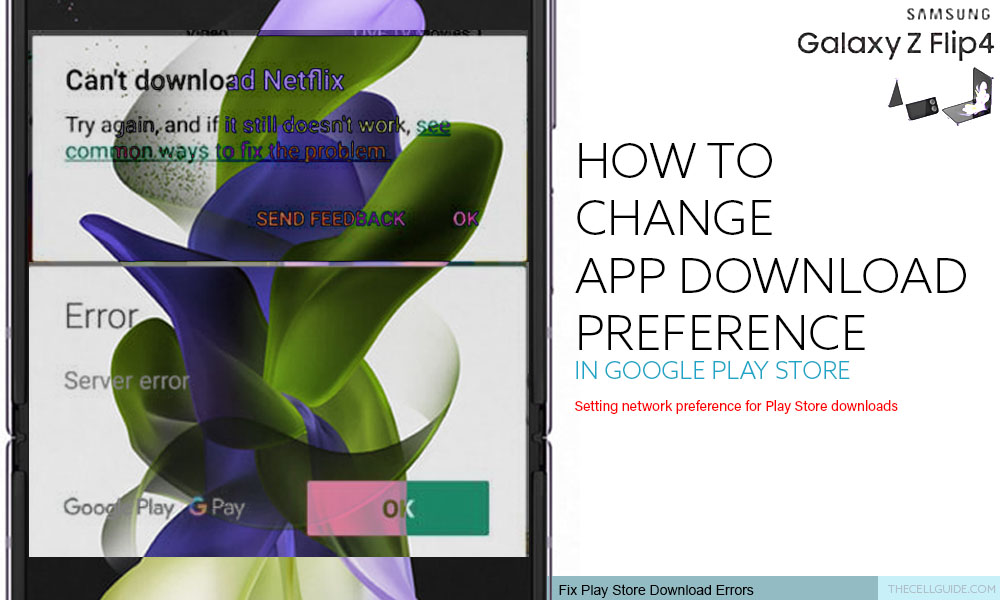 Getting an error message or code?
Normally, error prompts tell you what went wrong or why you cannot download the app. The message prompt also offers some hint or clue on what to do in order to correct the error and fix the problem so be sure to read it.
For warning prompts that only show an error code, you can do a quick online search on what the error code means and how to fix it.