Let's face it, we carry a lot of gear with us wherever we go. Before we leave the house, we make sure we have our wallet, phone, keys, possibly a small notepad, headphones, and maybe even a pocket knife. That's a lot to carry around, but luckily, you can minimize some of that with a iPhone XS wallet case. They not only do you get all around protection, but you also get style and plenty of room for credit cards, debit cards, and cash. Some of them even have compartments to store other items like headphones.
* If you buy through links on our site, we may earn an affiliate commission. For more details, please visit our Privacy policy page.
So what wallet case should you get for the iPhone XS? With so many available on the market, it can be a pretty difficult decision. However, we've done much of the research for you and have compiled the best wallet cases for the iPhone XS below. Here are our top picks.
Best Wallet Cases For iPhone XS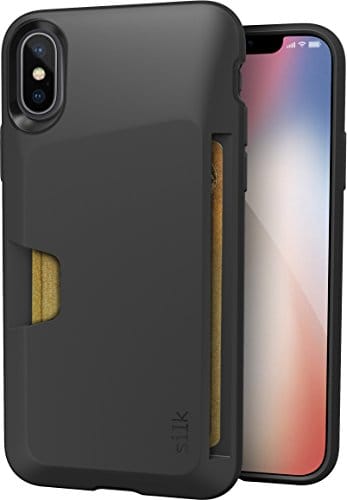 First on our list, we have the Silk Wallet Case. One of the sleekest looking wallet cases that you can pick up, this offers top protection and a slim profile. It still offers some really nice protection for the iPhone XS, but around the back, you have room for three or so credit or debit cards, as well as plenty of space for cash. If you don't want to thicken up an already larger smartphone, this case by Silk is without a doubt the way to go.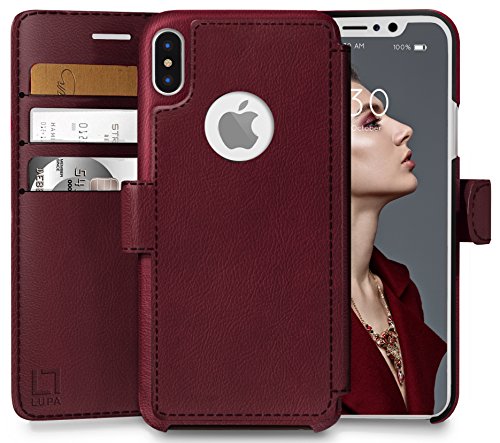 Next, we have the LUPA iPhone XS Wallet Case. Offering ample protection for your iPhone XS, you can be certain that this one is a good investment. This particular case is able to hold up to four credit or debit cards, and it can even hold a few bills, too. The LUPA Wallet Case comes in a wide variety of colors, too — there's actually 11 to choose from. The vintage style design looks extremely unique, and will make your iPhone XS stand out from the crowd — this isn't your typical case from the phone store, that's for certain.
Up in third place, The Spigen Slim Armor CS topping the quality of all the others. It's a nice blend between a protective case and a wallet case. Set your iPhone XS in this case and you'll get Military Grade protection for your new smartphone. Still, the Spigen Slim Armor is fairly slim and comfortable in the pocket. There's a flap on the back of the case that slides out where you can fit credit and debit cards, as well as cash and even other items, if you so choose. Since it has dual-layered protection, this one will be able to withstand even some of the more aggressive drops.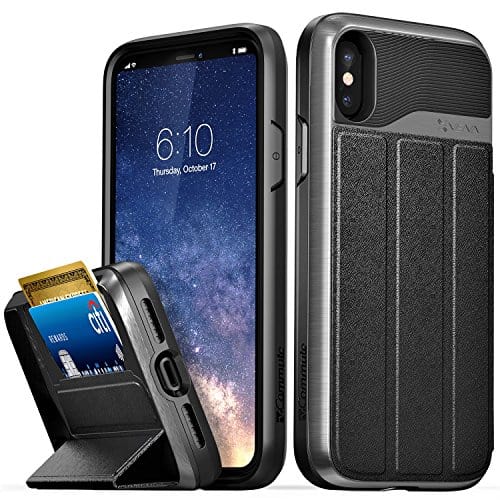 And in fourth, we have the Wallet Case by Vena. Vena has actually made this to have military grade protection, which does definitely add some thickness to your smartphone. However, you can be certain that your iPhone XS won't break because of an accidental fall or drop on a hard surface like pavement. The Vena Wallet Case does have a textured back, which makes it easier to keep a good grip on the smartphone. This wallet is thicker, but it doesn't interfere with wireless charging at all.
The foldable leather flap on the back comes out, which is where you store your credit and debit cards, along with cash. Not only that, but you can fold it into a kickstand for easy media viewing on a table or surface.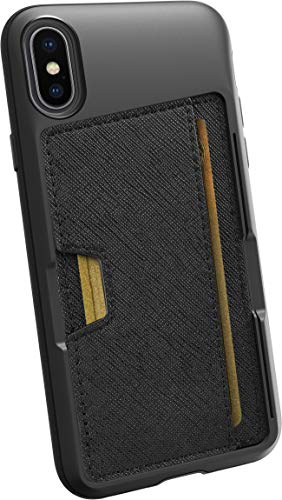 Last but definitely not the least, Silk makes a really nice standard wallet case, but their Black Tie Affair Wallet Case is easily one of the best looking options on the market. Another slim case, you won't be adding any thickness to your iPhone XS. It stays comfortable in the hand. Around the back is a textured holder, where you can fit three credit or debit cards inside. And there's even room for cash! On top of that, Silk throws in a screen protector with your purchase to keep your iPhone XS' display free from scratches and nicks. This one fits the iPhone XS, but it can also fit last year's iPhone X, too.
Best Wallet Cases For iPhone XS Verdict
As you can see, there are some excellent wallet cases available for the iPhone XS. They'll not only provide you with top protection for your smartphone, but also give you plenty of space so that you can leave your wallet at home.
Got a favorite wallet case for the iPhone XS? Let us know what it is in the comments sections below — we'd love to hear from you!
* If you buy through links on our site, we may earn an affiliate commission. For more details, please visit our Privacy policy page.