Video stabilizing gimbals. That's not an accessory that always comes to mind in everyday life, but they are so, so useful. Once you set your iPhone inside the gimbal, electronic motors work to keep everything stable and smooth while you film. That transforms your video into something amazing almost instantaneously.
* If you buy through links on our site, we may earn an affiliate commission. For more details, please visit our Privacy policy page.
Not sure what the best video stabilizing gimbals are for the iPhone? Follow along below, and we'll show you our favorites for one of Apple's best phones yet!
Best Video Stabilizing Gimbals For iPhone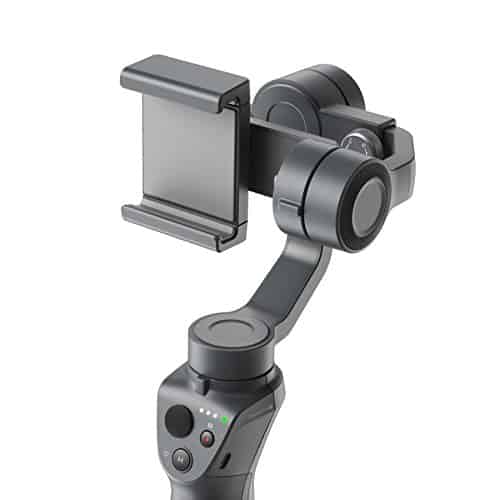 The Osmo Mobile 2 will be a great addition to your iPhone — what we love about this one, in particular, is the film tech in DJI's drones, and because of that, you're going to be shocked at the sheer smoothness and stabilization that you'll get.
There are plenty of functions, features, and shortcuts right on the handle. You'll just have to connect over Bluetooth, and then you should be able to use them without a hitch.
Once you setup the iPhone in the smartphone mount and connect up over Bluetooth, the DJI Osmo Mobile 2 is ready to start recording. It is worth mentioning that the Osmo Mobile 2 does have its battery, so when you will want to make sure that it's fully charged before a day full of filming.
If you don't want to set such a big phone in a smartphone mount, you can't go wrong with the Osmo Pocket. The Osmo Pocket works independently of your iPhone ; however, you do have to have the Osmo Pocket app on your phone to manipulate footage.
There's some really impressive camera quality in the Osmo Pocket. It's no cheap camera, able to film in 4K resolution and at an impressive 60 frames per second. Picture quality is truly amazing, and the overall hardware is low profile enough that you can it with you anywhere.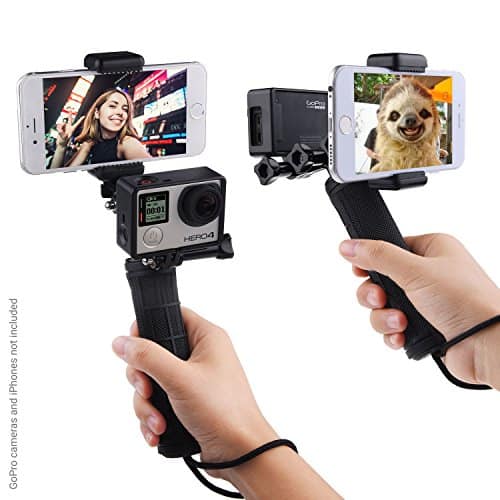 Next up is CamKix's very own Stabilizing Hand Grip. Much like the other options we covered, set this one inside the phone mount, and video will smooth out exponentially. One of the highlights here is a lack of wires to connect your smartphone. You don't even need Bluetooth to set it up. That said, it is a basic gimbal; however, it's fairly unique in that you have the ability to record from two angles at the same time. That will require you to have two recording devices, but the CamKix can support two devices at a time. Set your phone in the phone mount and record from one angle, and then set your GoPro in the camera mount to record from another. This gives you some unique footage possibilities for vlogs and other types of video.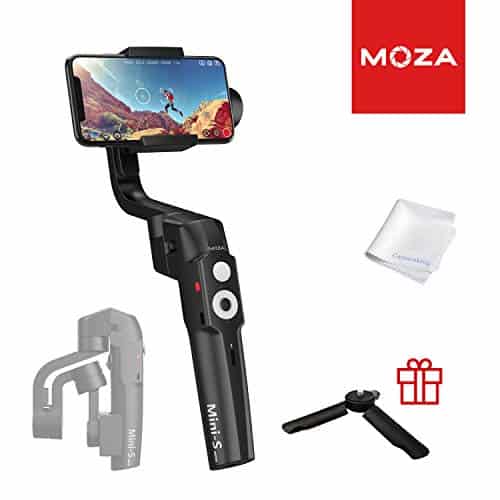 You can never go wrong with a gimbal from MOZA. Just like other gimbals out there — set your iPhone inside the mount, and you're pretty much ready to start filming. One of the cool things about the Mini-S is just how much control you have over filming — you can switch it between landscape and portrait filming modes as needed.
MOZA Mini-S also boasts many follow modes and shooting modes: hyper-lapse, slow motion, time-lapse, sports gear, vertigo, inception, plus object tracking. These functions offer abundant possibilities to users and help them shoot dramatic, cool videos. There is also a customized MOZA Genie APP to lend a hand and let you control every aspect of the shot
The MOZA Mini-S works with more than just the iPhone, too. The clasp is adjustable, so you can adjust it to pretty much any phone size that you have.
It's simple to setup — just set your iPhonein the smartphone mount, and then the gimbal itself does all of the work. MOZA includes a handful of useful features on the handle itself as well.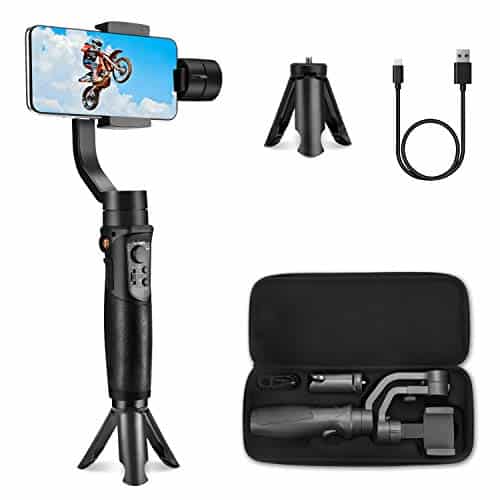 We're big fans of what Hohem is doing with the 3-Axis Mobile Gimbal. If you're cash strapped, this one might be more up your alley; however, worry not — Hohem nails the formula of creating a semi-cheap gimbal without sacrificing quality. It's one of the few gimbals that can work with rugged and large cases, as well.
It has some neat software features built inside, too. There's face tracking, panoramic recording, and more.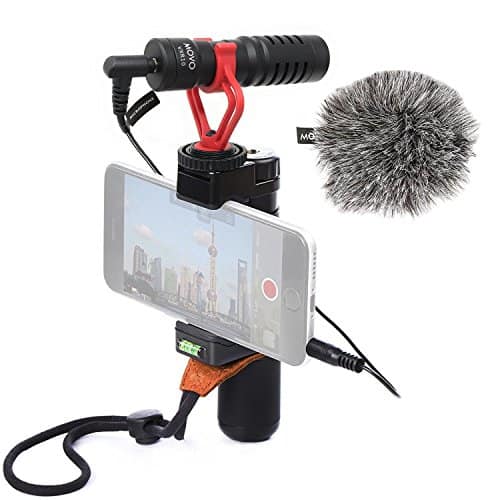 Next up, we're looking at the Movo Smartphone Video Rig. Not necessarily a full blown stabilizing gimbal, this one will still smooth out your video on the cheap. It's versatile in that the phone clasp is adjustable, allowing you to use this with something as small as an iPhone , or as large as an iPhone . Suffice to say, your phone will stay secure, and you'll be able to easily get stabilized footage. It actually comes with a microphone setup as well, allowing you to even improve audio quality, too — you'll just need a lightning adapter to go with it.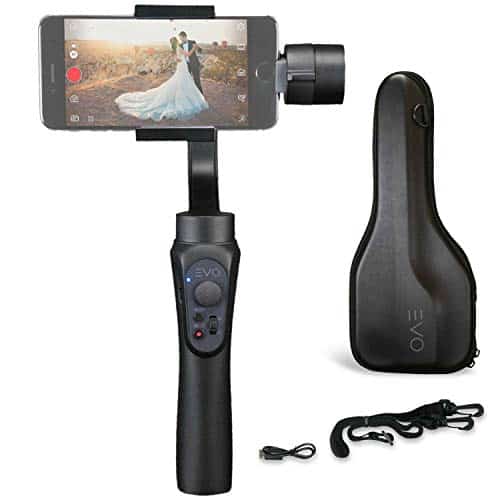 The EVO Shift 3 is another excellent choice for your iPhone. It's one of the sleeker options on the market, blending in nicely with your iPhone. It does connect over Bluetooth, so it does have a battery you'll have to manage as well. It's at a similar price point to the others so far but still sets itself apart with a bunch of extra features and shortcuts that can be managed right on the gimbal itself. There are buttons for a start and stop recording, panorama, zoom in and out, and so much more.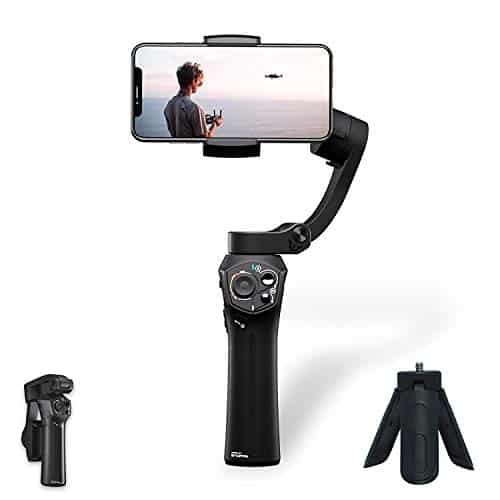 We love what Snoppa is offering in the Atom. The Atom is no DJI or Zhiyun, but it'll still transform your iPhone into a portable production studio. Don't get us wrong, the iPhone can already take some stellar photos, but paired with the Atom, you'll be able to stabilize your footage enough to where you could compare it to cinema-level quality.
Snoppa worked to make sure that the gimbal was lightweight and easy to travel with. That said, you can take this with you anywhere, and without much of a hassle. This one connects over Bluetooth and has 24-hour battery life. So, you don't necessarily have to make sure this is charged all the time.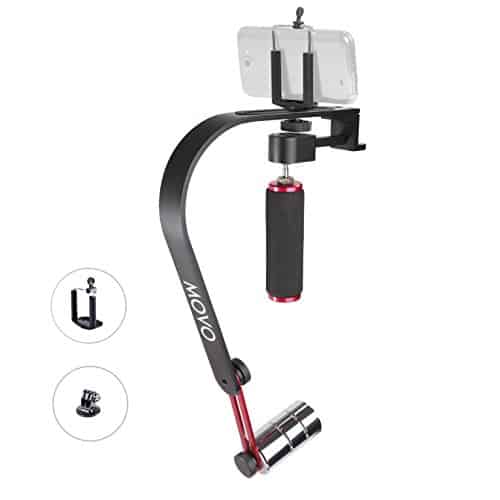 The Movo Handheld Stabilizer is great for those looking for a video stabilizing gimbal on a strict budget. This gimbal will do the same basic thing that all gimbals do: give you a stable place to set your phone so that you get shake-free cinematic video. Unfortunately, it isn't powered (that's just what comes with cheap gimbals), so you won't get any neat remote features that let you control start and stop video features, shutter options, timelapse, etc. However, if all you want to do is transform your video into something smooth, the Movo Handheld Stabilizer will do just that.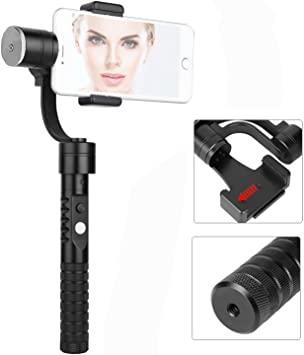 Next, we have the Kamisafe AFI V2. The unique aspect of this video stabilizing gimbal is that it can handle really heavy phones. The iPhone isn't that heavy, but if you were to ever use this gimbal with something that is, the Kamisafe AFI V2 is a nice investment. It does have a really big battery, so it can take awhile to charge your gimbal up to full. However, it has all of the features that you would expect out of a gimbal: timelapse, shutter options, start and stop functions, anti-shake technology, you name it. Similar to the other gimbals on this list, a 1/4-inch screw sits at the bottom of it for easy access to a tripod.
11. Zhiyun Smooth 4
Zhiyun also makes an excellent gimbal for the iPhone– the Smooth 4. You can set this inside the smartphone mount, adjust the clasp, and then you're ready to start filming. One of the cool things about the Smooth 4 is that, because of the adjustable clasp, you can use the Smooth 4 with most smartphones on the market — just adjust the clasp to their size!
Zhiyun, like DJI, includes a bunch of Bluetooth shortcuts right on the handle, including start and stop recording, shutter, live streaming, and more. Since this gimbal runs on Bluetooth, the gimbal does have its own independent battery that you'll have to keep charged.
One of the unique things about the Smooth 4 is that it comes with a tripod attachment in the package, so you can easily use this for motion filming, or for creating standstill video.
12. Feiyu Vimble 2
The Feiyu Vimble 2 is worth a mention as well. It's very user friendly, with it being as simple as setting your phone in the mount of the Feiyu Vimble 2. Once you connect it over Bluetooth, the Vimble 2 starts its work — eliminating shaky video once and for all. You'll be able to easily shoot pro-quality, cinematic-like footage in various situations with your iPhone.
Like some of the others, the Vimble 2 connects up to your iPhone by using a Bluetooth connection. This allows you to take many of the Vimble 2's features remote, easily controlling the shutter button right on the handle, as well as other features. This one has a really good advantage of the others as well — this one is a long gimbal. With being able to extend it out an additional 18cm in length, you'll be able to capture wider angles.
13. Zhiyun Smooth-Q
The first video stabilizing gimbal that you should consider for your iPhone is the Zhiyun Smooth-Q gimbal. This piece of hardware can hold most phones weighing up to 200 grams (and a little more) and still give you smooth video. Much heavier than that, you start sacrificing stability, which won't make your video look as bad as by hand, but it won't be nearly as smooth as the cinema. It has some other neat features with it, a 12-hour battery, controls on the gimbal for controlling camera functions, such as timelapse, panoramic mode, start and stop video and a whole lot more. It has a neat auto-tracking feature, too.
The neat thing about this gimbal is that it has a 1/4-inch screw at the bottom of it for compatibility with tripods.
14. ViewFlex S Pro 3
The ViewFlex S Pro 3 is an excellent gimbal for the iPhone as well. It handles the phone without a problem, and gives you access to a bunch of extra features if you download the ViewFlex companion app to go with the gimbal. Basically, you'll get to use the remote features that come with the gimbal, zooming into objects, timelapse, shutter, start and stop video, etc. With this gimbal being built on a 3-axis system, you have multiple angles to choose from for filming video.
15. Moza Mini-C
Last, but most certainly not least, is the Moza Mini-C. This gimbal does much of what every other gimbal on this list does, but gives you a battery rated for eight hours off of a single charge. Even with the Moza Mini-C, you'll be able to get smooth, cinematic-like video.
16. DOBOT Rigiet
DOBOT's Rigiet gimbal sits decidedly in third place. Set your iPhone inside, and the Rigiet and electric brushless motors will work to keep your video smooth as can be. The Rigiet operates over Bluetooth, so one of the he neat thing about this one is that it has a bunch of feature shortcuts right on the handle, which gives you quick access to start and stop video recording, shutter, panorama, time lapse, and more. This one is extremely versatile, allowing you to adjust the mount for any smartphone out there. It works great for the iPhone, but you could easily go as large as something like the Galaxy Note or iPhone.
It's the best feature is just how versatile it is — you can easily adjust the clasp to fit almost any size smartphone on the market, including that of the 6.5-inch screen on the iPhone
17. Yomito 3-Axis Handheld Gimbal
Sure, a no-name, lesser-known brand, but one that still doesn't skimp on quality. The cost is similar to that of the Zhiyun and the DJI, but you get great, butter smooth video capture here as well. It's still significantly cheaper than one for, say, an SLR or DSLR camera.
Best Video Stabilizing Gimbals For iPhone Verdict
The iPhone has an excellent camera setup, but if you do videography or film video at all, you'll want to make sure that you have a video stabilizing gimbal to go with it. Set your phone inside, and you'll be able to create footage as smooth as you would see in the cinema! Our favorite here comes from DJI in the form of the Osmo Mobile 2.
Do you have a favorite gimbal that you use or would like to use with the iPhone ? Let us know in the comments section below.
* If you buy through links on our site, we may earn an affiliate commission. For more details, please visit our Privacy policy page.