One of the most frustrating things with our smartphones is when we just get a new phone, such as the iPhone 8, and about a week or two later, the screen is already covered in scratches, nicks and generally banged up. The everyday damage our phones take is pretty hefty, and it's usually because we throw our phone in our pocket with loose change or keys. Setting it face down on a surface can usually ding it up pretty bad as well. And that's why you should put a screen protector on your phone right after getting it!
| Product | Brand | Name | Price |
| --- | --- | --- | --- |
| | amFilm | amFilm Glass Screen Protector for iPhone 8 Tempered Glass Screen Protector | Check Price on Amazon |
| | JETech | JETech Screen Protector for Apple iPhone 8 4.7-Inch, Tempered Glass Film, 2-Pack | Check Price on Amazon |
| | Ailun | Ailun Screen Protector for iPhone 8,7,6s,6,4.7 Inch 3 Pack 2.5D | Check Price on Amazon |
| | Supershieldz | (2 Pack) Supershieldz for Apple iPhone 8, Anti Scratch, Bubble Free | Check Price on Amazon |
| | Maxboost | iPhone 8 7 Screen Protector, Maxboost [2-Pack] Tempered Glass Privacy Screen Protector for iPhone 8 | Check Price on Amazon |
* If you buy through links on our site, we may earn an affiliate commission. For more details, please visit our Privacy policy page.
A screen protector will keep your phone's display looking as if it were brand new when you pull the film off. That screen protector will absorb most of the damage — scratches, nicks, dings, scuffs, you name it! Follow along below, and we'll show you our top five favorites for the best screen protectors for iPhone 8.
Best Screen Protectors For iPhone 8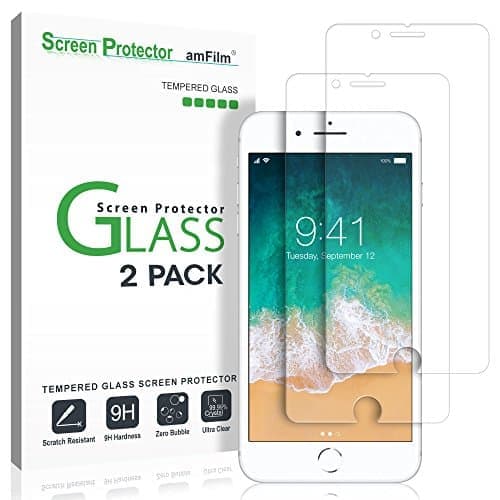 The first screen protector you should consider is the TechMatte amFilm. This tempered glass screen protector will easily keep your iPhone 8's screen free from scratches, scuffs, nicks, and dings with its dual-layer system. It is a little thick, and it's noticeable that the screen protector is on your phone (the installation tray also isn't the best), but the screen protector itself will keep your phone's screen looking brand new whenever you decide to peel the protector off. And, since it's tempered glass, it could potentially save you from experiencing any serious cracks on your phone's screen.
Next up, we have the JETech screen protector. It's tempered glass and isn't much different than the amFilm (screen protectors aren't that different from manufacturer to manufacturer). It has a little better transparency than the amFilm, and it has a nice coating on it to keep fingerprints from oiling up your protector, thus making your viewing experience subpar. JETech also boasts of a seamless installation — after applying, if you follow the instructions, you shouldn't get any annoying bubbles under your protector.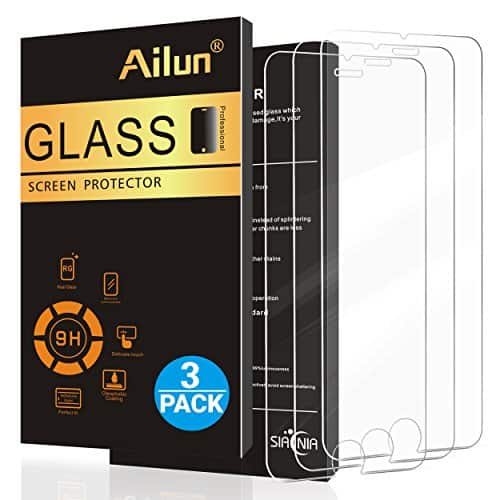 Last up on our list is the Ailun tempered glass screen protector. This package has two tempered glass protectors in it, so you can easily replace the old on your iPhone 8 when it goes bad. This protector doesn't cover the rounded edges on the iPhone 8, but it does cover the rest of the screen; however, this is a good thing, as your screen protector won't peel off after just a couple of weeks of use as well. This screen protector is rated at Ultra Clear, so even after applying it on your phone, you should get close to Retina levels of clarity from your phone's display.
Now, we have the Supershieldz screen protector for the iPhone 8. This is yet another tempered glass screen protector (seriously, you can't go wrong with tempered glass) that will bring the ultimate protection to your iPhone 8's display. The iPhone 8 has a curved display so that this protector won't cover every inch of your iPhone 8, but it will protect the majority of it. It has a coating to keep oily fingerprints off the screen protector so that your visibility isn't harmed.
Maxboost also makes a tempered glass screen protector; just like other tempered glass screen protectors, you can expect it to absorb the abuse that we put our screen through. When you ever decide to peel it off, your screen should look brand new, free of scratches, scuffs, and dings! The neat part of this screen protector is that it's built with anti-spy technology, which is basically an extra layer of film that only allows the person looking directly at the phone to see what is on display. If you are looking at the phone from an angle, onlookers won't be able to know what you're doing.
Best Screen Protectors For iPhone 8 Verdict
So, what screen protector should you get? Is one better than the other? It doesn't matter which one you pick up — the difference really comes down to value for money. For example, the cheaply priced Ailun, comes with three tempered glass screen protectors, whereas another manufacturer might only supply two for a couple of dollars more. They all do the same thing, so you can't go wrong in the brand you pick up. Just lookout for the one that gives you the most bang for your buck, such as the Ailun offering three of them a few dollars.
| Product | Brand | Name | Price |
| --- | --- | --- | --- |
| | amFilm | amFilm Glass Screen Protector for iPhone 8 Tempered Glass Screen Protector | Check Price on Amazon |
| | JETech | JETech Screen Protector for Apple iPhone 8 4.7-Inch, Tempered Glass Film, 2-Pack | Check Price on Amazon |
| | Ailun | Ailun Screen Protector for iPhone 8,7,6s,6,4.7 Inch 3 Pack 2.5D | Check Price on Amazon |
| | Supershieldz | (2 Pack) Supershieldz for Apple iPhone 8, Anti Scratch, Bubble Free | Check Price on Amazon |
| | Maxboost | iPhone 8 7 Screen Protector, Maxboost [2-Pack] Tempered Glass Privacy Screen Protector for iPhone 8 | Check Price on Amazon |
* If you buy through links on our site, we may earn an affiliate commission. For more details, please visit our Privacy policy page.