Tired of using the traditional wall charger to charge up your iPhone? Tired of being out on the go, and your phone shuts down because you ran out of battery and there's no way to charge it? Then you should consider picking up a portable solar charger. Not only will you be charging up your iPhone by way of green energy, but a portable solar charger will enable you to charge your phone literally anywhere, as long as there's a good amount of light.
| Product | Brand | Name | Price |
| --- | --- | --- | --- |
| | Anker | Solar Panel, Anker 21W 2-Port USB Portable Solar Charger with Foldable Panel | Check Price on Amazon |
| | dizaul | Dizaul Solar Charger, 5000mAh Portable Solar Power Bank Waterproof/Shockproof/Dustproof | Check Price on Amazon |
* If you buy through links on our site, we may earn an affiliate commission. For more details, please visit our Privacy policy page.
Be sure to follow along below, as we're going to show you the five best portable solar chargers that are the best for your money.
Best Portable Solar Chargers For iPhone
If you want something that charges a little faster, you should consider the Anker 21W USB Solar Charger. This is a great way to keep your electronics charged while you're out on the go, as it's capable of outputting up to 21 watts of power, depending on the sunlight, of course. It has some relatively large solar panels, so you'll be able to get a good amount of energy. It's a little big, making it a tad difficult to travel with it; it truly does take up a lot of space. Keep in mind that this solar charger doesn't hold a charge, it takes sunlight and directly turns it into energy for your devices — it doesn't store any excess.
The overall setup is pretty big, so it's certainly not something you can just throw in your back pocket and go. No, it'll take a substantial amount of room even in a suitcase. However, the whole setup is rather lightweight, which makes it easy for carrying around during a hiking trip or pulling out in the park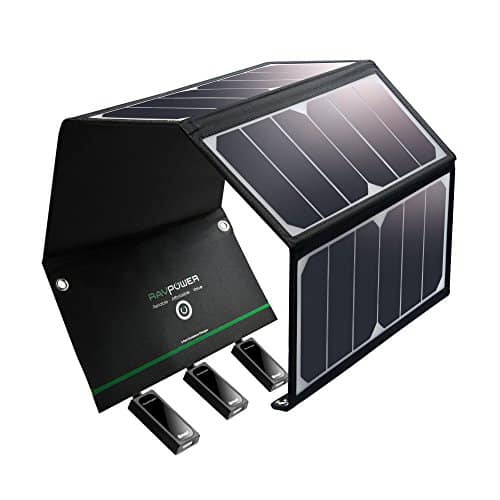 Next, we have the RAVPower Solar Charger. This is almost identical to the Anker Solar Charger we just talked about. However, it has an extra 3 wattage output, allowing you to charge up your iPhone that much faster. Just like the Anker, it has five solar panels that all take energy from the sunlight and convert it directly into juice for your devices. It has smart technology built-in to automatically recognize your device, too — for example, it'll automatically see that you have an iPhone, and will adjust its wattage output so that you get the fastest charge possible.
Buy it now: Amazon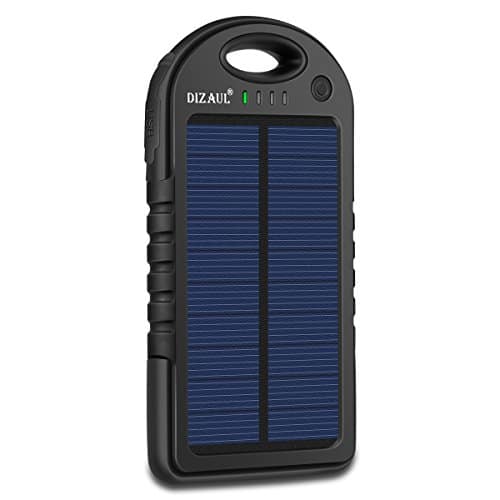 Next up, we have the Dizaul Portable Solar Bank. It has a small capacity, only allowing you to get about one full charge out of your iPhone. The one downside to this option is that it can only be charged by solar — there is no extra port for charging by the wire. That's why the capacity is so small: It only has 5,000mAh, but that's OK as that's quite a task for the solar panel to charge.you're only going to be able to get a slow charge out of this because the integrated solar panel doesn't cover a whole lot of area. You don't have to worry about ruining this solar charger in the outdoors — it's resistant to water, dust, shock, and just about anything else you could think of!
4. Beartwo 10,000mAh Solar Charger
Next on our list is a portable solar charging bank. This can receive energy from the sun, store it in the battery inside the charging bank, and allow you to charge your phone up whenever, as long as you have a cord that can go from the charging bank to the iPhone . It's called the Beartwo 10,000mAh Solar Charger, obviously having a capacity of 10,000mAh. That's about two full charges for your iPhone, and then a little juice leftover. The solar panel on this unit doesn't cover a whole lot of area, so when you're charging it, the charge is relatively slow. However, there is still a port for charging it by a wall outlet if you get desperate, so you're not entirely out of options if it's charging to slow for you or if there's no sun around.
5. AllSolar Power Bank
Finally, we have the AllSolar Power Bank. It's similar to the previous option but can hold a little over double the charge at 24,000mAh. You can charge your iPhone up from the dead to full plenty of times using this power bank. Similar to the Beartwo, it's solar panel only covers a small area, so charging the power bank up itself can be slow, especially if there's no light around. But, like the Beartwo, there is a port for charging it by the wire if you get desperate.
The solar panel on this power bank is more of an "in case of emergency" sort of thing. This is because the solar panel is so small that charging the power bank is basically a trickle charge. It would take days, if not weeks, to charge this up to its full capacity on solar alone
Portable Solar Chargers For iPhone Verdict
These are all great options, but which one should you get? We recommend going with the Anker or RAVPower Solar Charger. This will be the fastest way to charge your device, as these have the most wattage and best solar panel area coverage. The individual power banks have small solar panels, so it's hard to charge them; however, they do have their place if you need a power bank that already has a charge.
| Product | Brand | Name | Price |
| --- | --- | --- | --- |
| | Anker | Solar Panel, Anker 21W 2-Port USB Portable Solar Charger with Foldable Panel | Check Price on Amazon |
| | dizaul | Dizaul Solar Charger, 5000mAh Portable Solar Power Bank Waterproof/Shockproof/Dustproof | Check Price on Amazon |
* If you buy through links on our site, we may earn an affiliate commission. For more details, please visit our Privacy policy page.