If you picked yourself up an iPhone XS Max, you know just how expensive it is. Depending on the storage size of the smartphone, it can cost you much. Not only that, but it's large and, with the glass back, slippery, too. That said, dropping the smartphone on pavement or cement could be a heartbreaking experience, as it shatters on the ground. After all, who has the cash to replace a thousand dollar smartphone? This is why a protective case for your iPhone XS Max is so important. Even the slimmest of cases can do a lot at keeping your smartphone safe from falls and drops — most of them, if not all, reduce or eliminate the shock from a drop, keeping your XS Max from a glass-shattering experience.
| Product | Brand | Name | Price |
| --- | --- | --- | --- |
| | Spigen | Spigen Ultra Hybrid Designed for Apple iPhone Xs MAX Case (2018) - Matte Black | Check Price on Amazon |
| | i-Blason | i-Blason Ares Full-Body Rugged Clear Bumper Case for iPhone Xs Max 2018 Release, Black, 6.5" | Check Price on Amazon |
| | Spigen | Spigen Rugged Armor Designed for iPhone Xs MAX Case (2018) - Matte Black | Check Price on Amazon |
| | Maxboost | Maxboost HyperPro Hybrid Case for Apple iPhone Xs Max Case | Check Price on Amazon |
| | TORRAS | TORRAS [Love Series] iPhone Xs Max Case 6.5 inch, Liquid Silicone Gel Rubber Shockproof Case | Check Price on Amazon |
* If you buy through links on our site, we may earn an affiliate commission. For more details, please visit our Privacy policy page.
Not sure what case to pick up for your iPhone XS Max? Be sure to follow along below, as we show you our top picks!
Best Phone Cases For iPhone XS Max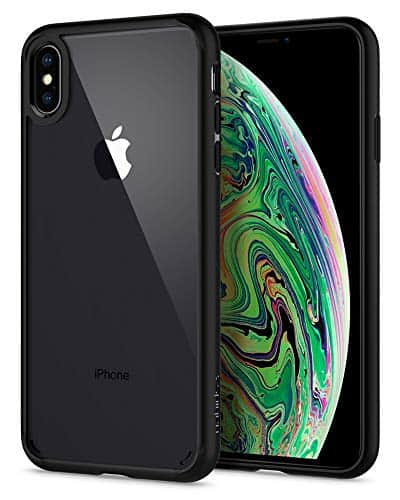 Spigen's Ultra Hybrid Case is designed as a slim case that offers a happy medium between slim and rugged cases. It's got some nice style to it, but put this around your smartphone, and you'll stay safe from moderate drops. This is actually a two-layer case, where there's a rubber TPU layer around your iPhone XS Max, and then a hard polymer shell over top of that. That in mind, you shouldn't be losing your smartphone to a drop anytime soon. The Ultra Hybird doesn't interfere with wireless charging either.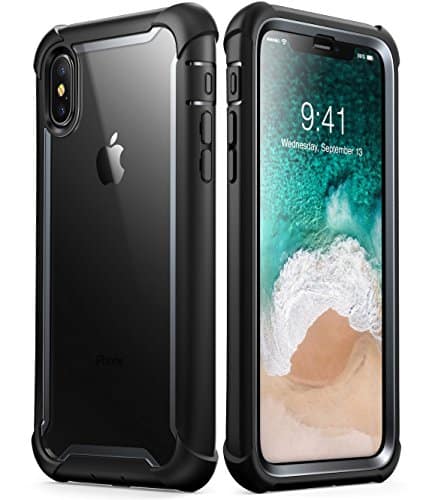 i-Blason's Full Body Clear Bumper Case might come up last, but it's still an excellent choice for all around protection. Put this around your smartphone, and your iPhone XS Max will be able to go through almost any accidental drop. The clear-backing on this case provides you with scratch-resistance to keep your new iPhone XS Max free from scratches. There's actually a built-in screen protector as well, which protects your screen against scratches and scuffs. A multi-layered protective bumper ensures that your iPhone XS Max isn't going to be taking any damage from falls.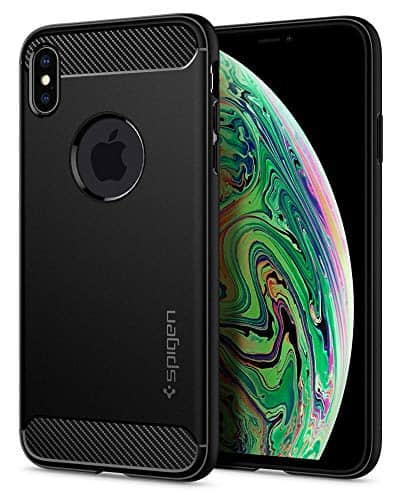 In third place, we have the Spigen Rugged Armored Case, offering you up heavy duty protection for your phone.This is essentially Spigen's own version of the Otterbox Defender, so you know you're getting top of the line protection here. This case comes in Matte Black only, and it has fairly unique design. Around the back, there's a cutout for the Apple logo, and then there's a texturized top and bottom. Spigen packs durable protection in a slim case — drop this from your shoulder, and your iPhone XS Max should stay intact no problem. In typical Spigen fashion, this case is actually Military Grade certified, so you can trust that you're getting something good.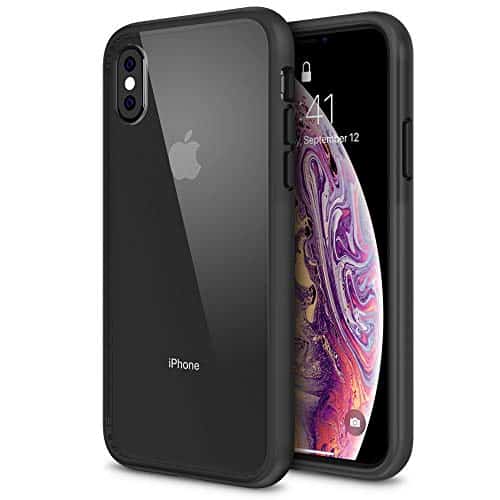 Coming up as our fourth contender in our countdown, we have MaxBoost's very own HyperPro Hybrid Case. This case is extremely unique because it's a Matte Black and Clear Case combination. On the back, it's a Clear Case, allowing you to see the original color of your smartphone, and everything else is a sleek Matte Black style. This was designed to be a slim case, so it doesn't add too much thickness to an already large phone. Even though it's slim, it offers some added grip and keeps your phone protected against bad drops with shock protection and more.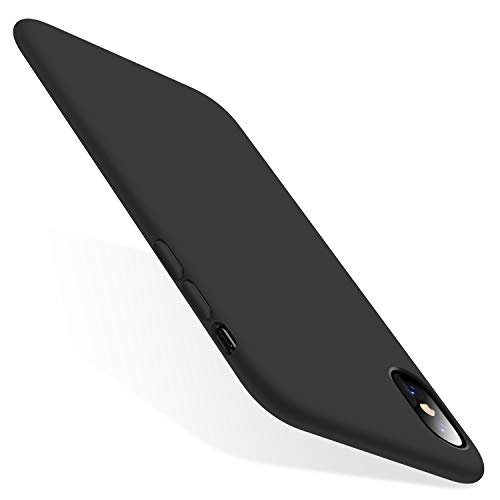 Remember those silicone cases that Apple used to offer? They don't seem to offer them anymore, but you can still get one for your iPhone XS Max through Amazon. One of our favorites is the TORRAS Liquid Silicone Gel Rubber Case. This one will keep the back of your iPhone XS Max free from scratches, and will offer some slight protection against drops and such. It won't offer you a ton of protection, but it is better than a bare iPhone XS Max.
Best Phone Cases For iPhone XS Max Verdict
A phone case is one of the best investments you can make — it's essentially insurance against breaking your smartphone from an accidental drop. We've shown you five of the best that you can pickup for your iPhone XS Max. Any one of these from MaxBoost or Spigen will offer you top protection. Not only that, but many of these cases can add some serious style to your iPhone XS Max. Which one are you picking up? Let us know in the comments section below.
| Product | Brand | Name | Price |
| --- | --- | --- | --- |
| | Spigen | Spigen Ultra Hybrid Designed for Apple iPhone Xs MAX Case (2018) - Matte Black | Check Price on Amazon |
| | i-Blason | i-Blason Ares Full-Body Rugged Clear Bumper Case for iPhone Xs Max 2018 Release, Black, 6.5" | Check Price on Amazon |
| | Spigen | Spigen Rugged Armor Designed for iPhone Xs MAX Case (2018) - Matte Black | Check Price on Amazon |
| | Maxboost | Maxboost HyperPro Hybrid Case for Apple iPhone Xs Max Case | Check Price on Amazon |
| | TORRAS | TORRAS [Love Series] iPhone Xs Max Case 6.5 inch, Liquid Silicone Gel Rubber Shockproof Case | Check Price on Amazon |
* If you buy through links on our site, we may earn an affiliate commission. For more details, please visit our Privacy policy page.