In our digital world, we use our phones for almost everything, including work. If you type up email and create documents on the go a lot, the iPhone digital, on-screen keyboard can be way too small, and even uncomfortable for a lot of typing. Luckily, we have Bluetooth keyboards, which can hook up to iOS without a problem. iOS has full compatibility, so typing on a wireless keyboard shouldn't be a problem.
* If you buy through links on our site, we may earn an affiliate commission. For more details, please visit our Privacy policy page.
Now, there are a lot of different Bluetooth keyboards out there, and many of them are quite poor. That's why we've taken the liberty of gathering the best together in this handy list. So without further ado, here are the best Bluetooth keyboards that work with the iPhone:
Best Bluetooth Keyboards For iPhone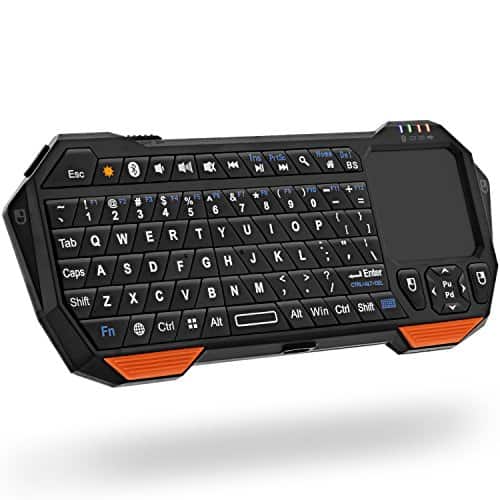 Fosmon's Mini Bluetooth Keyboard is a nice one to keep with you. If you like keeping things lightweight and minimalist, then you'll love what Fosmon has done with this keyboard. It's equipped with your standard QWERTY setup, so you can pretty much pick up the keyboard and go.
The keyboard has a touchpad to the right of the keys. The touchpad function is quite lovely, but it isn't going to work on iOS. It will work with other platforms, such as Android. It does have a pretty nice battery. It's a built-in rechargeable lithium-ion battery with up to 10 days of continuous working time and up to 50 days of standby time.
You cannot go wrong with Arteck's Ultra Slim keyboard . It will work with tablets and mobile phones alike, increasing your efficiency and productivity at work.
This is your standard QWERTY layout, so it's effortless to pick up and use. On top of that, it comes with an integrated hotkey for adjusting volume, music control, brightness, and so on. Arteck's keyboard has an energy-saving design and automatic sleep mode that allows for up to four months between battery changes.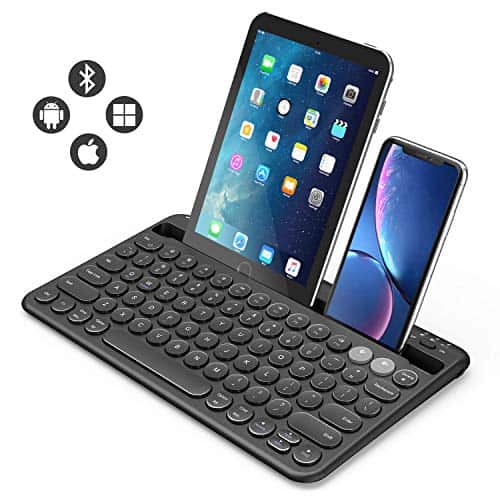 We like the Jelly Comb Multi-Device Keyboard, as well. This multi-device keyboard has multi device function through dual-channel radio support — two devices can be connected up to this keyboard at once, which allows you to switch between your phone and another device for typing quickly. Hooray for increased productivity!
The full size is easier on the hands, reducing the effect of carpal tunnel. The con here is that the accessory isn't great for portability since you can't fold it up or anything of the like and that's a disadvantage. This is a full-size QWERTY keyboard, so you can pretty much pick it up and go. There's a stand so that the keyboard can hold up two devices at once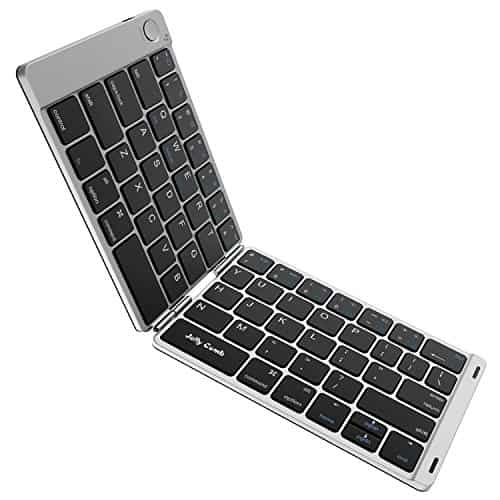 The Jelly Comb B047 keyboard is another one of our favorites. It's similar to the Joyzy but is a Pocket Keyboard. So portability is excellent here — it's lightweight, and you can just fold up and throw it in the backpack, or put it in your back pocket.
Even so, it's a full-size keyboard that enables you to be a whole lot more comfortable, all while keeping your hands protected with great ergonomics.
The other side of it is that the Jelly Comb B047 doesn't have a whole lot of battery life. This one from Jelly Comb gives you a meager two hours of straight use or eighteen days on standby. That's in comparison to the two months that the Joyzy has. The Jelly Comb B047's does have a reasonably modern and sleek design.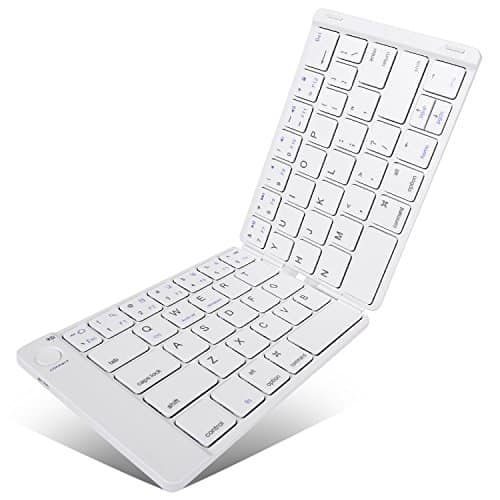 Up first on our countdown, we're looking at the Joyzy Foldable Bluetooth Keyboard. This is an excellent one to hook up to your iPhone — press the button on the Joyzy to start the pairing, and then — within the Bluetooth screen of your iPhone — you can connect up to it. A neat feature of this one is that it automatically connects whenever your power the keyboard on. It's always ready to go!
Portability is excellent in the Joyzy, too. Easily and quickly fold this keyboard up and throw it in the backpack when you're ready to go! It can even easily fit in your back pocket as well, make sure not to sit on it!
When you're ready to use it, you can fold it out as a full-size keyboard, which makes the experience overall a lot more comfortable, all while keeping your hands protected with excellent ergonomics.
This one from Jelly Comb gives you a meager two hours of straight use or eighteen days on standby.
Best Bluetooth Keyboards For iPhone Verdict
As you can see, there are a lot of great Bluetooth keyboards that you can use with the iPhone. These all connect over Bluetooth and should allow you to type up emails, documents, and more quickly and more efficiently. Many of these come with excellent ergonomics as well, which makes typing more comfortable and reduces carpal tunnel.
Do you have a favorite Bluetooth keyboard for your iPhone? Let us know in the comments section below, and your suggestion may just be added to our list in the future.
* If you buy through links on our site, we may earn an affiliate commission. For more details, please visit our Privacy policy page.