With the advent of smartphones, we now use these devices for our source of music when we work out, and that is where the best Armband Phone Holder Case For iPhone comes in handy. Whether it be lifting weights at the gym or jogging a local public trail, the iPhone is able to provide those tunes that we need to get through a tough workout. Unfortunately, traditional cases don't offer the right protection for these activities — an iPhone without or with a light case can easily fly out of your pocket, land on cement or even in the road, and shatter. That's not something you want happening to a couple hundred dollar device! This is why an armband phone holder case is so useful. They hold your iPhone firmly in place on your arm, and there are (usually) even integrated cable routing so you don't rip headphones out of your smartphone either.
| Product | Brand | Name | Price |
| --- | --- | --- | --- |
| | Tribe | TRIBE Water Resistant Cell Phone Armband Case for iPhone X, Xs, 8, 7, 6, 6S | Check Price on Amazon |
| | Tune Belt | Tune Belt Model AB89 Armband - For Running & Working Out - Sweat-Resistant | Check Price on Amazon |
| | RevereSport | Universal Sports Armband for All Phones | Check Price on Amazon |
| | PORTHOLIC | Sweat Resistant Cell Phone Armband Case PORTHOLIC [Stretchy] | Check Price on Amazon |
| | COMSOON | Running Armband, Comsoon 360° Rotatable Sports Armband for iPhone 11 Pro/11 Pro Max/Xs Max/XR/X/8 Plus/8/7, Galaxy S10/Note 9/S9 Plus & Other 4"-6.5" Phone, Armband with Key Holder for Hiking Jogging | Check Price on Amazon |
* If you buy through links on our site, we may earn an affiliate commission. For more details, please visit our Privacy policy page.
But, with so many armband phone holder cases on the market, which one do you choose for your iPhone ? Follow along below, and we'll show you the best options on the market. Here are our top picks.
Let's Dive Right into The Best Armband Phone Holder Case For iPhone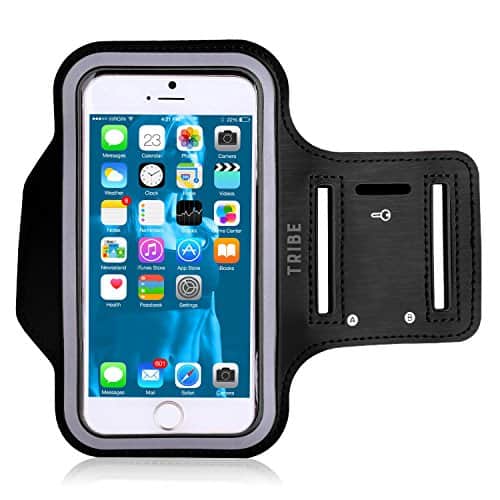 We're first looking at the Tribe Water Resistant Cell Phone Armband Case. This one, like many armband cases, will be able to easily keep your iPhone secure and firmly in place. It's extremely adjustable, so it can fit something as small as an iPhone SE, a mid-range size like the iPhone , or something as massive as the iPhone XS Max. There's a spot for cable routing, and there are pouches for holding credit and debit cards, cash, and more — that means you don't need to take your wallet with you on your workout. The armband is adjustable, so it should fit multiple arm sizes easily. It's got water resistance packed inside, which keeps your iPhone safe from rain and perspiration as well.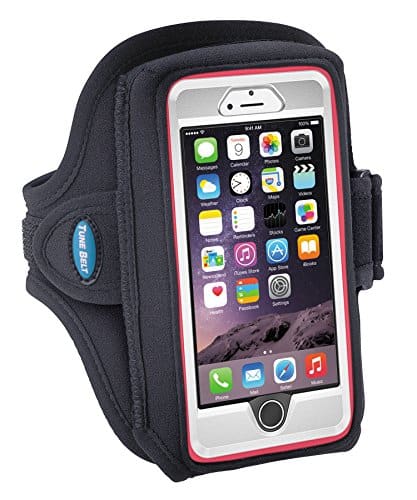 Next on our countdown, we have the iPhone Armband by LOVPHONE. This one is similar to the other armbands on this list in a lot of ways — but the highlight here is that this is supposed to work with phones that have cases on them as well — i.e. an iPhone with an Otterbox Defender. Suffice to say, your phone is going to get top protection in this armband holder, especially with an existing case already on. It is also water resistant, so you won't have trouble with sweat ruining your device. Not only that, but with a lifetime warranty, you can always get a replacement if the armband ever fails.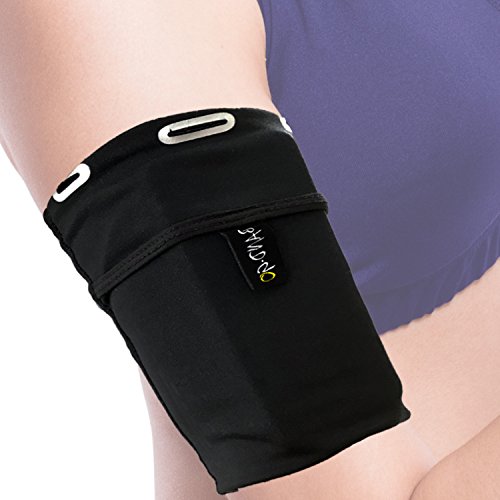 The Universal Armband Phone Holder might be third on our list, but this one is easily our first place contender because of its low profile and breathable material. Set your iPhone inside no problem, and it'll keep it secure as you run down the trail. Most armbands are pretty bulky, but this one is thin and lightweight. That said, you might get the most comfort out of this one yet. Even though it has this thin profile, there's still room for credit cards, debit cards, keys, and other gear.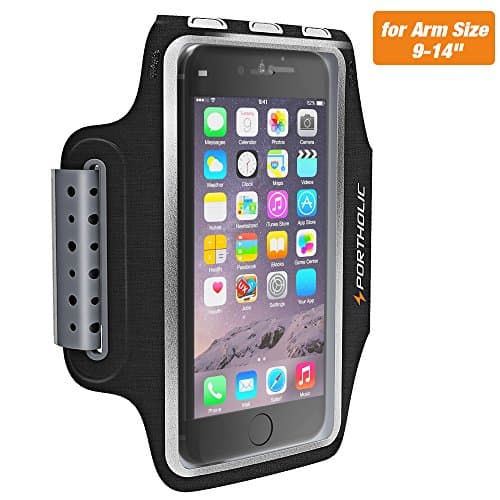 Coming in as our fourth contender, we really like what Portholic is offering in their own Sweat Resistant Armband Case. Like the Tribe Armband, this one is extremely versatile. Use it for a mid-range phone like the iPhone, or a large phone like the iPhone XS Max — however, no matter what phone you're using, the armband case will keep it firmly and securely in place. One of the highlights of this phone is that there's some protection for your screen here as well with a thin layer that keeps scratches away. It still has ample amounts of touch sensitivity, though.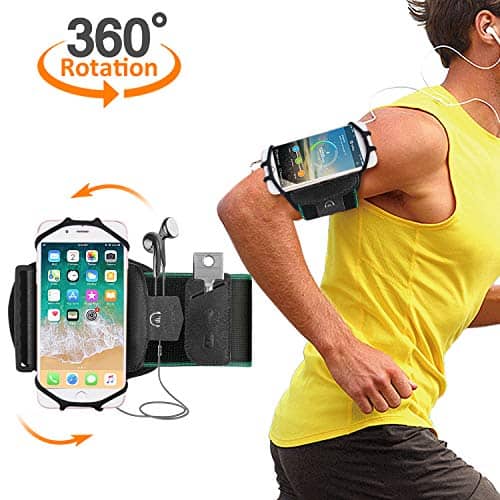 Lastly, we have the versatile and unique Comsoon Running Armband 360 Case. This one excels in just how adjustable it is. You can adjust the strap to fit almost any arm size, but on top of that, it sits on a swivel so that you have 360-degree rotation. That makes it easier to watch notifications or change your music while you're on the run.
Like many of the other armband phone holder cases on this list, there's a pocket where you can keep a bunch of gear as well — credit cards, debit cards, an extra pair of headphones, keys, etc.
Verdict on the best armband phone holder case for iPhone
Here we've shown you the top armband phone holder cases for the iPhone . Any one of these will keep your device well protected during your intense workouts. However, we really like the Universal Armband Phone Holder because of its cheap price point, but also its top quality. It's hard to beat the low profile design, as well as the breathable material of the best armband phone holder case For iPhone.
| Product | Brand | Name | Price |
| --- | --- | --- | --- |
| | Tribe | TRIBE Water Resistant Cell Phone Armband Case for iPhone X, Xs, 8, 7, 6, 6S | Check Price on Amazon |
| | Tune Belt | Tune Belt Model AB89 Armband - For Running & Working Out - Sweat-Resistant | Check Price on Amazon |
| | RevereSport | Universal Sports Armband for All Phones | Check Price on Amazon |
| | PORTHOLIC | Sweat Resistant Cell Phone Armband Case PORTHOLIC [Stretchy] | Check Price on Amazon |
| | COMSOON | Running Armband, Comsoon 360° Rotatable Sports Armband for iPhone 11 Pro/11 Pro Max/Xs Max/XR/X/8 Plus/8/7, Galaxy S10/Note 9/S9 Plus & Other 4"-6.5" Phone, Armband with Key Holder for Hiking Jogging | Check Price on Amazon |
* If you buy through links on our site, we may earn an affiliate commission. For more details, please visit our Privacy policy page.