This post will walk you through setting up and deleting a Samsung account on the Galaxy A73 smartphone. Here's a quick guide to add/remove Samsung Account on Galaxy A73 5g.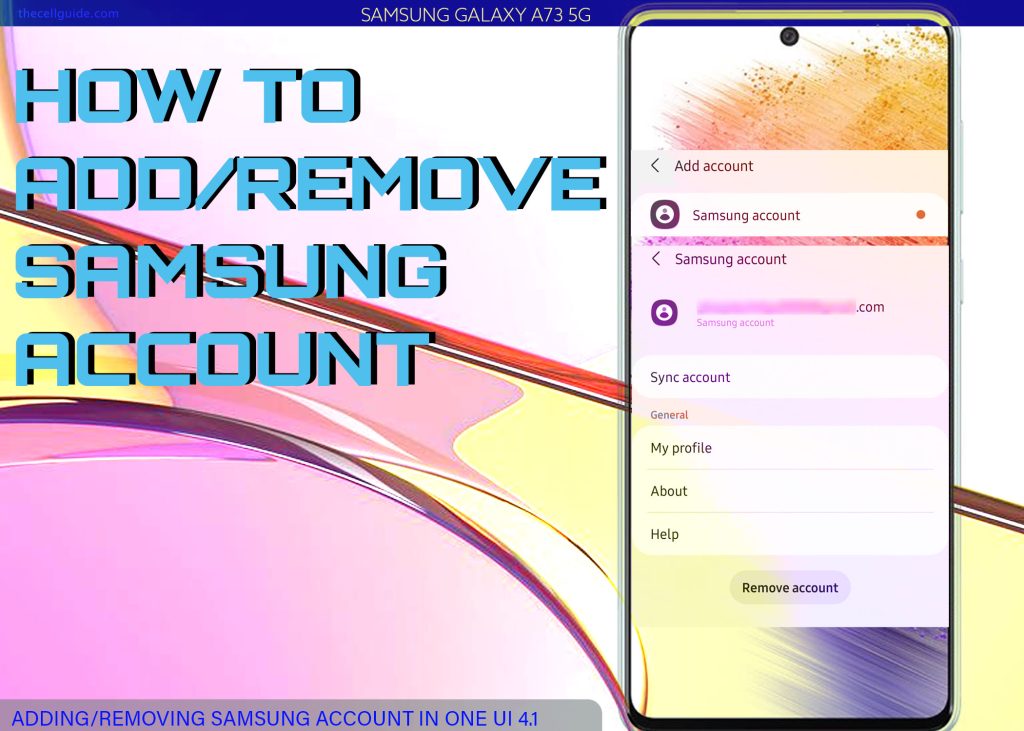 Samsung Account Setup and Deletion
If you own a Samsung Galaxy device, setting up a Samsung account is highly recommended to make full use of everything the device has to offer.
Samsung account is a free built-in membership service granted to individual users of a Samsung Galaxy device.
A Samsung account will let you keep Samsung apps synchronized across all your Samsung devices. It's also a requirement for you to access many useful Samsung-related services such as Samsung Pay, Smart Things and enables you to receive news and discount offers.
It is also among the primary requisites to backup, restore and sync your data across multiple Samsung devices as well as for account recovery.
Most importantly, a Samsung account is also necessary for you to use the Find My Mobile service to keep track of your phone.
A Samsung account normally consists of a user ID and password. The Samsung ID is typically a valid email address and the password is user-generated.
If you're new to Android and need some input on how to add or remove a Samsung Account on the new Samsung Galaxy A73 5g device, this post highlights a simple walkthrough for your reference. Just keep scrolling to view more detailed instructions.
Steps to Add/Remove Samsung Account on Galaxy A73 5g
The following steps are based on the Galaxy A73 5g interface but are likewise applicable when adding and removing a Samsung account on other Samsung phones running on Android 12 with One Ui 4 or later OS version.
A. Adding Samsung Account
Setting up a Samsung account is usually among the first recommended actions carried out during the initial setup process on a Samsung Galaxy phone. Those who opted to skip the process can do it at a later time though.
If you opted to skip the Samsung account set up process, then you may set it up now with these subsequent steps:
Step 1: Tap Settings to launch the Settings app menu.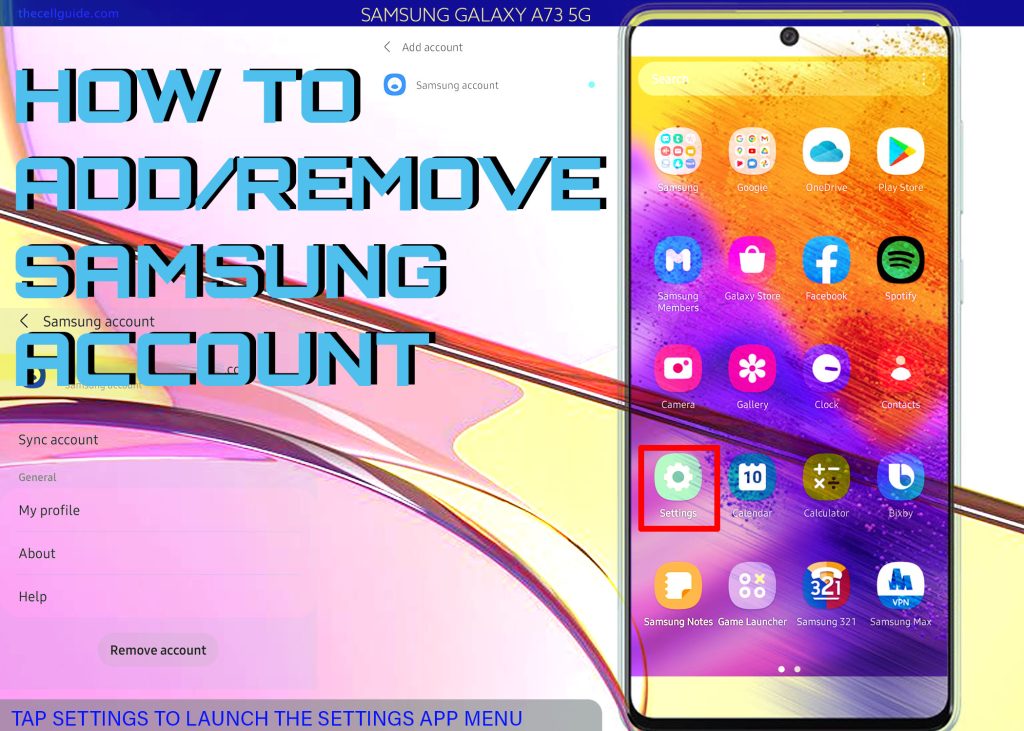 Step 2: In the settings menu, tap Accounts and backup.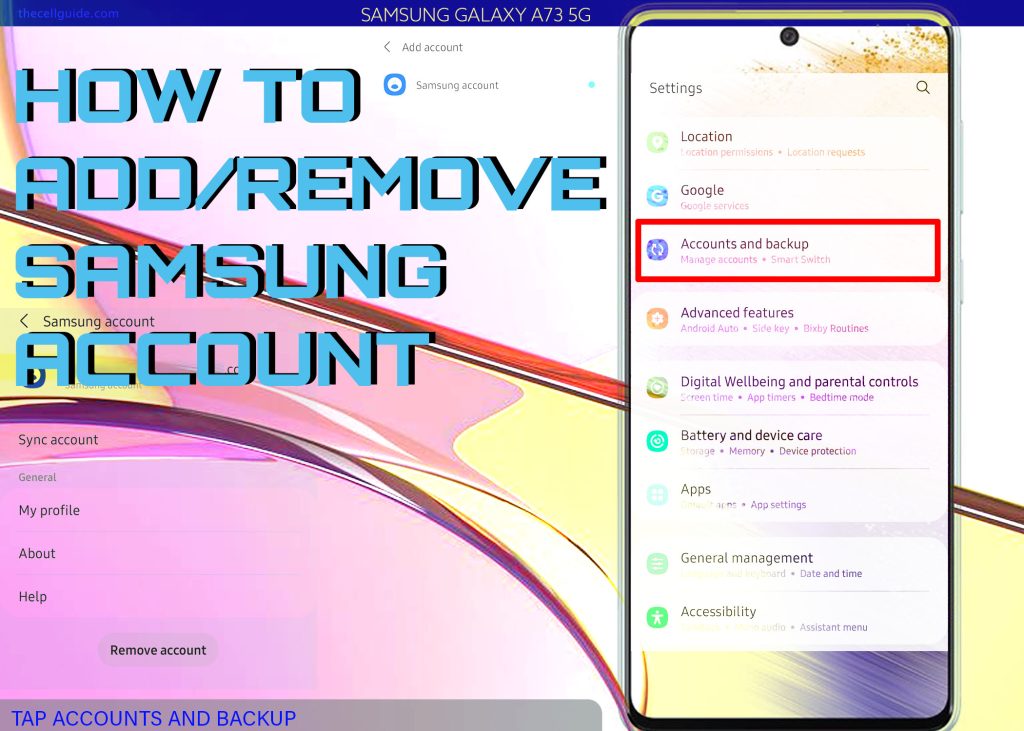 Step 3: On the next screen, tap Manage Accounts to proceed.
Step 4: Tap Add Account on the Accounts menu. A list of different accounts you can add on your device will show up next.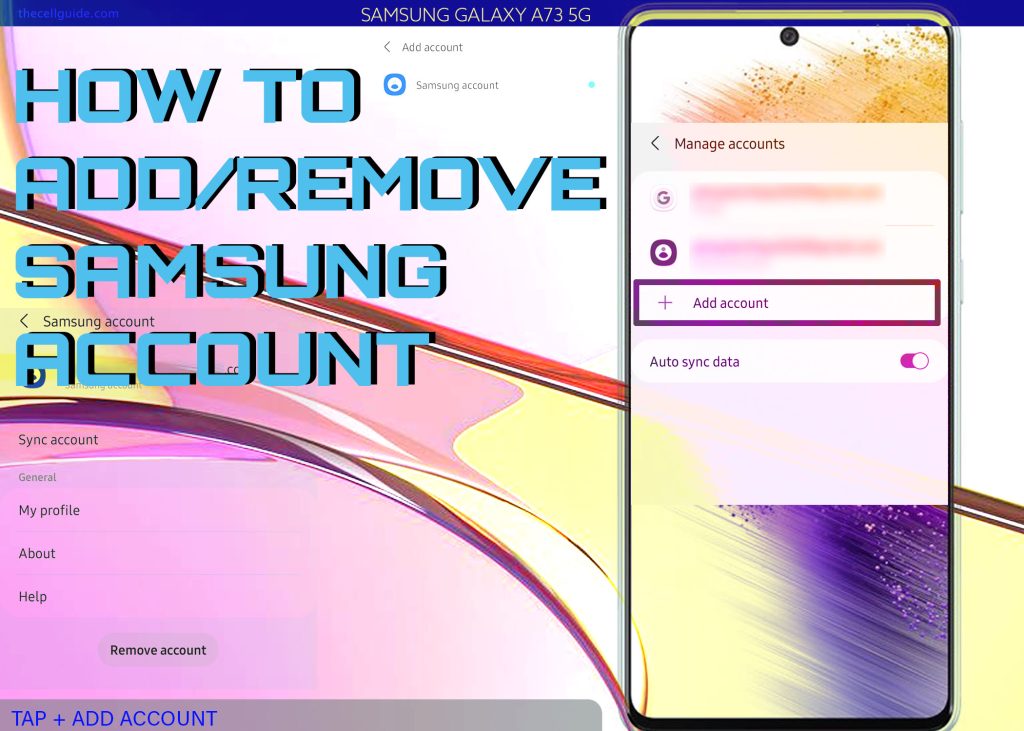 Step 5: Select Samsung account to proceed. The Samsung account setup wizard opens next.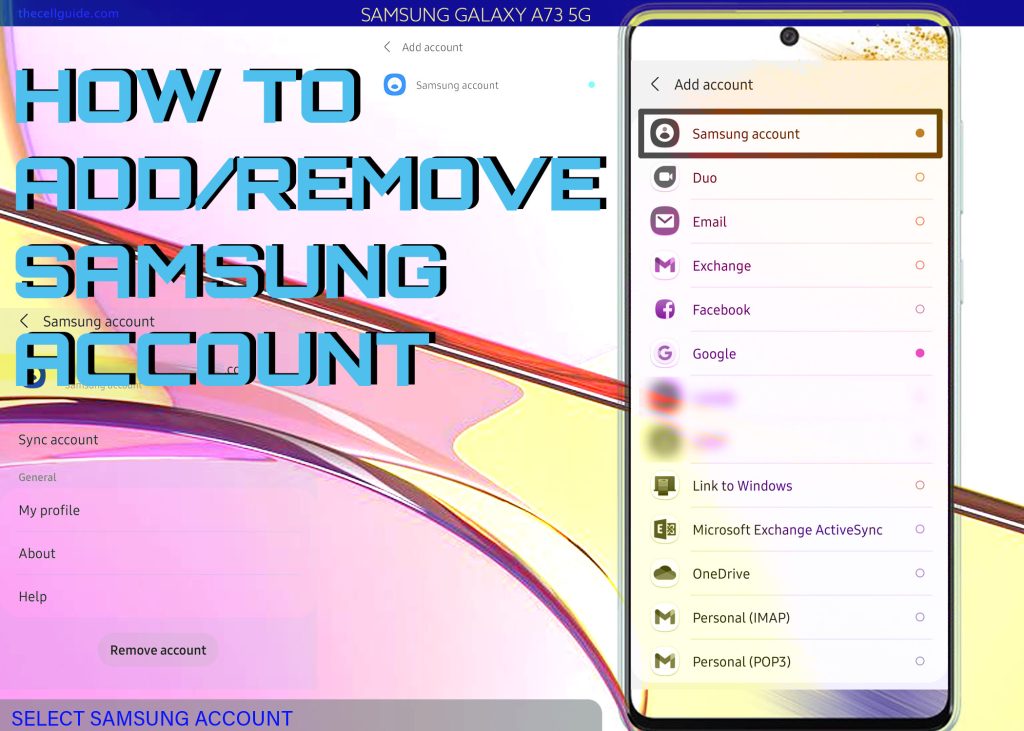 Step 6: Enter your email address or phone number and password in the provided text fields then tap Create account to continue.
Follow the rest of the onscreen prompts and finish setting up your Samsung account through the setup wizard.
If you've already created and set up a Samsung account on your phone, then you would need to remove that account so you can sign in to or create a new one. Only then you can sign in to or create a new account.
B. Removing Samsung Account
If the current Samsung account set up on your device is no longer valid, you can remove it and then set up a new one.
Just follow these steps to delete an invalid Samsung account from your Galaxy A73:
Step 1: Tap Settings to launch the settings app menu.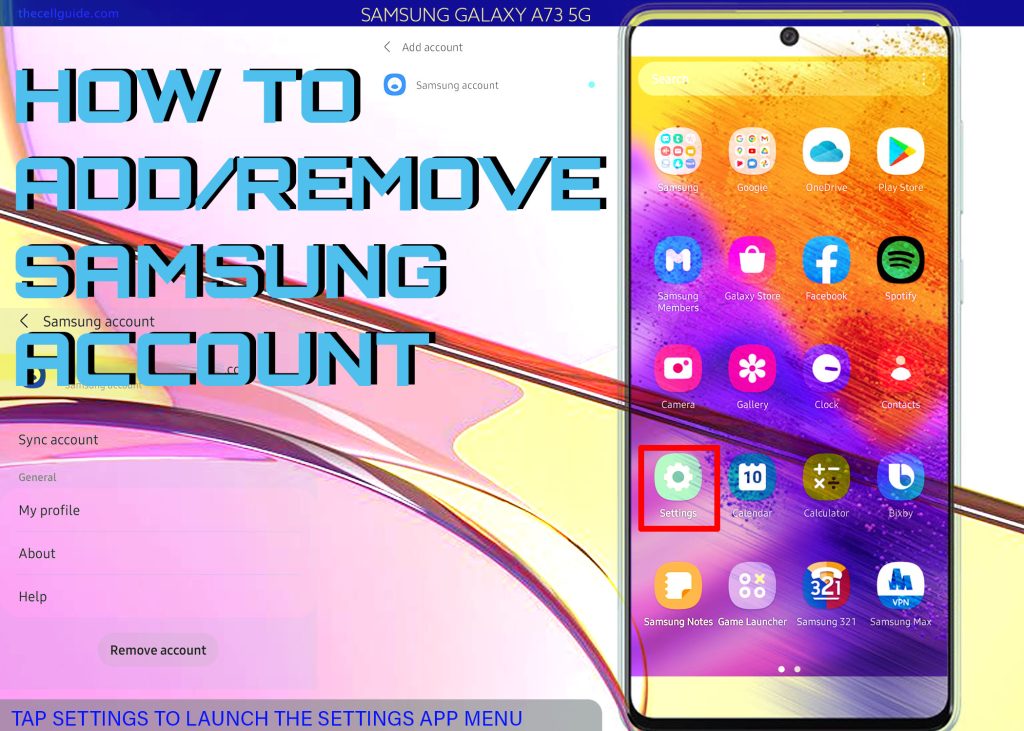 Step 2: In the main settings menu, find and then tap Accounts and backups.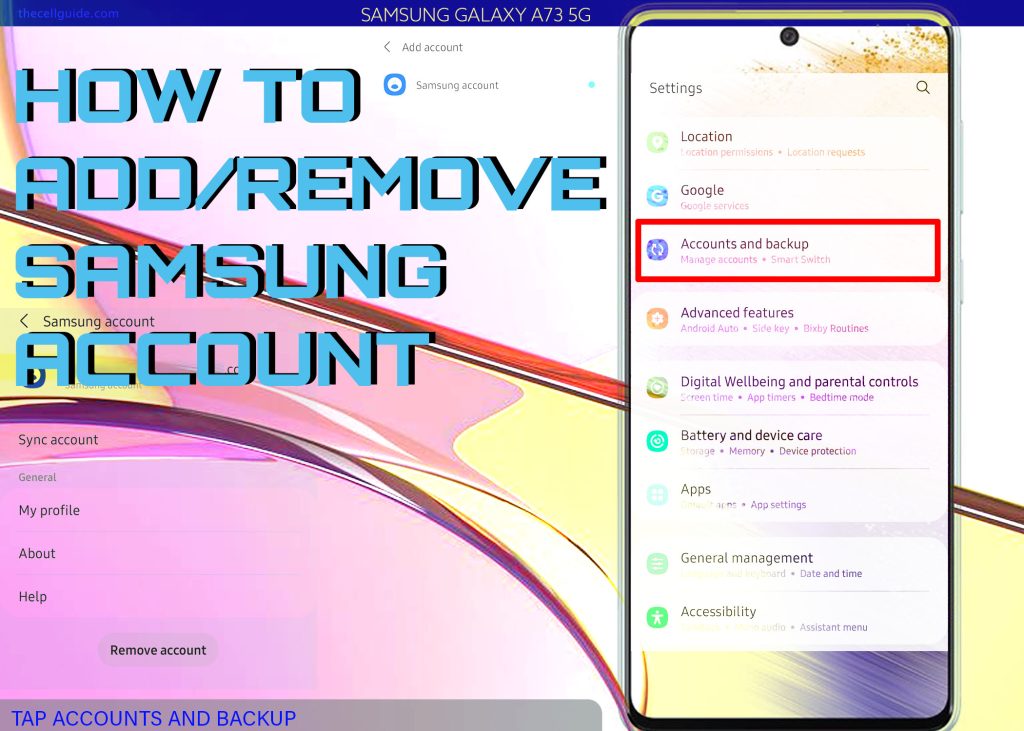 Step 3: Under the Manage accounts menu, tap to select your Samsung account.
Step 4: On the succeeding menu, tap Remove account.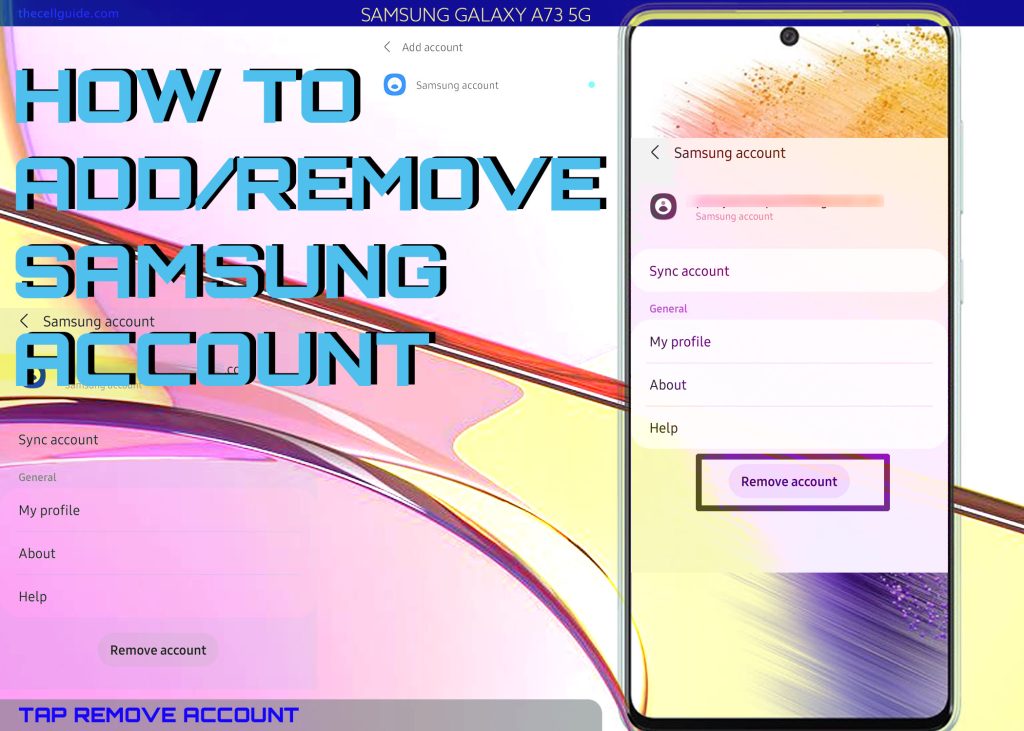 Step 5: Read the warning prompt and then tap Remove account to continue.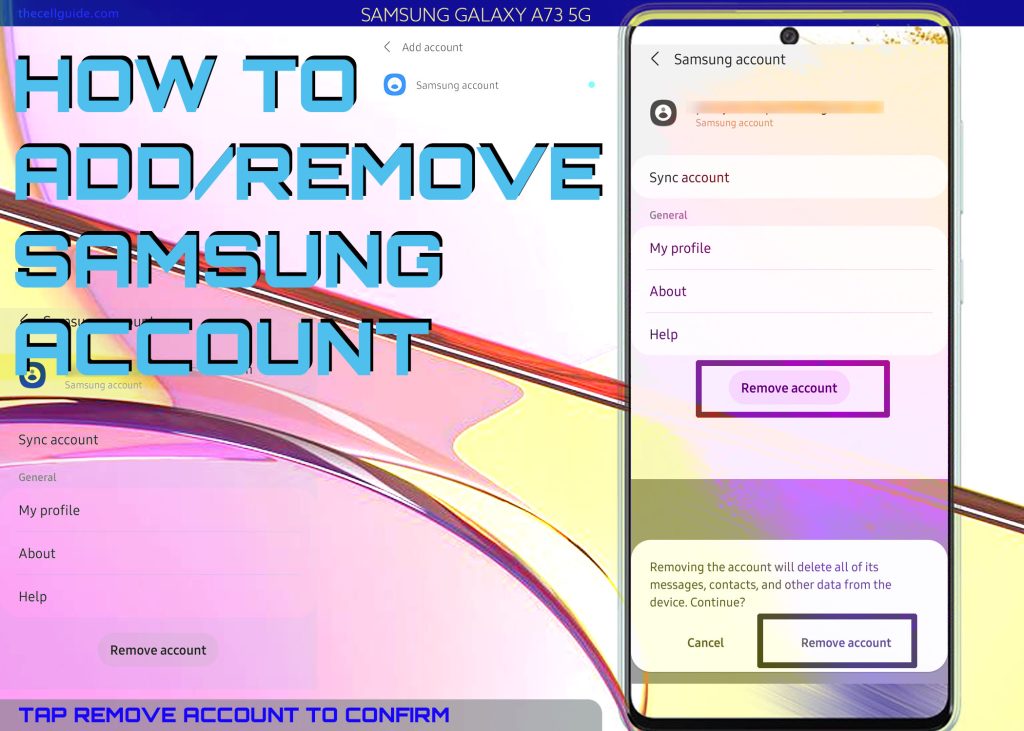 Step 6: On the next screen, you will be asked to sign out from Samsung-related services. Tap Sign out at the bottom to confirm.
Be sure to enter the correct password for your Samsung account to sign out successfully.
Removing the account will also delete all of its messages, contacts and other relevant data from the device. To use these data again, you will need to re-add the associated Samsung account on your device. This also denotes the need for you to remove the existing account from your Galaxy device.
Note: Removing and permanently deleting a Samsung account are two different things.
Cannot Add or Delete Samsung Account?
If for some reason you're unable to add a Samsung account on your phone, verify and ensure that the account credentials you entered are correct. The email address must be complete with the email server (@eserver) and the top-level domain (.com). Check the spelling and make sure everything is spelled correctly. If the password field is auto-filled, delete the current password entry and then retype the password manually. Note that you won't be able to delete a Samsung account if the password you entered is incorrect. That's part of the device's account privacy and security regulations that you need to comply with.
If you're seeing an error message or code, read and review the message because it often contains the problem and the recommended solution. Also ensure that your phone has a stable internet connection.
Keeping the device's software updated is likewise highly recommended to ensure all recent system enhancements and patches are implemented.
And that's all about adding and removing a Samsung account on the Galaxy A73 5g smartphone.

Hope this helps!
Please check out our YouTube channel to view more tutorial and troubleshooting videos for popular iOS and Android devices.
You Might Also Want To Read: