This post will walk you through setting up biometrics security using fingerprint recognition on the Samsung Galaxy A series. Here's a quick guide to add a fingerprint on Galaxy A53 5g.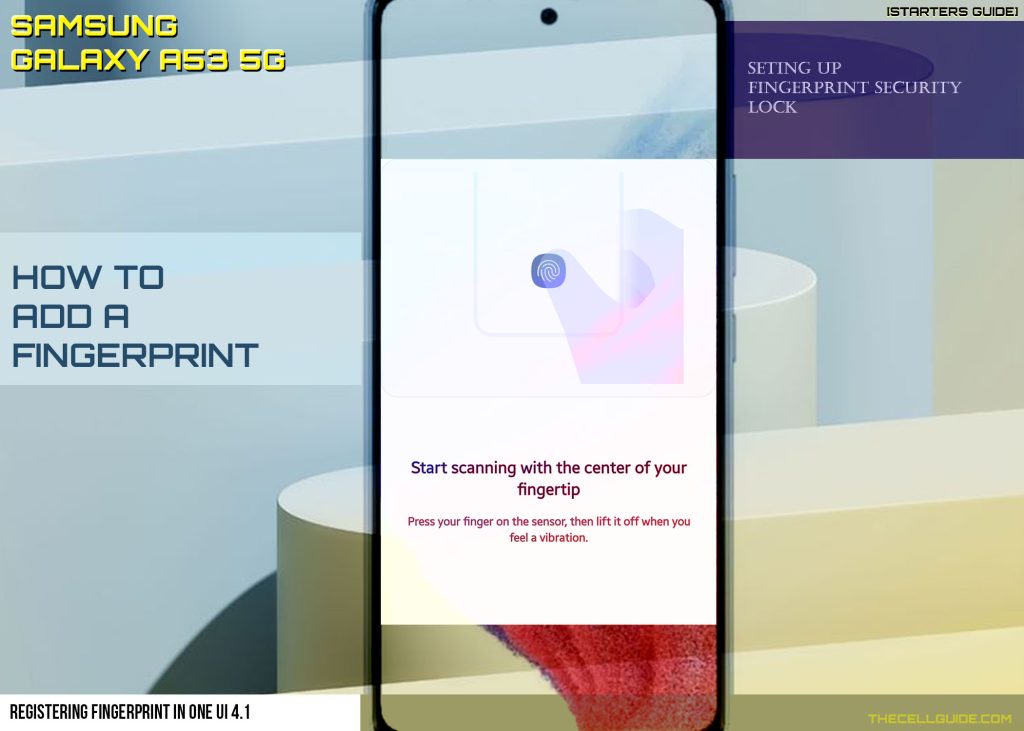 Wondering how to augment security on your Samsung mobile device? If that is so, then setting up fingerprint unlock system can help. You should do this now if you haven't already.
Samsung Fingerprint Security Setup
Fingerprint security on Samsung Galaxy phones is definitely reliable and therefore highly recommended. Although, setting up a unique PIN, pattern or password still does a good job at making your device secure, the security measure it offers may not suffice and therefore has a good chance of being breached.
To strengthen your device's system lock, using advanced security (biometrics) features like face ID/facial recognition and fingerprint unlock is recommended.
Tackled in this guide is the process of adding a fingerprint to be used as a supplemental, if not a primary lock system for a Samsung Galaxy phone.
Setting up a fingerprint on a Samsung phone is pretty straightforward as it's carried out through a scanning wizard. All you need is to follow the onscreen instructions to complete the entire process and have your fingerprint added in the biometrics system.
If you're new to the Android with One UI platform, you can refer to the outlined instructions below.
The steps are based on the interface of the Galaxy A53 5g device but are likewise applicable when adding and setting up fingerprint unlock on other Samsung phones running on Android 12 with One UI 4.1 OS version.
Steps to Add Fingerprint on Galaxy A53 5g
The new Samsung Galaxy A lineups come with an in-display fingerprint reader, particularly an optical sensor. Be sure to place your finger within the designated area so that the fingerprint reader won't have a hard time registering print.
Start whenever you're all set to register your fingerprint.
Step 1: To get started, access the Apps tray then tap Settings. Just look for the gear icon and then tap on it to launch the Settings app.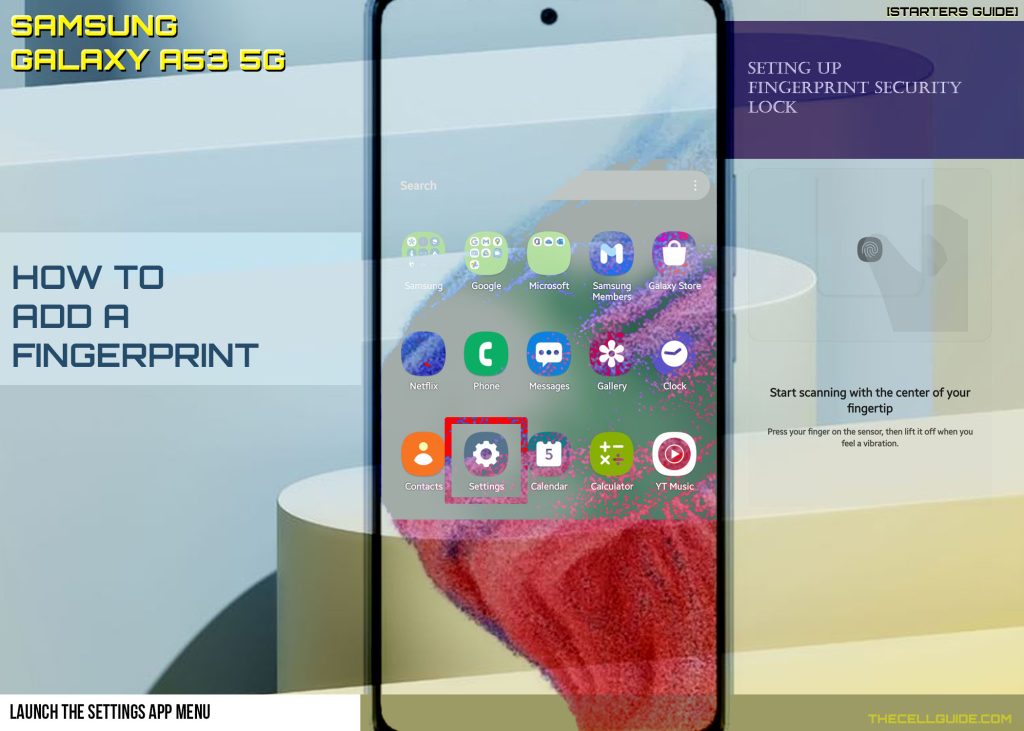 Alternatively, you can access the settings menu straight from the quick panel. Just launch the quick/notification panel on your phone and then tap the Gear icon on the top-right corner of the screen right next to the Power icon.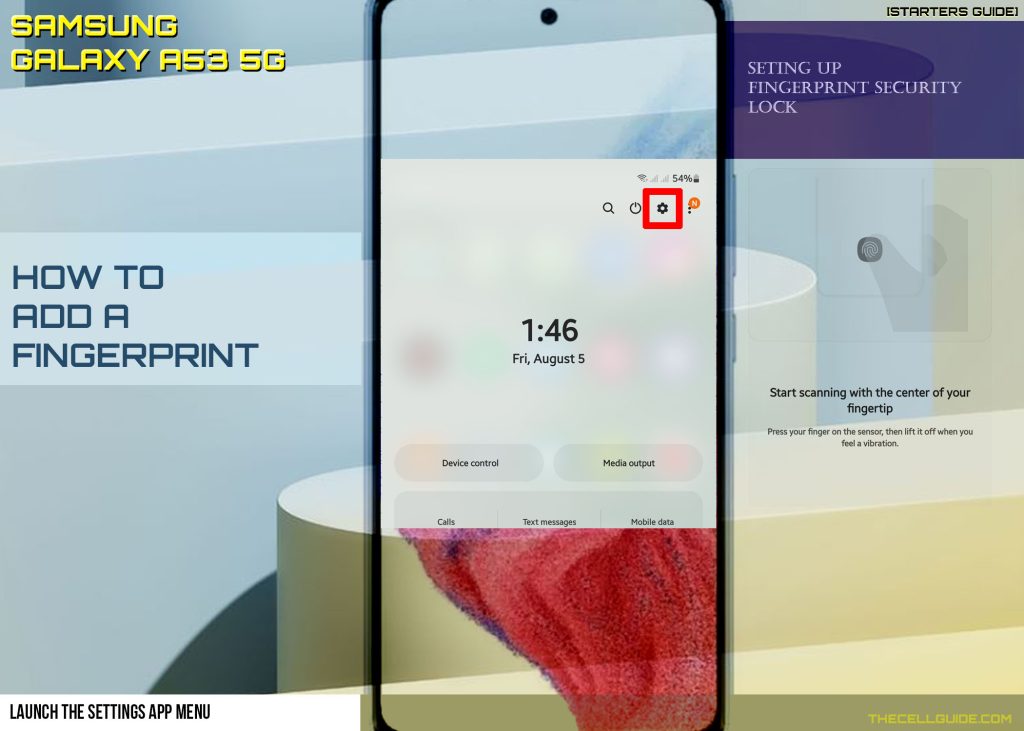 Step 2: While in the settings menu, find and then tap Biometrics and security. Doing so launches another screen with the built-in biometrics security features.
Step 3: Tap Fingerprints to proceed.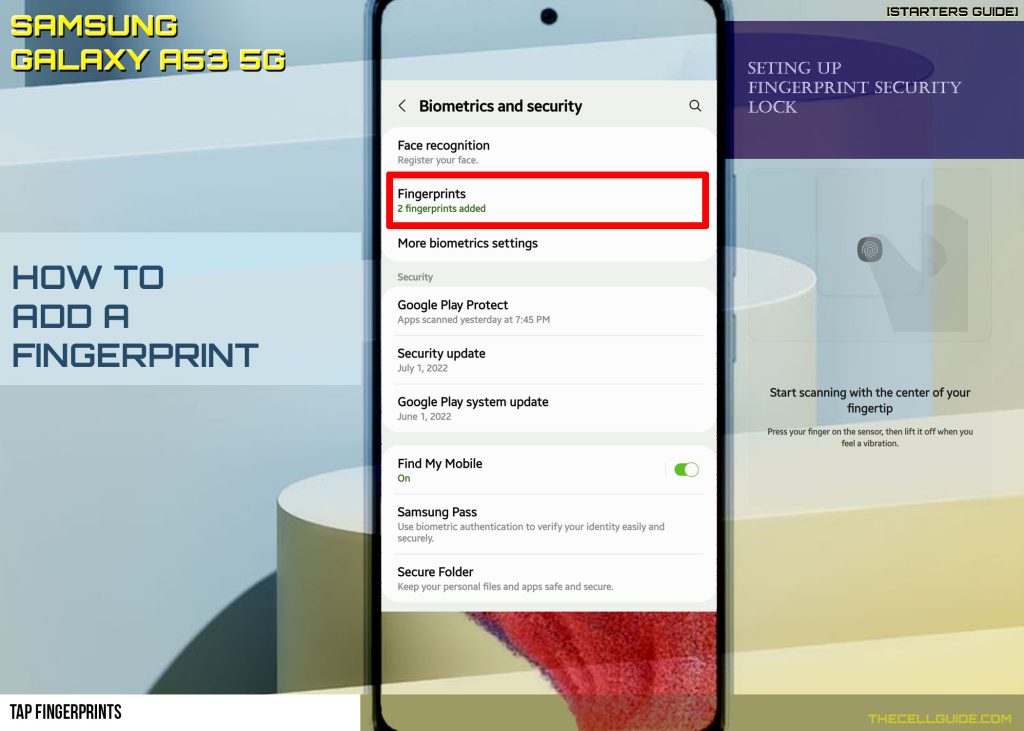 Step 4: If prompted, enter your current password, pattern or PIN to continue.
Note:
Before you can register your fingerprint, you are required to set up a screen lock pattern, PIN or password on your device beforehand.
Step 5: After entering your lock screen pattern, PIN or password, the fingerprint menu launches. Here, you will see relevant features for fingerprint unlock. To continue, tap Add fingerprint (+).
Choose this option if you've already registered other fingerprints before. Otherwise, you will need to carry out the first fingerprint registration procedure.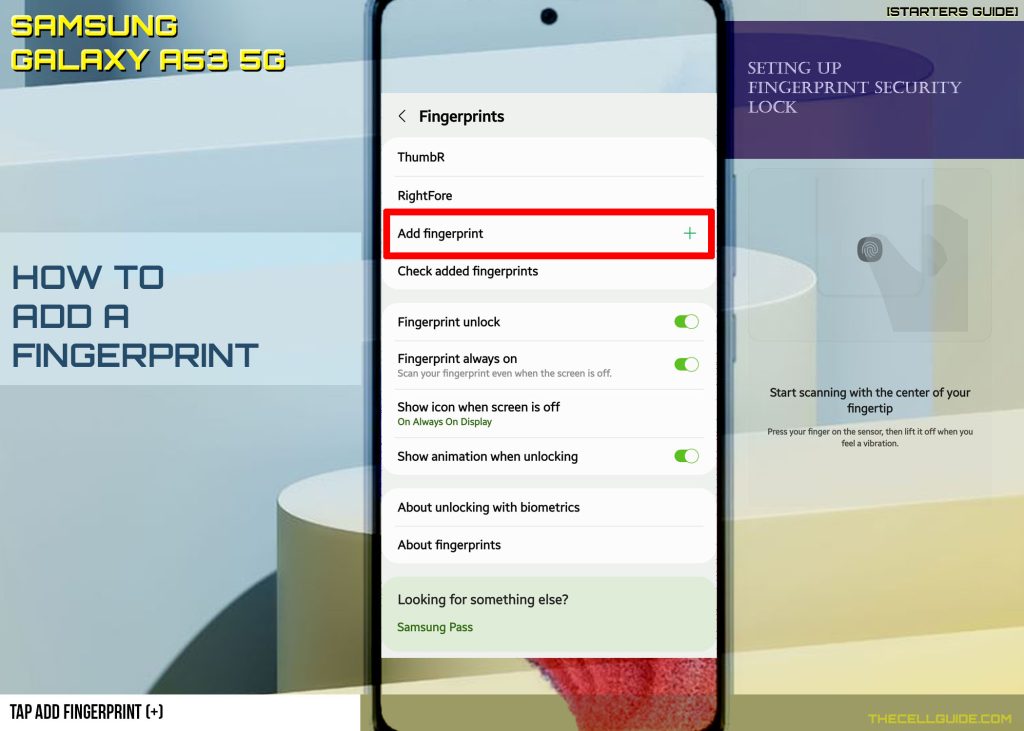 The fingerprint scanning wizard will load up next.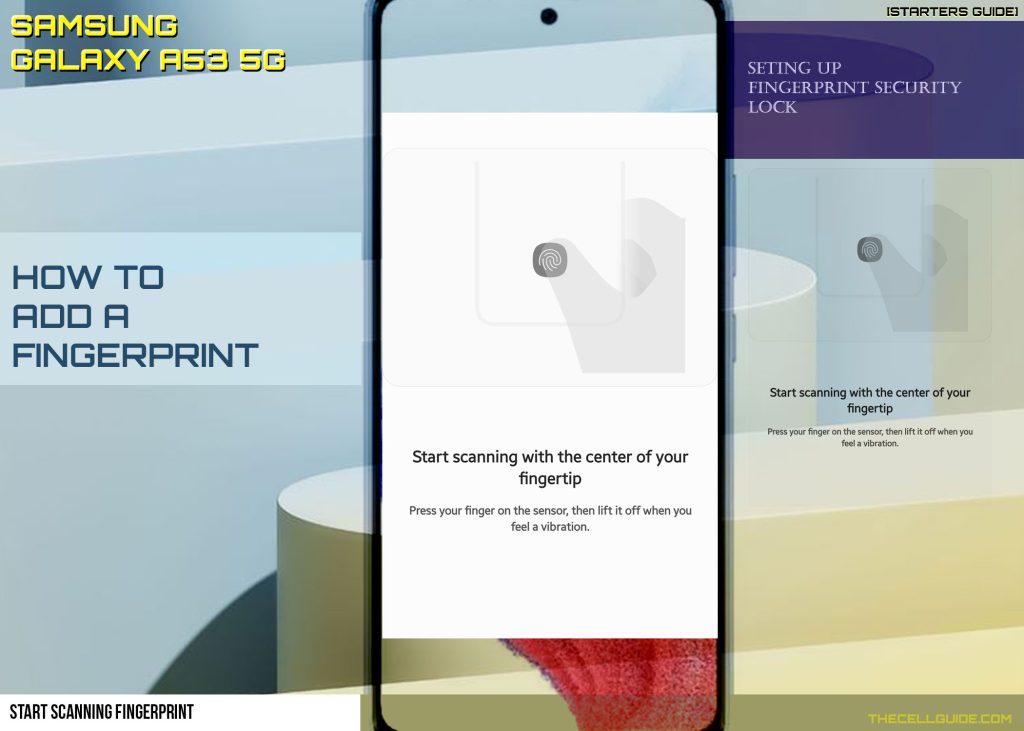 By then you can start scanning your fingerprint. Be sure to place your finger inside the provided fingerprint scanning area and start scanning with the center of your fingertips.
When scanning, press your finger on the sensor and then lift it off when you feel a vibration.
The entire scanning process usually takes a few minutes to complete depending on how you respond to the given instructions.
To speed up fingerprint registration, be sure to place your finger in the designated scanning area so that the fingerprint sensor will be able to easily read and register your print.
Step 7: When the fingerprint scanning process is complete, tap Done at the lower-right of the screen.
Be sure to turn on the Fingerprint unlock switch so that you can use your registered fingerprint to unlock your device.
To check and see if the recently added fingerprint works, tap Check added fingerprints from the Fingerprints menu then scan your fingerprint to see if it was added successfully and working as intended. You can also assign a designated name to individual registered fingerprints, to easily identify them.
Another way to test if your fingerprint works is to lock your phone and then try unlocking it using the fingerprint that you recently added. Be sure to place the registered finger on the fingerprint scanner. Once the phone recognizes your fingerprint, it will automatically unlock.

Having trouble adding your fingerprint on your Samsung Galaxy A53 5g?
Your phone may not be able to read your fingerprint because the fingerprint scanner is covered with some sort of dirt or oil. Should this be the case, use a fiber cloth to wipe the scanner on your phone to remove any dust, oil or grime that's hindering the scanning process. Aside from the fingerprint scanner, your finger must also be clean, dry and free from any sort of oil or cream.
Hope this helps!
Please check out our YouTube channelto view more tutorial and troubleshooting videos for popular iOS and Android devices.
You Might Also Want To Read: