This post will help activate Samsung Galaxy S21 bedtime mode. Read on to learn how to manage and set up a wellness feature that will allow your new Samsung smartphone to hinder any type of disturbances while you're asleep.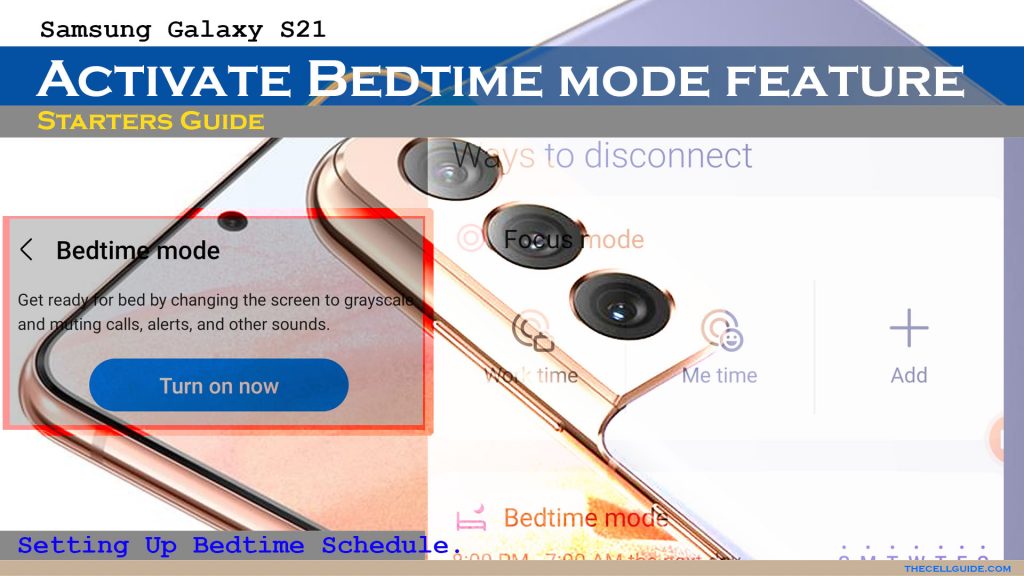 Getting sufficient and quality sleep at night is one way to maintain wellness. But with the presence of mobile devices, getting enough sleep is already becoming a challenge to many smartphone users.
To address such a demand, Android smartphone developers have come up with an updated wellness feature that will help users manage sleep time. And this is manifested with the preloaded Bedtime Mode feature on the Digital Wellbeing application.
That being said, you can use your smartphone to help you get better sleep by setting and adhering to a predefined bedtime schedule.
This feature is also available on other Samsung devices running on the One UI 3.0 and later firmware versions.
Android 12 Bedtime Mode
Aside from Do Not Disturb mode, newer Samsung Galaxy phones are also packed with additional features for the user's privacy and digital wellbeing. And Bedtime Mode is one of them.
When enabled, Bedtime mode will limit the amount of light emitted from the phone as the screen transforms to a grayscale. Calls and sound alerts are likewise muted.
With the updated version of Samsung Clock and wellness features, you can already make use of Bedtime Mode to get a reminder from your phone to go to bed as per your scheduled bedtime.
Depicted in this quick walkthrough is the actual process of setting a bedtime and wake-up time schedule through the built-in Digital Wellbeing app on the new Samsung Galaxy S21 device.
Feel free to refer to outlined steps below if you need help getting this feature to work on your Galaxy smartphone.
Easy Steps to Activate Samsung Galaxy S21 Bedtime Mode
The following steps are also applicable when setting up and activating Bedtime mode on other Samsung Galaxy phones that are running on the same One UI or Android version with that of the Galaxy S21 series.
However, there may be some slight variations on the actual user interface given that screens and menu options vary between device models and carriers.
Feel free to start whenever you're all set to configure your device.
Step 1: Tap the Settings icon from the Home or Apps screen to launch the Settings app.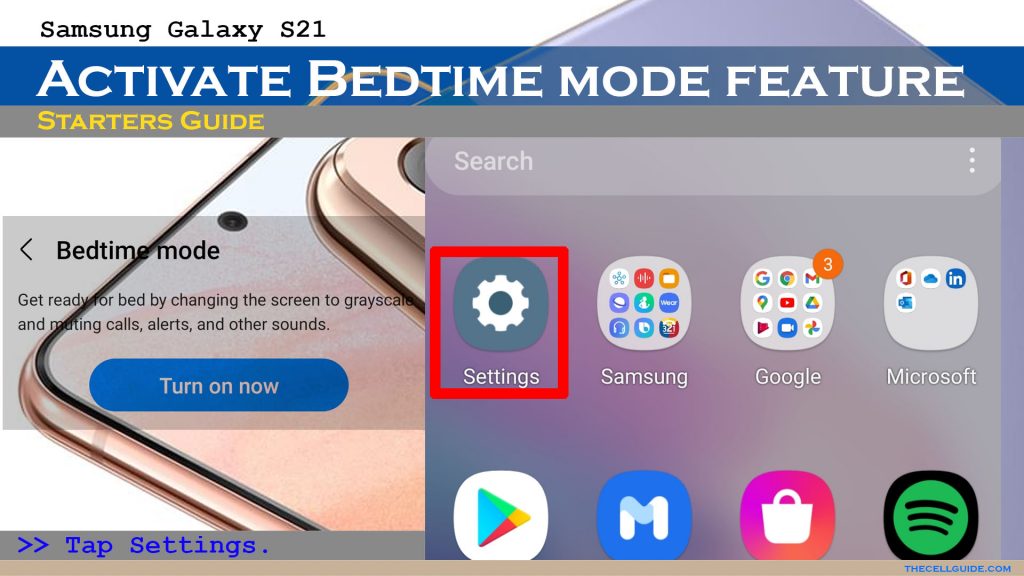 Step 2: While on the Settings app menu, find and tap Digital Wellbeing and parental controls. Read the features overview and then tap Start to continue.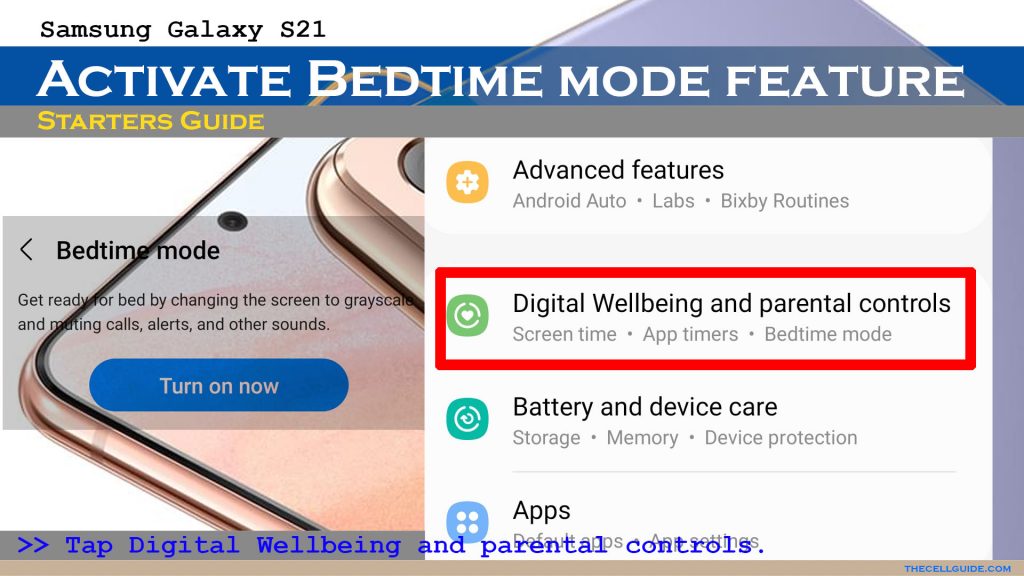 Step 3: On the next menu, scroll down to find and then tap Bedtime mode. Doing so will take you to the Bedtime mode setup window. If prompted, read to feature overview then tap Start to continue.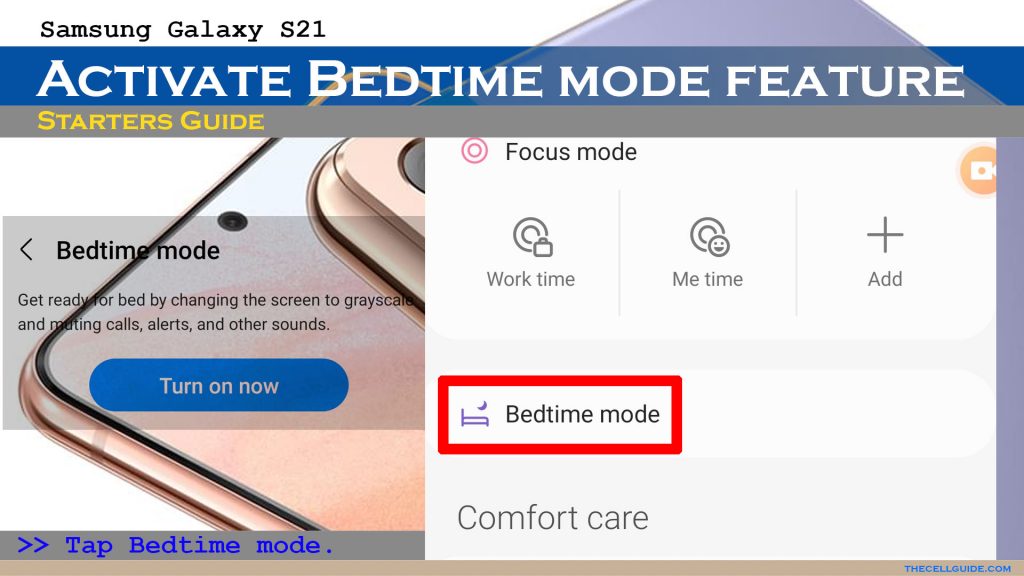 Step 5: On the succeeding menu, tap Turn on now or set and manage a schedule when you want bedtime mode to activate, simply toggle the switch next to Turn on scheduled.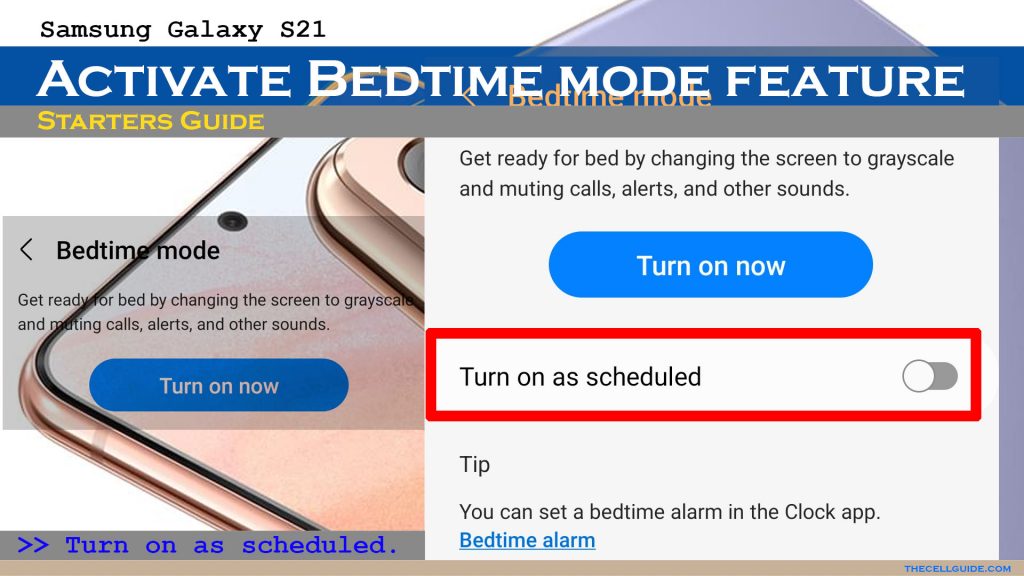 Step 5: Specify the days that you'd like Bedtime Mode to be activated on your device. Just tap to select your preferred days.
Step 6: To set or change the Bedtime mode time to activate, tap Set schedule and then set your preferred Start and End time.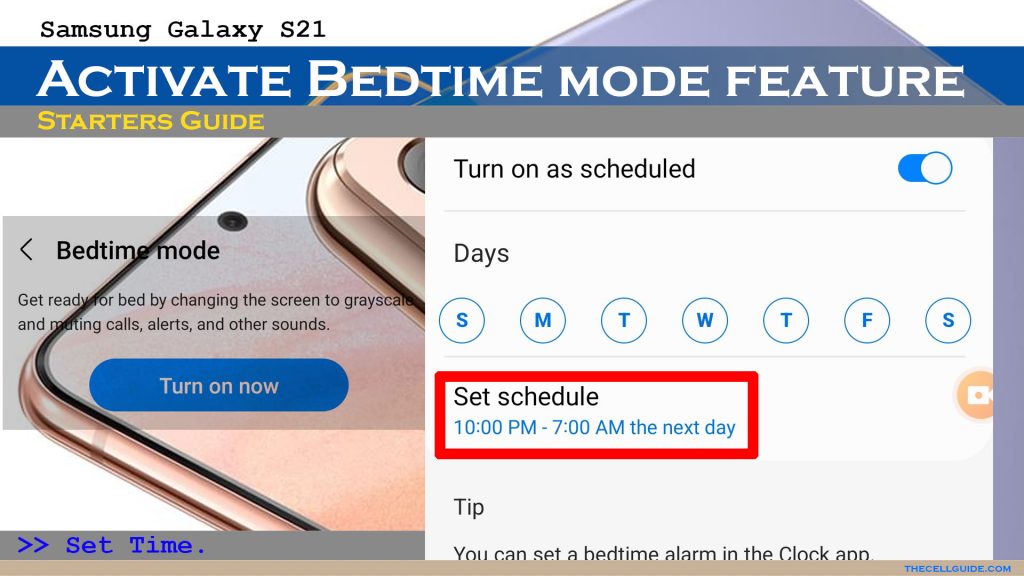 Step 7: Once you're done making necessary settings, tap Done.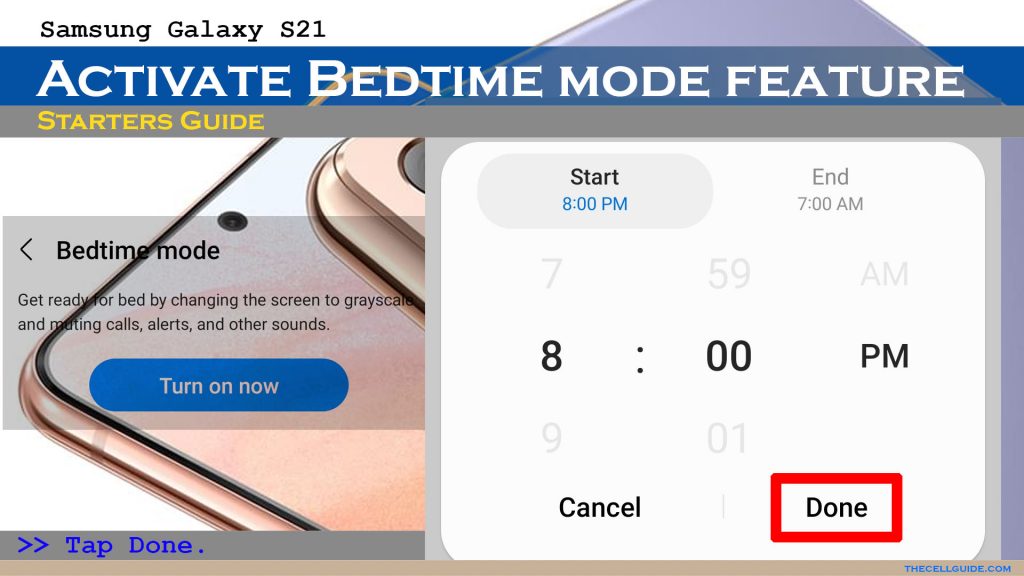 The recently applied schedule for Bedtime mode will then be set and implemented. A summarized details about the recently saved Bedtime mode schedule will also be posted on the bedtime mode menu including how much sleep you will get during that time.
By then you should expect your phone screen will change to grayscale and the Do Not Disturb feature activates until the specified end time.
Other Digital Wellbeing features
Aside from setting a bedtime schedule, you can also use other comfort care features including Volume monitor, driving monitor, screen time, focus mode and app timers.
To keep track on your kids mobile activities when using your device, parental controls are also available.
Update/Change Bedtime Schedule
Should you wish to change the schedule, just tap the option to Change schedule from the Bedtime mode menu.
Disable Bedtime Mode
To disable Bedtime Mode, just swipe down to access and view the notification panel and then tap the Digital Wellbeing Notification and then select the option to End Bedtime Mode
Bedtime Mode on Samsung Clock App
Bedtime mode and the latest digital wellbeing integration are also made available on the Samsung Clock app. Thus, you can use Google's Clock and alarm apps to activate and use bedtime mode on the same device.
Just access the main Samsung Clock alarm menu and there you can set up your usual sleep time patterns for both sleep time and wake-up time.
And that's all about activating Samsung bedtime mode on a Galaxy S21 and other One UI 3 or later Samsung Galaxy devices.
Hope this helps!
Please check out our YouTube channel to view more tutorial and troubleshooting videos for popular iOS and Android devices.
You Might Also Want To Read: