This post will walk you through activating a safety and emergency feature on the Samsung Galaxy S22 series that allows you to send SOS messages to someone whenever an emergency situation arises. Here's a quick guide to activate and use Send SOS messages on Galaxy S22.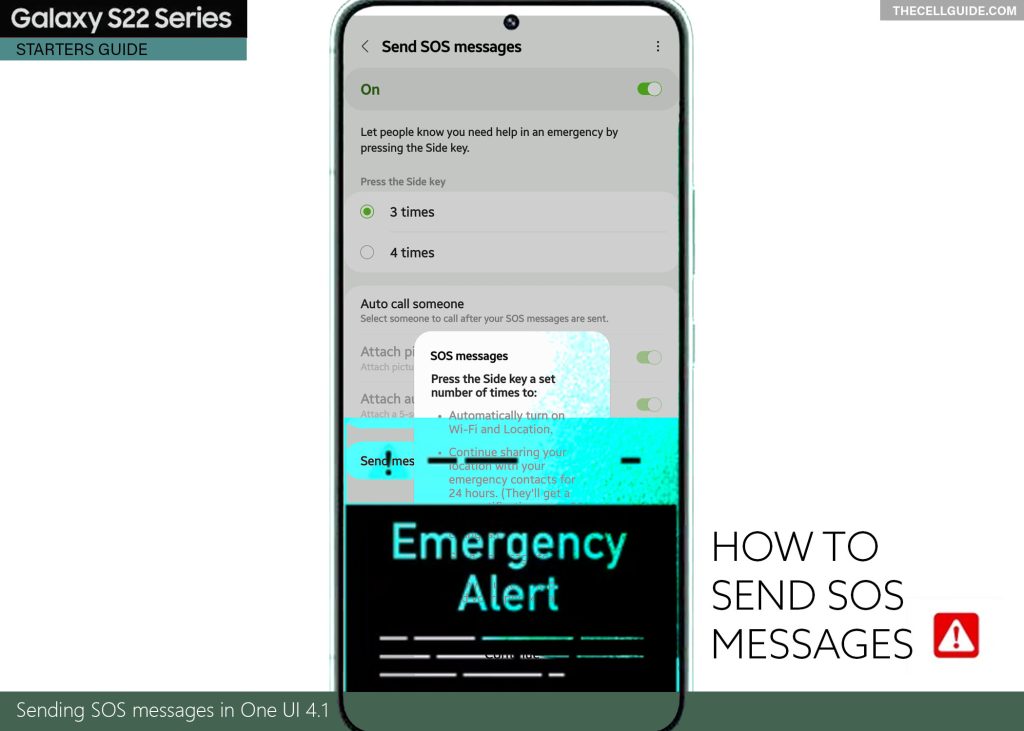 Send SOS Messages Overview
Newer Samsung Galaxy phones including the Galaxy S22 series come with a number of safety and security features that you can use in certain situations like emergencies. One of these is the feature to Send SOS messages.
As the name implies, this feature allows you to send an instant emergency message to a specified contact(s). When enabled, the phone automatically enables Wi-Fi and Location services so you can share your location with your emergency contacts for 24 hours.
You can use this feature to send a message that lets your emergency contacts know that you need help. Your approximate location will be attached to the SOS message, making it easier for your emergency contact to reach you.
Depending on your settings, the SOS message may likewise contact embed a short audio recording and photo attachments.
Once you've activated and configured the Send SOS messages feature, your device is all set to send an SOS message in case of emergency by pressing on the Side key successively.
If you're wondering how to activate and use this feature on your Samsung Galaxy smartphone, feel free to use these subsequent instructions.
Steps to Activate and Use Send SOS Messages on Galaxy S22
This method also applies to other Samsung Galaxy phones that are running on Android 12 with One UI 4.1 OS version. That said, these steps are also applicable when activating the Send SOS Messages feature on any of these Samsung phones.
Start whenever you're all set to configure the safety settings of your phone.
Step 1: To get started, launch the Settings app by tapping on the Settings icon from the Home screen or Apps tray. Just look for the gear icon and then tap on it.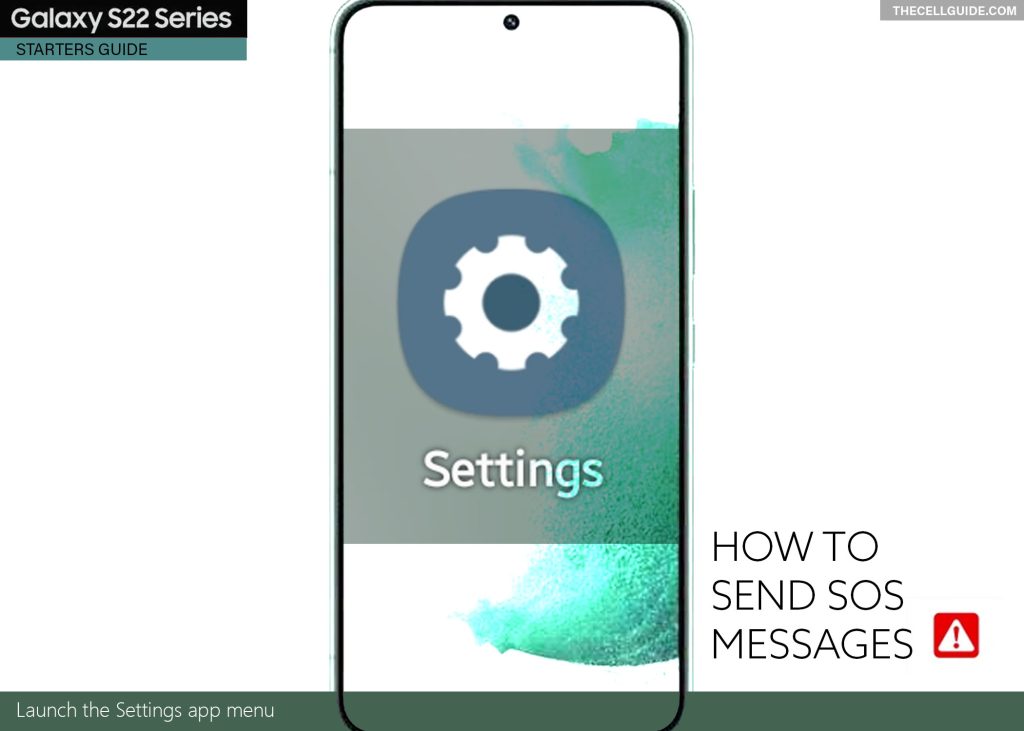 Alternatively, you can tap on the Gear icon from the Quick Panel of your phone. Either way will take you to the same menu with all built-in settings and features.
Step 2: While in the Settings menu, find and then tap Safety and emergency. Another menu opens, with a list of all relevant features.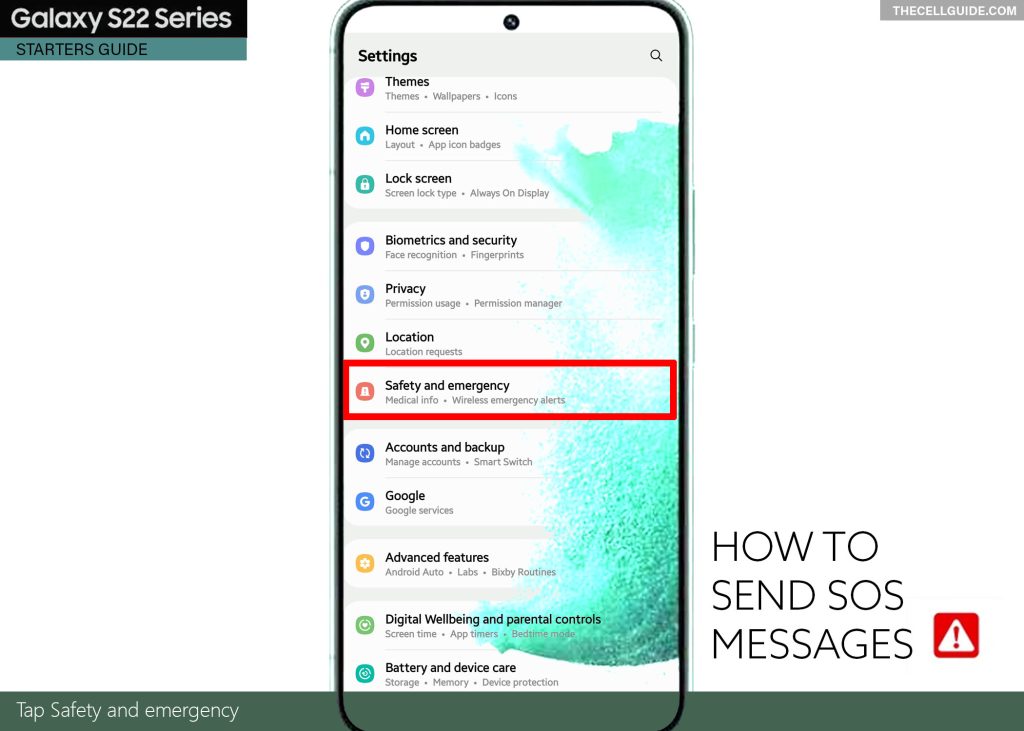 Step 3: Find and then tap Send SOS messages to proceed.
Step 4: On the succeeding window, you'll see the Send SOS messages toggle. By default, it's set to OFF. To activate the feature, just tap to turn on OFF switch ON.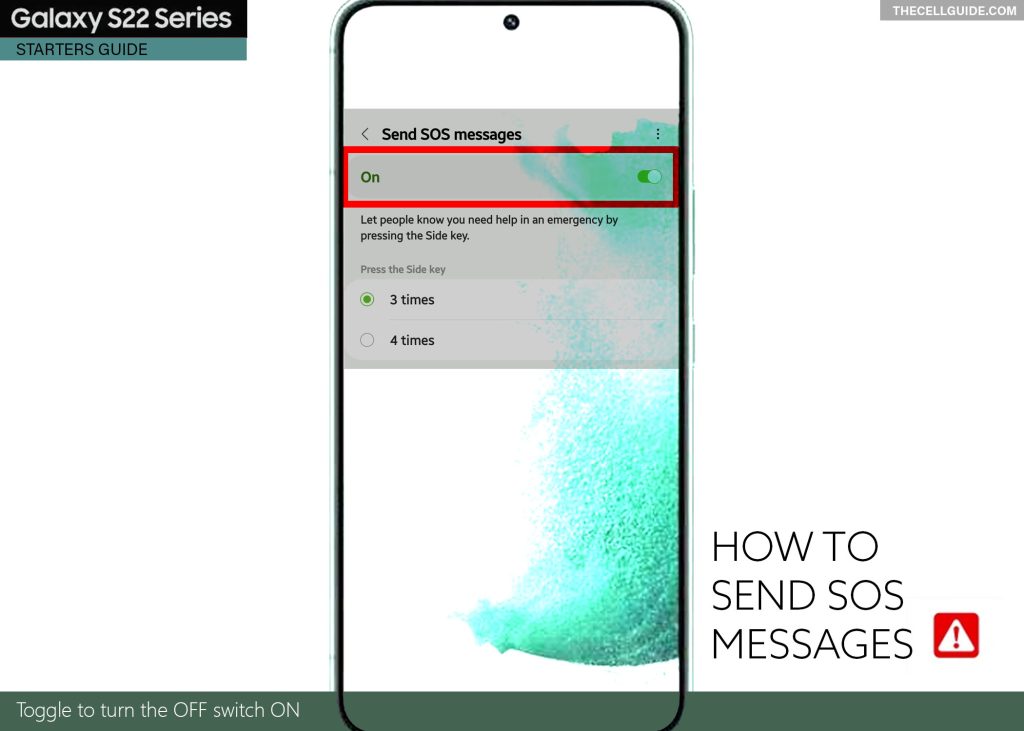 Step 5: If prompted, read the message prompt then tap Continue.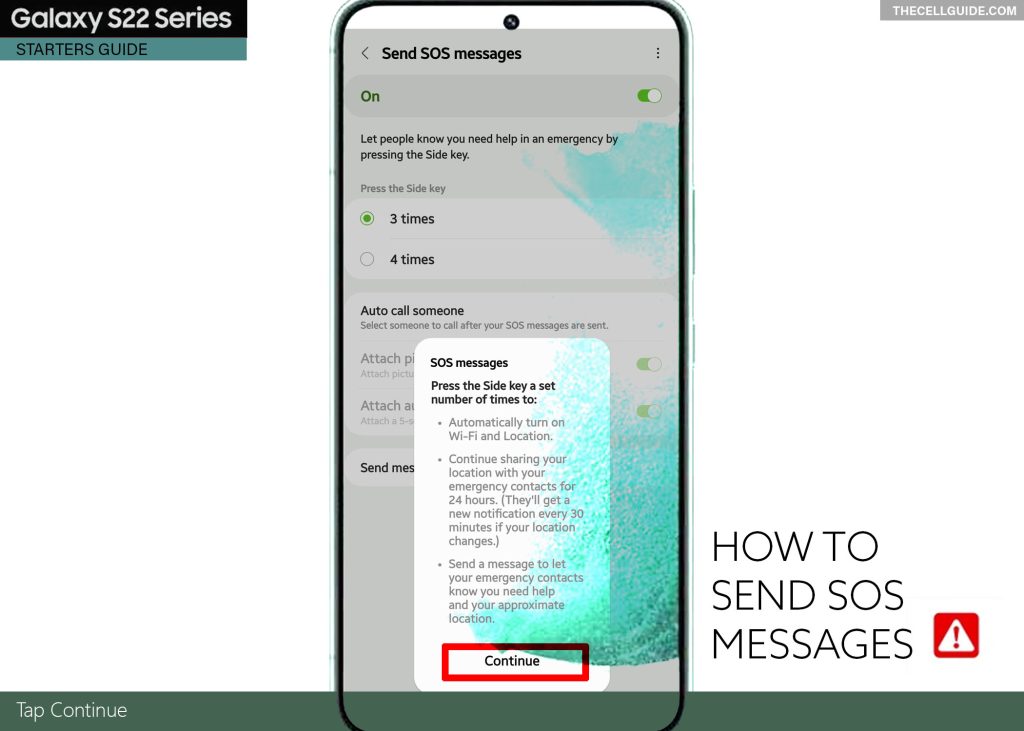 Step 6: Read more details about Send SOS messages permissions on the following screen and then tap Start at the bottom to proceed.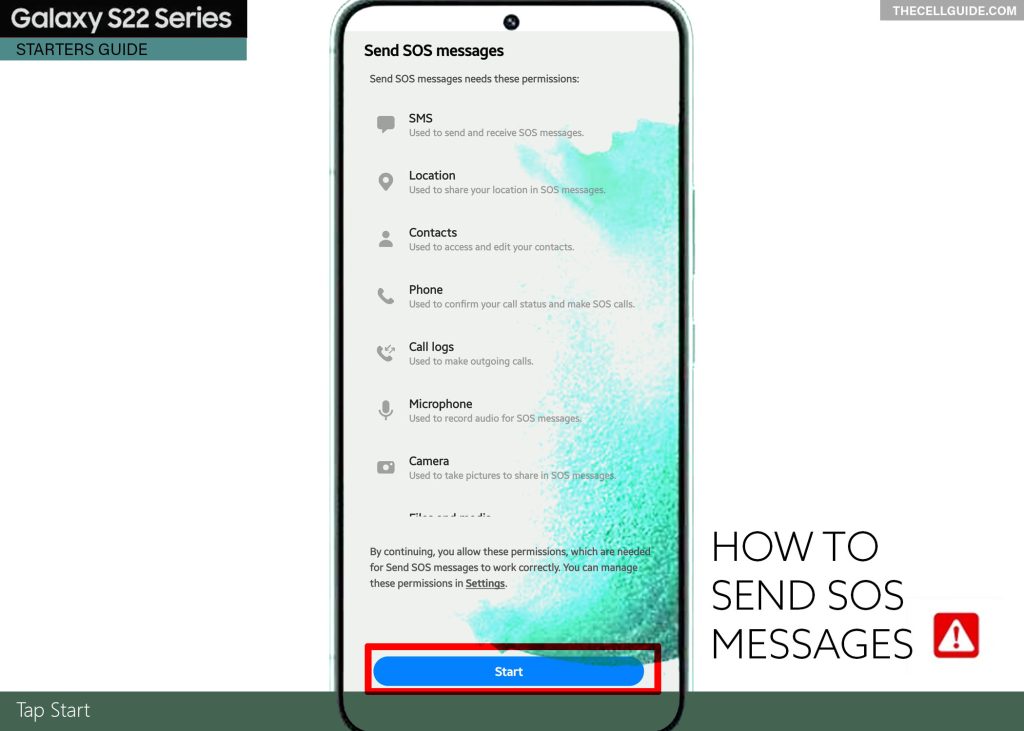 Step 7: On the next screen, specify the emergency contact person whom you'd like to get your SOS message. You may choose whether to Add recipient, Create contact or Select from Contacts.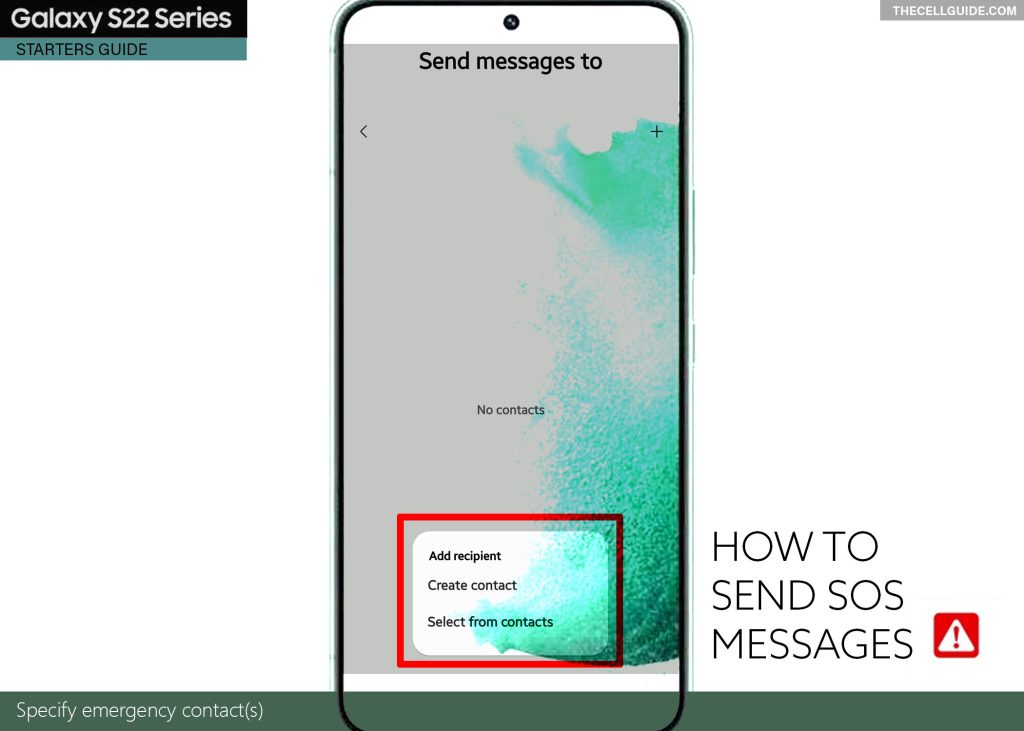 To continue with this guide, let's choose Select from Contacts to select an existing contact.
Hint:
This option is recommended if your emergency contact person is saved in your existing contacts list. Otherwise, choose any from the other applicable options then follow the rest of the onscreen instructions to complete adding or creating your contact recipient.
Step 8: While in the Contacts menu, find and then tap to mark your preferred emergency contact(s). After selecting contacts, tap Done.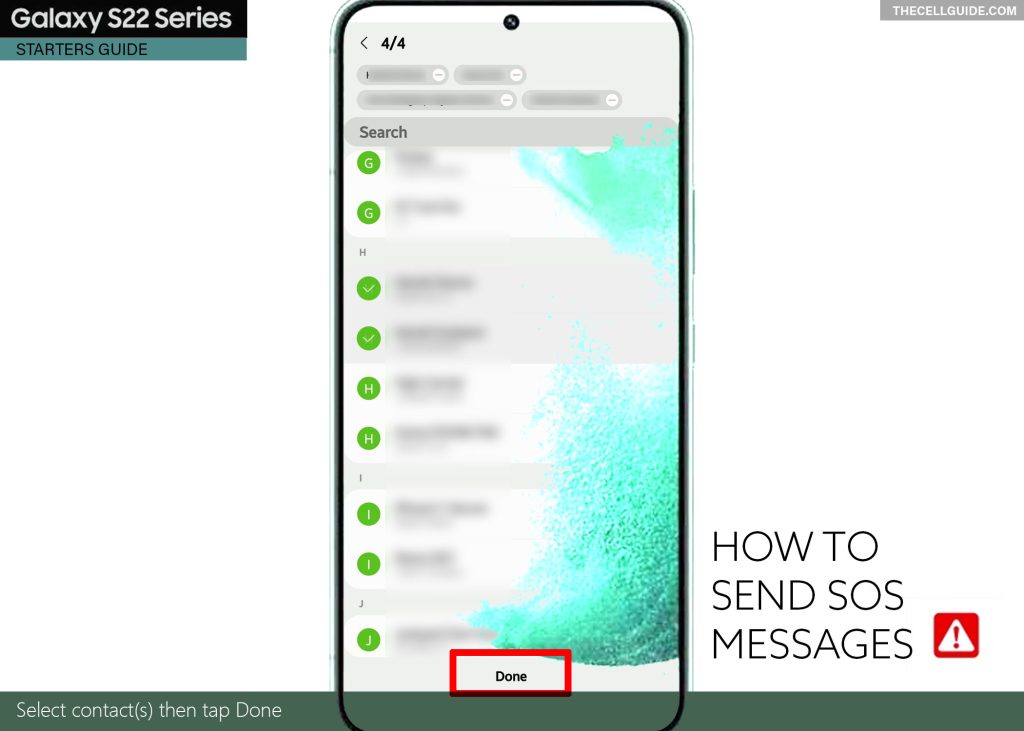 Note:
You are allowed to choose up to 4 contacts to receive your SOS message.
The selected contact(s) will then appear in the Send messages to menu.
Should you wish to remove and replace an emergency contact recipient, just tap the Trash icon on the top-right edge of the Send messages screen, select the contact(s) that you'd like to remove and then tap Delete at the bottom to confirm
Send SOS messages options
You can make use of the in-built features to personalize your Send SOS messages. To do this, just head back to the Send SOS messages screen.
Relevant options are enabled when the Send SOS messages feature is activated. You can configure these options according to your needs and preferences.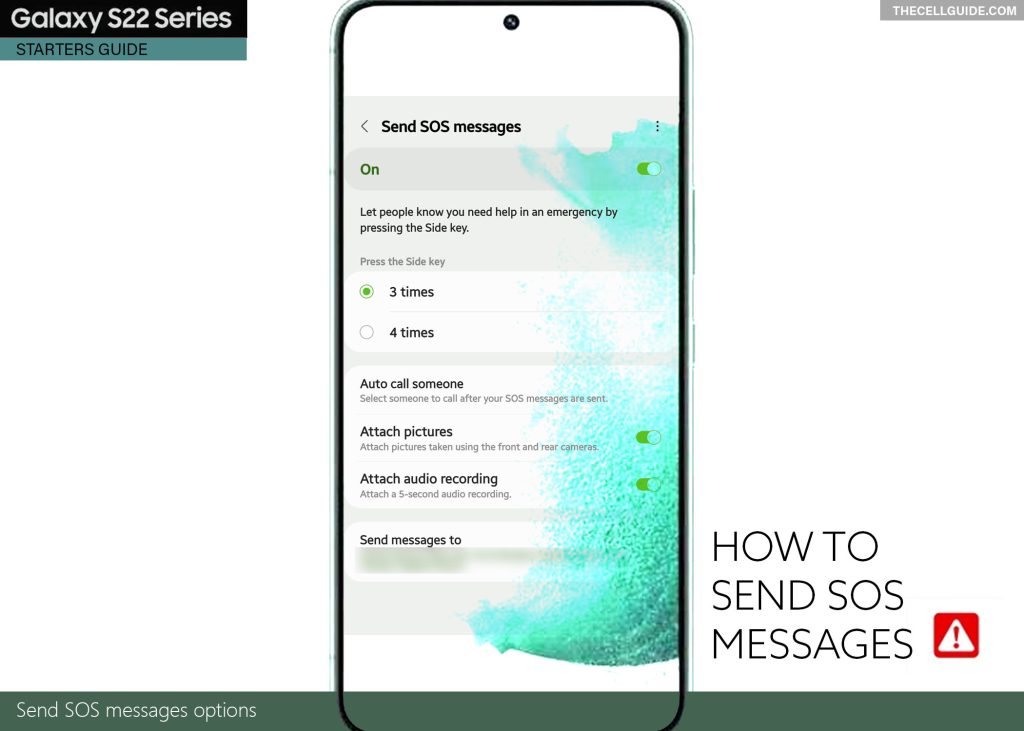 Activating the Send SOS messages feature on your phone is done by successively pressing on the Side/Power key either 3 times or 4 times. Just tap to mark the number of Side key presses you'd preferred to use.
Other relevant features you can use and manage include the following:
This feature allows you to specify a contact you want to receive your call after your SOS messages are sent. Just tap on it then select your preferred contact on the following screen.
When enabled, this feature will let you attach photos taken using the front and rear cameras of your phone. This helps the emergency recipient get a hint of what's going on and where you're at based on the pictures taken and sent.
When enabled, this feature allows you to attach a 5-second audio recording to back your emergency situation. This gives your emergency recipient more idea of what you're going through at the moment.
This option will take you straight to your specified emergency contacts. If you haven't yet set any, just tap on it then choose your preferred emergency contact(s) to receive your SOS messages.

Your Samsung Galaxy S22 is now all set to send SOS message at any time, when needed.
Hope this helps!
Please check out our YouTube channelto view more tutorial and troubleshooting videos for popular iOS and Android devices.
You Might Also Want To Read: