This post will walk you through hiding files and apps on the Galaxy S21 device using the updated Secure Folder application. Read on to learn how to activate and set up secure folder on Samsung Galaxy S21 in OneUI 4.0 or Android 12 platform.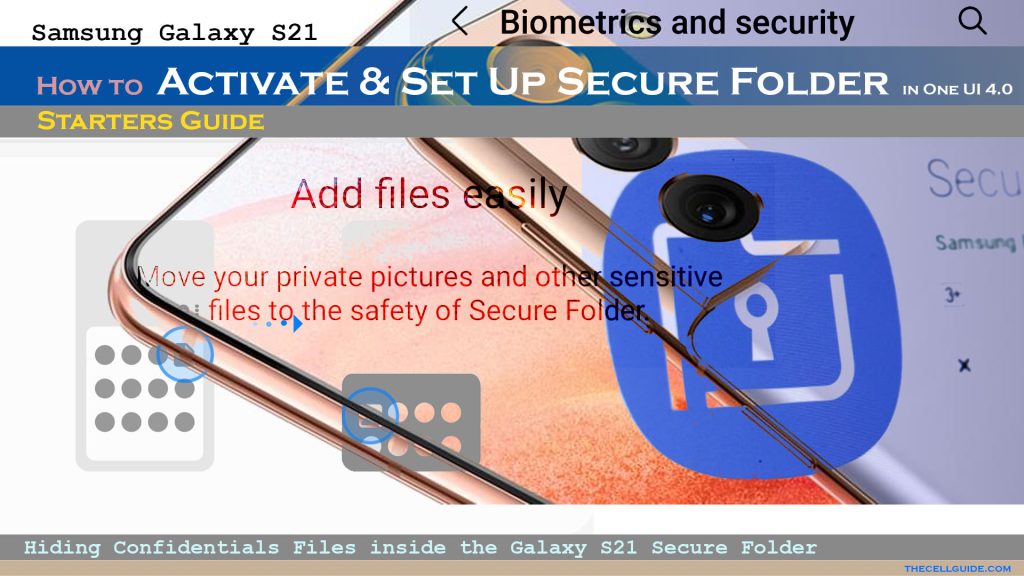 OneUI 4.0 Secure Folder
As the name implies, Secure Folder is Samsung's dedicated directory for storing private information including sensitive photos. When enabled, personal data stored on the phone can be hidden and/or locked with a special passcode.
When Samsung rolled out the Galaxy S7 series way back in 2017, Secure Folder was originally part of Samsung Knox, serving as a built-in security system that keeps the smartphone as secure as possible.
In order to use the Secure Folder, you will need to set it up on the phone beforehand. By then you can start moving files, documents, videos, images and even apps into a private folder.
To access files inside the Secure Folder, you will need to enter the unique passcode or PIN that you've set up to lock and unlock the folder.
With the constant updates rollout, more advanced security features have been integrated in recent Samsung Galaxy devices. And the updated Secure Folder is still among them.
To activate and set up the Secure Folder in Samsung Galaxy S21 devices, you will need to access the Biometrics and security settings menu.
And to give starters some input on how to get this done in One UI 4.0, I've mapped out a step-by-step guide as follows.
Easy Steps to Activate and Set Up Secure Folder on Samsung Galaxy S21
The following steps are also applicable when setting up a Secure Folder on other Samsung Galaxy smartphones that are running on the One UI 4.0 (Android 12) platform.
Actual screens and menu items may vary between device models and carriers so expect some slight differences on every device's user interface.
Before you proceed, make sure that you're currently signed into your Samsung account. This is highly recommended because your Samsung account credentials (Samsung account password) will be needed to access and reset your Secure folder in case you've forgotten the PIN, pattern or password.
Once you've got everything set, you may go ahead and start configuring your Galaxy S21's Biometrics and security settings.
Step 1: Open the Settings app by tapping on the Settings icon from the Home screen or Apps viewer.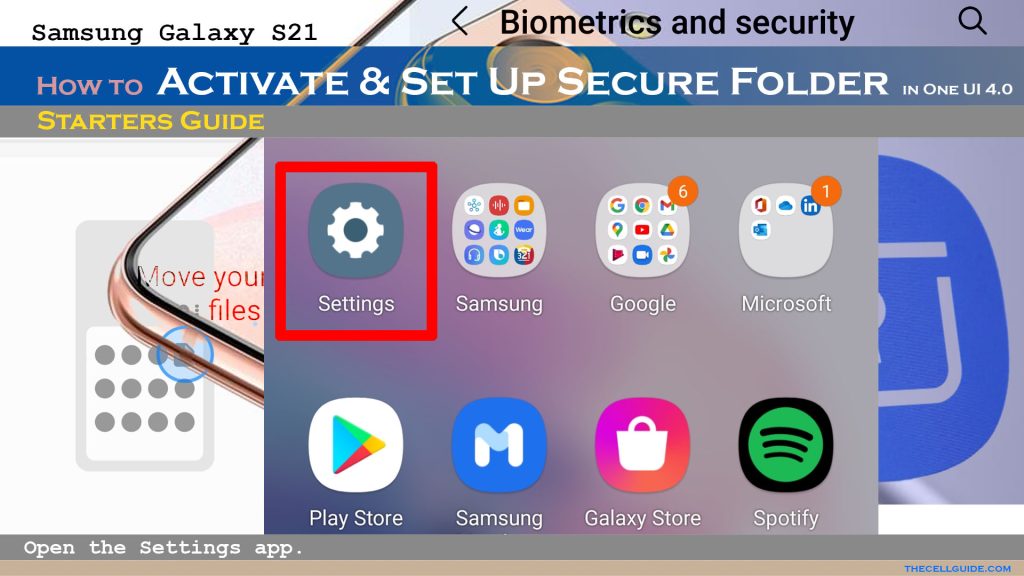 Step 2: While on the main settings menu, find and then tap Biometrics and security. More advanced security features and relevant options will load up next.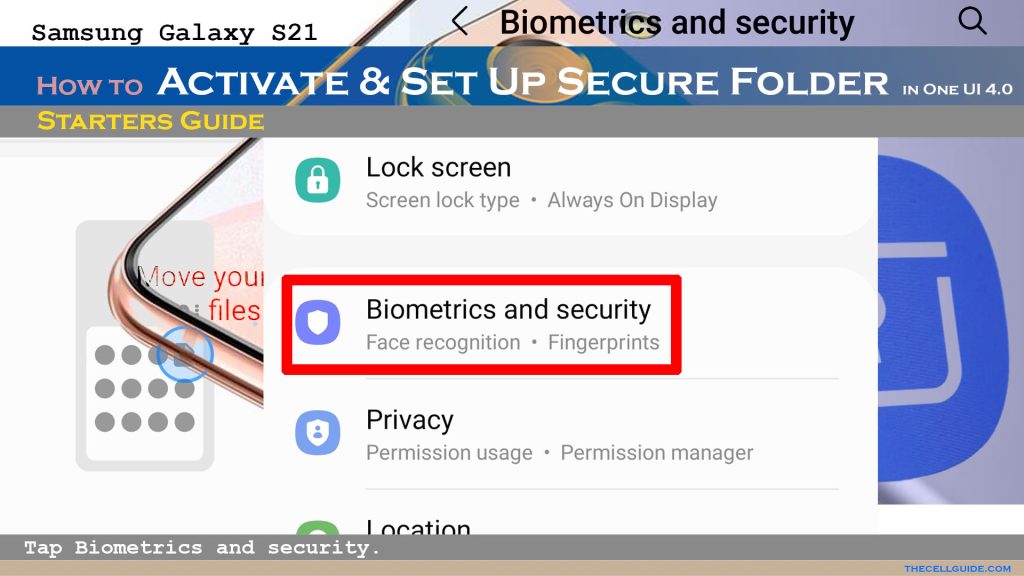 Step 3: Scroll to find and then tap Secure Folder. A setup wizard for Secure Folder will load up next.

Step 4: Read the onscreen details then tap Continue to proceed.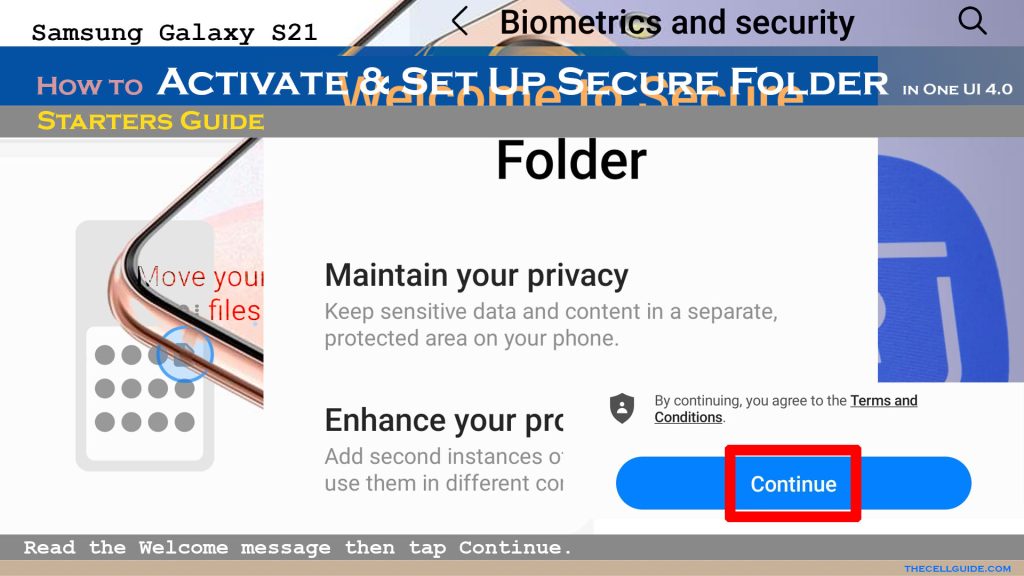 Step 5: More details about Secure Folder permissions will load up next. Read and review the details then tap Continue.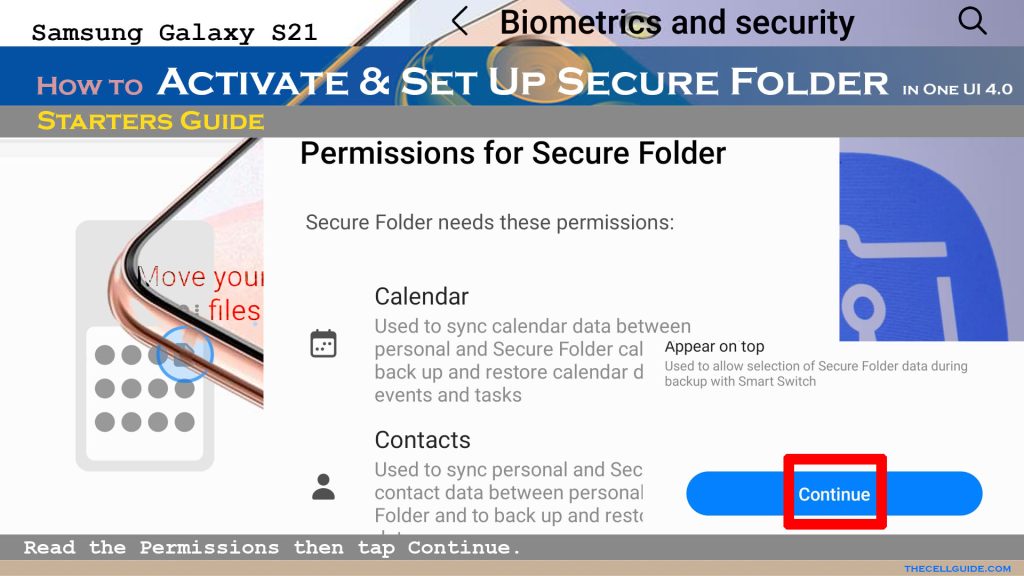 Step 6: Wait for the phone to create a Secure Folder. It only takes a few seconds to complete.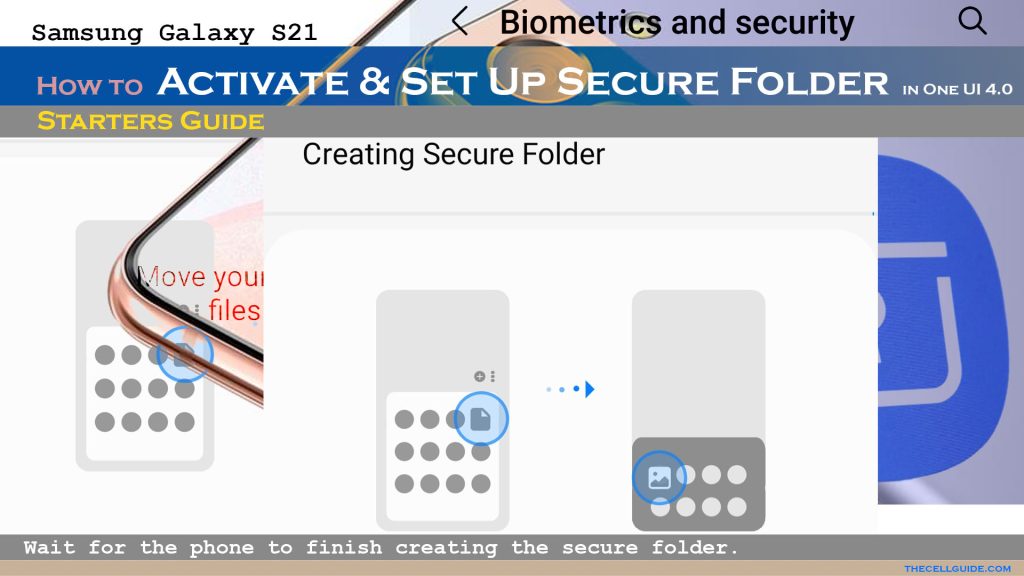 Step 7: Set your preferred Secure Folder lock type. You can set a Pattern, PIN, Password or use Fingerprint authentication. For higher security, setting a password is recommended. And to further augment security, you can combine it with fingerprints authentication.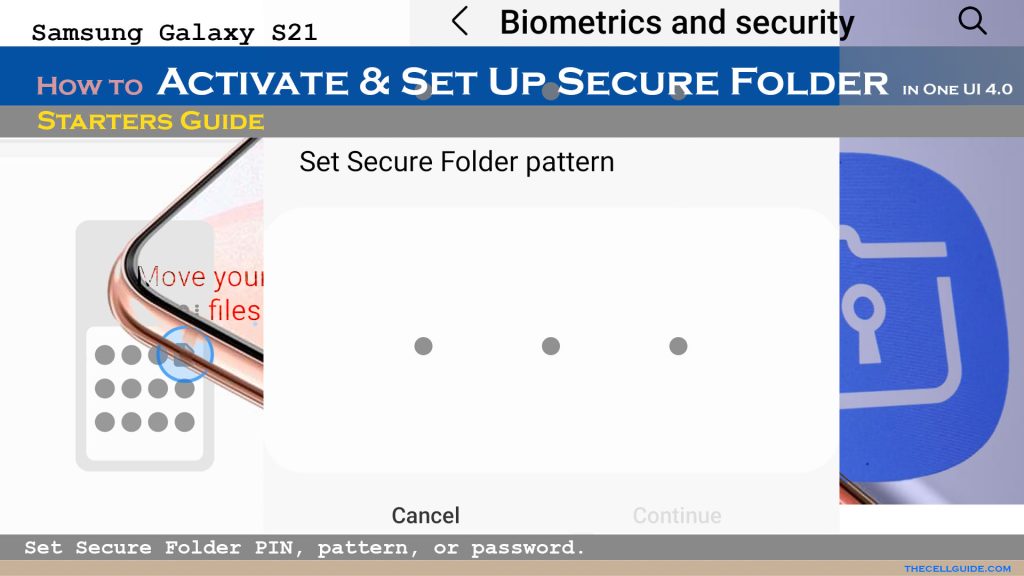 Step 8: Follow the rest of the onscreen instructions to finish setting up the Secure Folder.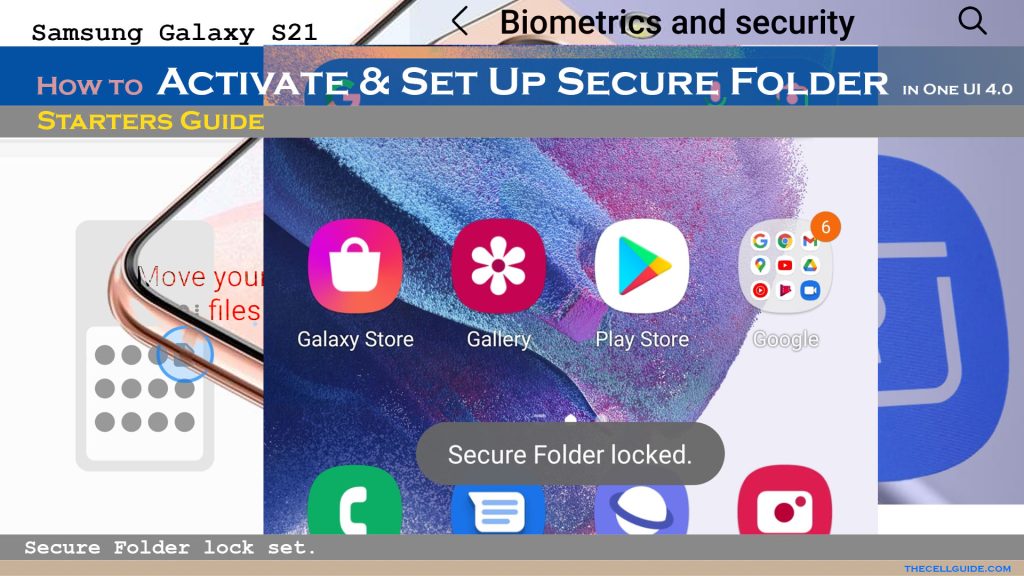 Step 9: When finished, secure versions of the preloaded apps such as Gallery, Contacts, Calendar, Camera, Internet, My Files and Samsung apps will be created.
Step 10: To add items like apps to any of these secure folders, tap the Plus (+) icon above the secure apps widget.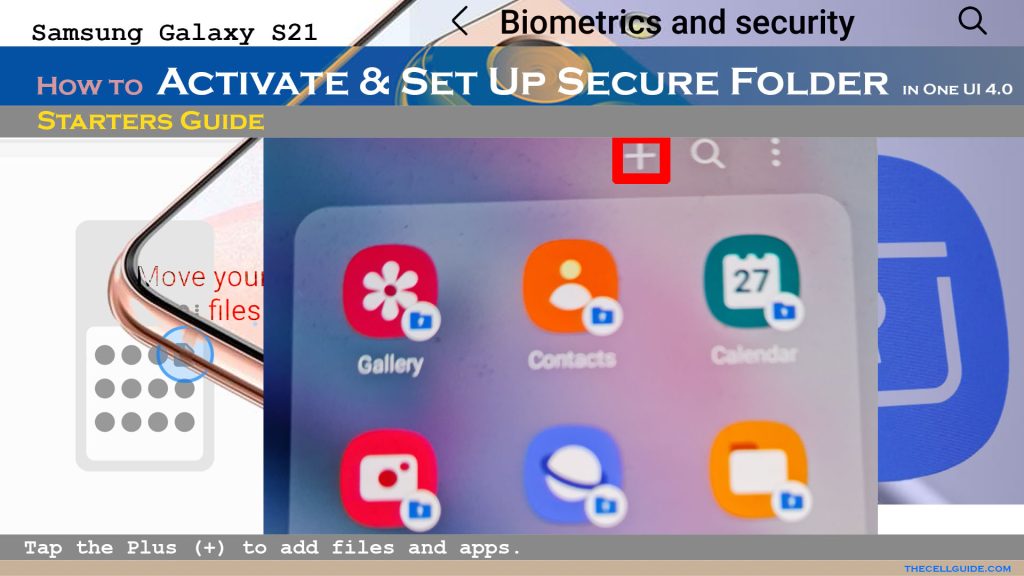 On the next screen, tap to select the apps that you'd like to add. You can add multiple apps from the ones installed on the phone or download apps from the Play Store or Galaxy Store.
The selected apps will then be added to the existing apps in the secure folder.
Step 11: To view more Secure Folder options and settings, tap the triple-dot icon next to the Search (magnifying glass) icon. Doing so will open a side menu containing more options including Lock and exit, Add files, Customize, Settings and Contact us.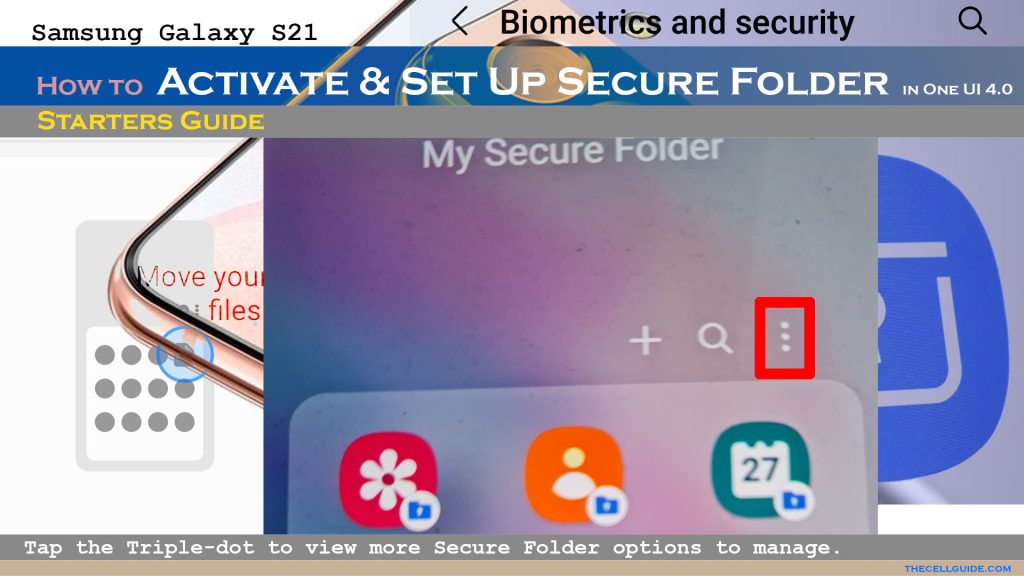 Step 12: To put confidential files and documents to your secure folder, tap Add files then follow the rest of the onscreen instructions. You can add images, videos, audio files, documents and other contents from the My Files app to the Secure Folder.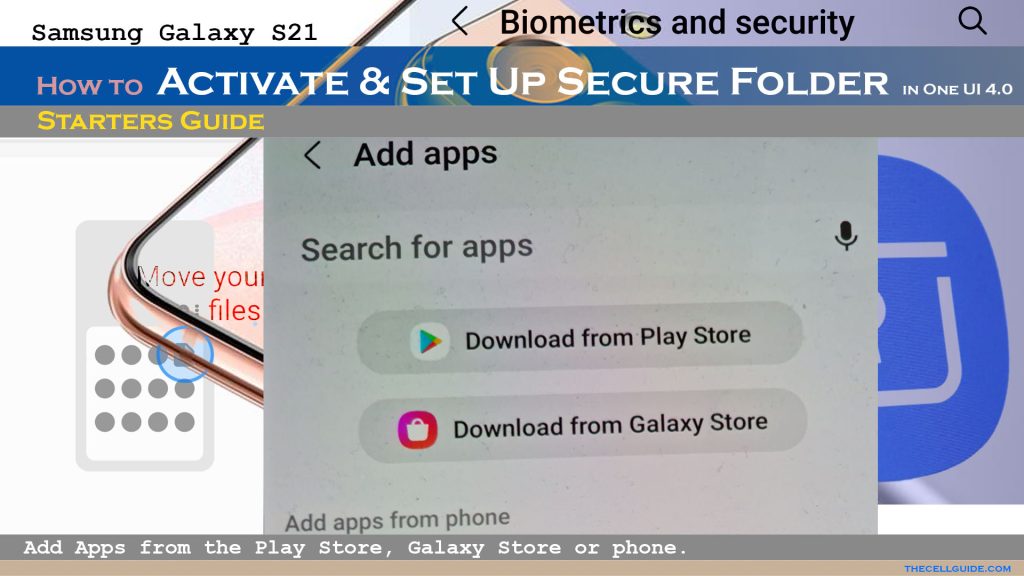 Step 13: To personalize your Secure Folder, tap Customize then set your preferred color, custom icon. Don't forget to tap Apply to save all recent changes.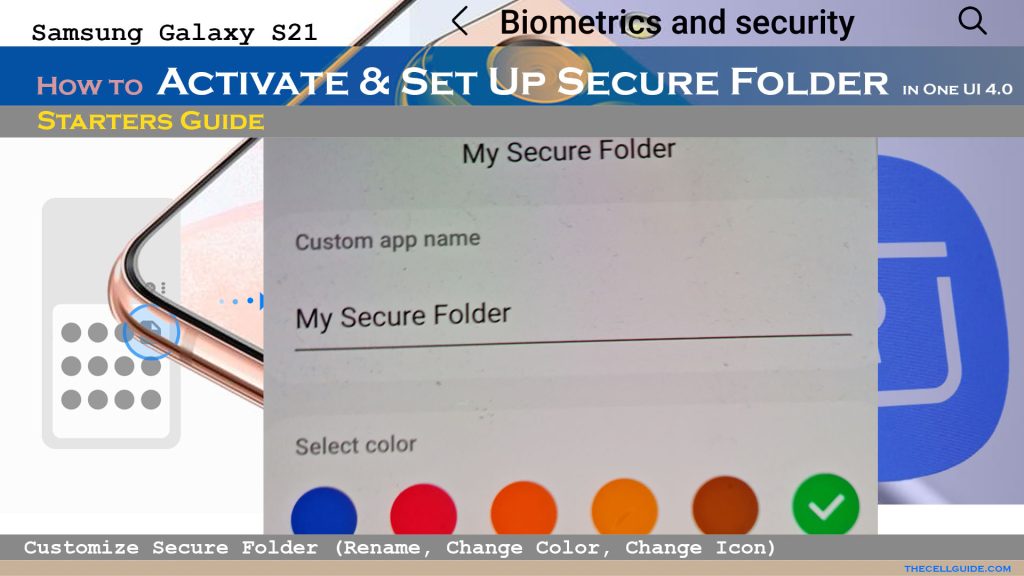 Step 14: To change and manage Secure Folder settings, tap Settings from the side menu options. Doing so will route you to the Secure Folder settings where you can adjust lock and security options and general settings for secure apps and other security settings.
There's also an option for you to Add the Secure Folder to the Apps screen or not.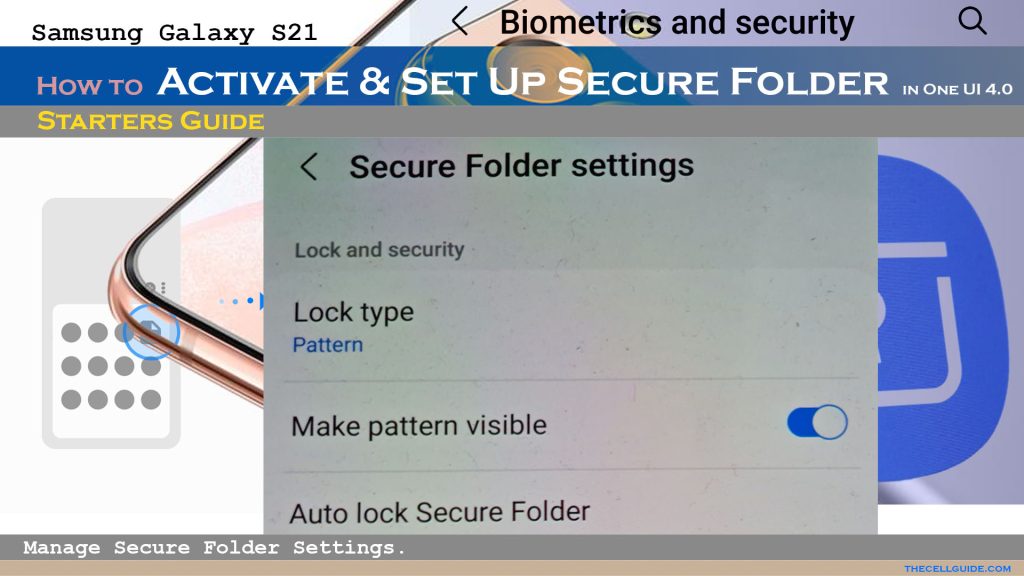 Step 15: To close the Secure folder and return to the Home screen, tap Lock and Exit from the Secure Folder Side Menu options. 
If you've turned on the switch to Add the secure folder on the Home screen, the Secure Folder app shortcut icon should be added to the Home or Apps screen on your phone.
To open the Secure Folder app and access its contents, just tap on the Secure Folder icon from the Home or Apps screen and enter the correct PIN, pattern or password you've set.
Aside from the Secure Folder app, confidential data on your Galaxy S21 can also be placed in a custom hidden folder. To get this done, you will need to create a personalized hidden folder inside the My Files app. After creating the folder, you can start moving files that you don't want others to view or access whenever they're using your phone.
And that's all about setting up Samsung secure folder on the Galaxy S21 and other Samsung Galaxy phones running the latest OneUI version.
Hope this helps!
Please check out our YouTube channel to view more tutorial and troubleshooting videos for popular iOS and Android devices.
You Might Also Want To Read: